MNKF: Sentinel Gear SKOLL Short
[This post brought to you in it's entirety by Gemtech, a member of JTF Awesome]

Monday Night Knife Fights: Sentinel Gear SKOLL Short
Craig Metzger
Sentinel Concealment Gear specializes in making concealable fixed blades. These blades tend to be purpose driven in terms of self defense or as a back-up blade to your trusty CCW blaster. I've been following Sentinel Gear on IG and got inspiration for a custom take utilizing two of their models as inspiration. I envisioned a combination of their Palm Shank and the Skoll. I wanted the blade to be 2.5 inches long with an overall length of 6 inches. This size would allow for ease of concealment in various configurations ranging from behind the belt buckle to inside a pocket. The blade size would provide just enough bite to create distance in the unfortunate circumstance someone tries to tuck you in for a dirt nap.
The Persian style blade is a brutal cutting shape. The upper portion of the blade is sharpened about an inch while the rest of the top portion provides a platform to choke up on the grip. The blade is a chisel grind. Chisel grinds tend to be stronger, more effective in cutting and easier to sharpen. The scales are G10 with a rough cut to provide exceptional grip. The kydex sheath came with an IWB clip with a few rivet holes to customize how you carry. I've been carrying it with a cord that loops around a belt or internal hook in a pocket. This allows a quick break away from the sheath. The method also keeps it more low profile and allows quick adjustments. It takes a bit of time to figure out the proper length of the draw but I'm finding it works with this particular blade.
The steel is 1095 which is great for holding an edge. However, you need to maintain 1095 blades to prevent rust, so Sentinel Gear has cerakoted the entire knife and the finish is high quality. The blade is fairly thick to increase strength and has enough weight to feel comfortable and stable when doing hand work.

When practicing with the knife the first thing you notice is how comfortable the blade is. The ergonomics are superb and when striking hard targets the blade remained stable in the hand. The blade is ultra sharp and cuts with ease. The upper side being sharpened allowed for pulling maneuvers that delivered pretty deep slashes for a small surface. I didn't use the blade for every day cutting duties; you obviously can, but the knife is a purpose-driven tool.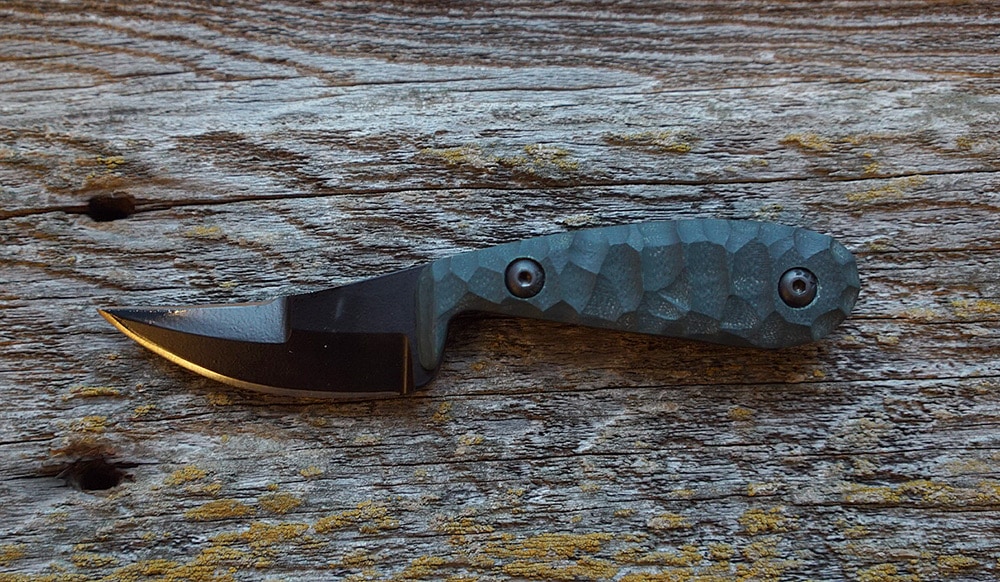 Sentinel Gear is a small knife maker so be prepared to be patient, because wait times vary. Check with their site for the most updated wait times. You can request customizations to the blades, but your wait time will increase. In my opinion it's worth the wait. A nice thing about this custom knife is that they are now offering it as preorder if you're interested.
Don't cut yourself, friends.
-Craig
---
---
Breach-Bang & CLEAR!

This Post is part of our Trails Found Series. What is Trails Found? Members of BreachBangClear and some other badass media outlets assembled together this last September to train with one of the last of what has been called the "old Border Breed", in the desert of Arizona. That man they were training with was no other than the legendary Jim Grasky. In 1965 Jim Grasky was a young Special Forces soldier in Vietnam, then in 1970 he was a the squadleader for a team of smoke-jumpers parachuting in to fight remote wildfires. For about a quarter century after that he was a Border Patrolman, and literally named BORTAC. Though Grasky is a man of many talents, one of his specialties is man tracking–which is why he developed programs specifically for USSOCOM and has taught the world over. Through your various social media outlets you can track other articles and photos related to Trails Found by searching for #TrailsFound16 and #GoodGearMatters.
---
[wdi_feed id="23″]
About the Author: 
Craig Metzger is some sort of
evil
creative genius who enjoys everything from Billabong to Zev Tech. He's one of those dudes who mountain bikes, hikes and snowboards with the same enthusiasm he has for spending time on the range, offroading in Moab and attending Renaissance Fairs. He's definitely our first minion so far to have a subscription to Thrasher magazine. Kyle Lamb (the Viking Tactics Kyle Lamb) really does call him the Tactical Hippie, that's a true story. Although we cannot confirm rumors that he played the role of Everett in 
Delta Farce
, we can advise you to check out his work 
on his website
 or 
on his blog
.