T-CCC Again: Something New From OSI
As you guys know, nothing pisses us off more than someone who carries a gun but makes no provision at all in their EDC, on duty or off (including CCW folks) for dealing with gunshot or other trauma. So, before we get started, let us just say in advance that if you're one of the asshats who is prepared to shoot somebody but not prepared to treat yourself or a comrade/family member/single dancing mom then unfuck yourself right now. You don't do anyone any good if you bleed out. You may interpret that as us worrying about you if you want, but don't get any funny ideas.
Anyway, the Officer Survival Initiative (OSI) has a new piece of kit they've developed with Phokus Research Group. It's called the Sons Trauma Kit. It was designed by someone from NSW and underwent a defacto (and extremely strenuous) T&E process in Iraq and Afghanistan. They're making it available now to the LE/civilian/military market and it's worth a look.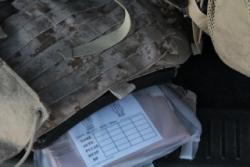 The SOTK is put together efficiently to reduce bulk, and layed out so it will fit behind medium ballistic plates, underneath concealable body armor (like police patrol vests) or in hydration packs. They're packaged in medical grade vinyl and pressure sealed with RF welded seams. For quick access under stress, they feature a (patent-pending) pull-tab rip-cord for quick deployment. You can specify contents based upon what sort of threat you think you're going to face. Note: it will survive hits to the plate behind which it resides. During the trial period, one operator took two rounds of 7.62 in the plate and was able to immediately remove his undamaged trauma kit from behind and provide self-aid for his other wounds. No secondary fragmentation, no compromise in the contents. Pretty sweet.
What this means, in effect, is you guys on the road can now wear one without having to add bulk to the limited real estate on your duty belt, or leaving your IFAK in your patrol car. Civilians can put one a number of places, including a day pack, courier bag, etc. It certainly beats wrapping your trauma plate in Kerlix, which is what some of our guys do when they're on the road.
There are a lot of options out there – pick one or more, ensure some redundancy, train with it and keep yourself, your partners, your comrades and your family safe.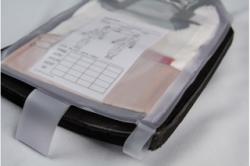 OSI has a number of kits, including the STK LE basic: http://www.officersurvival.org/collections/ifaks-medic-kits/products/phokus-sons-trauma-kit-le-basi and the STK LE Intermdiate: http://www.officersurvival.o
rg/collections/ifaks-medic-kits/products/phokus-sons-trauma-kit-le-intermediate. Check out their website for everything they have to offer.
Mad Duo Clear!
About the Authors: Richard "Swingin' Dick" Kilgore and Jake "Slim" Call are the HMFICs at Breach-Bang-Clear (breachbangclear.com). They write for current and former military, LEOs, contractors and trained and educated responsible armed citizens. They are the most door-kickingest, trigger-pullingest action figures in the tactically operational tactical operator world. Subscribe to them and stay informed about TTPs, new kit, and latest in what's stoopid (and occasionally inspiring) in the military and modern society or check them out on Facebook.