Review: ITS ETA Med Kit (Basic)

We've come to expect Good Things from Imminent Threat Solutions (ITS) Tactical. Who better to review one of the med kits they make, then our tamed Aussie who has a penchant for inadvertently cutting himself with swords? Mad Duo
(Grunts: Penchant)
Review: ITS ETA Med Kit (Basic)
Apocalypse Josh
I was so excited to see this tucked away in the corner of my Propper package: the ETA Trauma Kit Fatboy. This kit is designed to fit into ITS Fatboy Trauma Kit Pouches and can be stowed as-is in its heavy duty vacuum sealed ziplock bag, but can also be broken down for easy access to the individual components. It's also well suited for cargo pockets if you decide against storing it in a pouch.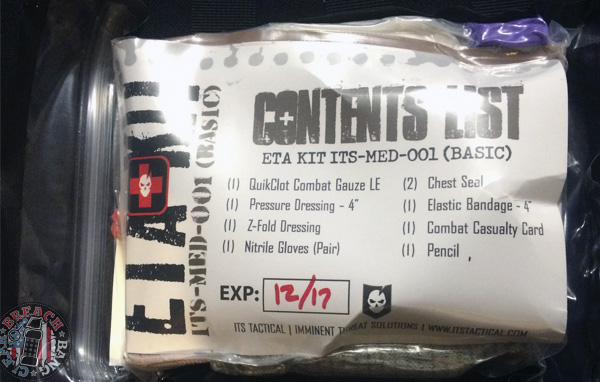 The ITS team who put their expertise together to develop the kits carefully selected every item to complement the others and serve multiple purposes. They make several different versions: Basic, Standard and a MIL/LE ONLY version as well as new International version (in accordance with Z-Medica's export policy).
Here's what's in the Basic kit I received. It's actually a stock photo from ITS, as I didn't want to pop the seal on mine (bad reviewer, I know).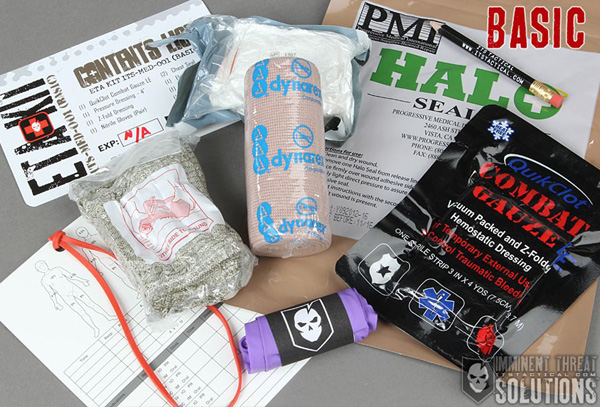 Basic Contents
QuikClot Combat Gauze LE (1)
HALO Chest Seal (2)
Pressure Dressing (1 — 4″)
Elastic Bandage (1 — 4″)
Z-Fold Dressing (1)
Combat Casualty Card (1)
Nitrile Gloves (1 Pair)
Pencil (1)
Contents List w/ TCCC Care Under Fire Instructions (on reverse) (1)
The kit is sterile when sealed (which is why I didn't want to bust mine open), and ITS also sells an "inert" training version for those who want to train how they fight, and fight how they train.
The slightly more substantial "Standard" kit also features
MojoDart Decompression Needle (1)
Nasopharyngeal Airway (NPA) Adj. 28fr (1)
Which are a couple of things you'd really need medical training before using, since they're for more than just patching boo-boo's and plugging holes.
The MIL/LE ONLY replaces the Basic/Standard QuikClot Z-Fold Combat Gauze LE with the more specialised Z-Fold Combat Gauze (w/ X-Ray Detectable Strip — Green Package). The International Kits feature an international version of QuikClot Gauze.
The FatBoy med kits fit very snugly into a two-magazine Palatac FUP pouch which is my gold-standard for pouches, and easily fits in their slightly larger WUP pouches.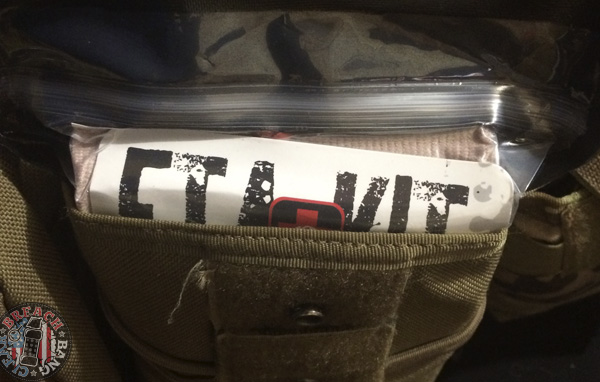 I will be packing the ETA FatBoy with me on all adventures from now on, and it's a good reminder to refresh my First Aid certification too. This is a great kit, well thought out and packaged. Let's hope I never need to stop a sucking-chest wound, but if I do, having a kit like this might well make all the difference.
ITS also stocks all the same contents in their "TallBoy" kit but stacks them long, rather than wide, because it's not always about girth. If you really just need a pocket-sized pal, the EDC Trauma Kit might be more your style.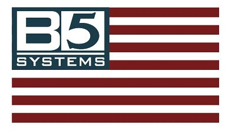 If you expect to treat minor injuries rather than trauma, you might consider the ITS Boo-Boo kit. Or, if you're like me, have multiple kids and occasionally stab yourself in the leg with a sword, the slightly larger Boo-BooPLUS kit might suit your needs.
–
-AJ
For more information, you can check out the ITS Tactical homepage here
Mad Duo, Breach-Bang& CLEAR!
Comms Plan
Primary: Subscribe to our newsletter here, get the RSS feed and support us on Patreon right here.
Alternate: Join us on Facebook here or check us out on Instagram here.
Contingency: Exercise your inner perv with us on Tumblr here, follow us on Twitter here or connect on Google + here.
Emergency: Activate firefly, deploy green (or brown) star cluster, get your wank sock out of your ruck and stand by 'til we come get you.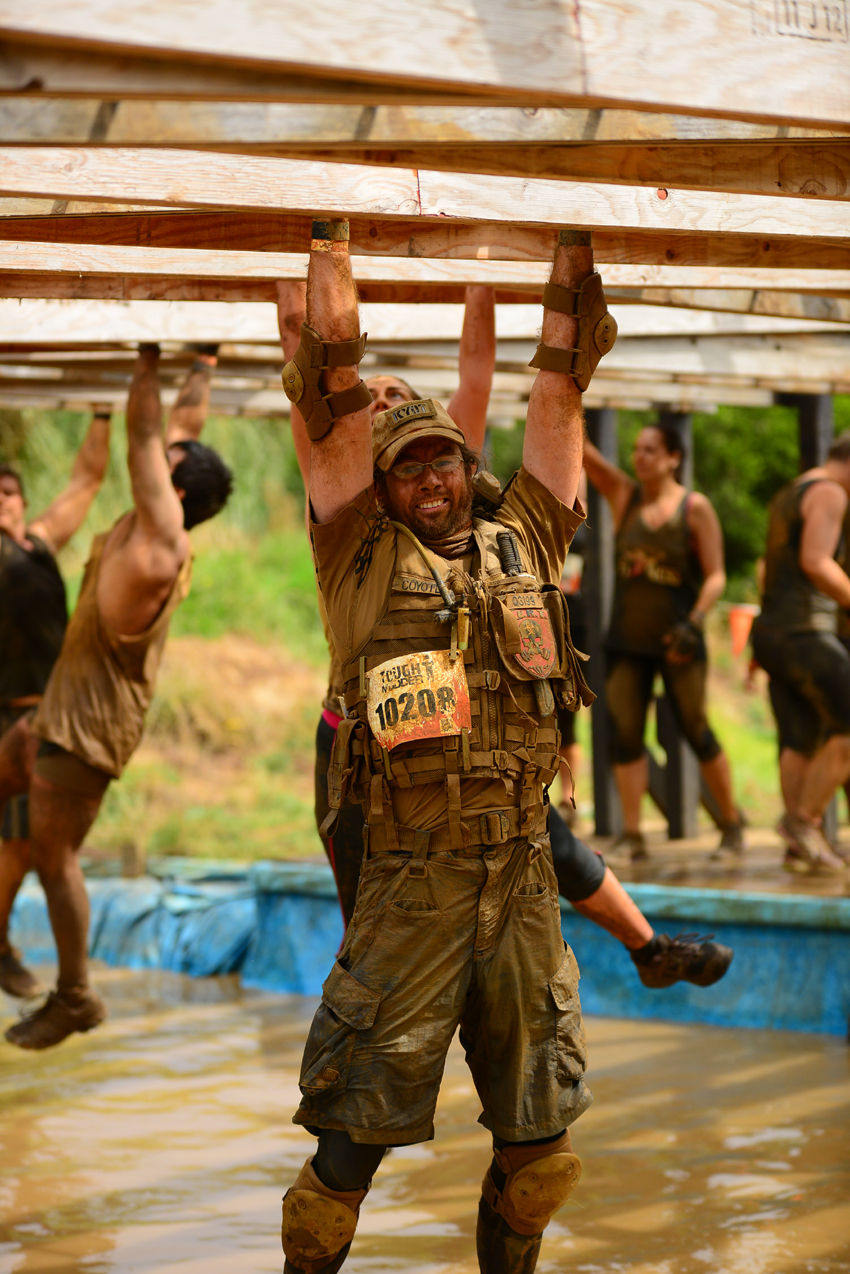 About the Author: Josh Orth is a second generation expat currently dwelling in the arguably civilized outskirts of Melbourne, Australia. He's lived in deserts, jungles and urban sprawls around the world and traveled/adventured into assorted inhospitable places around the world and has a keen sense of the speed with which the trappings of 'civilized Western life' can disappear. This has led him to begin writing about his interests and observations when it comes to the gear, skills and other necessities of self reliance of being equipped for whatever a capricious, occasionally indurate life might throw at him. This isn't by any means to say our eccentric friend truly experiences genuine vorfreude about dystopian life, but if he had to he might not complain. Read more by Josh at Apocalypse Equipped.
Grunts: vorfreude.