Women Outdoor News | How to Clean a Pistol
How to clean a pistol – a simple breakdown by none other than Becky Yackley. Breach-Bang-Clear

How to Clean a Pistol
News Desk, via Women's Outdoor News
Becky Yackley has been a shooting competitor since 1989. Her disciplines include service-rifle, air rifle, air pistol and long range rifle. She also writes about shooting competitions around the US, and she recently wrote a guide about how to clean a pistol for Women Outdoor News.
The list of supplies is short and sweet:
Bore snake in the proper caliber.
Gun Oil
Rag or paper towels
Q-tips or pipe cleaners to reach tight spots. (You might check out RamRods. Read what we reported on them here.)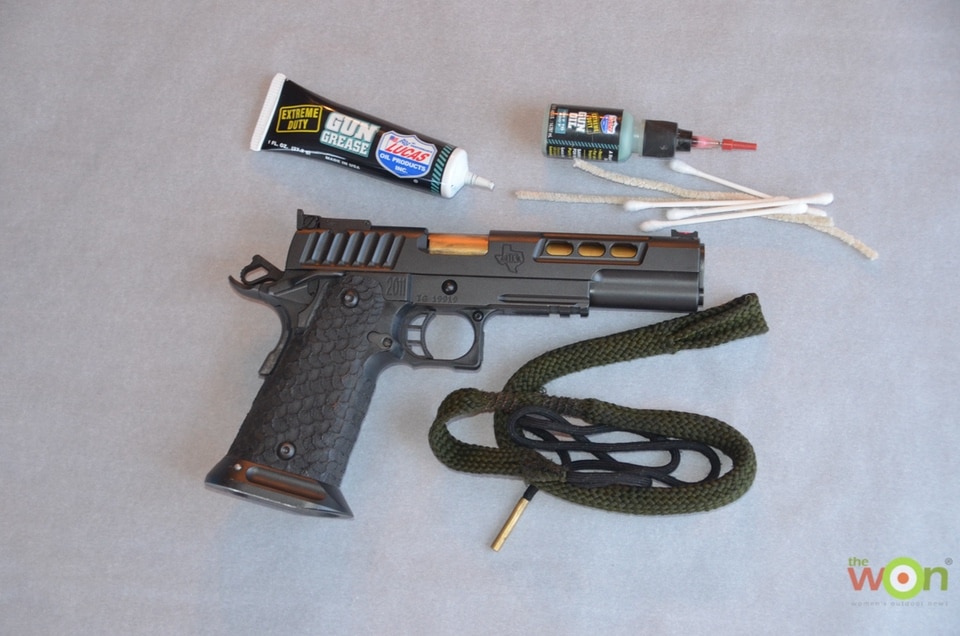 "First, always make sure your firearm is empty and obey the rules of firearms safety. I like to clean guns sitting in front of the woodstove when it's this cold, but today, this time I did it at a table while my son videotaped so you could see. I also advise wearing safety glasses. … here are the basic steps:
Remove slide from the frame.
Take out recoil spring and guide rod.
Remove barrel and bushing.
Clean.
Re-oil.
Reassemble pistol."
Yackley also created a video demonstration of her pistol cleaning process.
This guide takes longer to read than accomplish. So pour yourself a cup of coffee, gather your cleaning gear, and do something productive if you're cooped up indoors!
You can read the original Women's Outdoor News article here. Visit their Youtube channel here. Find them also on Facebook, and Instagram.
Armageddon Gear (@armageddongear) is a part of JTF Awesome.

If you wish to cite, syndicate, or curate our material, please be so kind as to read our Terms and Conditions.
---
From the News Desk…
Breach-Bang & CLEAR!
We're not comparing ourselves to these folks at all — hell, we'd be more qualified to join the Justice League. We're just saying these are people you should know.