The SBA4 Brace – it's the newest Pistol Stabilizing Brace from SB Tactical.
This one you see here is just a 3D printed prototype, and the weather kept her from arriving at SHOT on time, but you're still gonna get the idea.
The SBA4 should be shipping sometime in late April; preorders will be open soon.
The 4 brace is the latest iteration (generation?) of the 3 brace…SBA3 brace ⇒ SBA4 brace, see what they did there?
The SBA4 Brace will be 5-position adjustable but will maintain the ATF mandated length of pull to keep your AR pistol legal. How that legality would be affected by something like the LAW Tactical or Deadfoot Arms folding adapter I don't know — maybe we can get some guidance on that later, though I'm sure if given the chance the BATFE will unnecessarily obfuscate and bureaucratize it mercilessly.
Grunts: obfuscate.
Once it's available you'll be able to glom onto one of these on the SB Tactical SBA4 Brace page.
You can get another look at the SBA4 brace in an article by Ivan Loomis on Guns America Digest.
There's another SHOT Show article about it on TTAG by Chris Heuss: Hands On with the New…SBA4.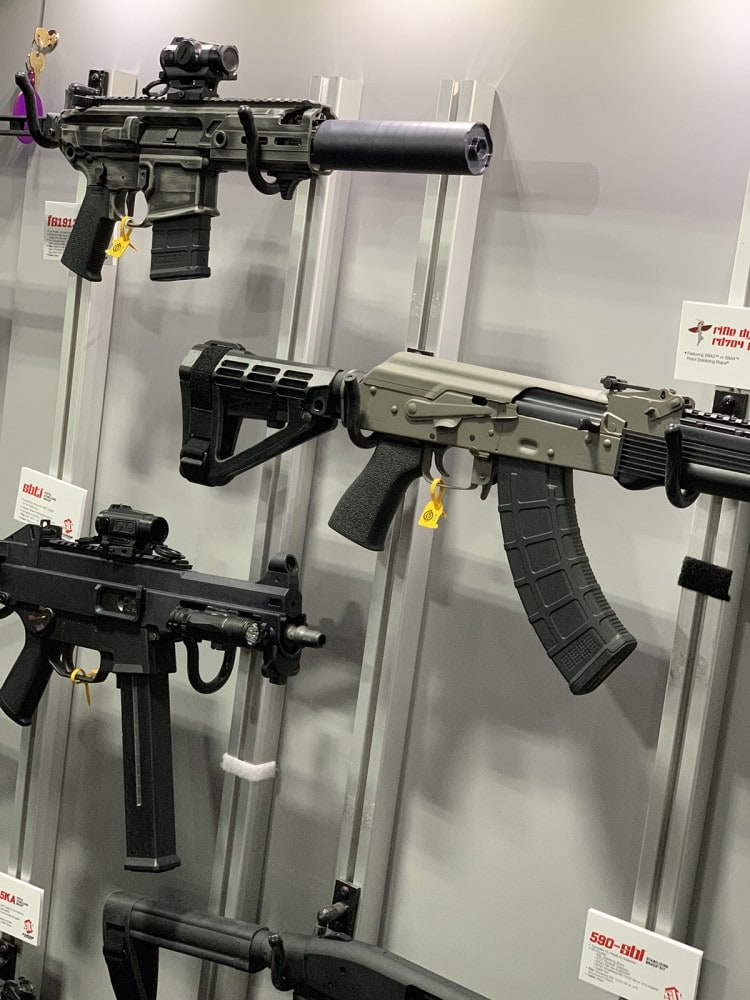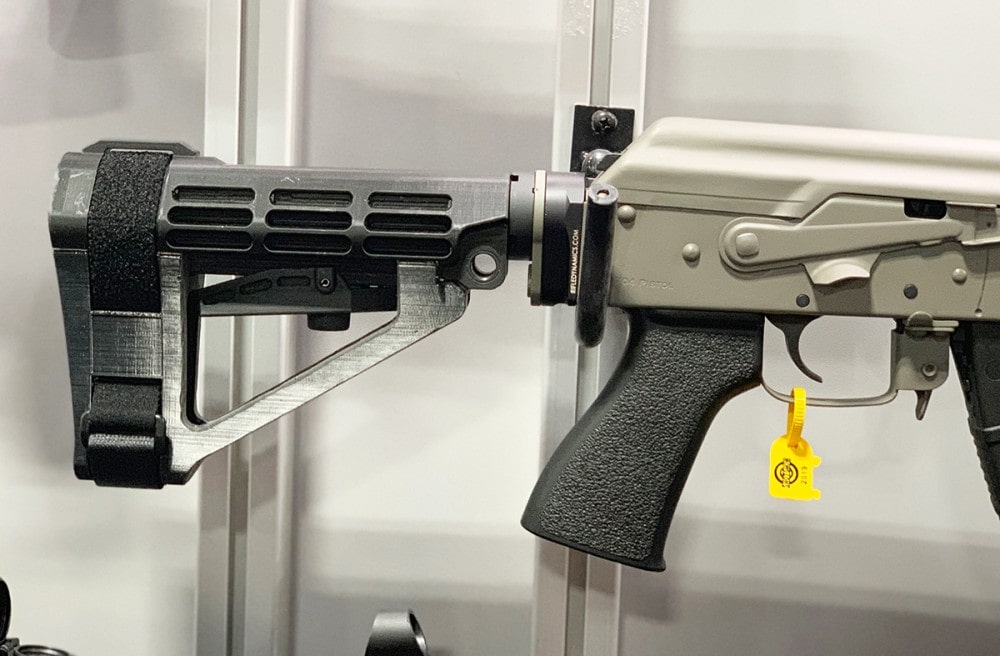 Get an SB Tactical Brace
• SBT home page. You can check there of course, and that's where our Patreon backers use their discount code. It's not valid at any of their distributors, ya gotta buy direct.
If you're just looking to buy immediately, hit one of these places:
• SB Tactical at Palmetto State Armory.
• SB Tactical on PrimaryArms.com.
• SB Tactical at Weapon Outfitters.
• SB Tactical at Rainier Arms.
• SB Tactical on Brownells.com.
• SB Tactical at Midway USA.
• SB Tactical on eBay.
SBA4 Specs are advised to be as follows:
Designed for all platforms capable of accepting a mil-spec carbine receiver extension, the SBA4™ is 5-position adjustable and features an integral, ambidextrous QD sling socket.
Features
Designed after the SBM4™

5-position adjustable

Integral, ambidextrous QD sling socket

US veteran designed and proudly made in the USA

Product includes:  brace, 7075 mil-spec carbine receiver extension, adjustable nylon strap
All platforms capable of accepting a mil-spec carbine extension

6.75″

7.5″, 8.25″, 8.8″, 9.5″, 10.25″

1″

10 oz

Black, FDE

2.25″
Like what you read here? Consider backing us on Patreon.
You'll be automatically enrolled into the Tactical Buyers Club, thus getting dozens of discount codes to high-end companies in the tactical/firearm/outdoor arena, and you'll earn the right to wear the House Morningwood sigil.
⚠️ Some hyperlinks in this article may contain affiliate links. If you use them to make a purchase, we will receive a small commission at no additional cost to you. It's just one way to Back the Bang. #backthebang