OWL Optimized Weapon Light | New Cloud Defensive WML, a Breach Bang Clear Exclusive
The Optimized Weapon Light, from Cloud Defensive: A Breach-Bang-Clear exclusive. Breach Bang Clear staff.

Optimized Weapon Light – New from Cloud Defensive!
Fifty Shades of FDE – Photos courtesy of Sean McCauley*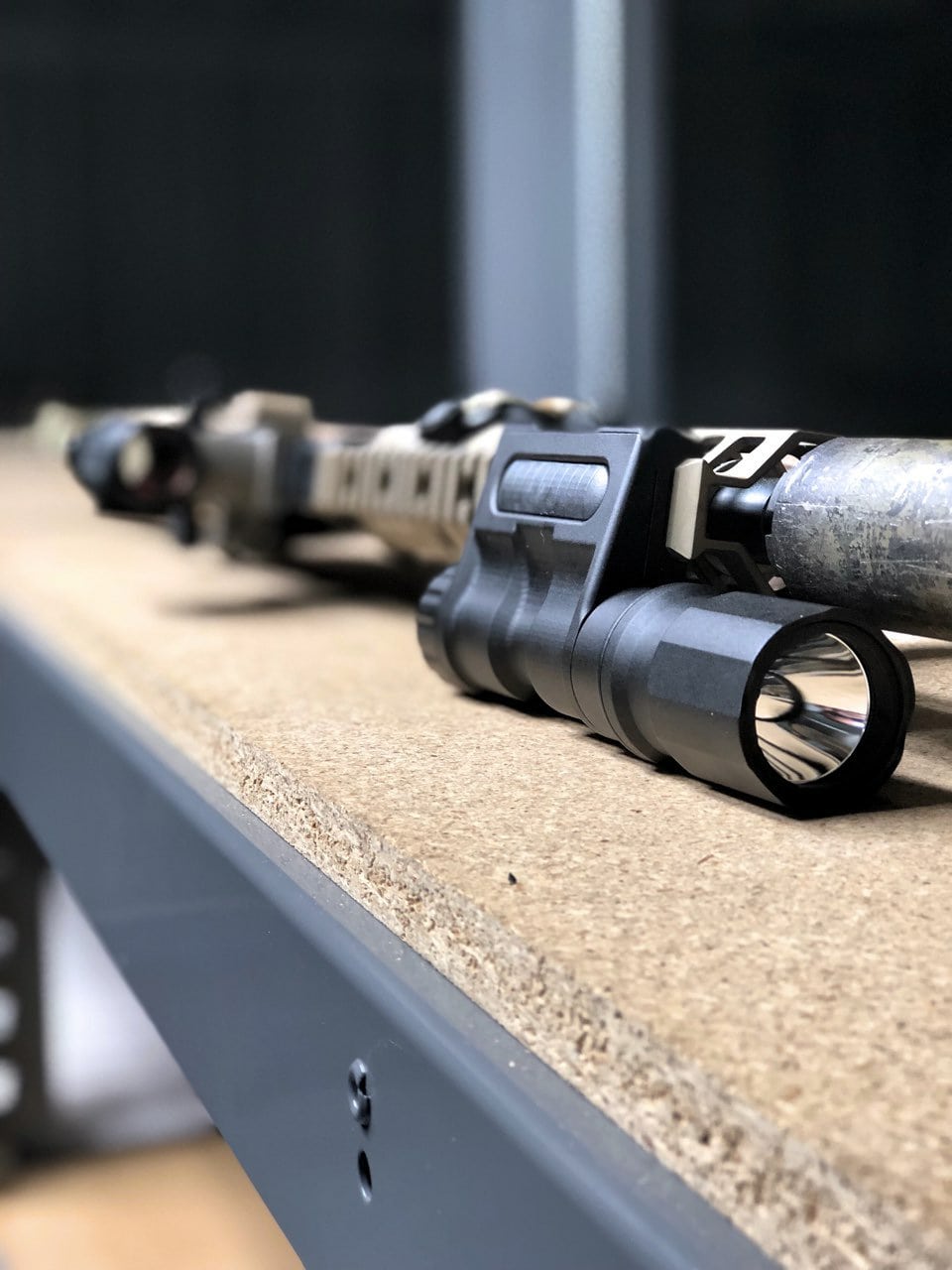 We've been following Cloud Defensive since their first product, the Light Control System (LCSmk1 and LCSmk2). Sean McCauley, the President over at Cloud Defensive, just gave us an exclusive announcement of their first proprietary Weapon Light System. They are calling it the Optimized Weapon Light.
OWL seems like a fitting name, after the nocturnal bird of prey.
*Images are of OWL prototypes to be displayed at SHOT Show 2018.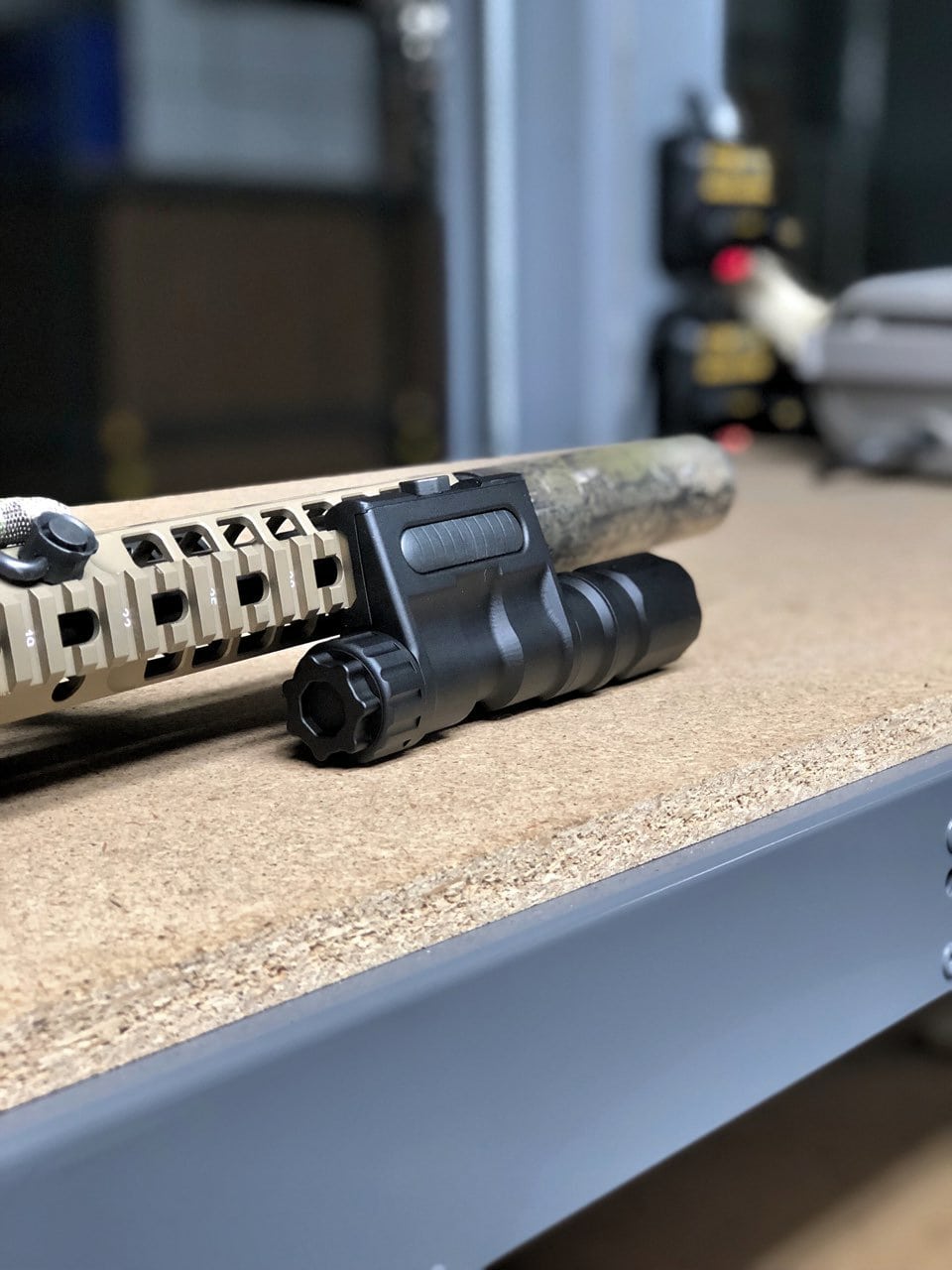 Optimized Weapon Light – Completely Integrated OWL
From my conversation with Sean and reading the fact sheet, the OWL is a complete integrated system without exposed wires; there are no mounts or supplementary parts needed. OWL represents a one-piece, tool-free solution. And it appears to be a one-piece solution that is going to work very well for a lot of people, law enforcement included.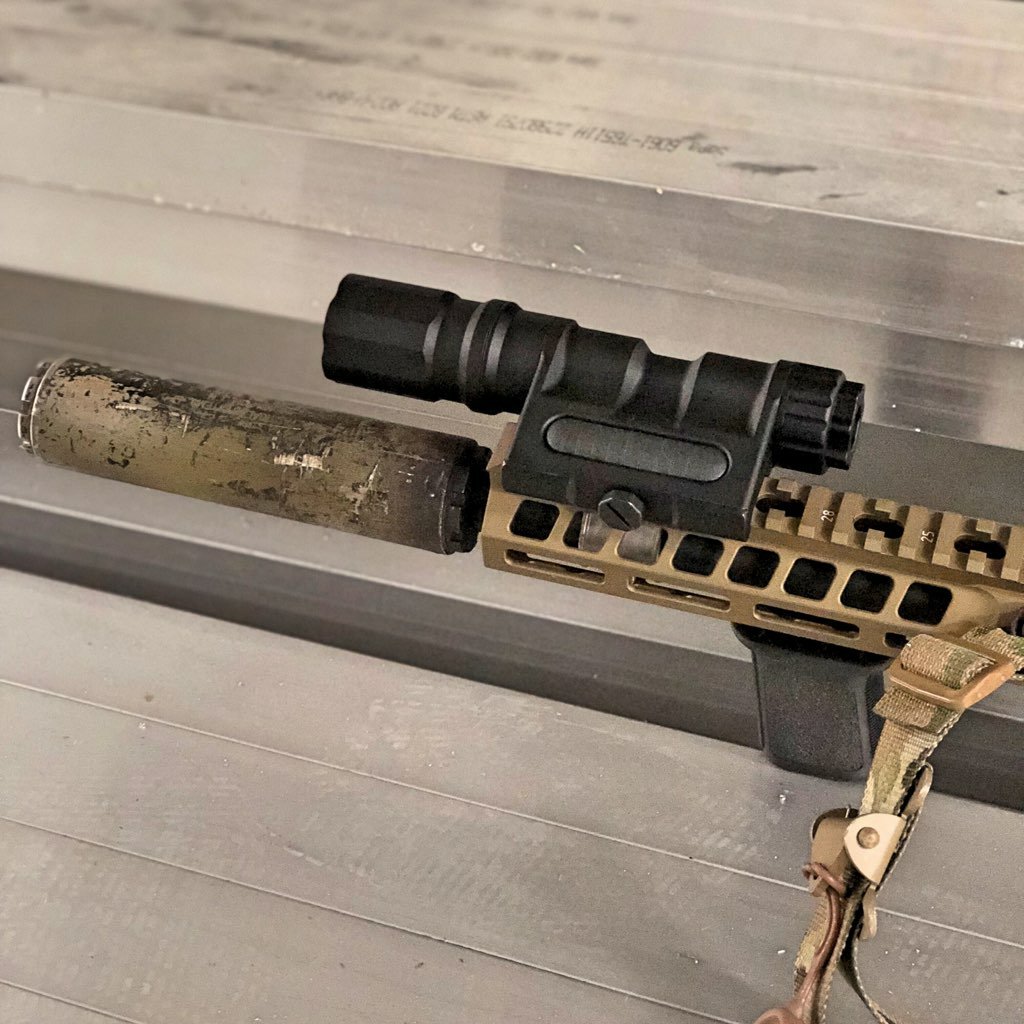 OWL features a quick-disconnect head and tailcap. That may be the feature that's most intriguing, though there are several here. Cloud Defensive did away with the traditional threads that hold a flashlight together, so replacing batteries or changing the setup of the OWL will be very fast.
Sean told me the head or tailcap can be removed from the light body, while mounted on a weapon, in less than two seconds with just a few degrees of rotation on the head or tailcap. And yes, batteries can be changed from either end, at any time. So there is no longer a need to work around the muzzle or a hot suppressor just to change your batteries.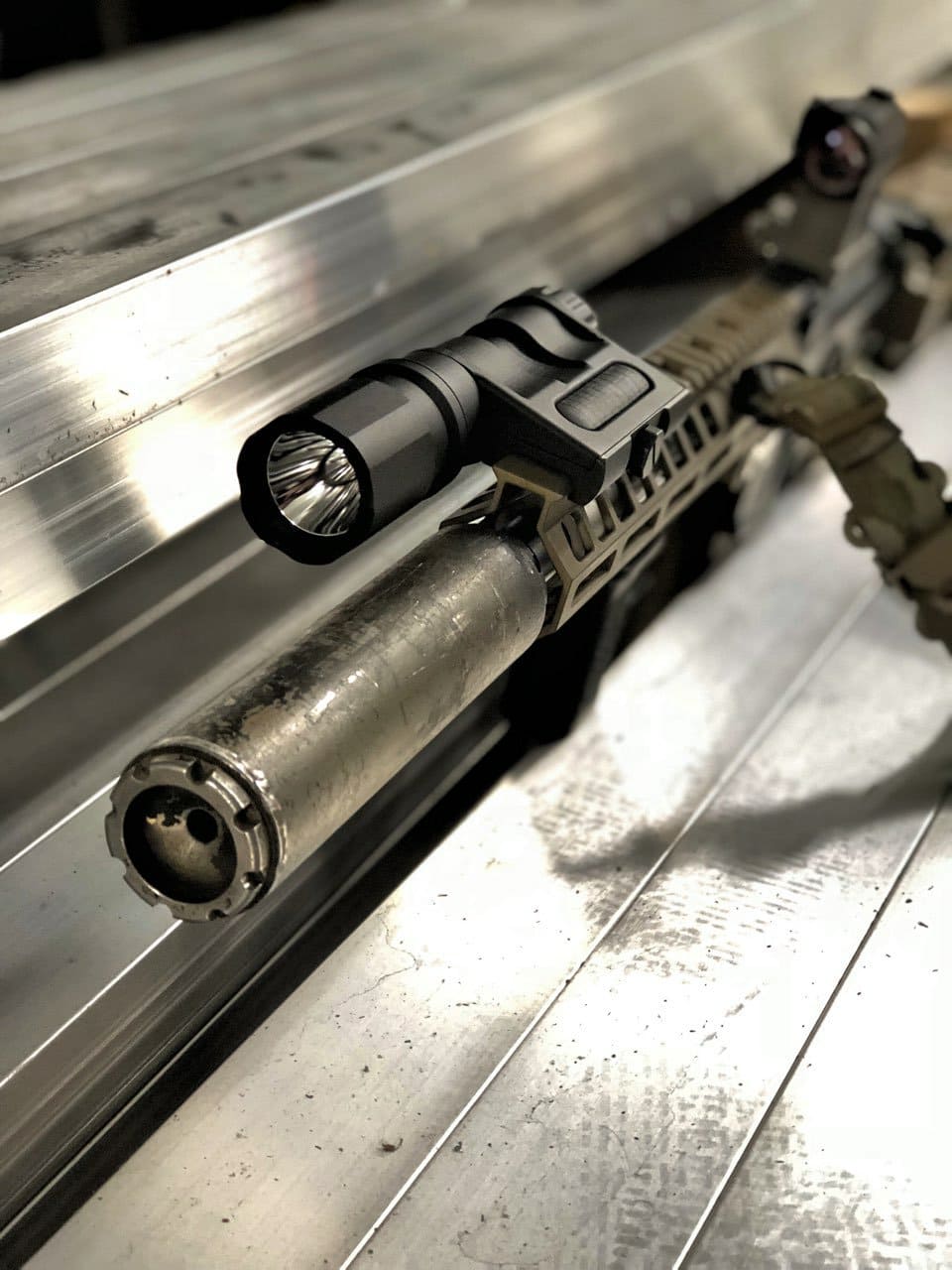 Lux and Lumen – Optimized Weapon Light Output
The OWL has an estimated 1,600 Lumen/45,000 Lux output, running on three CR123 or 16340 rechargeable batteries, which to my knowledge will be the highest output on a WML available. By making their own reflector in-house, they are able to shape the light pattern precisely to their own spec. Output and run-time studies are currently underway.
Speaking of manufacturing, the guys at Cloud Defensive are making this light 100% in-house, here in the USA. Even the electrical system is made here. Sean told me no expense was spared with the electrical system, which yielded the most efficient system possible. So the user is getting an industry-leading level of performance (output and run-time).
It also has a mode that allows it to run at 60% output – and that mode is entered via the pressure switch, at a time of the user's choosing. Yet the programming features are protected in such a way that the end user can't accidentally program their light during duty use. As such there are no external buttons or switches that control output, which can represent a liability in the field.
The switch itself is interesting. The OWL features an integrated switch that functions as a momentary or constant and is user programmable for the three modes of operation. I'm told this is not a standard tape switch but rather a proprietary switch that is permanently sealed from the elements during the manufacturing process. The result is supposed to be bombproof. And they learned from the previous generation switches as well; it's recessed and effectively shrouded in such a way that negligent discharge of the light is virtually impossible. Yet the switch seems big enough to easily engage instantly. The ergonomics appear impressive.
Some very unique features the OWL will have are the field serviceable lens and the dual-tool built in the tailcap. You can install it and replace the lens if it gets damaged without requiring any other tools, so no extra tools are needed for this system.
The OWL is currently in pre-production. Once testing is finished, production will begin and the first units will be shipping sometime in Q2 of 2018. So we don't have to wait too long.
Here are the features, as advised by Sean:
•One-piece integrated solution with optimized ergonomics.
•About 1600 Lumens and about 45,000 Lux (estimated as of publication).
'Our lumen estimate is going to be very accurate as that's a lot easier to calculate. Lux is a function of not only the LED but the reflector. Since we control the reflector geometry, we are able to tweak that design to optimize beam pattern which means the candela could be shifting a little bit before production. This light is being optimized for 'throw,' meaning we'll be able to put light further down range than the competition. And we'll have nice useable spill in that pattern as well. We're being very picky on the light beam.'
•A Quick-Disconnect light head and tail-cap. Battery changes are now lightning fast and easy to do. Patented Lug-Lok technology gives you a light head and a tailcap that are removable without traditional threading. A few degrees of rotation and you can immediately remove the head or tailcap. The batteries can be changed from either direction, at any time. Working around the muzzle or suppressor is now a breeze as well.
•Precision machined from Certified 6061-T6 aluminum. Just like most other components on your gun. And just like the other flashlights on the market.
•Type III Anodized to MIL STD. "Hardcoat," just like the rest of your gun.
•Made 100% in the USA. Made 100% in-house at our production facility. We're proud of this fact.
•Uses either three CR123 batteries or three 16340 rechargeable. Our electrical system senses what batteries are present and adjusts for those batteries. This gives you maximal performance and ensures safety. Outputs are the same with both power sources but the 16340's will run a bit longer. Due to the protected nature of the 16340s however, we recommend CR123 for duty-use.
•Run-time at 100% power is industry leading. Nobody puts out this many lumens for this long. It's not even close. (Performance and run-time studies are underway.) Admittedly, we have a 3rd battery where others do not. So effectively, we are pulling from a bigger "gas tank". The efficiency of our electrical system is second to none. So is our heat-sync ability. As such, we have a light that runs longer and brighter than any other weapon mounted light (as of publication).
•Run-time at 60% power (960 lumens) is also industry-leading. The run-time numbers here are really impressive when compared to the competition at those output levels.
•Multiple modes of operation. The OWL is user-programmable. Select what is right for your mission. And change it anytime you need.
1) Full power, all the time (momentary and constant-on)
2) Full power for momentary, 60% for constant-on. Roughly 960 lumens at 60%.
3) 60% power all the time (momentary and constant-on)
•Industry first multi-purpose switch allows for momentary and constant-on operation. Momentary until switch is held down for seven seconds, then constant-on engages with a quick blink of the light for visual confirmation. Constant-on is disengaged with a simple tap of the switch. A hard-programmed safety mode exists within Power Mode 2. Tap the switch during 60% constant-on and you are immediately back to full (100%) output.
•Fully Ambidextrous. Our reversible design allows it to me mounted on either side of the host weapon.
•Field-Serviceable Lens. Our FSL system allows for damaged lens' to be changed out in a matter of seconds, by the end user. The days or sending your light back for warranty on a broken lens are over.
•Dual-tool built into the tail-cap. You attach OWL to your weapon with the tool in the tail-cap. You replace your lens with the tool on the tail-cap as well. This dual-tool feature makes the OWL a tool-free design.
•Waterproof to exceed IPX8 standards. The OWL is fully submersible to reasonable depths.
•Shockproof. Dustproof. OWL is a hard-used piece of equipment.
•No external wires to deal with. No external plugs or sockets. Not susceptible to water/debris.
•Lifetime Warranty. Period."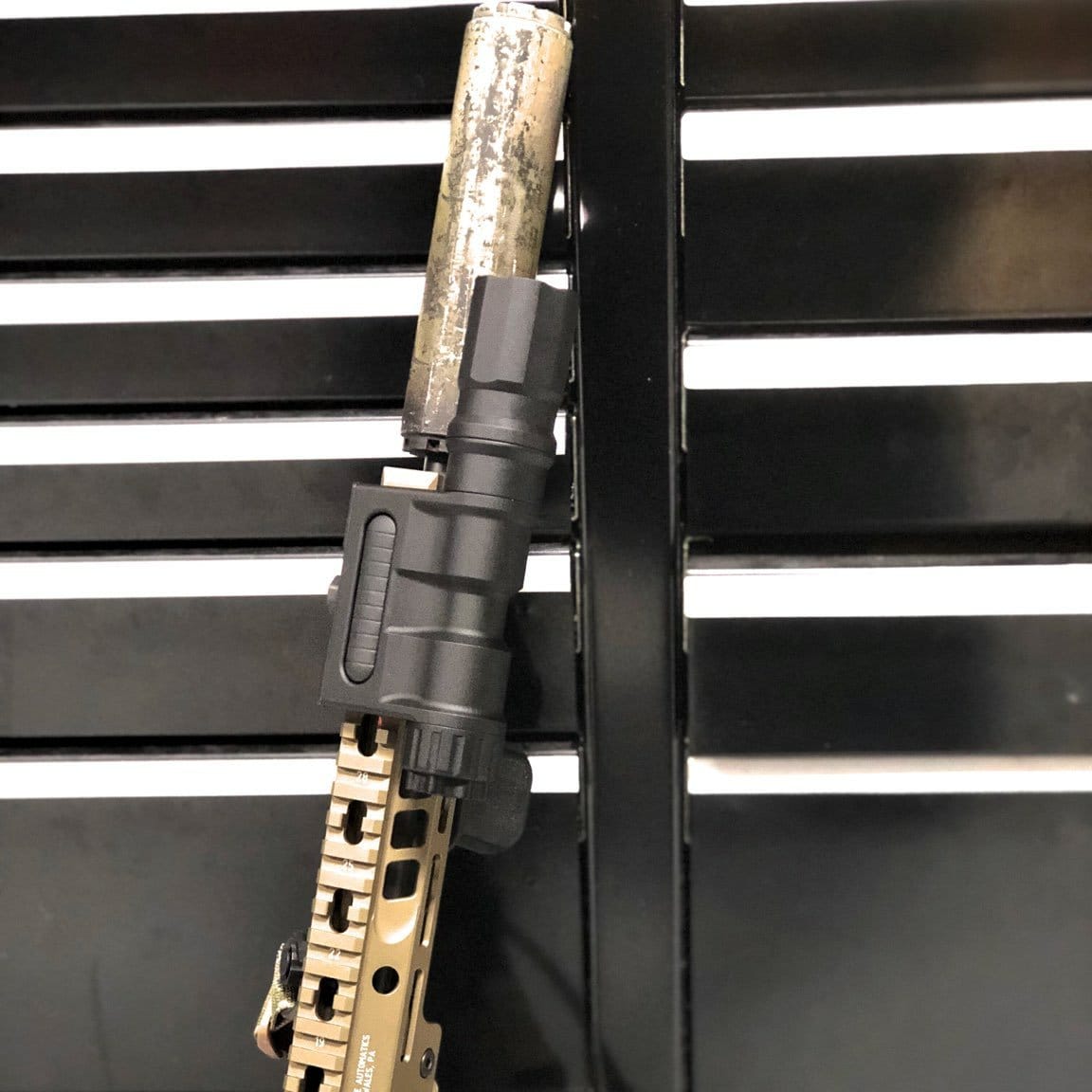 The OWL appears to be a WML system like none other in existence. It has an impressive output, is fully integrated and packed with features, many of which are very innovatively designed into the light.
I haven't picked one up yet. There will be scheduled times at several booths showing off the production samples at SHOT Show 2018. Two of the known booths at this time are Strategic Armory Corps/Armalite – Booth #11771 and Geissele –Booth #15162, and a couple of other booths TBD. I look forward to seeing Sean there, checking it out in person at SHOT and getting a production model down the line for a full report.
If you are at SHOT Show 2018, this is one of those products you really want to check out. MSRP will be at $339.99 with an intro price of $299.99 at Cloud Defensive site. The OWL is scheduled to ship second quarter of 2018.
50SoFDE
SHOTREP brought to you in part thanks to the support of US Elite Gear, @

uselitegear

.

---
SHOT Show 2018
This SHOT Show 2018 SHOTREP has been brought to you by the eeeee-light writin' team at Breach-Bang-Clear. You're welcome. Why are we focusing so much attention on SHOT, you ask? Is the NSSF SHOT Show that important, you wonder?
Is a pig's ass pork?
The National Shooting Sports Foundation annual Shooting, Hunting, Outdoor Trade show may be just one of many conventions in Vegas, (as you can see by checking out Vegas Means Business), but it's definitely the most important one in our world…well, unless you count the AVNs. Besides, as we've explained (NSSF SHOT Show 2018 Approacheth), this year is SHOT's 40th anniversary — meaning it's damned near as old as the most seasoned dancer at Nancy's Squat 'n' Gobble! (We're not entirely sure how old Industry Day at the Range, or as it's also called, Media Day at the Range, really is.)
Regardless — we'll be providing industry press releases and lots more from the floor. There's damn sure gonna be a lot to talk about.
You can find all our SHOT Show 2018 articles in the SHOT Show 40th Anniversary lineup.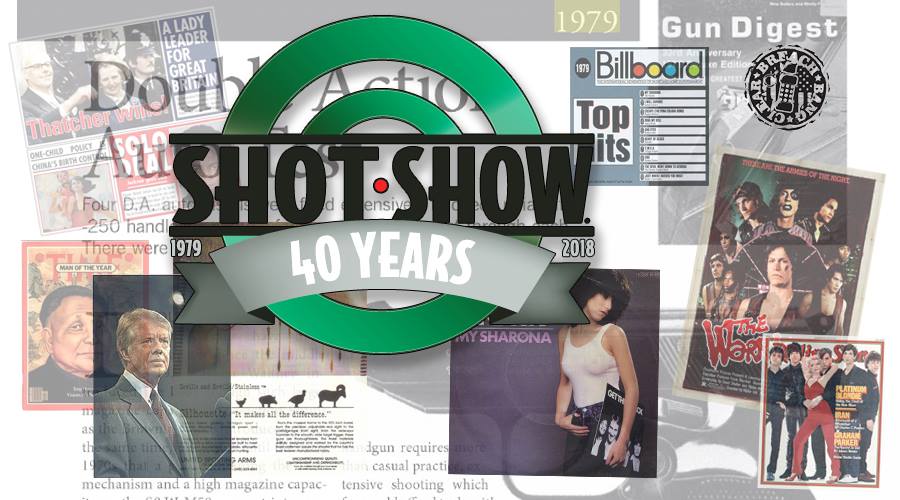 Breach Bang Clear
This has been another pulchritudinous installment of Breach Bang Clear. Breach Bang Clear is the warrior scholar's choice for commentary and analysis of national and international events, gun news, tactical industry news, and of course gear reviews. Here we embrace the abstruse, encourage civil discourse, meet uninformed dogma with snarktastic vituperation, and always eschew sesquipedalianism. Think and be dangerous.
Grunts: sesquipedalian.
If you wish to share or repost, please so kind as to follow our terms and conditions.
Comms: Our PACE Plan
Primary: You should immediately subscribe to the Breach-Bang-Clear newsletter here; you should also be reading all our pontifications and every single Op-Ed we publish.
Alternate: We present superb gun pr0n, knife pr0n, and tactical industry news on the Breach-Bang-Clear Facebook page; there will be more of that, and some military humor as well, on our Instagram account (@breachbangclear), so be sure to check in there frequently.
Contingency: There will be an additional chance to read tactical news, gun reviews, outdoor gear reviews, adventure equipment reviews, and blade pr0n on our Google + account;
Emergency: Activate firefly, deploy green (or brown) star cluster, get your wank sock out of your ruck and stand by 'til we come get you.
T&C: All original material published by Breach-Bang-Clear is the copywritten property of Breach-Bang-Clear, Inc. If you wish to repost, republish, or otherwise share our content, feel free to reproduce an extract of up to 225 words and one complete, unaltered image, preceded by attribution crediting the source and author's name, to include a link to the Breach-Bang-Clear home page, with a link back to the full article on our website, BreachBangClear.com. You do not require our permission to do this. Please do not reproduce our content in its entirety without contacting us first. We do allow full syndication on a case by case basis (credited, and posted with a canonical link, as is common practice and in good form) but only when mutually agreed upon beforehand. If you wish to reproduce a complete article, please contact us for permission to publish first.
About the Author: Fifty Shades of FDE is a full-time LEO in California for a large agency with approximately 10 years experience on the job. He's a husband, father, firearms enthusiast, and (like many of our Minions and Flunkies) training whore. He is a supporter of the Second Amendment and a proponent of law abiding citizens' right to defend themselves with concealed carry permits, but no matter what anyone says he's not actually Lee Byung-hun, nor has he ever been in a Kim Jee-woon movie. That's not even the right country. A fully vetted member of the SOCAL Asian Mafia, the author runs a pretty badass Instagram account called @fiftyshadesofFDE, and writes his own gun/gear reviews on www.fiftyshadesoffde.com Contact him by e-mail if you'd like. No dick pics, please: [email protected]. Note: We've been trying to get 50SFDE to color his hair and start dressing like Vash the Stampede for over a year now, but so far no joy. If that changes we'll advise most ricky-tick.