Despite our initial misgivings, we've had a couple people take a look at these. Interestingly, every one of the reviewers liked them. Here are a few words about the Skydex Battle Trainers from our Israeli correspondent, Wretched Minion Daniel "Mad Duo Dan" Barak. MD
Skydex Battle Trainers Review
Daniel Mad Duo Dan Barak
As an IDF Reservist I have to stay in shape. An emergency call-up can happen any time, and I've been caught off guard in the past. That and living 2 minutes from the beach in Tel Aviv means that I run more than most.  
Contrary to popular belief there are other things to do on Tel Aviv beach than ogle off-duty bikini-clad IDF girls.
When it comes to running, my weapons of choice have, for many years, been Brooks running shoes.
After flirtations and short-term relationships with such brands as Asics and Nike, Brooks and I have been happily running together for several years now. Therefore, when asked to review the Skydex Battle trainers,I knew that the chances of me liking them were slim-to none. I was however, pleasantly surprised.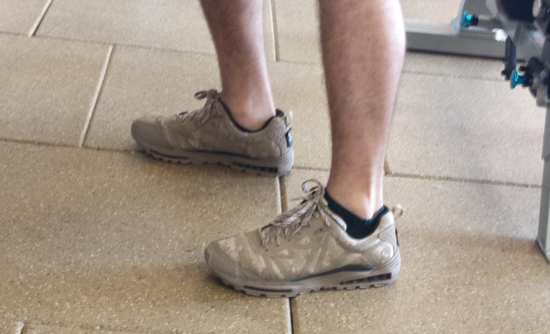 My initial impression was that they were heavier than a regular running shoe and looked more like a fashion shoe. When I started to run in them however, I realized that something good was happening underfoot. The Skydex egg timer- looking compression platform is incredibly comfortable. It genuinely feels like you are getting some impact protection and comfy bounce-back. The system that I was all too ready to dismiss as a gimmick and more suited to its other uses such as anti-IED APC  flooring really works in terms of running comfort and even justified a little extra weight.
In terms of the design, the desert-esque camo is decent and looks way better when paired with a pair of IDF combat pants than a standard running shoe. (Many IDF personnel such as Krav Maga or PT instructors wear running shoes and not boots). Naturally this pattern won't be for everyone.
Although the zig-zaggy side design lacks sophistication next to the Nikes and Adidass of the world, I did find myself pairing my Skydex with jeans in casual social settings. That is something the Israeli rapid-response fashion police would quite rightly bust me for with a regular running shoe.
To wrap up, the true test of any product is not your first impression but whether or not you keep using them and to my surprise, I do. My Skydex and I can be seen running down Tel Aviv beaches. They frequently take me past the Mad Duo, who have apparently all but billeted there since their arrival so as to shamelessly stare at off duty IDF girls in the name of research.
To give the battle trainers the full test, I took them on the usual horseback riding, waterfall hiking, gym exercising  circuit and was happy with the results.
I just wonder if Skydex would consider making them in Israeli OD.
What say you Skydex?
Read COWAN!'s previous review of the Skydex here, if you want additional perspective.
Order a pair of shoes here on their website.
Mad Duo, Breach-Bang & Clear