Meet the Dogs of SHOT Show 2019
Service dogs, working dogs, support dogs — there were war dogs all over SHOT Show this year. Though we call 'em war dogs because almost all of them, in some way, is connected to military or LE/CT service, we're aware that isn't strictly the correct term for such canines. We just like the way it sounds. Anyway, here's a look at 'em.

Updated and republished 6-29-19
Living the Dog Life at SHOT
I overheard someone complaining about being at the SHOT show. They said it was just  "full of guns or parts you can't buy yet, girls you can't date, and dogs you can't pet."
I suppose this guy had a point.  I mean, I wasn't trying to pick up girls, but I sure didn't have much trouble with the dogs.  A short conversation with the owner or handler followed by asking for permission to pet, and I was living the DOG life at SHOT.  I can't help myself, I've been around dogs my entire life. I was lucky to volunteer many years at shelters, work with some amazing dog trainers, and even spent time learning Schutzhund training with some amazing K9 officers.
It seemed like there were far more dogs this year compared to the last three. But maybe I was just dialed into focusing on them to assemble this pictorial. It ended up getting hectic and I had to resort to using my ancient iPhone for some of the photos since everyone was busy and on their way somewhere. I wish I could tell you the name of every dog and handler that I met, but there was no way that was going to happen. There were just too many. I met dogs that were there working security or were there to promote a business or organization. I also met dogs who came to support their owners.
K9 Officers and their Trainers
I can share with you the names of some of the companies and organizations I met when engaging in conversation with the handlers.  Check 'em out if you work with K9's or if you're just interested in supporting some good folks doing great work with dogs.
Rescue 22 mission, a group dedicated to solving the problems of veteran suicide by pairing veterans with trained service, therapy, and/or support dogs.  You can learn more about them at
http://www.rescue22foundation.org2
.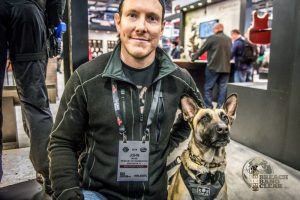 SOWW and Baden K­9  work together to provide needed service dogs to U.S. Military Special Operations Forces veterans. Baden K­9 provides advanced training. This includes (but is not limited to) service dogs, family protection dogs, and law enforcement or military animals. They provide one-on-one training that is specific to each dog and its owner. This ensures that all clients receive the best training from someone with years of hands-­on experience.
SOWW, in partnership with Baden K­9, provides the deserving recipient with a trained animal and necessary handler training. This comes at no expense to the Operator. Initial training travel costs are also included. You can learn more about each of these organizations by clicking on their websites below.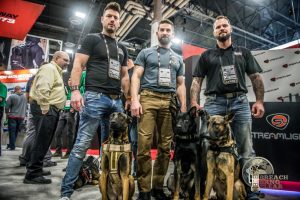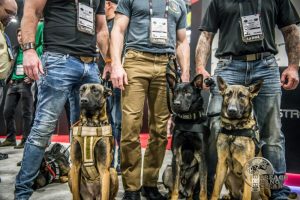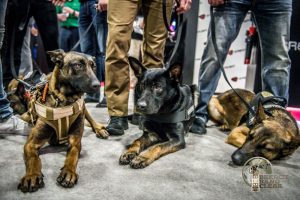 You can follow Chief Bronson and his dog Axl Rose­ Canine on
Facebook
.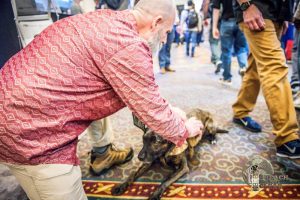 Below: William and his pup from Doggie Camel Pack, sporting the ultimate Pet Hydration System.  https://doggiecamelpack.com5.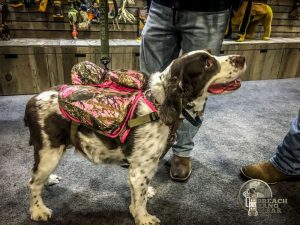 Rex Specs shows off their cool new K9 Vision System.  It's a POV visual feedback and audio communication system. Working dog teams use it to collect real­time information that aids in making strategic and tactical decisions.
Learn more at https://www.rexspecs.com.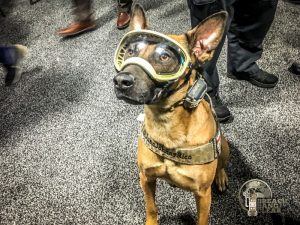 Dogs of Shot Pictorial
I got a lot of K9 officer and service dog photos.  Enjoy!
*Edit, June 2019 – we just learned that "Dark Storm Norm" will be at TRIGGRcon this year too. Follow him on Instagram, @darkstormnorm.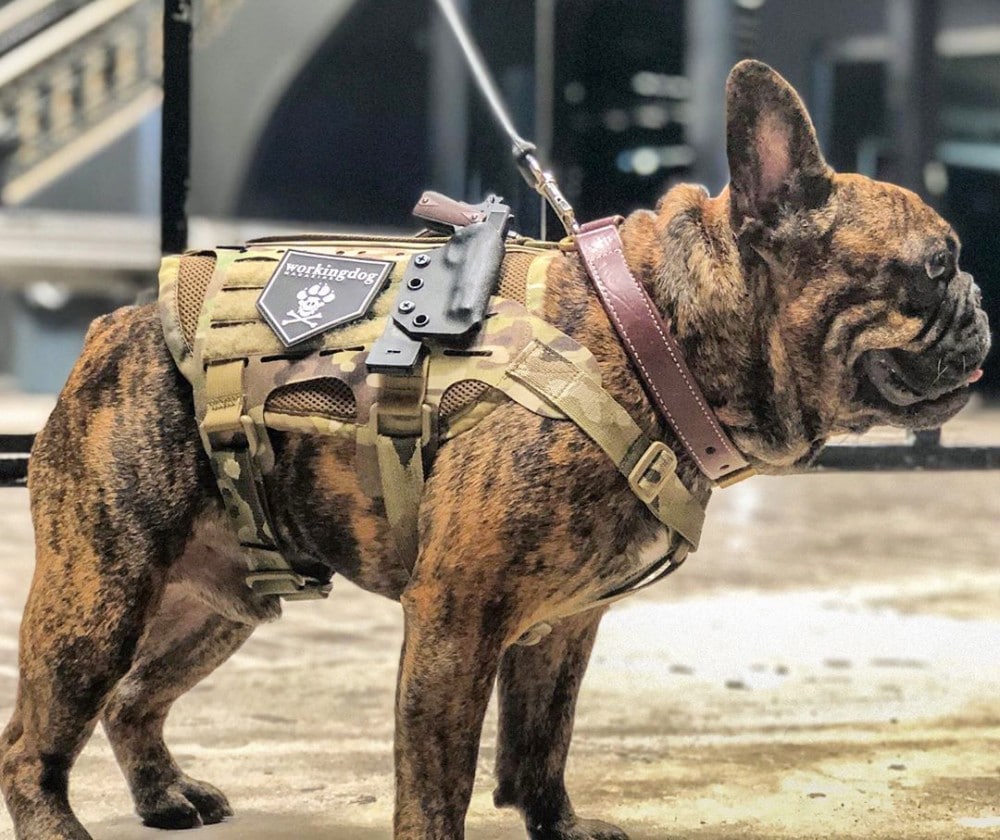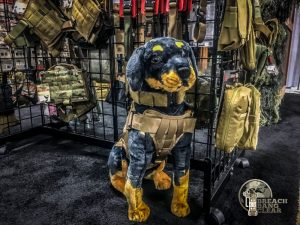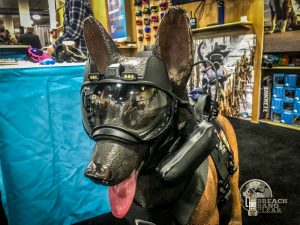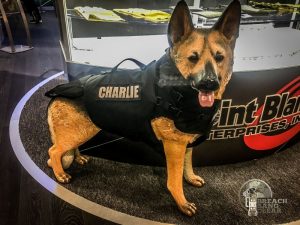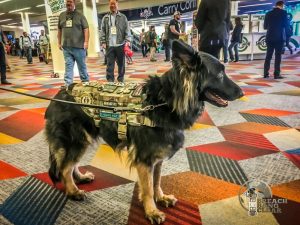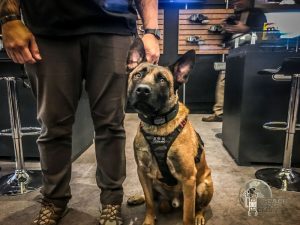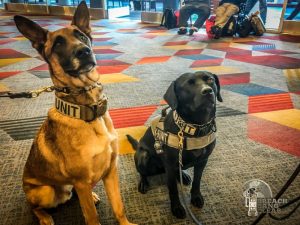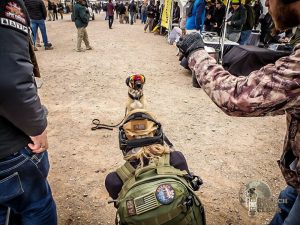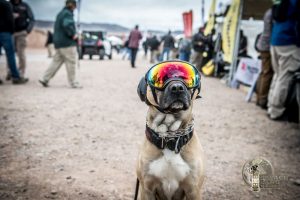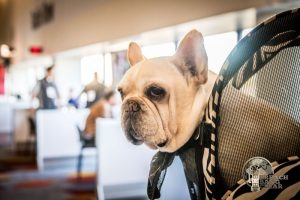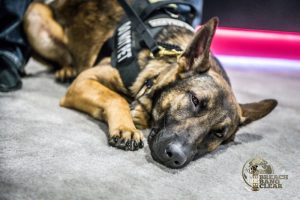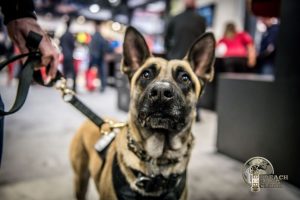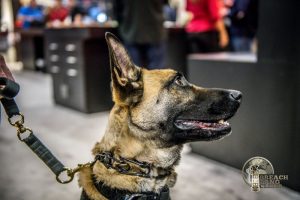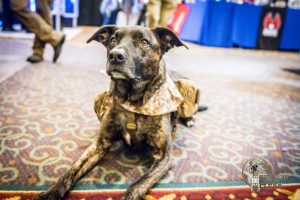 Like what you see here? You might like our "Some Dogs are Grunts" article.
'cuz it's true.
Take a look at "Mug Shots for Mutts" too, or the review we did on Rex Specs waaaaaay back a long time ago.
Hell, for that matter check out our review of the Sport K9 Harness.

     
     breachbangclear = 10% off your purchase
     breachbangforce = 15% off Blue Force Gear
     bbcshipfree = flat rate shipping on $99>orders
     breachbangkuhl = 20% off Kuhl products
 Some hyperlinks in this article may contain affiliate links. If you use them to make a purchase, we will receive a small commission at no additional cost to you. It's just one way to Back the Bang. #backthebang 
 Some hyperlinks in this article may contain affiliate links. If you use them to make a purchase, we will receive a small commission at no additional cost to you. It's just one way to Back the Bang. #backthebang