REVIEW: MK VII SPORT K9 HARNESS from Fight and Flight Tactical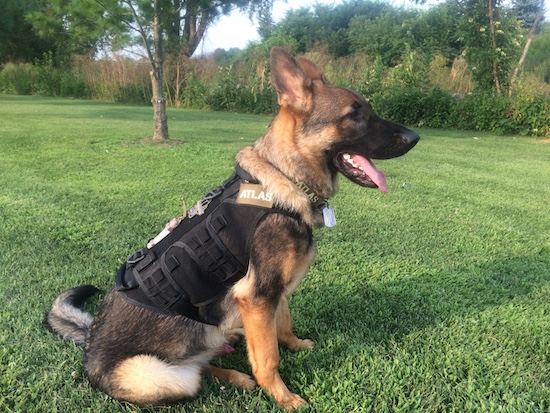 That fine lookin' dawg got himself some new gear. You know what he's thinking? "Gee, I sure hope the bitches notice my new harness!" That's what he's thinking.
MK VII SPORT K9 HARNESS  from Flight and Fight Tactical
Nathan "Mad Duo Nate" Murr
Fight and Flight Tactical go its start back in 2002 when owner Dave Watson started out running a tailor shop out of his barracks room. This humble beginning is similar to many other established gear shops of today, where a serviceman gets a simple sewing machine to make some extra money by repairing uniforms, sewing patches, and repairing gear. After returning home from his second deployment to Iraq in 2006, he continued to grow the small enterprise until leaving the Army under medical retirement.  The closing of one chapter begins another, and Dave decided to turn his hobby business into a full company, with industrial grade machines, materials and design. 
As with many companies in the nylon game, Fight and Flight Tactical is constantly evolving their designs to meet the specific needs of individuals and organizations. As mission requirements of their customer base shift, the company is quick to produce special solutions for the guys and gals headed down range. They will custom make gear upon request and is yet another veteran owned company that deserves your consideration.
The subject of this particular review is a nylon dog harness produced by Fight and Flight Tactical; their new MK VII Sport K9 Harness.
Designed as  is a multi-mission-capable platform, the intent of the design is one that will be equally suited for ESAR, tracking, and LEO/military working dog roles. The Harness is sized to fit working breeds such as German Shepherds, Belgian Malinois, Labrador Retrievers, Australian Shepherds, Huskies, and Malamutes from 50 lbs up to 95 lbs. The sample we received fit this very dog well; he's  a 7 month old 75 lbs German Shepherd puppy and he was chuffed to be given the opportunity to model.
The first thing to consider when looking at dog harnesses is the intended use of such a vest, followed by design and comfort for the dog. Some harnesses on the market will fit improperly, rubbing on the dog's shoulders or running to tight on their chest. The sport version of the MK VII has generous adjustments for the front "yoke" and side straps, which secure it to the dog. The Sport model is intended to be used as an economical alternative to their more expensive models, which feature more costly and rugged hardware. Even as a  "budget version" of the MK VII Tactical K9 Harness, the Sport is extremely well made.
The materials and stitch work reveal the harness as the work of a small custom shop, on that is likely to hold up longer than many of its competitors. Our model (Atlas) has worn the harness for the last month on nearly a daily basis. As he has grown from 65 to 75 pounds, the harness was easily adjusted to retain a snug but comfortable fit. Wearing the harness on cross country hikes, on runs and around the house, Atlas has shown little concern for how the harness rides. The Sport has a generous cut for the movement of the dog's shoulder blades, which is as important for unrestricted movement as it is for avoiding potential injury.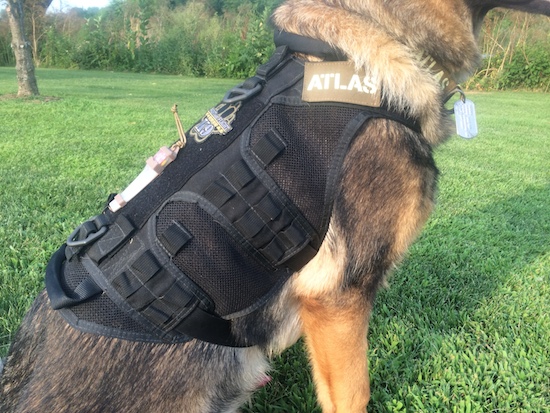 The Sport MK VII loads easily onto the dog, requiring one leg to be placed through the harness as its lowered onto the K9's head. The yoke is adjusted center to the dog's chest, and two straps secured across the chest. The underside strap is made from heavy scuba webbing, which actually works quite well as a "skid plate" of sorts when the dog tears through heavy brush or over obstacles. The two straps clip onto the harness via fasted type buckles, and allow for fine tuning the fit. Fight and Flight has different sized vests for your dog, so make sure you measure your pooch and take into account any potential growth before ordering a harness of your own. Although providing some adjustment, the MK VII is not a "one size fits all" design.  
The harness has plenty of Velcro along the collar area and down the spine, to allow for unit/department patches, IFF markers and strobes. The Velcro also is there to work with add on pouches and specialty panels that can be purchased separately. The entire vest is sewn on heavy, Mil-spec grade nylon mesh, to provide ventilation and lighten the overall weight. Wearing a black nylon harness all day in the summer heat made little difference to Atlas, who seems not to be bothered by such trivialities.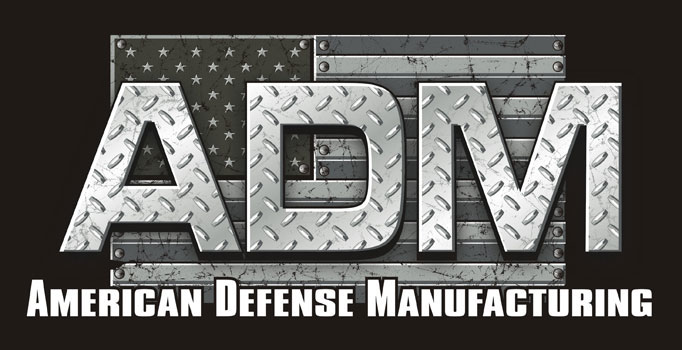 I guess when you wear a fur coat anyway, it's not a big deal.  Two strips of stacked PALS webbing on each side provide attachment points for additional pouches/ load carriage, and once again work with Fight and Flight's specially pouches. Although the harness is not designed for (nor should it be used for!) rappelling or parachuting, it does has several features usually found on vests loaded for such tasks. The harness features two heavy duty steel attachment points, on at the front and another at the rear of the best. This is an ideal clip on point for a leash, or carry strap, and heavily reinforced for longevity.
For those that load their dog in and out of vehicles, boost them up to enter a window or over a wall, you are going to like the two carry straps located next to the D-rings. These straps have stiffeners sewn inside, allowing for quick and comfortable grasping. They make picking up a 75 lbs fur missile like a suitcase a breeze, and with minimal discomfort to either dog or handler.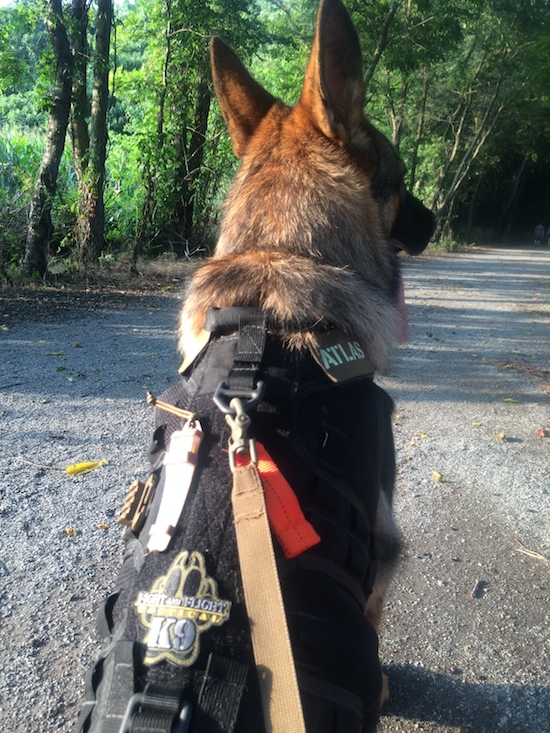 Atlas failed to cause any damage to the vest, despite his constant wear and best attempts. After a month of daily wear through creeks, streams, mud puddles and thick brush, the vest still looks as good as new. For these reasons, for its provenance and its obvious rugged construction Atlas and I would recommend it for anyone looking for a strong durable harness for serious use.
Use it for your best friend at home or your service/working dog, it will fit the bill for both. Check out the specs listed below, and be sure to check out the website! 
Fight and Flight is also on Facebook and Instagram (@fightandflight).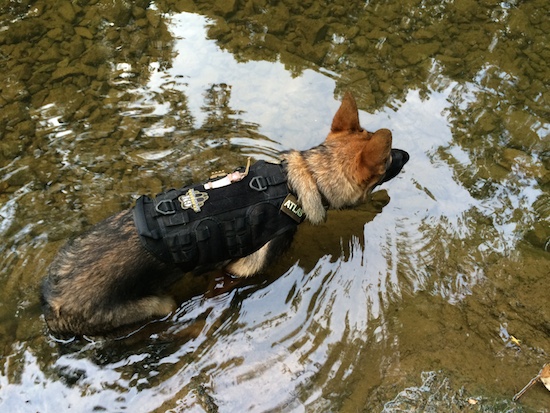 Features:
* Angled yoke and chest piece prevent choking, unlike other harnesses with a horizontal chest strap
* Lined with 3mm airmesh on body, chest piece and Skidplate
* PALS on sides for mounting pouches and patch panels
* PALS on top front for mounting lights and/or strobes
* Skidplate underneath provides two functions:
     – interior pocket for cooling packs
     – body strap channels have hook fastener inside, which mates with the loop fastener on the straps, preventing shifting of the harness
     – Skidplate does not interfere with the natural functions of male dogs (customers have asked this repeatedly)
     – Skidplate inner layer is 3mm airmesh, outer layer is heavy mesh, for durability and breathability
* Inner harness (with detachable leg loops) designed to take the stresses of rappelling (Sport version not recommended for rappelling, due to the plastic hardware)
* 4″x9″ loop velcro on the back for mounting sensors or other equipment
* 2″x6″ loop velcro on yokes for nametapes and ID patches
* Fore and aft handles run the entire length of the harness, through the inner harness, for strength and durability
* 1.75″ drop-forged V-rings fore and aft for patrol or tracking use
* 2″ ITW Nexus TSR buckle closure on sides
* All inner harness webbing and parachute spec rated
* Optional PALS panel mounts on to 9″x4″ loop area for mounting PALS-compatible sensors (sold separately)
Mad Duo, Breach-Bang& CLEAR!
Comms Plan
Primary: Subscribe to our newsletter here, get the RSS feed and support us on Patreon right here.
Alternate: Join us on Facebook here or check us out on Instagram here.
Contingency: Exercise your inner perv with us on Tumblr here, follow us on Twitter here or connect on Google + here.
Emergency: Activate firefly, deploy green (or brown) star cluster, get your wank sock out of your ruck and stand by 'til we come get you.