Eyes On: The Vortex Optics Strike Eagle
Vortex Optics Strike Eagle 1-6 x 24
Mike & Sharon Durand
Few things elicit a big stupid grin on the face of the tactical-minded than the delivery of of quality equipment.
The official Red2alpha AR15 has lacked an optic for quite some time. While he is accustomed to going without (the majority of his Iraq deployment he had optic on neither M4 or M14), he has really, really wanted one for some time. So you can imagine the neanderthal-like look of joy on his face when the FedEx guy said, "Sign here, please!"
If you know anything about the Vortex Strike Eagle 1-6 x 24 rifle scope (it's been out for a while now), you already understand Mike's beatific mien. You may not have caught the news, but earlier this year, the VSE Strike Eagle was voted one of the top 10 best 1-6 scopes for the money on the market by HuntSpot.
Grunts: beatific.
First Impressions.
This thing is big. Not only is it bigger than the M68 CCO he was accustomed to, it is heavier too. In fact, after purchasing the Burris AR-P.E.P.R. mount and installing the Strike Eagle on the rifle, he looked at me and said, "It's heavy as fuck. But I like it!" At a little over one pound (17.6 ounces per the specs), it definitely adds weight, but not to the point of making it cumbersome.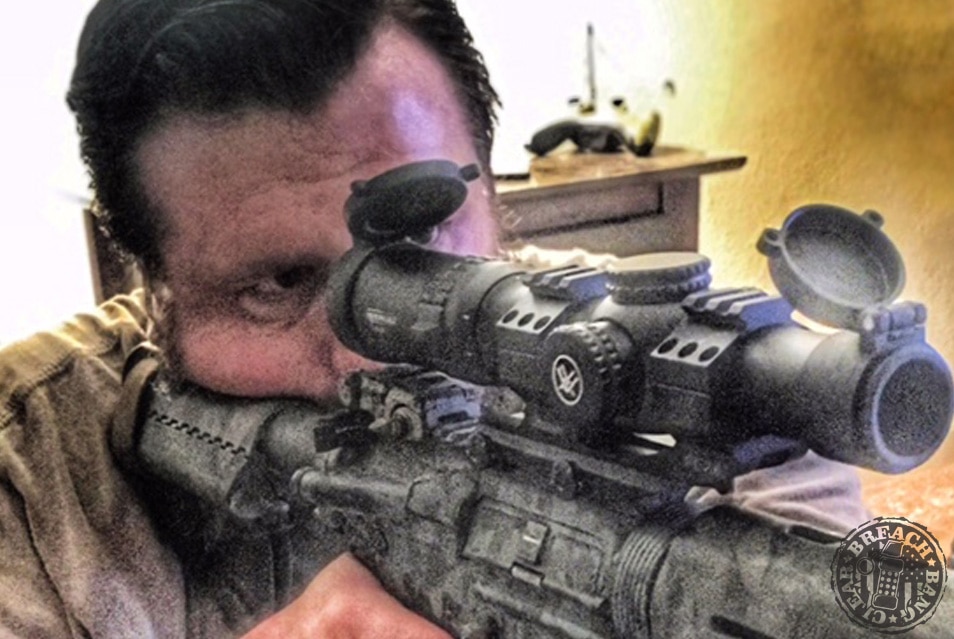 Oh. Damn. Grunts: mien. (Sorry 'bout that.)
The Vortex website boasts about the scope's  "…high quality, fully multi-coated lenses that deliver a clear, crisp sight picture and optimal low-light performance." Our initial observations corroborate that claim. With a 6x zoom range, the sight picture was for the most part (more on that in a moment) impressively clear, nice and sharp with a clearly defined illuminated, glass-etched AR-BDC reticle that's simple, quick to locate and intuitive.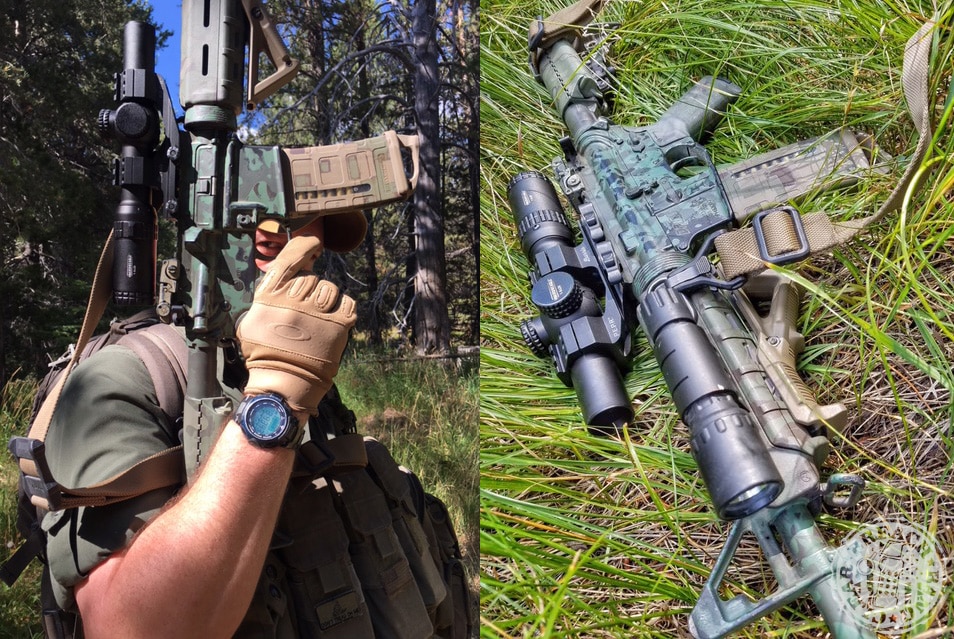 Just put whatever you want to shoot inside the horse shoe and pull the trigger. Boom!
Interesting side note, the sight picture I attempted was very blurry. Long story short, I am right handed but have left ocular dominance. Mind. Blown. No wonder my aim has always been off! As for the sight picture being for the most part impressively clear, we did notice some blurring around the edges, especially if you move your head. That's something we'll pay close attention to when we're actually able to range test it. This could be entirely the case of it's the Indian, not the arrow.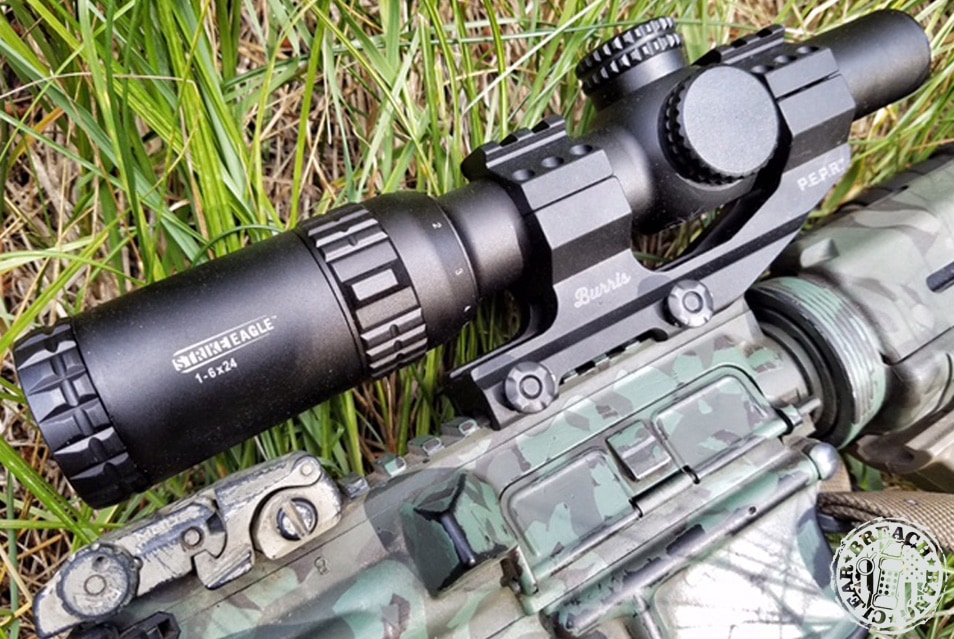 In terms of construction, the scope is solidly built using aircraft-grade aluminum. All the knobs and caps are sufficiently knobby enough to provide a sure grip under adverse conditions. The knob to illuminate the reticle gives a nice and solid "thunk" feel when twisted. At the rear the zoom focus ring has the same knurling as the caps and the added bonus of a raised knob for a surer grip. It's waterproof, fogproof, shockproof, and seriously makes the rifle look even more badass.
---
…
Vortex scopes, red dots, rangefinders, binos…buy 'em or not, but if you're gonna, do it via one of our links.

Find Vortex Optics at PSA (Palmetto State Armory).

Find Vortex Optics at Primary Arms.

Find Vortex Optics at Rainier Arms.

Find Vortex Optics at Weapon Outfitters.

Vortex Optics: they're on Amazon.
Find Vortex Optics at Brownells.com.

Vortex Optics: believe it or not, they're online at Wal-Mart.

⚠️ Some hyperlinks in this article may contain affiliate links. If you use them to make a purchase, we will receive a small commission at no additional cost to you. It's just one way to Back the Bang. #backthebang 
Next Step.
Two words: range time. We look forward to putting the Vortex Strike Eagle to the test very soon. Stay tuned for the full review!
Red2Alpha and Durand HH6 Actual
Here's the original Vortex video from when it was originally released a couple years back (below) and if you wanna read Russell Phagan's review of it from RECOIL Magazine, you can do that here.