Steve McQueen, Badass Man of Style
Among the most referenced men's style icons, Steve McQueen's pulchritudinous choices in clothing and accessories continue to be studied by men who command respect.

Known as the "King of Cool," Steve McQueen's Hollywood career spanned three decades, from the 1950's to the 1970's.  Among the most notable films of McQueen's career is 1963 film classic The Great Escape, in which three Allied prisoners of war in a POW camp.  The video clip below is a scene showing a daring motorcycle escape jump that McQueen requested to be added to the film because he was an avid motorcyclist.  The scene is a good representation of McQueen's effortless style and badass personality.
Grunts: Pulchritudinous.
In matters of personal style, it is helpful to take a look at how other men successfully create their own. This is why Gentlemen's Gazette praises Steve McQueen's iconic style in their article, Gentleman of Style: Steve McQueen.
Steve McQueen could pull off casual work wear, western attire, and 3-piece suits while looking equally authentic in them all – not many men have that kind of range. He rocked a certain nonchalant confidence that is the envy of every man who has perused a style gallery of his most famous looks.
Take a look at some of McQueen's best looks.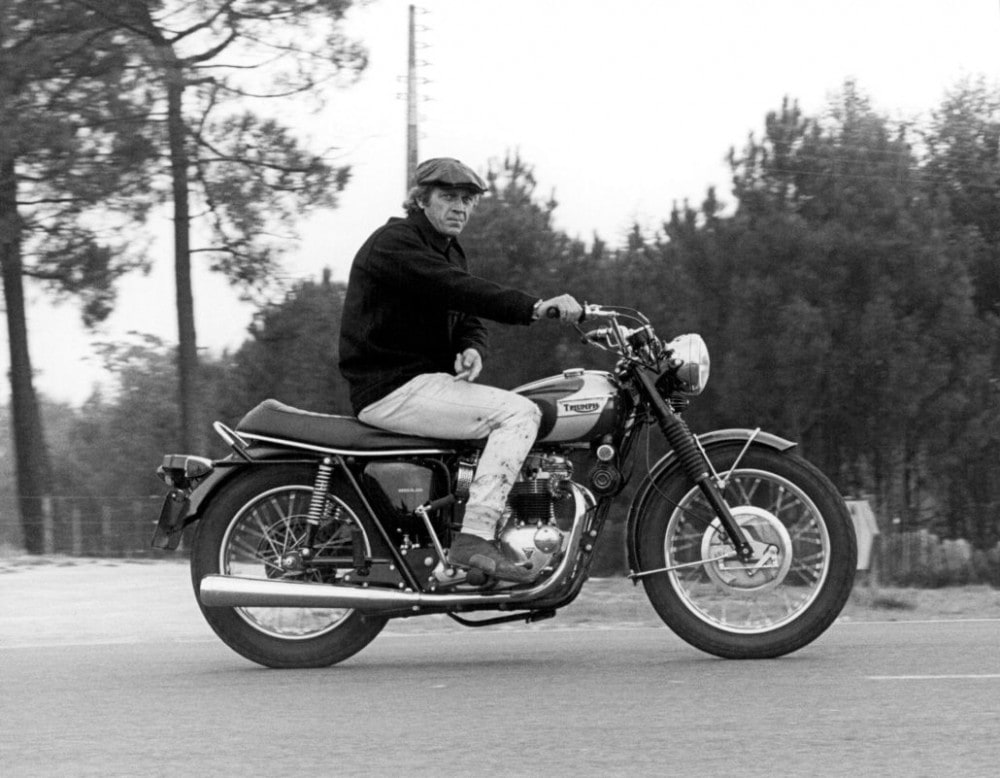 Steve McQueen Motorcycle EnthusiastAccording to Gentleman's Gazette, there are a few basic guidelines that McQueen went by that other men can use too.
He kept his look classic and simple.
His fit was spot-on.
He mastered layers.
He knew what looked good on him.
McQueen was selective about his accessories, often only adding a classic watch and a signet ring to his wardrobe. You can about his life, career, legacy, and style here.
If you'd like to make his cool-guy look work for you, keep these things in mind:
Keep it casual, but not too casual.
If you wear a suit, make it count.
Layer jackets over simple layers.
Find a signature pair of shades.
Stock up on sweaters and khakis.
Invest in a classic watch.
If finances are a consideration when shopping for a classic watch, take a look these at Homage Watches.
• Get your learn on; check out their blog. 
 Some hyperlinks in this article may contain affiliate links. If you use them to make a purchase, we will receive a small commission at no additional cost to you. It's just one way to Back the Bang. #backthebang 
---
Declare for Morning Wood!
Why become a patron? Not for the dick pics. So you can access the Morningwood Bazaar, obviously.
Exclusive discounts up to 60% off all kinds of guns and gear. 
Plus, unrivaled camaraderie where we only make fun of you most of the time.
Access to Nancy's Squat & Gobble, our closed Facebook discussion group.
If you wish to cite, syndicate, or curate our material, or if you're wondering about our please be so kind as to read our

Terms, Conditions, and Disclosure

s.
Take heed! We have advertisers, sponsors, and affiliate relationships with some of the companies you will be reading about (particularly, but not limited to, archival posts). If you purchase one of those items, we will get a small commission from the sale at no additional cost to you. A lot of work goes into Breach-Bang-Clear; by making your purchase through one of our portals you'll be supporting our work. This will help us buy beer, bullets, and barbecue, and we won't have to put pop-up ads and other such stupid shit into our articles to pay our expenses.