Crush washers, we use them, we love them, and when it comes time to install a muzzle device you likely have one to get the job done. Crush washers are a bright light in the dark world of installing muzzle devices. Personally I hate installing muzzle devices. Call it OCD but I can never be happy enough when it comes to their alignment. Crush washers do their best, but when you want to get anal, (lol anal), then it's shims to the rescue. Strike Industries have recently released an AR shim kit for .223 and man-sized 308 guns that will allow you to be as anal as you want. 
To be real shims are designed for those superbly important muzzle devices. Like silencer mounts. With shims, you can get a precise alignment. When you have a silencer mounted to your gun you really want that alignment to be perfect. Other muzzle devices, like tunable compensators, have to have very precise alignment to get the most out of them. This is where the Strike Industries shim kit comes in handy. The shims allow for that consistent and precise alignment. 
If you are a little nutty about it like I am you might use them to make sure that Starbuck's basic flash hider is on the gun just right. The Strike Industries Shim kits are made from SUS 304 stainless steel. SUS 304 is a common stainless steel with great corrosion resistance and is less thermally conductive than most. 
The Strike Industries AR Shim kits include shims of varying thickness levels that allow for precise and frustration-free alignment. The kits are a mere $4.95. That's cheaper than a good time in Thailand and most flights to China right now. Give 'em a shout and check 'em out at Strike Industries.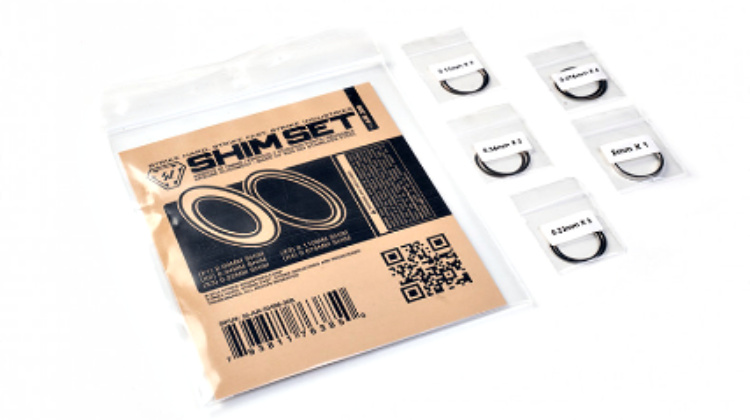 Here's the product description, in the company's own words:
The Strike Industries AR Shim Set for .223/5.56 or .308 assists in timing and alignment of your muzzle devices for a piece of mind dependable installation. Crush washers are usually a one-time use washer designed to deform and do not gaurantee alignment. Shim washers are flat, consistant and should be used whenever bore alignment is critical in appplications such as silencer mounts or to ensure your muzzle device ports are corectly positioned. Available in both 1/2″-28 TPI (.223/5.56) or 5/8″-24 TPI (.308) sizes, the Strike Industries AR Shim Set for .223/5.56 or .308 are solid one-piece shims made in various precision thicknesses for just about any application.

 This article may contain affiliate links. If you make a purchase using such a link, we will earn a small commission from that sale at no additional cost to you. 
Like what you read on Breach-Bang-Clear? Consider joining our Tactical Buyers Club.