Report: NCT4 Suppressor Shield
What do you do when you want to minimize the length that suppressor adds to your rifle, you've run outta rail space, you're looking to prevent damage to your can, and you don't wanna burn your dick-skinners on it if you forget your gloves? Well, read on. Remember the NCT-4 we wrote about? Nordic Components may have a solution for you. Mad Duo

Report: Nordic Components NCT4 Suppressor Shield
Mike "the Mook" Searson
There is a trade-off when it comes to running a suppressor on your rifle.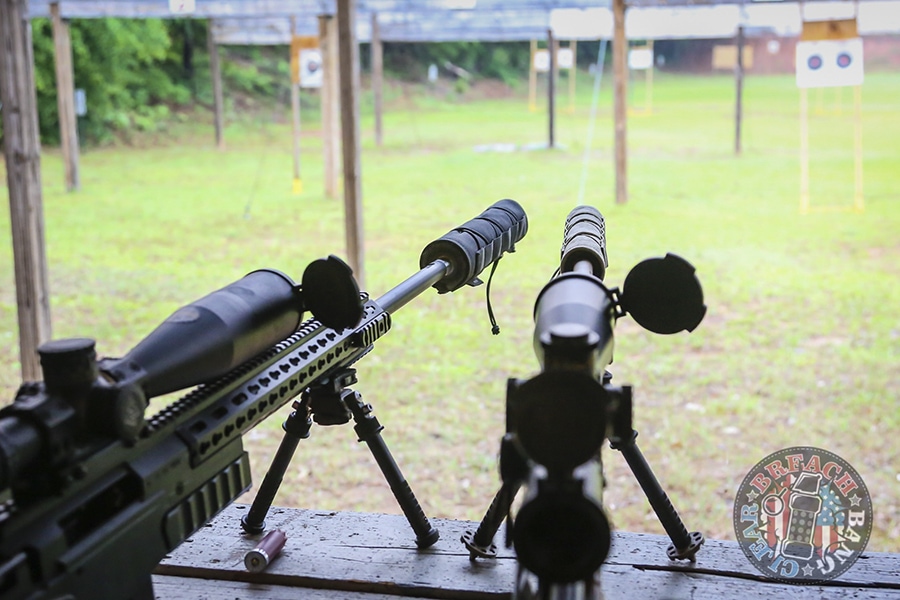 As good as manufacturers are about using titanium and stellite in their creations to save weight, the length of most 5.56 rifle cans remain in the five to seven inch range. Run a 7.62 silencer and you can easily push that out another few inches. This turns your 16″-barreled patrol carbine into something that may not be much heavier but is likely more unwieldy.
The quick answer, of course, is to go the SBR (Short Barrel Rifle) route.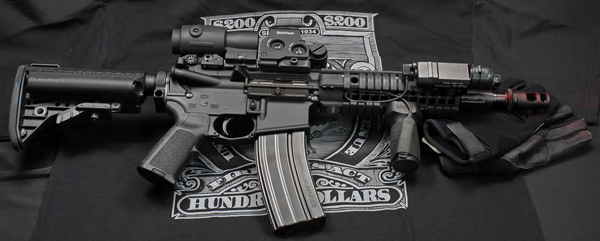 Dropping down to 14.5 in., like a standard M4 profile, may not exactly cut it. You'll really want to go down to 12 in., 11.5 in., or even 10.5 in. If you go any lower you may sacrifice reliability and any warranty on your silencer, as the blast will wear out your baffles quicker. So, you opt for the two stamp setup or (if you still hate paying that $200 tax for a shorter barrel) you go the pin and weld route to take your suppressed rifle up to 16in..
Now your problem is that you don't want to damage your silencer, you've run out of rail space, you don't want to burn your dick skinner when you grab the hot can after leaving your gloves in the truck. Or, maybe you simply want to look like Joe Kickass with an "SD" rifle.
Maybe it's a combination of all of the above.
So, what can you do? You can run a longer rail, install the can underneath it, hope the folks who made the rail made it wide enough, hope to God you never have to undo your pin and weld or in the case of a two stamper, and hope you don't carbon it up so bad that you can't remove the silencer should it need service. Of course you'll also need to worry about it coming loose in the field and cross-threading the mount when you want to tighten it or reattach and can't see the threads.
Those all seem like really bad circumstances. Luckily, however, Nordic Components identified this dilemma and has come to your rescue with the NCT4 Suppressor Shield.
Try to follow us here: this is a modular two-piece handguard that allows for use of a full-length handguard on an SBR or AR pistol with a suppressor mounted; this gives the shooter up to 6 in. of full suppressor coverage.
Nice, eh?
NC sent us one to try out on a 10.5 in. upper; we spent quite a bit of time on the range with it and found it most satisfactory indeed.
Note – should you choose to buy one, we'd advise removing the outer 6 in. shield prior to installing a silencer. This will minimize bumping things around and ensure that you can start the threads properly by eyeballing them.
Both sections are fully M-LOK compatible and feature a seamless continuous top rail. The suppressor shield is fully tool-less, requiring only the push of a button to unlock. With an inside diameter of 1.850″, the NCT4 is spacious enough to accommodate nearly any suppressor.
As for a downside to this rail, it does make for a heavier rifle. I think the concept is sound and eventually the weight will come down — in the interim, if you're not worried about some additional weight you'll find nothing else to complain about. Wee shooters or those who are humping their rifle long distances or over and over through a shoot house might think twice. We do think this makes for a particularly good option for AR pistol shooters who want to run suppressed and feel they need more rail space (or want that "coveted" SD Look while shouldering their brace).
The NCT-4 will evidently be shipping this Summer, in two lengths, 6.7 in. or 9.5 in. handguard, intended for 7.5 in., 10.5 in., or 11.5 in. barrels. Both sections are M-LOK compatible and provide an unbroken top rail when attached together. We ran a 9.5 in. with the 6 in. suppressor cover on a dedicated SBR, utilizing a Radical Firearms RF-556 direct thread silencer. Aside from the aforementioned weight, we encountered no problems. It will take more field use to figure out if the NCT-4 conflicts with other suppressors, but Nordic Components says it will accommodate most of them. From what we've seen, we don't see any reason to dispute that.
The NCT-4 does get hot eventually, but that's only to be expected, and it's not a significant enough of a problem with typical shooting to warrant concern. If you're going to go full auto Matrix-battling-the-agents mode, you might reconsider.
Nordic Components does caution that you should not fire the rifle with the suppressor cover attached if you are not running a suppressor. We advise the same, but some people like learning things the hard way!
We'll post updates as we get them. Meantime, find Nordic Components online or follow them on Instagram (@nordic_comp). You might also keep an eye on what Chris Tran (@christranfiveoh) is writing. He's putting a Nordic Components NCT-4 through its paces too, and we're pretty sure RECOIL is doing something with one, but we're not sure about the status. Will advise.
See you where the brass is flyin' and lefties are cryin'.
Mike the Mook 

You can follow EOTech on Instagram, @eotech, or find them on Facebook, /EOTechInc/.
[arrow_feed id='48976′]
---
---
Mad Duo, Breach-Bang& CLEAR!
Comms Plan
Primary: Subscribe to the Breach-Bang-Clear newsletter here; you can also support us on Patreon and find us on Pinterest.
Alternate: Join us on Facebook here or check us out on Instagram here.
Contingency: Exercise your inner perv with us on Tumblr here, follow us on Twitter here or connect on Google + here.
Emergency: Activate firefly, deploy green (or brown) star cluster, get your wank sock out of your ruck and stand by 'til we come get you.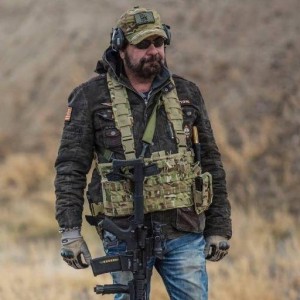 About the Author: Mike "the Mook" Searson is a veteran writer who began his career in firearms at the Camp Pendleton School for Destructive Boys at age 17. He has worked in the firearms industry his entire life, writing about guns and knives for numerous publications and consulting with the film industry on weapons while at the same time working as gunsmith and ballistician. Though seemingly a surly curmudgeon shy a few chromosomes at first meeting, Searson is actually far less of a dick and at least a little smarter than most of the Mad Duo's minions. He is rightfully considered to be not just good company, but actually fit for polite company as well (though he has never forgotten his roots as a rifleman trained to kill people and break things, and if you look closely you'll see his knuckles are still quite scabbed over from dragging the ground). You can learn more about him on his website or follow him on Twitter, @MikeSearson.