While many people view Magpul as an AR-15centric company, this year's SHOT Show is starting to show just how wrong that perception is. The company has released a lot of new designs to start off 2015 and we were excited to see the new AK-47 lineup. This includes a new handguard and folding stock, as well as MOE AK-47 furniture.
Magpul Zhukov Stock | AK furniture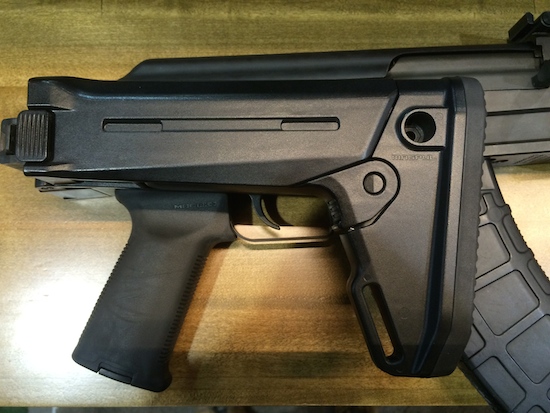 Some Americafied Commie goodness at the 2015 SHOT Show.*
*This article originally ran in January 2015. We've updated it with some pertinent information and images of the Zhukov stock and other Magpul AK furniture in the wild, just for those of you with a vodka blaster fetish.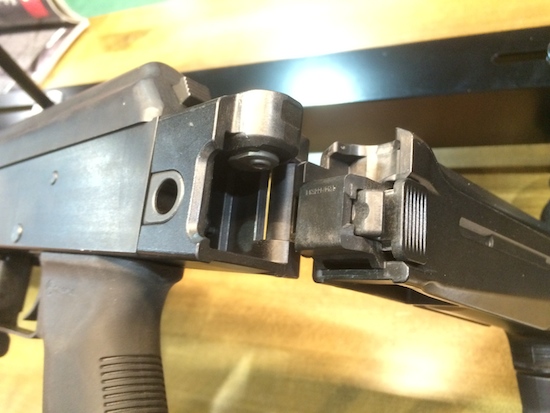 There are already plenty of options for AK buttstocks, most of which we are not impressed with. Most modern stocks for the platform are less than ideal, being heavy, complex, expensive, or a combination of all. Many of our minions are fans of the AK family of firearms, but we all have different views of what is considered ideal. Reeder's AK remains "classic", with wood furniture, Merrill likes his AKs enhanced with exacting parts, and Murr prefers a mix of both (but he still considers the AK a bad-guy gun best left to third world peasants).
Regardless of your preferred setup, it looks like Magpul is going to have something to appeal to all AK owners.
Unless they're more interested in custom AK furniture, of course, but that's an article for a different time.
Magpul AK Furniture: first look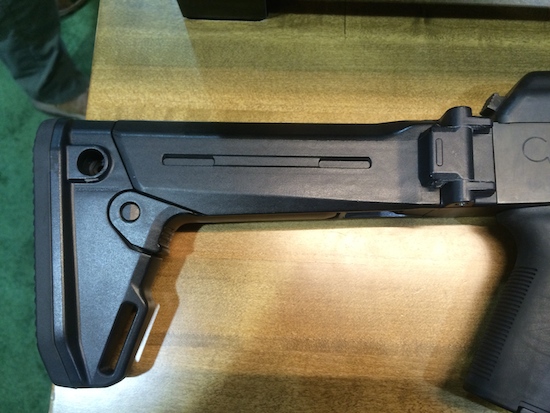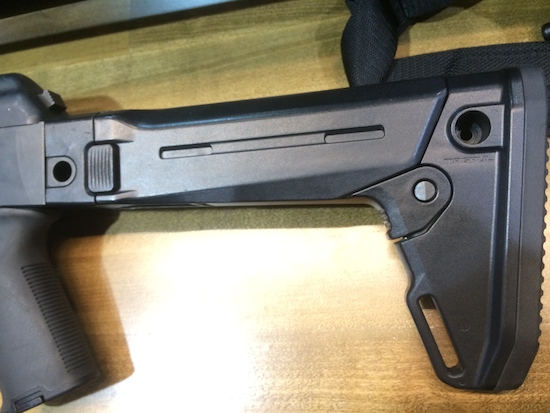 Magpul Zhukov-S AK upgrade
Of all the new AK products we've seen this year, the Zhukov-S stock is arguably the most badass. We wanted to check out this new folder in person, so we went to Magpul's booth to handle it ourselves.
The Zhukov-S is a very streamlined, visually appealing stock. The hinge style locking mechanism locks up tight and feels like a fixed stock when open. The large, easy to depress release button is immediately behind a QD sling swivel socket and is recessed to protect from accidental release. The inside crook of the stock holds the adjustment button for changing the length of pull, with each position locking securely and with little perceived play.
The right-side folding design allows shooters to use COMBLOC style optics mounts, which mount to the left side receiver rail, and (most importantly!) the folded stock will not interfere with shooting the rifle when closed.
This could come in very handy should you find yourself in a 1980s action film.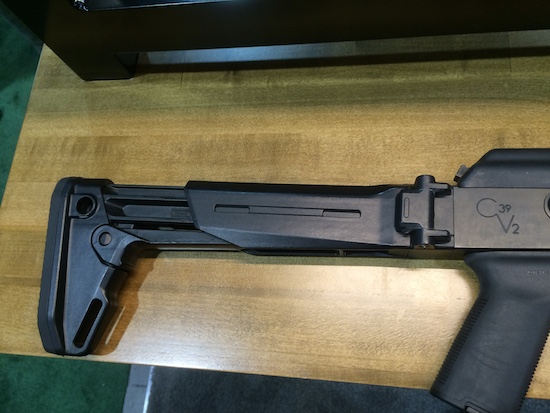 The S-Stock also features a nice rubber butt pad and recessed grooves for adding different height cheek risers. The stock balances well on the rifle when paired with the new Zhukov handguard and overall it looks and feels…fitting. The stock will be offered in Black, FDE, OD, Gray, and a new Soviet shout-out color: Plum. With an MSRP of $100 as of this writing, this is a lot of stock for the money. They will hopefully be out for sale by late spring, and we look forward to doing a field test.
We'll no doubt be seeing this on everything from Khyber Pass looking beaters to Russki blasters to Chinese AKs, and that's a Good Thing.
Magpul AK Forearms
The next AK product Magpul has released is their family of AK forearms. As mentioned, the new Zhukov handguard pairs well with its sister stock and is the longest setup currently being offered in the lineup. It features an extended length of pull, M-LOK slots, and a QD sling socket. It will be offered at the same price as the Zhukov stock, and in the same colors. We'll write more about those later if we can slip Canipe or Hickman a roofie and get some in hand.
It's pretty exciting to see all the new Vodka Blaster related Magpul products being released. It looks like they are going to have a pretty busy year.
Magpul AK furniture in the wild: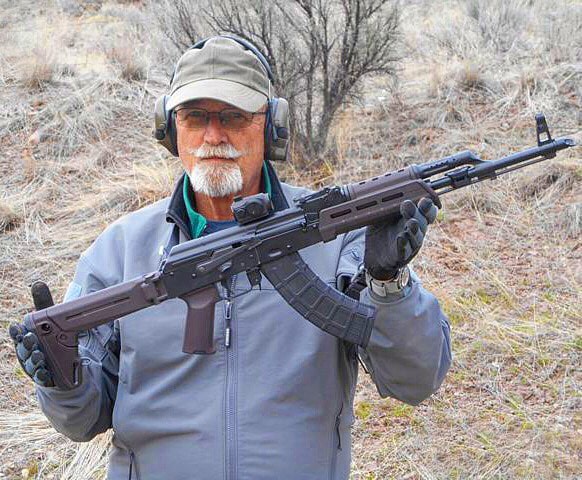 Magpul AK MOE/Zhukov Handguard and Folding Stock overview
---

Where to buy Magpul products
Magpul on Brownells
Magpul at Optics Planet
Magpul at Midway USA
Magpul at Rainier Arms
Magpul at US Elite Gear
Magpul on Amazon
Magpul at Weapon Outfitters
Magpul at Sportsmans Guide
Magpul at Big Daddy Unlimited
Magpul at Cabelas
Magpul at Tactical Distributors Inc.
Magpul on eBay
Like what you read here? Consider backing us on Patreon.
You'll be automatically enrolled into the Tactical Buyers Club, thus getting dozens of discount codes to high-end companies in the tactical/firearm/outdoor arena, and you'll earn the right to wear the House Morningwood sigil.
⚠️ Some hyperlinks in this article may contain affiliate links. If you use them to make a purchase, we will receive a small commission at no additional cost to you. It's just one way to Back the Bang. #backthebang 
Read more of our AK related articles in Vodka Blasters.