Fire Control Unit X01 | Eyes On
Edit 2-12-19: check out this later article covering the Fire Control Unit and pending RX03. 
I've been following the Fire Control Unit X01 for quite some time now and I just got my sample for a full report. It resembles a Futurist Space Blaster that you'd see in a Scifi flick. So what is it exactly? It's a PDW pistol or SBR (if you want to get a tax stamp and have a full stock) chassis that is an accessory in which you take the Fire Control Unit from a Sig Sauer P320 , (hence the name of the company) and place it, the slide and barrel into it, enhancing the effectiveness and capabilities of the FCU.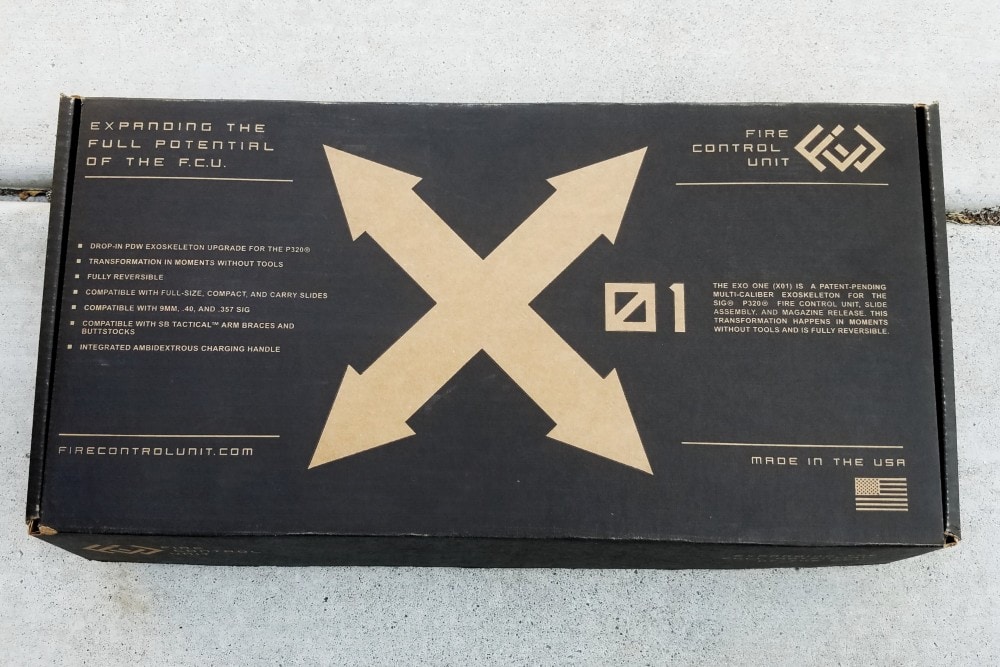 The X01 is now shipping. The sample model I received goes for $599 with the SB Tactical PDW Brace.
Setting it up was relatively easy. I pulled out my FCU from my P320C and placed it into the X01 body, which has tighter tolerances than the P320 grip module, very tight actually. The most challenging part was placing the takedown lever in, it needed some help with a rubber mallet. Next was the compact slide with a full sized barrel from Victory 1st, which I got off of Brownells. The X01 didn't come with a magazine catch so I had to take it from my grip module as well. That's it when it comes to making it functional. To close the top hatch if you will, the slide needs to be at slide lock and the PDW Brace needs to be fully extended.
The X01 features dual charging handles that are ambidextrous, non-reciprocating and allows you to HK slap the slide home. There are very necessary handstops on the left, right and bottom at the front end. The left and right can be removed, revealing MLOK slots for accessories. The top has a picatinny rail in place for sights and optics. It came with some grip tape, which I did use and adds a good texture to it.
My setup:
This is subject to change, I have the new Primary Arms Cyclops 1x Prizm optic with ACSS reticle. I removed the right handstop and replaced it with a Surefire M300V I secured the tape switch with a Cloud Defensive LCS Mk1. It is setup primarily for a right handed shooter but can still manage fine shooting support side.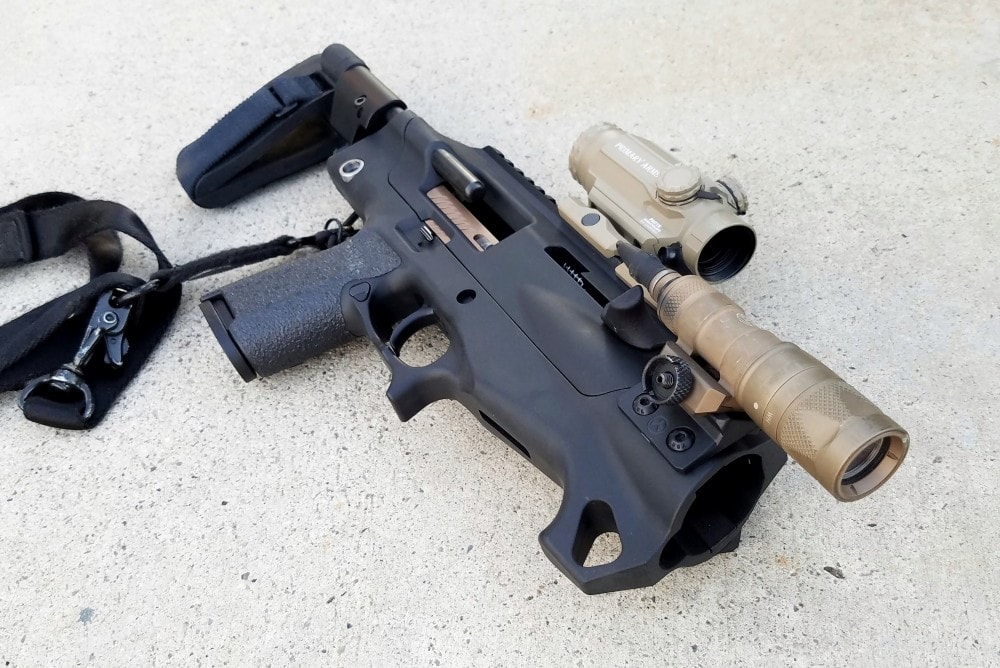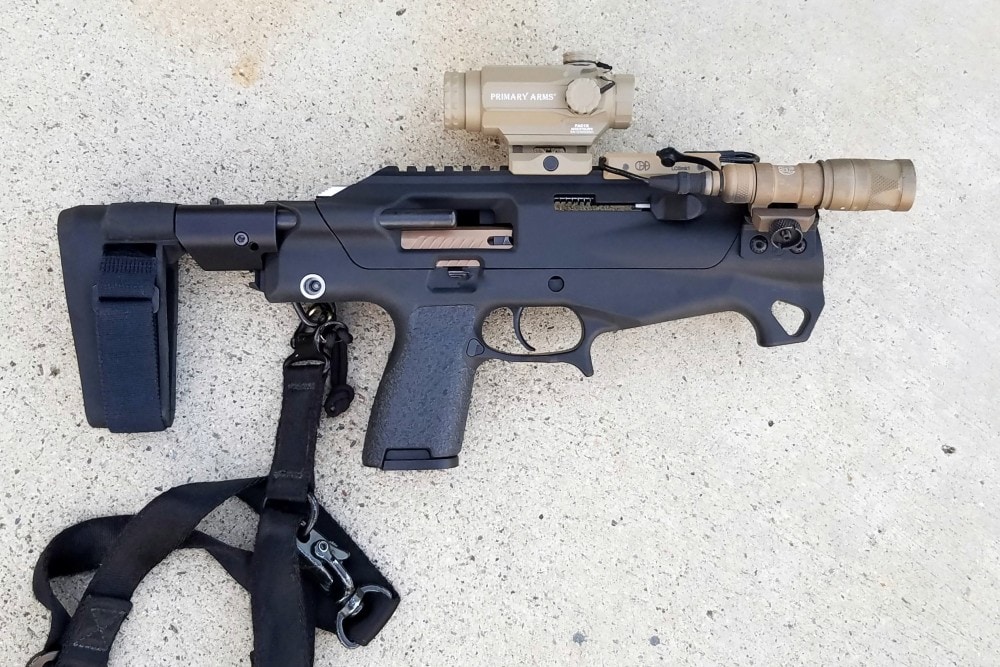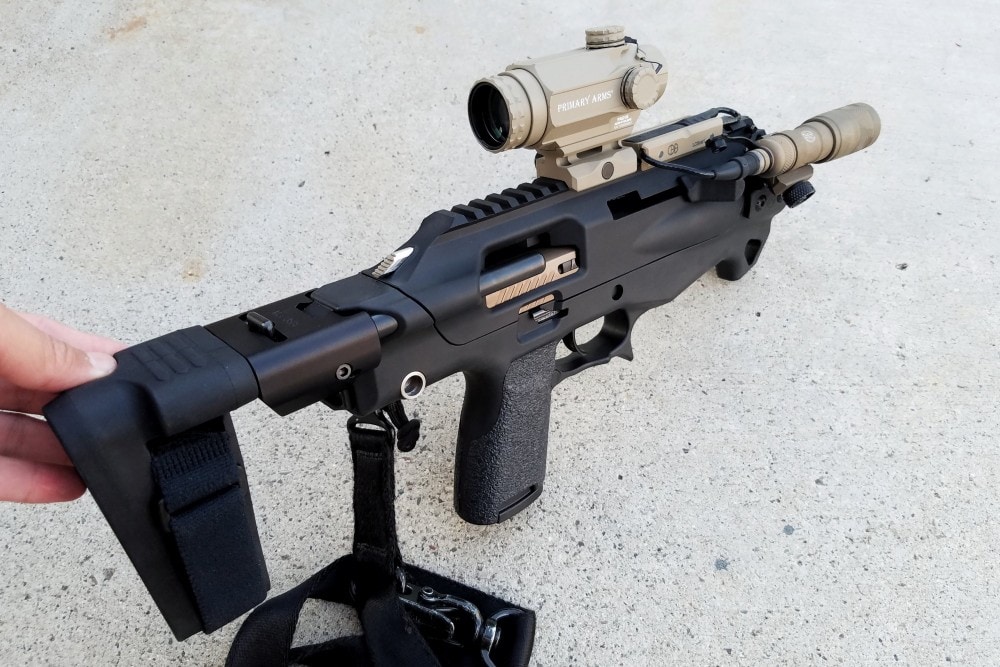 I'm fixing to hit the range for a full report on it, for the meantime, here's a short video of the setup as I have it now:
For more information about the X01 and to order, visit Fire Control Unit.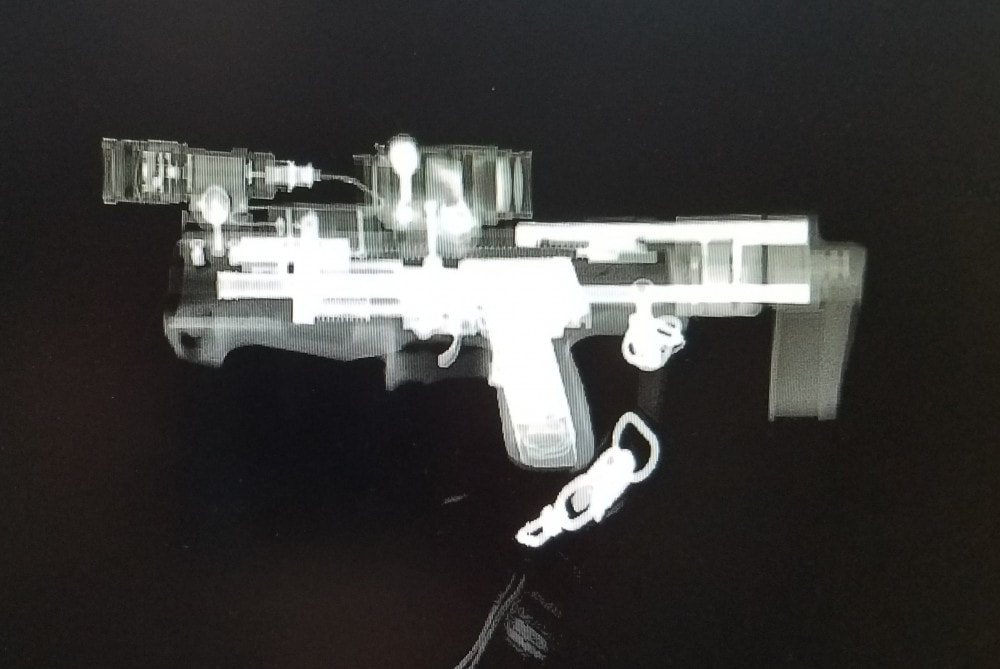 Buy your eyepro here, and don't be a dumbass. Use breachbangclear at checkout and save 10%.



---
Declare for Morning Wood!
Come, stroll the awe-inspiring aisles of the Morningwood Bazaar.  Earn the right to wear our sigil and speak our words.
If you wish to cite, syndicate, or curate our material, or if you're wondering about our please be so kind as to read our Terms, Conditions, and Disclosures.
Take heed! We have advertisers, sponsors, and affiliate relationships with some of the companies you will be reading about (particularly, but not limited to, archival posts). If you purchase one of those items, we will get a small commission from the sale at no additional cost to you. A lot of work goes into Breach-Bang-Clear; by making your purchase through one of our portals you'll be supporting our work. This will help us buy beer, bullets, and barbecue, and we won't have to put pop-up ads and other such stupid shit into our articles to pay our expenses.