Building the ultimate multipurpose gun belt: Part 2
In the first installment of this epic series (which has already been incorporated into lesson plans and TTPs in SOF units on at least 9 continents), we discussed different belts for different applications and the absence of a system that will work for most roles. Here in part 2 let's examine the collection of gear that might help crack the "one size fits all" code.  Mad Duo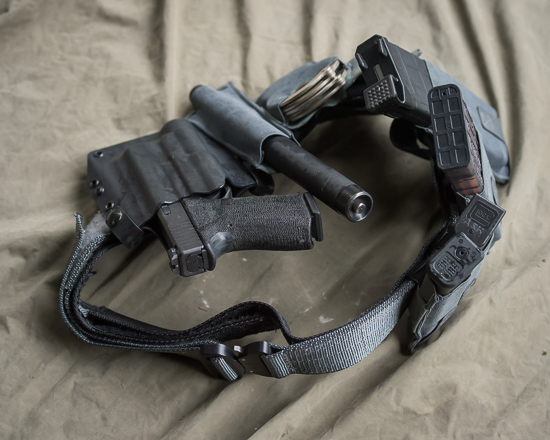 Building the ultimate multipurpose gun belt: Part 2
After examining many different products on the market in the quest for a light, versatile, multipurpose setup, the initial choice was the HSGI 1.75" rigger's belt, lined with loop velcro and sporting a cobra buckle. Selected because of its availability in wolf grey, and for the velcro inside the waist. Paired with a hook liner belt, the rigger's belt will attach to your waist line, and stay secure via the velcro. This is a feature taken from many police belts, and works great when wearing jeans or other pants with small, floppy belt loops. It also keeps the rig from migrating up or down from your waist, and helps with a secure base when drawing your pistol. 
Alternately, the belt can be paired with the HSGI Micro Grip Belt Panel, which is a squishy, grippy belt liner thats extremely comfortable for all day wear. Giving even more scalable options based of your intended use, you can use the rigger's belt as the core for a smaller PALS/MOLLE outer belt for use with limitless military pouches. The reason a velcro liner was desired for the belt was to use Blue force Gear pouches which attach via velcro fingers. It also allowed for the liner belt, and for other "belt loop type pouches to be slid on. There are many great belts on the market, but finding one with the cobra buckle, width, color and velcro proved challenging, The HSGI belt is simple, and fits the bill for the overall scope of the setup. [There are a few other options our minions liked — we can discuss some of those alternatives in a third installment]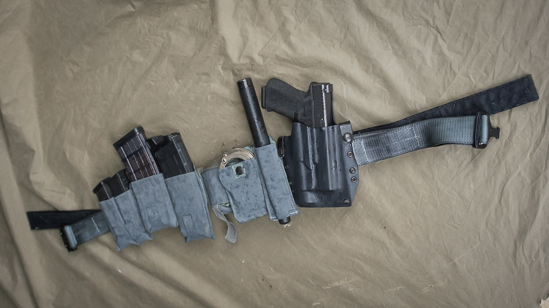 Pouches
The first opportunity I had to check out Blue Force Gear's line up of belt mounted pouches was in the spring of 2014. Several minions received samples in Coyote and used them for range sessions, matches and training classes (most recently at the VCQB course at 88 Tactical and at a Graham Combat class). These simple, multi-use pouches are based on their popular 10 Speed line, which has grown in popularity over the years. This past winter the company released more options in this style of pouch, with more color options. Once I received the new pouches in wolf grey, the quest that sparked this article began.
The belt mounted pouches from BFG have Velcro "fingers" which allow for attachment to nearly every type of belt commonly used for shooting. They also can be removed from your belt quickly and easily, allowing you to store them inside a velcro lined concealment bag, which offers even more options for their use. The really cool thing about them is the ease of installation and removal. The ability to instantly fine tune their placement on a belt is great, and helps get gear situated correctly in a snap. When empty the pouch collapses on itself, via the strong elastic which secures the gear. It's about as minimalist as a pouch gets, and can be used to carry gear other than what it's intended for (such as tourniquets, flashlights, etc.). The pouches have great retention and even when you're running, crawling, etc., your mags and equipment stay where you put them until you deliberately remove them.
Because the riggers's belt is lined with velcro loop, the fingers of these pouches securely mount in place with no shift at all. Additionally, since the belt is smooth you can add other types of pouches, such as TACO pouches paired with Raven Concealment Systems Moduloader frames. Traditional "belt loop" accessories will also work, allowing you to reuse older or proven gear, and mix and match your setup for whatever your intended use. Blue Force Gear has single and double mag pouches, a miniature dump pouch, and even pouches for collapsable batons and cuffs. There is pretty much something for all applications, regardless of how you intend to use their pouches.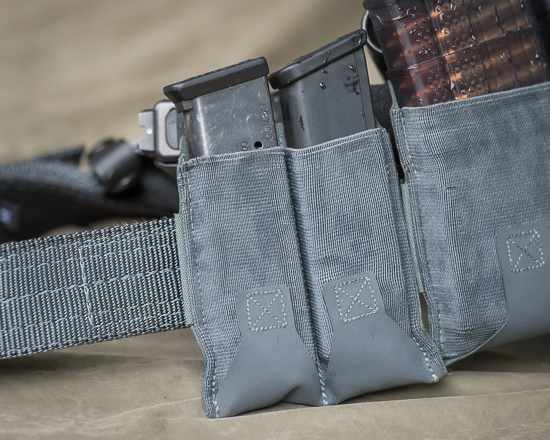 The Holster
Since this project was intended to be a "one belt to rule them all" setup, I chose what many consider to be the most adaptable holster to match it: an RCS Phantom. Outfitting the belt with a RCS phantom holster for the Glock 19 equipped with a weapon light seemed like a good choice, as the Glock is undoubtably one of the most common handguns carried in America. Several of us have used this setup for years, as the Phantom can be worn OSWB or even inside the waist line for ultimate concealment.
The holster can be set up with belt loops, plastic J hooks or soft loops, and this additional hardware is easy to carry along on trips. For the role of versatility, I chose to use outside the waistband soft loops, which is my preferred choice for pistols with weapons lights. The soft loops snap around the riggers belt, and secure the holster securely to the belt. This setup is ideal for multiple reasons, such as retaining the ability to swap holsters out to accommodate other handguns. With the Blue Force Gear pouches, there is no need to change mag carriers when going from double stack to single stack magazines. They securely hold both Glock and 1911 mags equally well!
The ability to remove your holster quickly has several other perks, such as quickly changing your load out. Imagine wearing your gun belt to a carbine/pistol class, and having the need to carry rifle mags for the course. Once the day is complete, you don't need those mags to go out for dinner before heading back to the hotel. With one holster, you can detach the Phantom from the belt and instantly reattach it to your trouser belt. A few seconds later, you can do the same with your pistol mag pouches. Now you can carry the same system you've been training with all day, and hopefully carry as your primary in daily life. The next morning, simply reattach to your rigger's belt set up for the rifle mags. This belt system offers a lot of options, as you can do the opposite and just take the rifle pouches and dump pouch off, and continue to wear the low profile rig as your EDC. The ability to scale up or down with the pouches and holster is the entire point.
The main purpose of this setup is to have an adaptable, affordable system that is ideal for most types of load carriage. You can wear it under a cover garment such as a loose cut button down shirt for low profile undercover police work, or add pouches to shoot a 3-gun match. As a "grab and go" setup you can drape it over your home defense long gun, and with one hand grab two guns and spare ammo for both. For those that travel for training, you can fit everything you need for a pistol, rifle or shotgun course all in a day bag. Adjusting your gear on the range is a breeze, and won't slow down the class as you do so. Outside of going on a raid against Boko Haram with a bunch of pipehittters, I reckon this setup will serve everyone equally well.

Note that this is just one example of how to build the "ultimate" gun belt, and not one that's meant to be permanent. There are many good pouches, holsters and belts on the market, so feel free to tailor the setup to your own liking. For an adaptable, all purpose system this setup should work well. Of the shooters we have had run it thus far, all enjoyed the configuration and ease of fine adjustment. We recently caught wind of a new system very similar to this being released soon by Raven Concealment, so check back with us for details when it drops. Let us know what you prefer to run, and what you have discovered works or doesn't work, in the comment section below.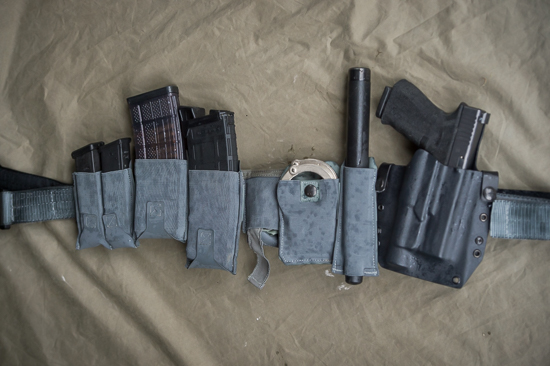 Like what you read on Breach-Bang-Clear? Help us keep the lights on. Consider perusing our store or supporting us on Patreon.
Mad Duo, Breach-Bang& CLEAR!
Comms Plan
Primary: Subscribe to our newsletter here or get the RSS feed.
Alternate: Join us on Facebook here or check us out on Instagram here.
Contingency: Exercise your inner perv with us on Tumblr here, follow us on Twitter here or connect on Google + here.
Emergency: Activate firefly, deploy green (or brown) star cluster, get your wank sock out of your ruck and stand by 'til we come get you.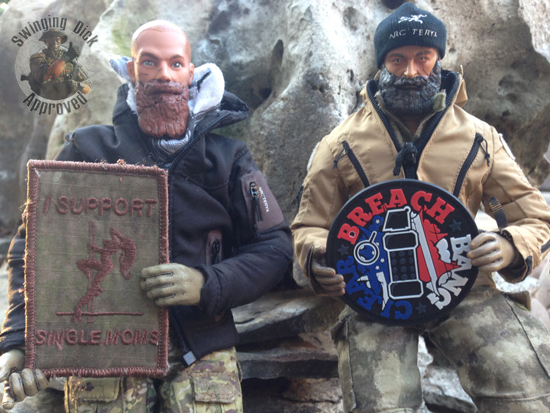 Mad Duo Nate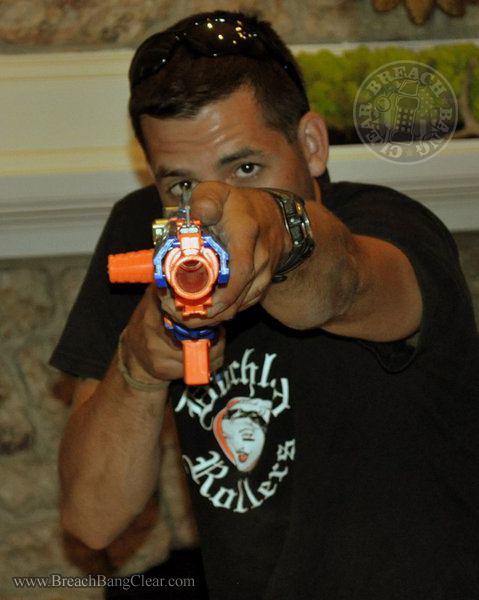 About the Author: Nathan "Mad Duo Nate" is a former USMC Sergeant who recently transitioned to being a nasty civilian. He lives largely on nicotine, whiskey and hate and can be frequently found orating Kipling poems to frightened hipsters. A graduate of the Camp Lejeune School for Wayward Boys, he was a Marine NCO, Infantry Platoon Sergeant and Scout Sniper team leader. He is a fully qualified American Jedi, handsome badass and world-renowned field barista. He has numerous deployments to the Middle East and Africa and is something of an idiot savant when it comes finger-fucking stuff to make it work better. Nate only chain smokes when he's drinking and only drinks every day. We reckon he is probably best described as a sociopathic philosopher with vestigial cutthroat (though poetic) tendencies. Thus far Murr's writing has appeared in such places as here on Breach-Bang-Clear, on Military.com, in field shitters and portajohns on at least 3 continents, in RECOIL Magazine and of course Penthouse letters. (Grunts: vestigial)