Badass Belt: The TYR Tactical Gunfighter
There is no 'E' on the end–so don't pronounce it 'Tire'. TYR (pronounced, "tear", as in "this brings a tear to my eye") is named after an old Norse god of combat and heroic glory. You can read more about him here. Anyway, we're talking about TYR Tactical, a Peoria-based company that provides gear to fighting men and women worldwide. Mad Duo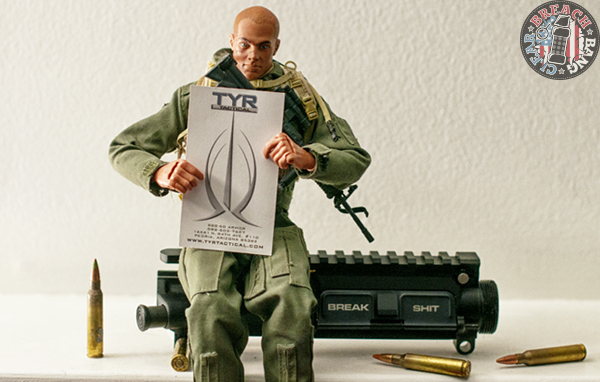 Badass Belt: The TYR Tactical Gunfighter
Dave Merrill
What we're about to talk about is something with multiple personality disorder, but unlike your favorite "aerial dancer" it's in the best way possible. At first glance you might think it's just like any other Cobra-buckle equipped 2″ belt, which are now so ubiquitous.
But you'd be wrong.
Even after I learned the capabilities of this guy, it wasn't until using it on and off the range that I really began to appreciate the thoughtfulness of the entire design.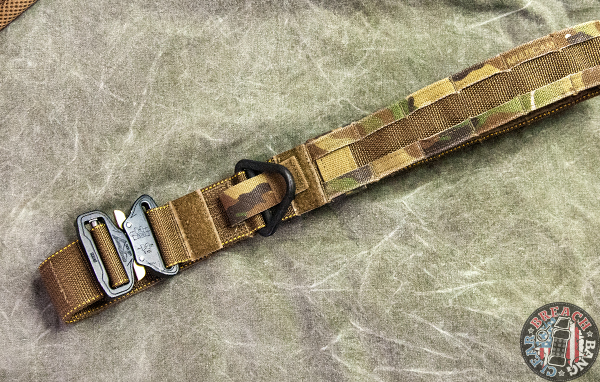 We'll start with what we already know. Of course it has the venerable Cobra buckle (also available in a riggers version here). I used to be of the opinion that these were overkill in this application unless you're actually climbing or otherwise hooking yourself to something. However, after witnessing cracked plastic buckles and even popping one or two myself I changed my tune. Solid lockup and easy one-handed removal–what's not to love? And there's a sewn-in hard point that can be tucked and secured in either direction.
The base itself is sturdy but not uncomfortable. Being a 2″ belt, the TYR Gunfighter will fit easily through most belt loops. So if you want to wear it like a traditional belt, it shouldn't give you many issues.
Notice the 1/2″ webbing? What TYR did was use half-size webbing on top and bottom while leaving the traditional 1″ gap in between. Normally, you'd need a larger 3″+ belt to attach MOLLE/PALS items (which means you wouldn't be able to fit it through your pants), but not in this case.
Of course, once you attach MOLLE items to it, it won't fit through your pants anyway. What are you supposed to do? Run the belt through the loops, then attach all of the items, only to take them off when you change your pants? Hardly.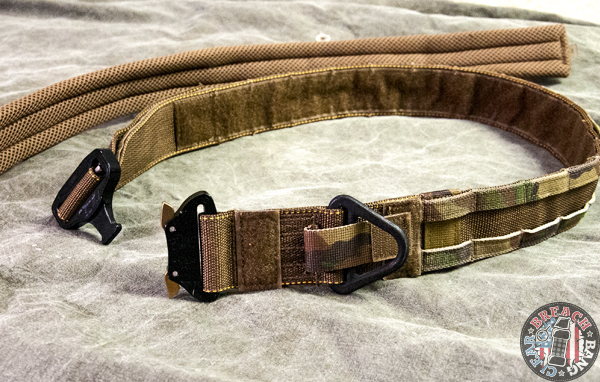 The inside of the Gunfighter belt is lined with loop-side velcro. Now your options open up quite a bit. You can now either put a velcro inner-belt through your belt loops (like many LEO's and competition shooters prefer) and then affix the TYR Gunfighter over the top or you can attach the included spacer mesh pad and use it like a traditional fighting belt (TYR also sells the spacer mesh pad separately here).
Either option considerably increases the amount of weight you can put on this belt. Now, you aren't going to be able to run as much gear as a fullsize warbelt, but you can probably get pretty close.
The combination of the size, inner velcro, and truncated MOLLE loops means you can run a wide variety of attachments. How wide? Let me show you: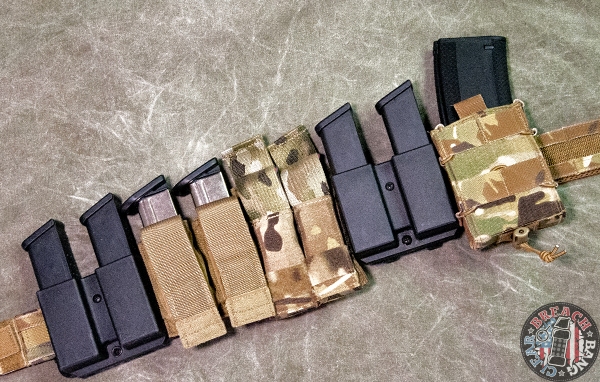 Now this doesn't look like much from the front, aside from a cacophony of pouches. Here's the reverse so you get a better idea: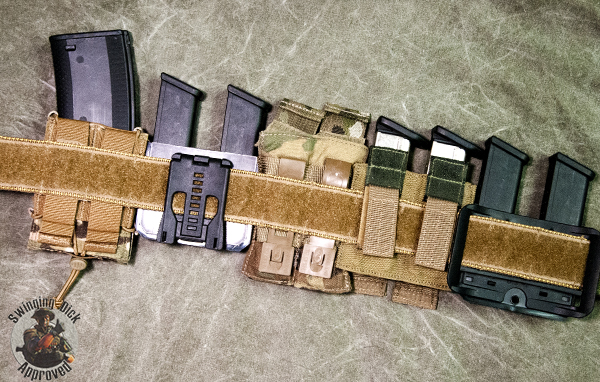 From left to right:
MOLLE
Tek-Lok
MALICE clips
shitty old velcro duty pouches (where did I even find this?)
Belt mounted
But it doesn't end there. It also works with MOLLE-Lok, Pull The Dot loops, and a myriad of newer attachment methods. Even the terrible duty-style snaps work. I could not get it to work with Blackhawk Speed Clips due to the abbreviated webbing. This belt is perfect if you have a pile of pouches you think that have different attachment methods. I hated having to buy brand-new everything just because I switched out a base belt.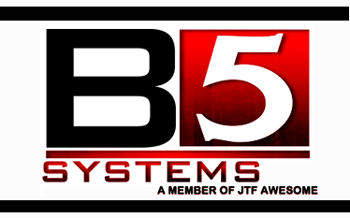 At this point, with pouches mounted, you either attach it to your inner belt or press on the spacer mesh like so: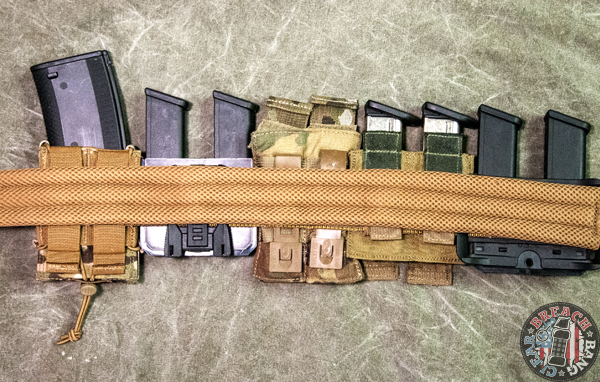 Now of course I'm not advocating attaching all of these pouches (especially mags for two different pistols–I'm lucky I even found anything that fit that old dickbag duty pouch). But a few spare mags, handgun, and maybe a dump pouch run perfectly.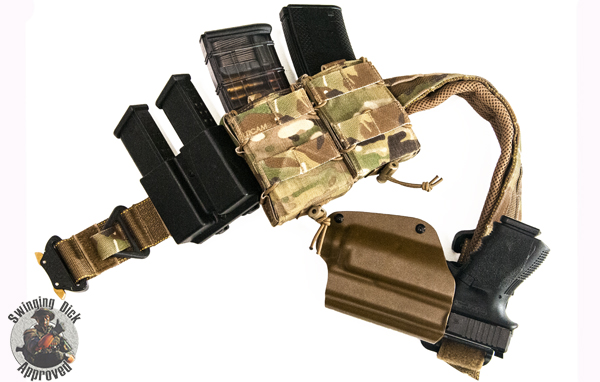 Running around at the range with the Gunfighter loaded up like the above didn't give me any problems with shifting or sagging. If you run into that problem, it's likely that you've overloaded it and should get a bigger belt.
However, the TYR Tactical Gunfighter isn't perfect. I'd like to see an option to order one without the sewn-in hard point. Yes, it's useful if you need one but also takes up real estate some could utilize for other purposes. The tail of the belt can also get in the way of some gear attachment that is otherwise avoided with a full-size warbelt.
Riggers belt, warbelt, duty belt, regular belt; it's like a woman with four titties–enough for everyone to enjoy.
But we're not done. TYR was gracious enough to provide us with a coupon code good for 10% off until January 2016: BREACH10. TYR makes high quality gear right here in the USA, and that simply doesn't equate to airsoft-China-Cheap prices; that coupon code should help take a bit of the edge off for ya'.
You can find the TYR Tactical Gunfighter here. Visit TYR on Facebook here or follow them on Instagram here.
-DFM
---
Mad Duo, Breach-Bang& CLEAR!
Comms Plan
Primary: Subscribe to our newsletter here, get the RSS feed and support us on Patreon right here.
Alternate: Join us on Facebook here or check us out on Instagram here.
Contingency: Exercise your inner perv with us on Tumblr here, follow us on Twitter here or connect on Google + here.
Emergency: Activate firefly, deploy green (or brown) star cluster, get your wank sock out of your ruck and stand by 'til we come get you.
About the Author: A combat veteran of the United States Marine Corps, Dave "Mad Duo Merrill" is a former urban warfare and foreign weapons instructor for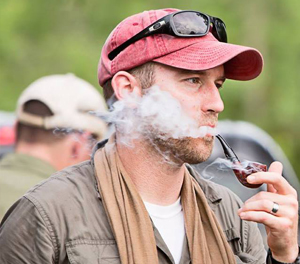 Coalition fighting men. An occasional competitive shooter, he has a strange Kalashnikov fetish the rest of the minions try to ignore. Merrill, who has superb taste in hats, has been published in a number of places, the most awesome of which is, of course, here at Breach-Bang-Clear. He loves tacos, is kind of a dick and married way, way above his pay grade. You can contact him at Merrill(at)BreachBangClear.com and follow him on Instagram here (@dave_fm).