MNKF: The TOPS TAC-Raze Straight Razor
Chris Hernandez
Now Leroy he a gambler
And he like his fancy clothes
And he like to wave his diamond rings
In front of everybody's nose
He got a custom Continental
He got an Eldorado too
He got a 32 gun in his pocket for fun
He got a razor in his shoe
-Jim Croce, Bad Bad Leroy Brown
I'm old enough to remember both Jim Croce and a time when it wasn't unusual for someone to carry a straight razor. When I first became aware of knives in the 70's, straight razors were being replaced by switchblades as the weapons of choice for hoods and street thugs. Even though my favorite "street" knife was a Balisong butterfly, I always admired the coolness factor of an old school straight razor.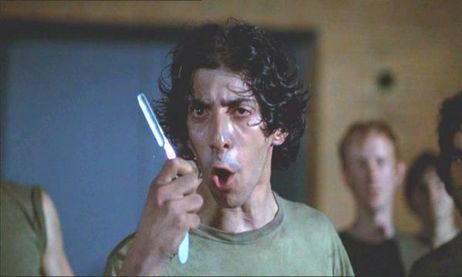 Since I thought straight razors had gone the way of the Dodo bird and 'NSync, I was surprised to see two TOPS "TAC-Raze" knives this past week at Breach Bang Clear's #Trails Found16 event in Arizona. One was in the hands of Tim the Russian, and he was positive he'd slash his own throat if he tried to use it. He passed it off to me, and I fell in love in seconds (no, not with Tim).
As you should know, TOPS makes fantastic stuff. Their TAC-Raze just screams quality, and feels built to last forever.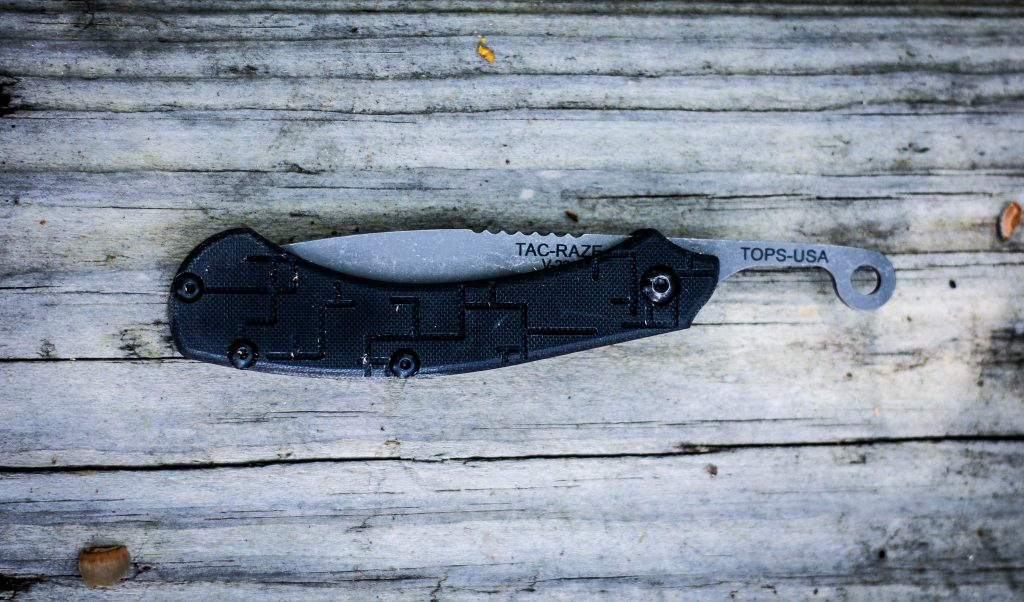 TOPS has this to say about the TAC-Raze:
"One of the first things people notice about the Tac-Raze is that it's reminiscent of a straight razor (although with the recurved blade we don't recommend actually shaving with it). Leo Espinoza designed it with that type of blade in mind.

This is TOPS' first ever friction folder. Leo wanted it to fill two purposes specifically. It had to be a good-looking gentleman's EDC that could be carried and used in public, and it had to be a functional tool. To accomplish those needs, he started with simple shapes and added curves in all the right places. Even the sheath is stylish, but also gives the wearer a variety of carry options.

It's not just about looks though. This knife will perform everyday tasks quickly and easily, such as opening packages, cutting down boxes, cutting rope, etc. The TAC-Raze is also a devastating slasher with its recurved blade. It never hurts to have that last line of defense.

It comes with TOPS' classy Cryptic Cyber Scales on Black G10 handles. The tumble finished 1095 steel blade looks great and has TOPS' famous differential heat treat. The strong brown leather sheath can be worn vertically or horizontally on a belt for ease of carry whether open or concealed."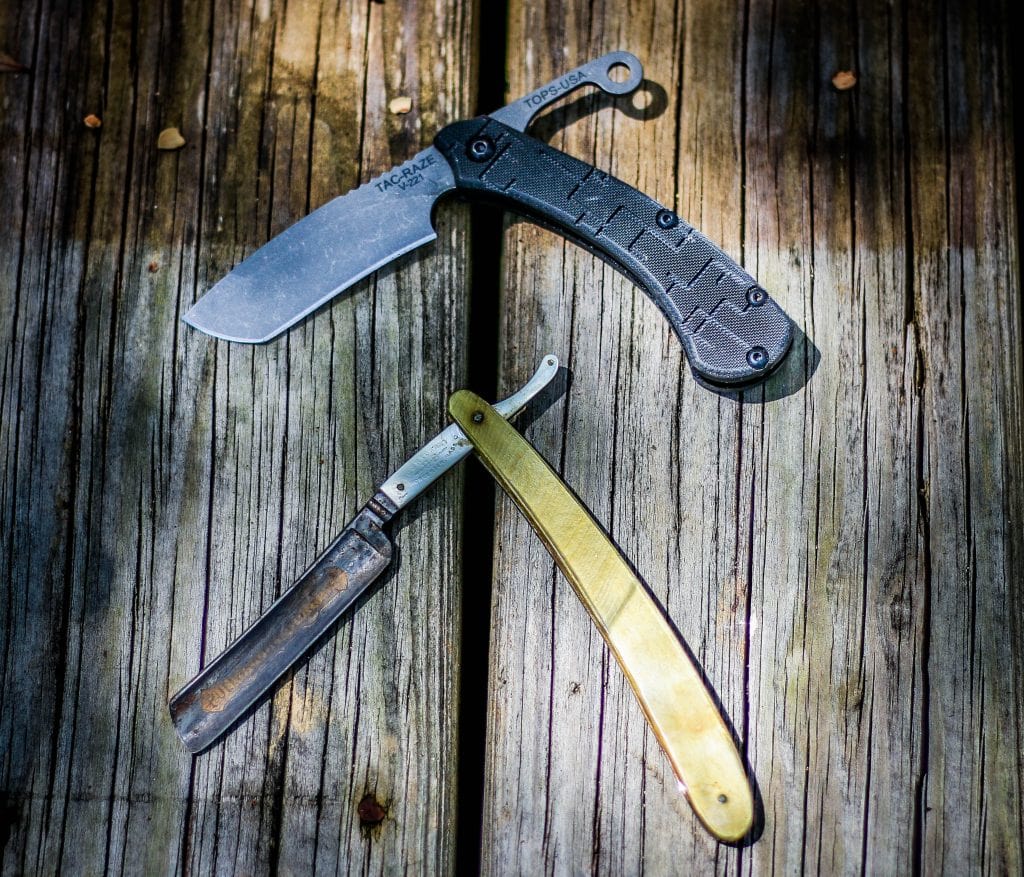 The TAC-Raze's specs, as listed on the TOPS web site:
Overall Length7.63″Blade Length3.25″Cutting Edge2.88″Closed Length5.75Blade Thickness0.130″Blade Steel1095 RC 56-58Blade FinishTumble FinishHandle MaterialBlack G10Handle StyleCryptic Cyber ScalesKnife Weight2.7ozWeight w/ Sheath3.5ozSheath IncludedYesSheath MaterialBrown LeatherSheath ClipBelt Loop
Despite having only a scant few days experience fondling this knife, I'm pretty impressed with it. As TOPS says, and just like straight razors of old, its intended uses are limited. This isn't what I'd mount on my gear for a patrol in northeastern Afghanistan or Amazonian trek, but it's good for light tasks like cutting 550 cord or MRE throats. It also seems to be one hell of a good "slash and break contact" tool for when you inconveniently empty your last mag, or the locking lugs on your issued M9 crack.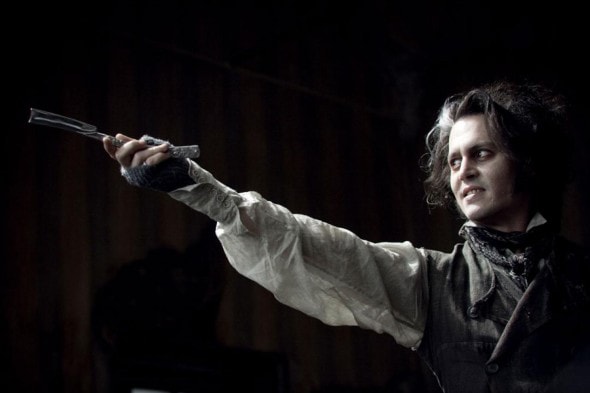 As TOPS also points out, the TAC-Raze is a "friction lock" knife; that is, there is no locking mechanism whatsoever. If you hold this knife wrong, or hit the blunt side of the blade hard enough, the sharp edge of the recurved blade is going into your fingers (or your throat, if you're a Russian named Tim). That's cool and to be expected with this type of weapon, but you should thoroughly understand the risks before you ever draw it from its sheath.
Speaking of the sheath, that's the only thing TOPS needs to improve. The sheath is small, stylish and fine for carrying in a gentlemanly fashion, but under stress it doesn't securely hold the TAC-Raze. I learned this the hard way during a horse ride, when my knife was knocked from its sheath and lost forever. I wound up off the horse and on my ass twice during that ride, but didn't find the knife at either of my crash sites. Somewhere on that rocky trail, the TAC-Raze got knocked or jostled out of its case. I got the other TAC-Raze later, but I'll be depressed forever about losing that first one.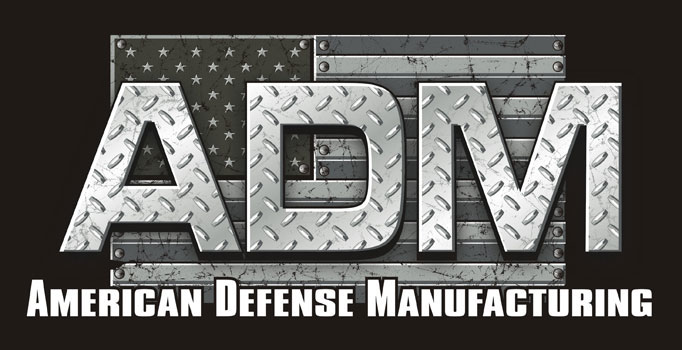 Someday, some lucky kid at the Triangle T Ranch in Dragoon, Arizona is going to stumble across my original TAC-Raze. He'll probably fall in love just like I did. And hopefully by then TOPS will have a more-secure sheath available, so he won't live his life crying over the coolest knife he ever lost.
–CH
---
[You can find the TAC-Raze online here]
---
Breach-Bang & CLEAR!

This Post is part of our Trails Found Series. What is Trails Found? Members of BreachBangClear and some other badass media outlets assembled together this last September to train with one of the last of what has been called the "old Border Breed", in the desert of Arizona. That man they were training with was no other than the legendary Jim Grasky. In 1965 Jim Grasky was a young Special Forces soldier in Vietnam, then in 1970 he was a the squadleader for a team of smoke-jumpers parachuting in to fight remote wildfires. For about a quarter century after that he was a Border Patrolman, and literally named BORTAC. Though Grasky is a man of many talents, one of his specialties is man tracking–which is why he developed programs specifically for USSOCOM and has taught the world over. Through your various social media outlets you can track other articles and photos related to Trails Found by searching for #TrailsFound16 and #GoodGearMatters.
---
Comms Plan
Primary: Subscribe to our newsletter here or get the RSS feed.
Alternate: Join us on Facebook here or check us out on Instagram here.
Contingency: Exercise your inner perv with us on Tumblr here, follow us on Twitter here or connect on Google + here.
Emergency: Activate firefly, deploy green (or brown) star cluster, get your wank sock out of your ruck and stand by 'til we come get you.
Chris Hernandez Mad Duo Chris, seen here on patrol in Afghanistan, may just be the crustiest member of the eeeee-LITE writin' team here at Breach-Bang-Clear. He is a veteran of both the Marine Corps and the Army National Guard who served in Iraq and Afghanistan. He is also a veteran police officer of two decades who spent a long (and eye-opening) deployment as part of a UN police mission in Kosovo. He is the author of White Flags & Dropped Rifles – the Real Truth About Working With the French Army and The Military Within the Military as well as the modern military fiction novels Line in the Valley, Proof of Our Resolve and Safe From the War. When he isn't groaning about a change in the weather and snacking on Osteo Bi-Flex he writes on his own blog. You can find his author page here on Tactical 16.