The Comeback of the Sidecar – the Sidecar Soiree
Sidecars — they're making a comeback, although apparently some people never lost interest. Here's a rundown. Mad Duo
---
The Comeback of the SideCar
Sara Liberte
Sidecars are back? Yeah…like the crazy one-wheeled device ever went way! It's true the general population did lose interest in sidecars during the latter half of the 20th century, but there have always been dedicated sidecar fans staying true to the "hacks".
This will be, we hope, great news to the sort of people who enjoy such events as our recently created Sidecar Soiree!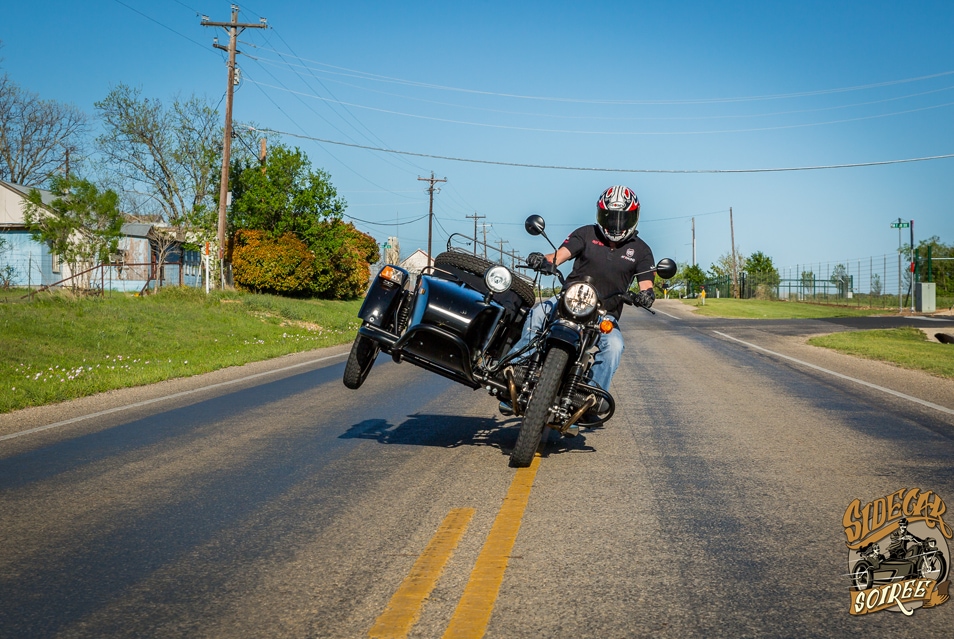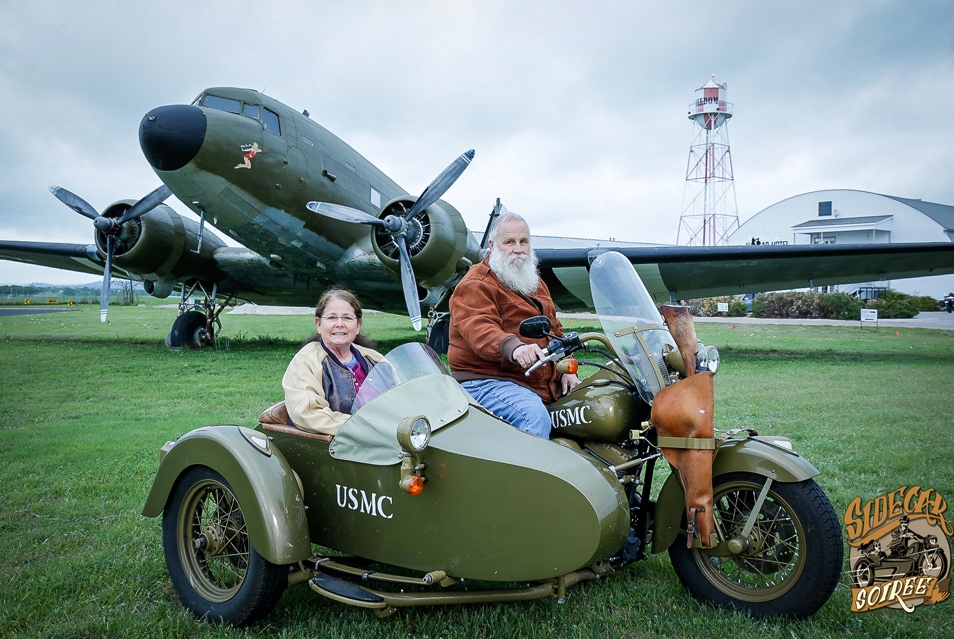 We've all seen the three-wheel machines on the big screen, in movies like Indiana Jones and the Last Crusade, and let's not forget the German hacks chasing Steve McQueen in The Great Escape. Where Eagles Dare, another outstanding WWII movie, also has a sidecar.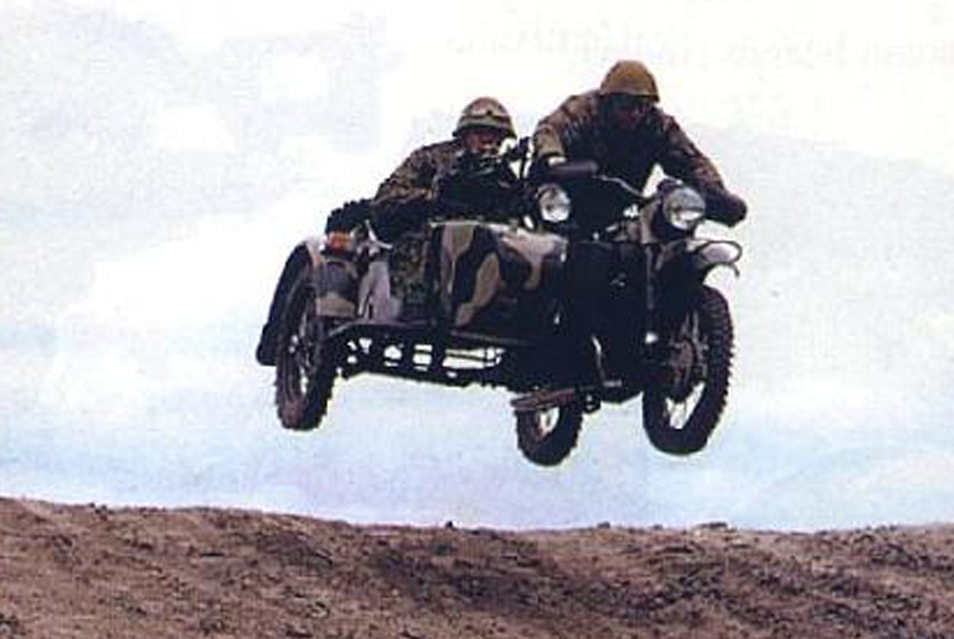 Sidecars, often called outfits, side hacks or rigs, have had a significant place in motorized history. Sidecars may be associated with fun and recreation for most of the population, but these workhorses have served in the military for almost a century.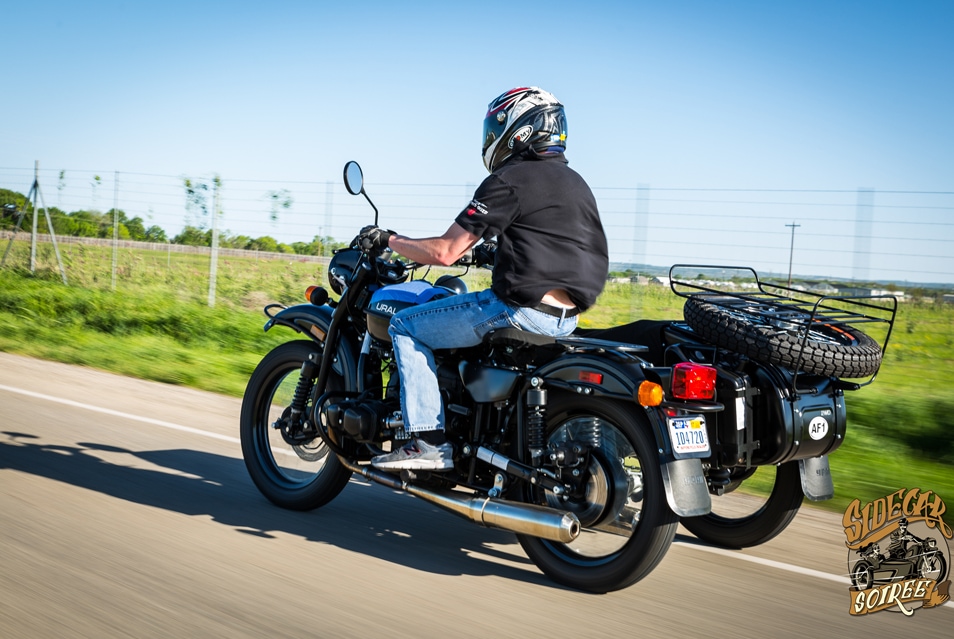 You've undoubtedly seen black and white images of German soldiers in World Wars I & II riding BMW motorbikes (http://www.bmwmotorcycles.com/us/en/index.html) with sidecars; the U.S. military also used motorcycle sidecar rigs. They first appearing in WWI as a machine gun-equipped unit. The two-man crew consisted of  rider plus gunner who fired from a seated position in the sidecar. They could also carry a third soldier.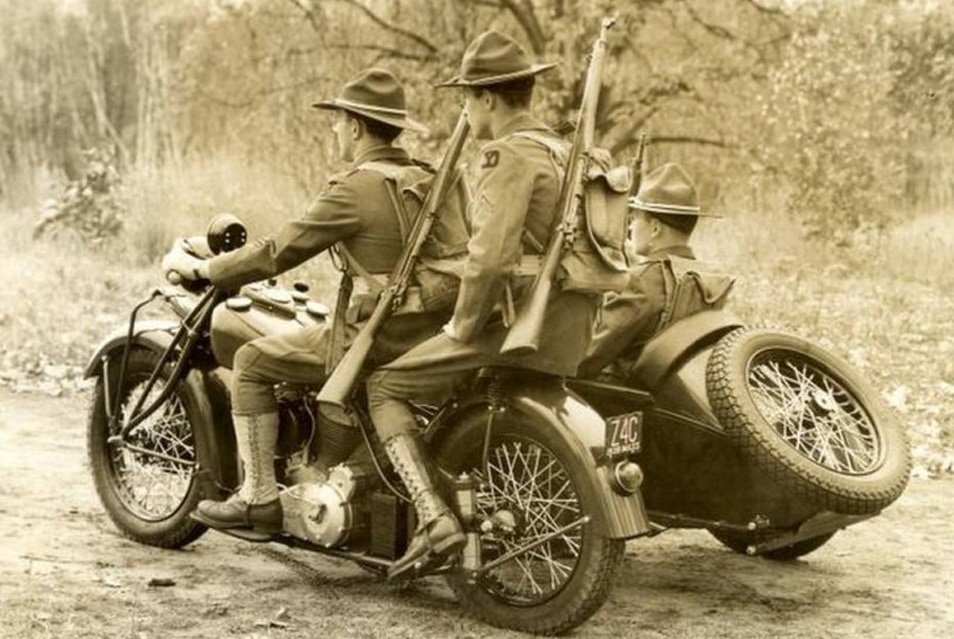 Thousands of motorcycles were furnished to the armed forces and other government agencies during and after WWI, including several large police departments. As best we can tell, at least 40,000 of those wartime machines were Indian Motorcycles. The first 20,000 Indians were contracted by the the War Department at $187.50 each for solo machines, and an additional additional for the sidecar.
How do you like those prices?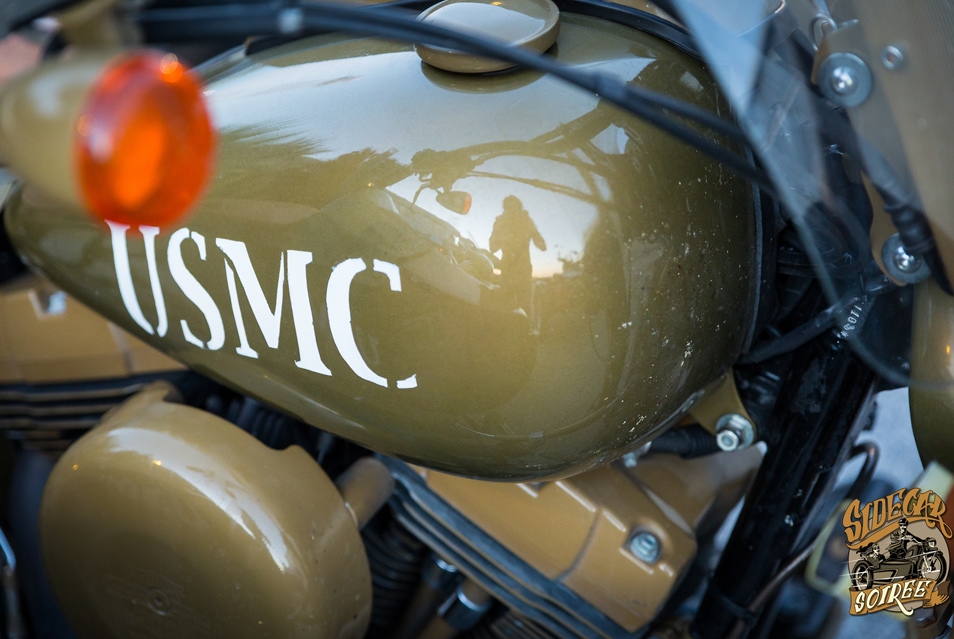 Harley-Davidson made some 15,000 motorcycles for the war effort while a lesser number were produced by Excelsior and Cleveland. By the 1920s, mass production and assembly techniques used in the American auto industry drastically cut the cost of building cars. This enabled car makers to price their products within reach of ordinary working people, allowing more people to afford 'em. This was one reason motorcycle sidecar rigs were largely replaced by Jeeps in the US military by WWII.

The primary manufacturer of motorcycles for the U.S. military during World War II was Harley-Davidson, who began producing the WLA in their Milwaukee, WI factory in 1940. During the war, Harley-Davidson produced more than 88,000 WLAs which were shipped to U.S. forces as well as to allies (especially the Soviet Union) under the Lend-Lease agreement.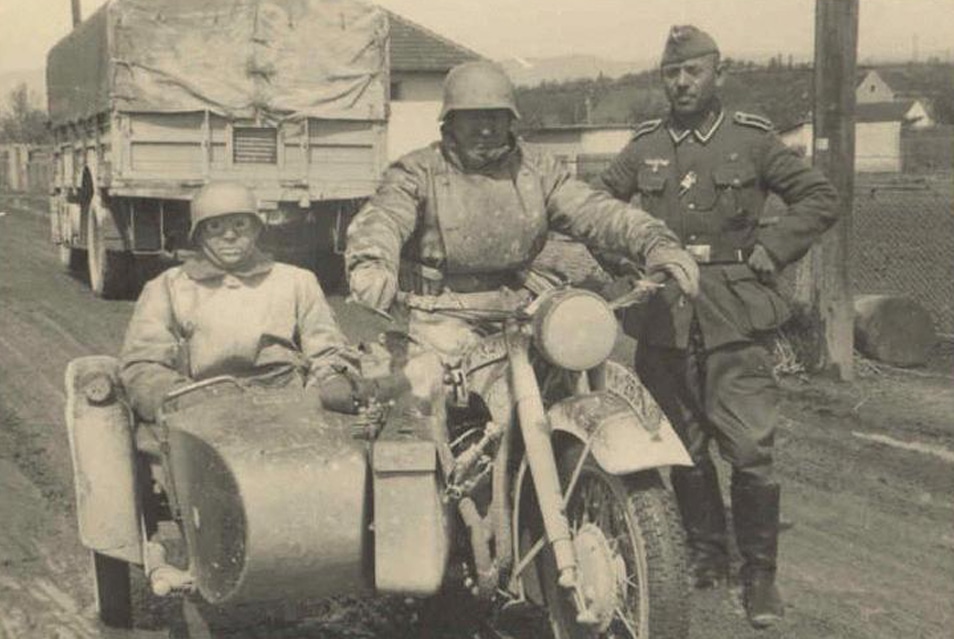 The United States used them too. For instance, with Model UA Harley-Davidson sidecar rigs, the Motorcycle Marines delivered machine guns, ammunition and first aid supplies for decades. They also transported the wounded and escorted convoys, particularly in terrain that favored a motorcycle with sidecar over a wider Jeep. The U.S. Army currently employs Kawasaki KLR250 D2 (four stroke and Sidestrider machine gun carriers) in Iraq and Afghanistan.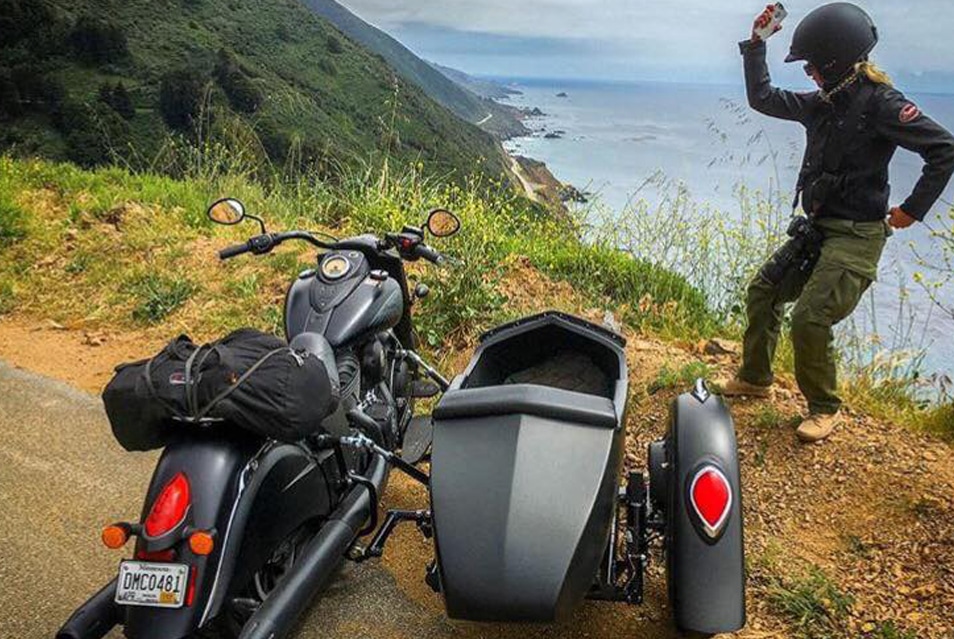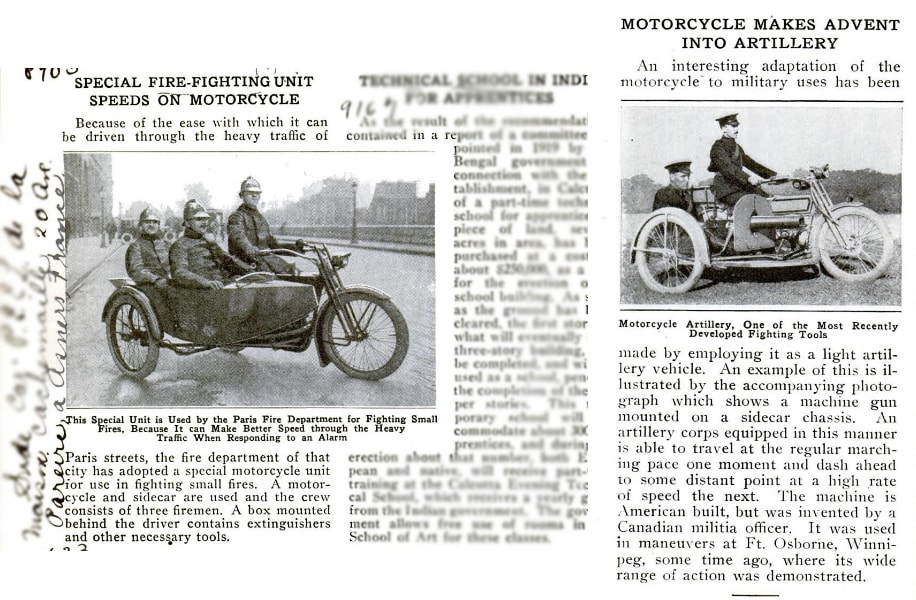 The popularity of sidecars today is resurgent. Of particular interest to many people is the Russian company URAL, which is making sidecars featuring a "driven" sidecar wheel. That's right, a 4×4 for a three-wheel machine. Think off-road fun, hillclimbing, or dirt road adventure.
You're so in, aren't you?
Recently I, along with motorcycle industry veteran Robert Pandya, created the "Sidecar Soiree", (https://www.sidecarsoiree.com) an event catered to "Sidehacktivists." We hosted this event in Fredericksburg, Texas, at the Hangar Hotel.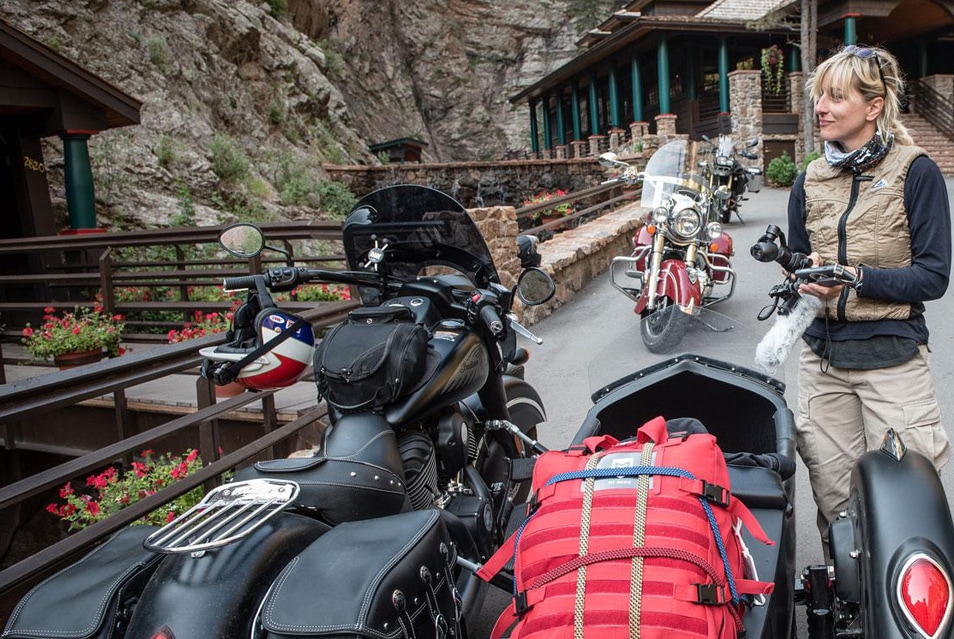 The Hangar Hotel is an active WWII style airport hangar complete with a Douglas Aircraft C47 Skytrain parked out front. It's the perfect setting for a meeting of three-wheeled goodness. It was a super fun weekend of riding and checking out other sidecar rigs.
We look forward to arranging more of these events, and hopefully more off-road sidecar adventures — and we're hoping some of you will join us. Stay Tuned!
-Sara Liberte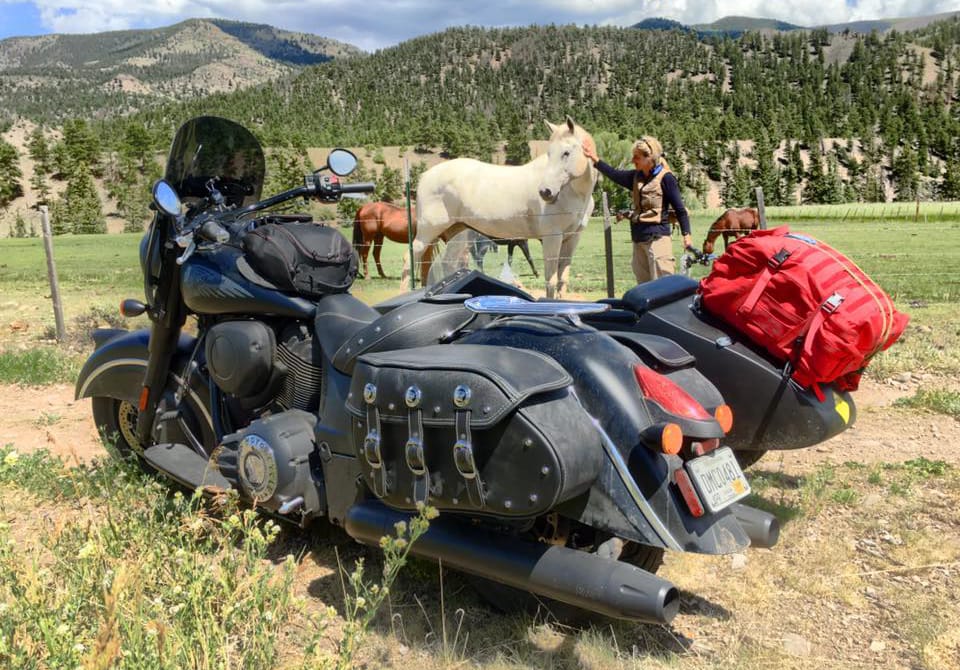 ---
---
Mad Duo, Breach-Bang& CLEAR!
Comms Plan
Primary: Subscribe to the Breach-Bang-Clear newsletter here; you can also support us on Patreon and find us on Pinterest.
Alternate: Join us on Facebook here or check us out on Instagram here.
Contingency: Exercise your inner perv with us on Tumblr here, follow us on Twitter here or connect on Google + here.
Emergency: Activate firefly, deploy green (or brown) star cluster, get your wank sock out of your ruck and stand by 'til we come get you.
About the Author: Sara Liberte, who wone the MF lottery when it comes to last names, grew up the younger sister to an Army Ranger…she blames that for everything (awesome) in her life. A photographer/videographer of supreme talent and utter disregard for inclement weather, arduous conditions, or little things like the law of averages, Sara is an eleutheromaniac who loves firearms, motorsports, motorcycles and…well, all vehicles, really, as long as they're the kind that gets dirty and generates adrenaline. She travels the US in a van called the Dodge Mahal, dog at her side (he also rides in her motorcycle sidecar). If you need to find her, you'll have to look outside. Try moto-events, mountain ranges, or firearms classes.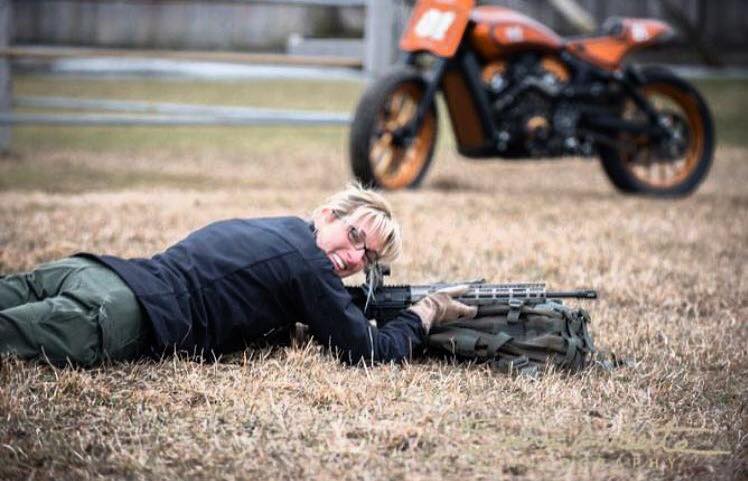 Liberte, whose favorite movie is "First Blood", runs the website Garage Girls and is the author of How to Repair and Maintain American V-Twin Motorcycles and 1000 Biker Tattoos. Her work has appeared in Easy Riders, In The Wind, Hot Bike, Street Chopper, IronWorks, Cycle Source, and RECOIL Magazine.
What more is there to say?
Follow her on Instagram, @saralibertephotography. She's on Facebook too.
Grunts: eleutheromania.