On the Range with Magpul's new Hunter X-22 10/22 stock

On the Range with Magpul's new Hunter X-22 10/22 stock
Nate Murr
Magpul, Titan (in the classic mythological sense) of all things polymer, has recently released their new stock for the Ruger 10/22: the Hunter X-22. The new stock is designed as a drop in product requiring no gunsmithing at all. This means of course the user can install it themselves. The only tool needed is a flat-tip screw driver, and in about five minutes you are ready to go!
The stock mirrors the styling of Magpul's shotgun buttstocks, and offers the shooter the ability to customize it to his/her needs. A series of buttstock spacers allow for length of pull adjustment, and is capped with a non-slip rubber butt pad. The comb of the stock is also adjustable, so one can achieve ideal cheek weld and head placement for use with different optics.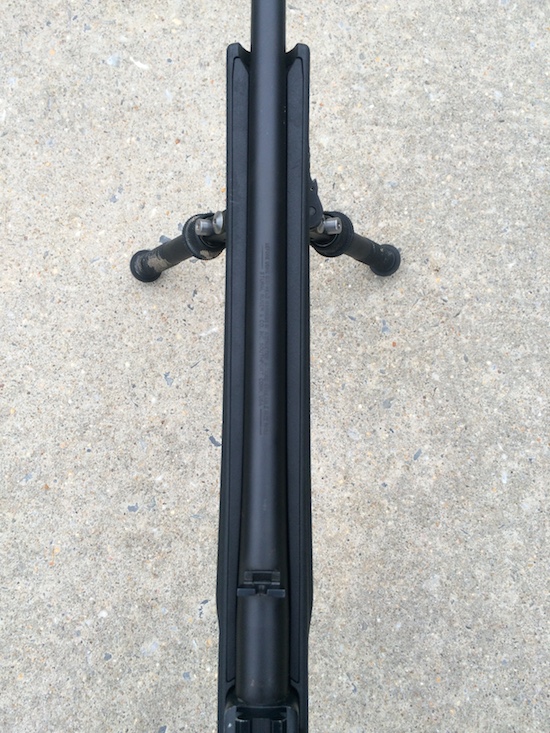 The Hunter X-22 is adaptable for different barrel profiles as well, by removing or installing the drop in spacer which runs the length of the forearm. This spacer is secured to the polymer stock via three machine screws, and is sized for the factory standard barrel. With it flipped over, you can install your favorite bull barrel.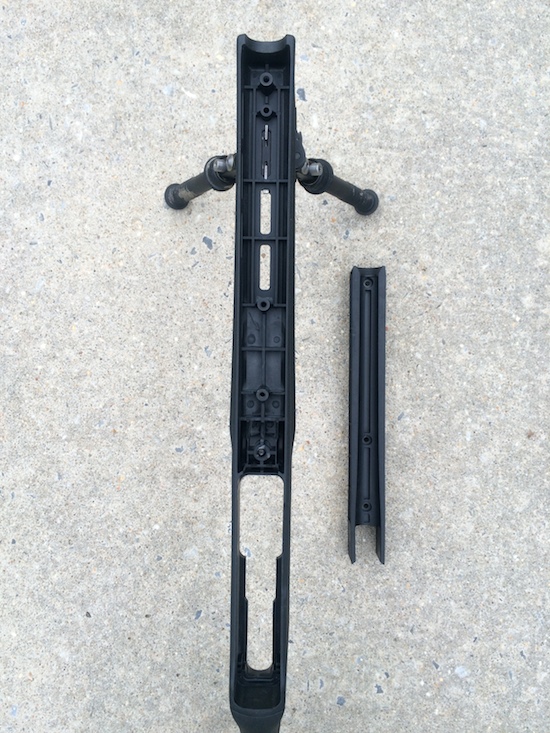 The Stock has several sling mounting points, and most notably M-LOK slots on the front. A row of three M-LOK slots at 3, 6 and 9 o'clock on the forearm offers easy attachment of various accessories such as bipods. The company plans to offer the stock in their usual assortment of colors, however black (as always) is shipping first.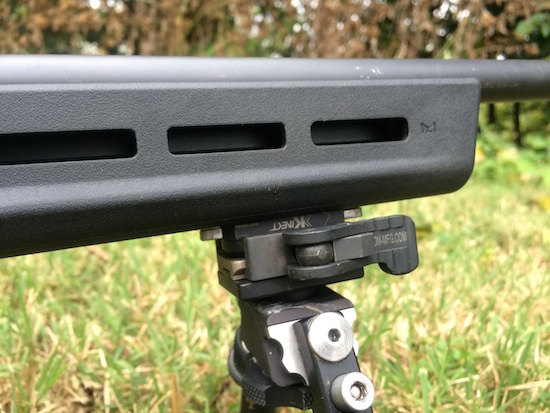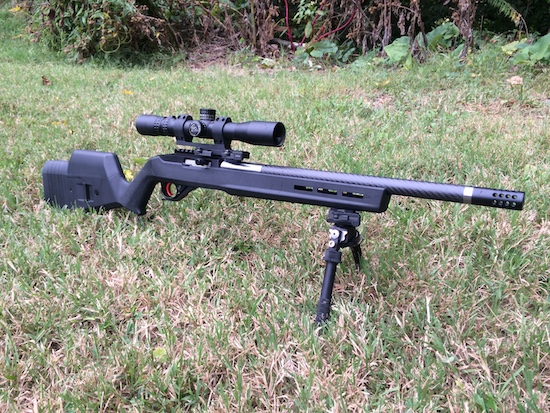 On the Range
Some friends and I tried the stock out on the factory standard 10/22 and also a Kidd custom receiver with a Volquartsen carbon fiber bull barrel. Shooting the rifle in the factory pencil barrel configuration was fine and produced good results. But the combo just didn't look right, so we moved on to the tricked out configuration that most will likely use this stock for.
The wider bull type barrel passed the $1 bill "free float" test, so we got to burning powder. Shooting from the prone with the assistance of an Atlas bipod, we were pleased at our groups at both 25 and 50 yards. Remember that the accuracy of your rifle is only as good as the ammunition you are putting through it, so if you aren't pleased with your own results using this (or any) new stock, try a couple of different loads before blowing anyone's email up. 
Overall, the stock is a pretty good upgrade for an accuracy-driven 10/22 build. Cheek weld is comfortable, regardless of which spacer is used. The ability to adjust the length of pull will be welcomed by those intending to use the stock with growing youths, as well as people of different sized frames. With this stock the rifle balances well, and feels more like a rifle than a BB gun (as is the case with the light factory stock). The distinct angled grip is comfortable, placing the hand in a way which promotes proper trigger finger placement. Manufactured in the best country on earth, ever, this U.S.A.-made stock will likely please everyone but the old timey, wood stock lovers out there. You can check it out here on Magpul's website.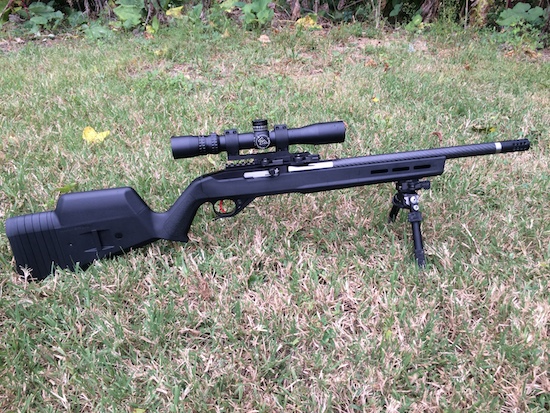 THE SPECS
Drop-in design compatible with all factory Ruger 10/22 .22 LR receivers
Reinforced polymer construction for strength and durability
60 degree grip angle from bore axis
Adjustable LOP from 12.5"-14.5" with 0.50" Spacers
Non-slip rubber butt-pad
Optional Cheek Riser Kits to raise cheek height 0.25", 0.50", or 0.75"
Reversible barrel tray accepts all factory barrels as well as aftermarket up to 0.920"
Compatible with all capacities of factory Ruger 10/22 magazines
M-LOK™ slots on forend sides and bottom for a wide variety of accessory and sling mounting options
Two dimpled drill points to install optional standard swivel studs (#10-32 x 3/8" long dome stud)
Push-button QD swivel compatibility in rear with optional Sling Mount Kits
Left and Right rear 1-1/4" Footman's Loops
Comms Plan
Primary: Subscribe to our newsletter here, get the RSS feed and support us on Patreon right here.
Alternate: Join us on Facebook here or check us out on Instagram here.
Contingency: Exercise your inner perv with us on Tumblr here, follow us on Twitter here or connect on Google + here.
Emergency: Activate firefly, deploy green (or brown) star cluster, get your wank sock out of your ruck and stand by 'til we come get you.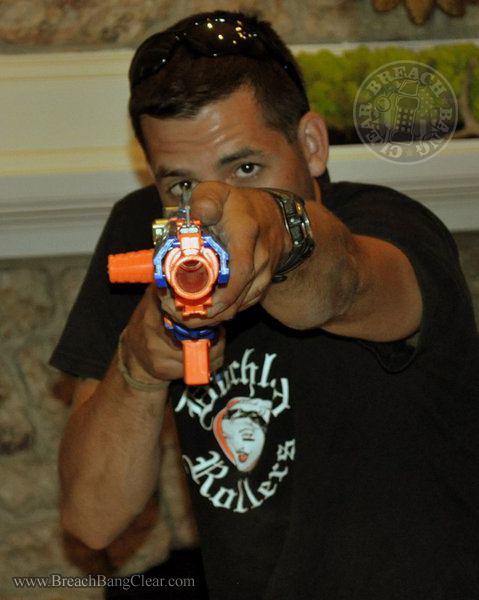 About the Author: Nathan "Mad Duo Nate" is a former USMC Sergeant who is now a nasty civilian. He lives largely on nicotine, whiskey and hate and can be frequently found orating Kipling poems to frightened hipsters. Inventor of the Gripstop, renowned procrastinator and renowned adventure protagonist, Murr is a graduate of the Camp Lejeune School for Wayward Boys. A combat veteran of multiple tours in Iraq and Africa, he was a Marine NCO, Infantry Platoon Sergeant and Scout Sniper team leader. Murr is a fully qualified American Jedi, handsome badass and world-renowned field barista (true story – he's brewed great coffee on at least four continents). As anyone who has spent any time talking gear with him, Murr is something of an idiot savant when it comes finger-fucking stuff to make it work better. Mad Duo Nate only chain smokes when he's drinking and only drinks every day. We reckon he is probably best described as a sociopathic philosopher with vestigial cutthroat (though poetic) tendencies. Thus far Murr's writing has appeared in such places as here on Breach-Bang-Clear, on Military.com, in field shitters and portajohns on at least 3 continents, in RECOIL Magazine and of course Penthouse letters. (Grunts: vestigial) You can contact him at Nate(at)breachbangclear.com or follow him on Instagram @gripstop.