Col. Raible's Commander's Guidance for Attack Pilots
We received this in an e-mail from a former Marine officer who we hold in very high esteem. It concerns LtCol Chris "Otis" Raible, Commanding Officer of Marine Attack Squadron VMA 211 (the Avengers) at Camp Bastion. LtCol Raible was one of two Marines killed when insurgents attacked the base in Helmand province recently (the same attack that destroyed a number of AV8B Harriers). Sgt. Bradley Atwell was also killed in the attack.
This is a copy of LtCol Raible's Commander's Guidance, and it's well written. We thought you might like to read it. Professional Hunger, Professional Focus, Attitude, Moral Courage.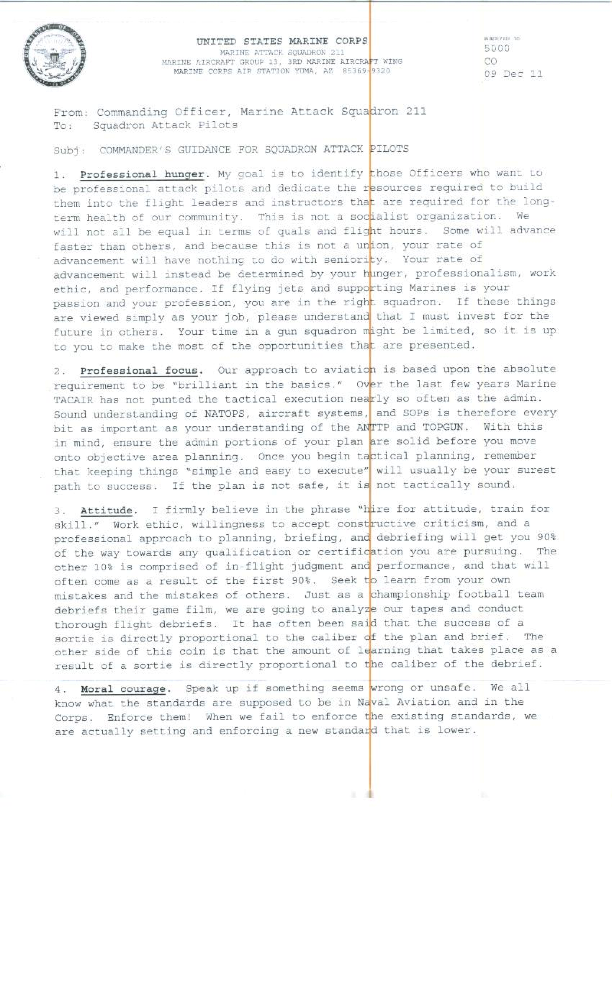 The Yuma, AZ based squadron was the only Marine Harrier unit remaining in Afghanistan, having relocated to the British airfield Camp Bastion from the Kandahar Airfield earlier in the Summer as part of the drawdown and consolidation of USMC forces in CENTCOM. It is believed that a number of insurgents dressed in US Army uniforms penetrated the base perimeter in 3 prepared and rehearsed teams, attacking the airfield with small arms, RPGs and suicide vests.
LtCol Raible is survived by his wife and three children. His relatives described him as a Marine who was devoted ot his profession, who "lived it, breathed it and unfortunately died for it."