Action Target Launches Game Series Paper Targets

According to a recent release, Provo, Utah based Action Target Inc., the "…leading manufacturer of modern shooting ranges, steel targets and shooting supplies…" has announced the launch of Game Series paper targets. which bring an added element of competition and entertainment to target shooting.
Inspired by arcade games, wildlife hunting, carnival entertainment, tabletop gaming and team sports such as hockey and baseball, the new Game Series paper targets create a riveting and interactive shooting experience. The target designs are vibrant and nostalgic to appeal to the shooter's sense of amusement. Various targets, such as 'Alien Invasion' and 'Anatomy Training', employ fluorescent colors, allowing ranges to amplify the game experience through the incorporation of black lights. Each target includes unofficial rules for game play. The object of the 'Ocean Battle' target, for example, is to be the first player to sink his or her opponents' ships by shooting the target rings on the ships.
The rules suggest that each player is given 3 shots per round. "Range owners are always looking for opportunities to make shooting more exciting and engaging. The Game Series paper targets promote participation and competition among guests while they hone their shooting skills.
Where do you buy your guns?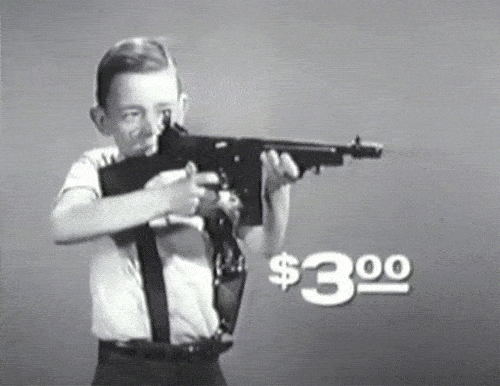 Big Daddy Unlimited – 120k firearms related products at direct dealer pricing.
The selection of games is also impressive: From 'Billiards' to 'Big-O-Hunt' and from 'Clown-Shoot' to 'Croquet', there's something for everyone," said Joseph Panasiewicz, Product Marketing Manager at Action Target.
Learn more about Game Series paper targets at Shop.ActionTarget.com.
---
Declare for Morning Wood!
Why become a patron? Not for the dick pics. So you can access the Morningwood Bazaar, obviously.
Exclusive discounts up to 60% off all kinds of guns and gear. 
Plus, unrivaled camaraderie where we only make fun of you most of the time.
Access to Nancy's Squat & Gobble, our closed Facebook discussion group.
If you wish to cite, syndicate, or curate our material, or if you're wondering about our please be so kind as to read our

Terms, Conditions, and Disclosure

s.
Take heed! We have advertisers, sponsors, and affiliate relationships with some of the companies you will be reading about (particularly, but not limited to, archival posts). If you purchase one of those items, we will get a small commission from the sale at no additional cost to you. A lot of work goes into Breach-Bang-Clear; by making your purchase through one of our portals you'll be supporting our work. This will help us buy beer, bullets, and barbecue, and we won't have to put pop-up ads and other such stupid shit into our articles to pay our expenses.