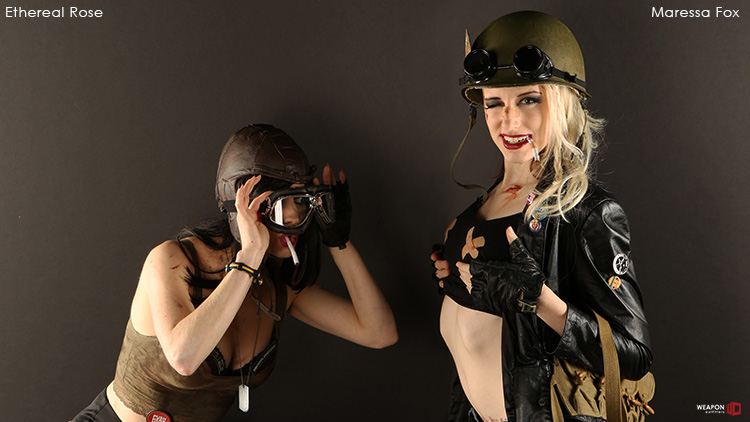 Weapon Outfitters – Duo Intelligence.
DUOINT will be an ongoing new series (at least until we figure out a better name forit). We're going start giving you, dear readers, some behind the scenes access to some of our friends in the tactical-firearms-mall ninja industry. These articles will hopefully provide some background and give you an idea about what goes on in each company's respective headquarters/facility/local dancing mom establishment. We'll approach each HMFIC or designee with the question – what sort of things would we want to know…we'll ask and then and we'll relay their answers to you.
Today – Weapon Outfitters. You have probably seen the pictures. Either online or as a poster hanging in your favorite gun shop. Typically it's the image of a gorgeous, classy redheaded woman holding a sweet tricked out AR-15. The man behind Weapon Outfitters, we'll call him Roy ('cuz that's his name) is a lifelong shooter and AR enthusiast. Like many small town girls, he dreamed of making an online store that capitalized on his years of specialized knowledge in firearms and friends in the shooting industry.
As someone who'd always been interested in the visual arts, he decided to do what no one else in the industry was doing: shoot classy girls and guns in a tasteful and refined way. Many people base their rifle builds off the slender lines and curves of different AR accessories and parts; in fact to some the people the aesthetics of the weapon matter as much as the quality and function.  What better way to show off that sexy blaster then with the equally elegant curves and lines of a beautiful woman? The hot rod and bike magazines have been doing it for years. Even the old cheesecake calendars that have hung in garages across America for decades use hot chicks to showcase shiny wrenches and boring oil filters- why not America's rifle?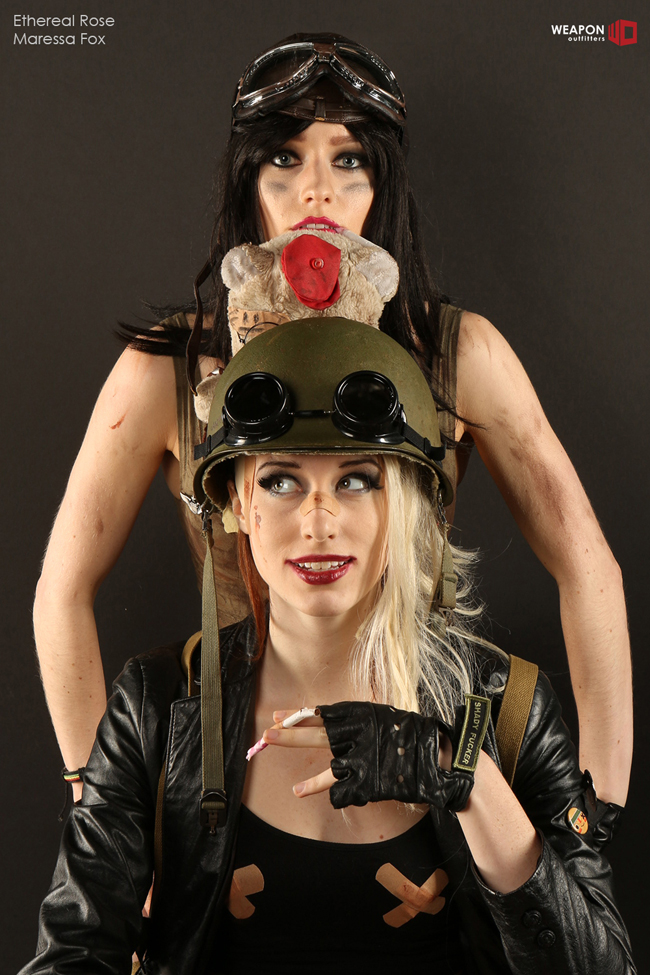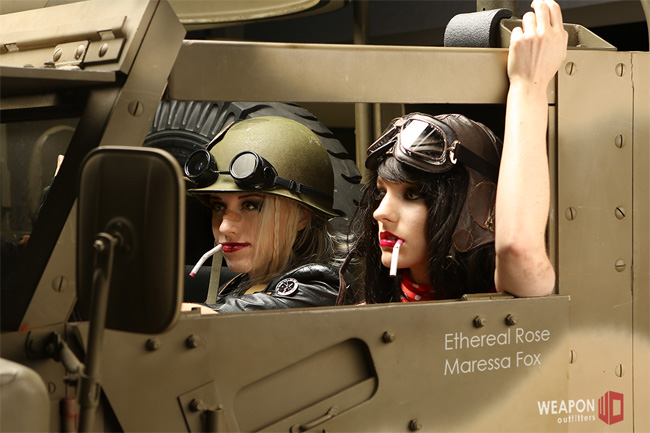 Like James Cameron and Joss Whedon, Weapon Outfitters has a thing for strong, independent women with skill at arms. Over the years they have managed to find a few of these rare specimens and stage some very cool photo shoots. Most of the weapons held by the models are built out of the very same parts the company sells, and many of the models are shooters themselves. You can see the difference between the women  in WO Photographs and the typical "Hollywood Barbies" wielding airsoft guns, fingers on the trigger. Not these gals, their knowledge and proficiency shows like a beacon in the images, further reinforcing the notion that a picture is worth a thousand words. Though the girls occasionally do work with former and active servicemen for other company's marketing, but they are ok with being known as the "redheads with guns" company. Many people relate the two almost exclusively. The funny thing:  most of their models are not naturally red headed, but not-coincidentally became redheads after starting to work with them. (Note – they're not redheads in this post-apocalyptic half track series, but if you want we'll run a post full of their pics.)
No one cares; they all look good regardless of their natural state!
We did you guys a solid, gonna save you some money on some

CFF sto

ke.

When it comes to the firearms components they sell, WO tends to lean towards the premium side of things. Quality is where it's at.  Weapon Outfitters constantly seeks other companies run by fellow gun nerds at the helm.  Often it seems that in this business, people are too quick to race to the bottom with cheap, poorly made parts with inferior quality, something that doesn't show up until people start running their guns hard.  While most people simply can't shoot 5 figures of ammo a year, WO assumes that each component that they sell is going onto a serious competition or life-saving "work" gun. They choose parts and manufacturers accordingly.
We a Breach-Bang-Clear feel that the respect and support the WO guys and girls give to each customer is reciprocated in the long run. We all have choices where to spend our money, and not all customer service is equal. The knowledge, humor and friendly interaction of Weapon Outfitters makes them an easy choice. They are best described as a team of humble, quirky, passionate gun-nerds that are eager to please their customers and bring new, quality parts to market. They are great people, and worth checking out…..even if it's only to check out the girls!
Weapon Outfitters is good to go.
Note – WO would like to thank BE Meyers for the restored WWII M3 Halftrack and the blank firing machine guns.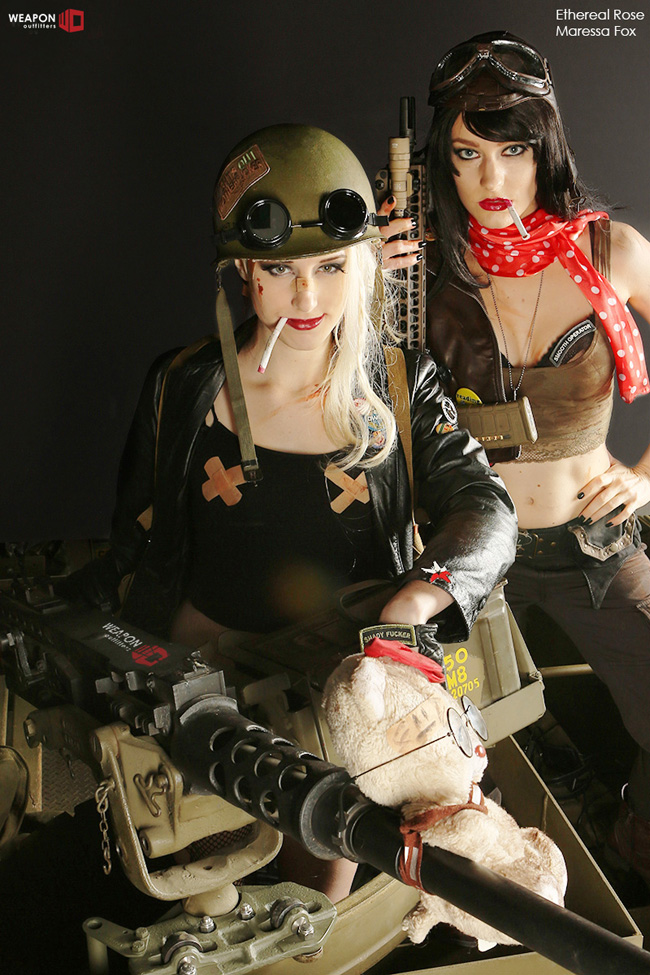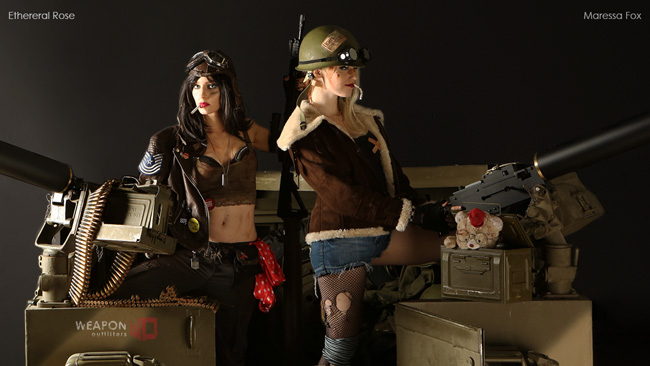 Check out:
https://www.weaponoutfitters.com/ for the parts
http://weaponoutfitters.tumblr.com/ for the girls
https://www.facebook.com/weaponoutfitters for keeping up to speed
You can read an older article about WO from a couple years ago here.
⚠️ Some hyperlinks in this article may contain affiliate links. If you use them to make a purchase, we will receive a small commission at no additional cost to you. It's just one way to Back the Bang. #backthebang