Two Immigrants, and a Pearl Harbor Commemoration
Two Immigrants, and a Pearl Harbor Commemoration 
Chris Hernandez
Lately there's been a lot of negativity floating around about immigrants, and the hatred they supposedly experience from many Americans. Well, I have a different story about an immigrant. Actually, two immigrants. This week, when we commemorate the 75th anniversary of the attack on Pearl Harbor, is especially relevant to the lives of these two immigrants.
The first immigrant was my great grandfather, Elias Moreno. He came from I-don't-know-where, Mexico, sometime in the 19-teens. In 1918 he was drafted into the U.S. Army to fight in World War I. My understanding is that he spoke almost exclusively Spanish until the day he died, so I'd guess he was usually lost and quiet in the Army. I don't know his unit or MOS, but I do know that on November 11, 1918 he was at a train station, waiting for a train that would take him to a ship to sail to war, when news of the Armistice was broadcast over the station's loudspeakers.
My great grandfather Elias never served in war. Four of his sons did. His oldest, Leo Moreno, was a B-17 crewman whose aircraft was destroyed on the ground in the Philippines 75 years ago today. As far as we know he fought as infantry until the surrender at Corregidor, and we know he was in the Bataan Death March but never made it to a camp. My grandmother once showed me a newspaper clipping that said Leo was "Missing, Presumed Dead". In 1946 his status was changed to KIA.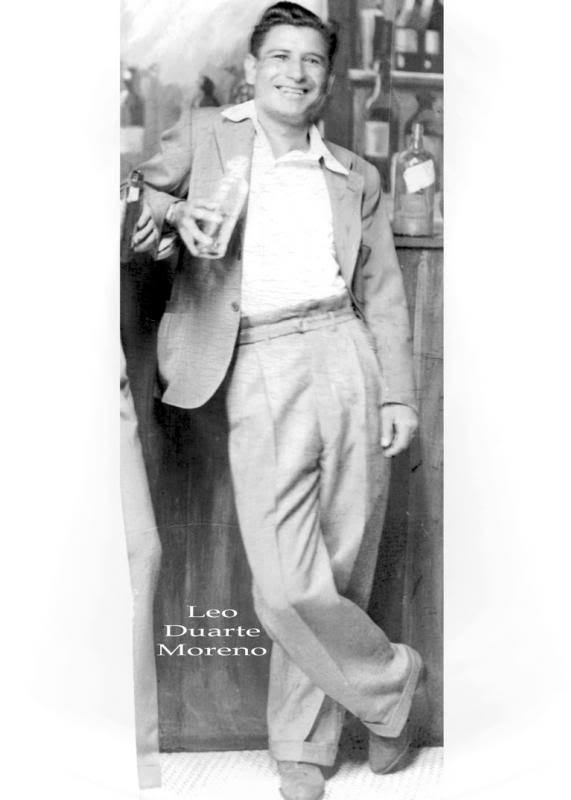 Two of Elias' other sons served in the Army Air Corps, one in the Pacific and one in Europe. His youngest son Richard was a Marine in the Korean War.
One generation further, my father and his two brothers all served in the Air Force. Then me in the USMCR and Army National Guard, my two brothers in the Navy, my niece in the Navy, and now my oldest son is kicking around the idea of joining the Air Force. All that service to America, because one young man from Mexico decided to leave the country of his birth and become a citizen of the greatest country that has ever existed.
Now let's talk about the second immigrant.
This past Monday, I stood inside a Military Entry Processing Station and watched the second immigrant swear in before shipping out to Marine Corps boot camp. His name is Obaid. Obaid had a very different experience than my great grandfather; while Elias Moreno had to figure a way to get to America, Obaid pretty much had America come to him when our forces occupied Afghanistan.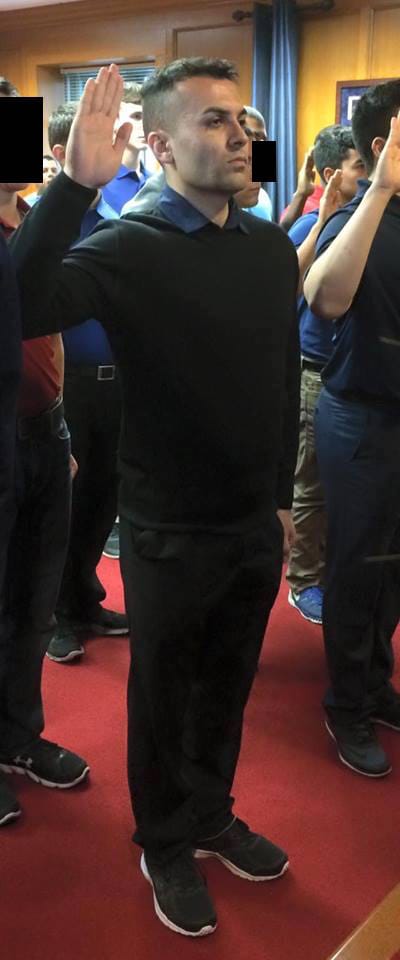 Obaid spoke fluent English, and although he was technically too young he managed to worm his way into a job translating for American troops. He fought in combat beside them, and was a trusted comrade to many. The first time I was in a fight in Afghanistan, during the Battle of Alasai in March, 2009, he was in my Humvee. He was wounded by an IED later that year, managed to move out of Afghanistan some time after that, and finally found his way to Texas.
Obaid signed up for the Army, but for some reason kept getting jacked around (and I don't know of a more 'Murican experience than getting hosed by your recruiter). So he walked into the Marine recruiter's office and told them he wanted to be an infantryman. Bam, he was in.
And as we speak he's being screamed at by Marine drill instructors, getting pneumatic inoculations, wondering if the barbers left stray patches of hair on his head like they did on everyone else's, asking himself what the hell he was thinking when he signed the dotted line, wondering when the next meal is, maybe wishing the guy in the next rack would stop crying all night, and just generally hating life like we all do in boot camp. In three months he'll emerge from that as a U.S. Marine.
More importantly, before graduation he's due to receive his citizenship.
While my great grandfather Elias and Obaid had different experiences, they also have much in common. Both were newcomers to America when they swore an oath, put on a uniform and picked up a rifle. Both are thought by many to have experienced incredible, unforgivable racism in a country founded on hate and discrimination, a country with "racism in our DNA." Yet Elias spawned a successful family of proud citizens who embraced American culture and values, served America in some of our darkest hours, and considers itself no less American than any other citizen (and more American than some). Obaid, with intense combat experience and what should have been a Purple Heart behind him before he ever swore allegiance to America, will undoubtedly do the same. I can't speak for him, but he's never complained to me about being mistreated by Americans, he's spoken of feeling welcome. And he's a kick boxer, so if someone did try to oppress him he'd probably beat their ass.
In these days of division let's try to keep something in mind: Americans love those who are dedicated to this country, no matter what color or religion they are. And one reason America is as great as it is, is that incredible people from other countries choose to be American.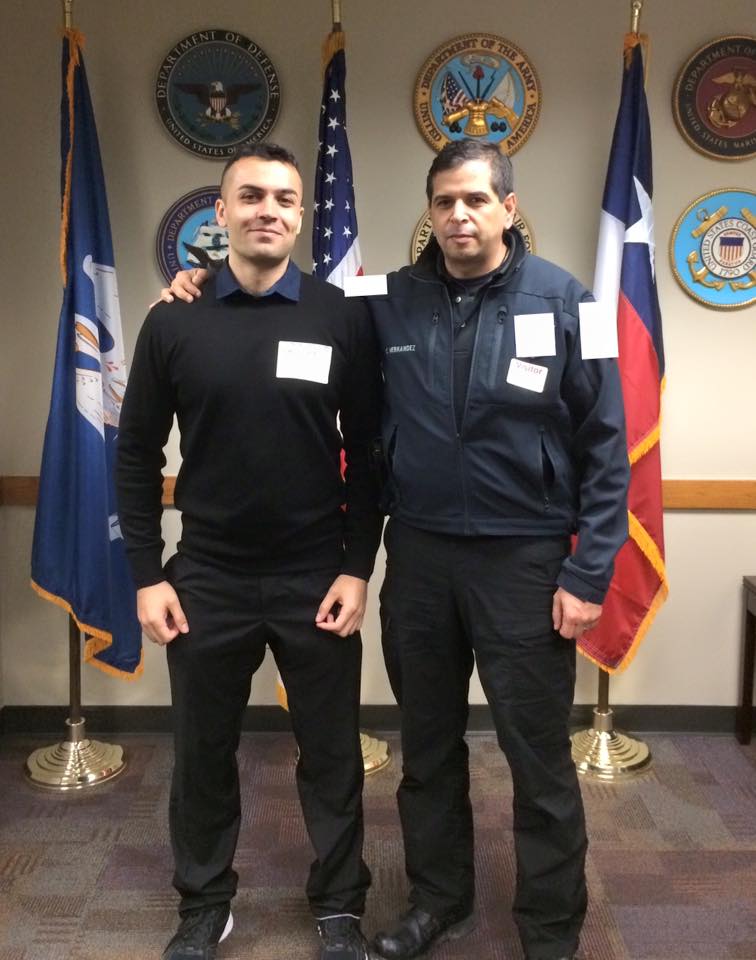 So let's honor three things today: First, the memory of those lost at Pearl Harbor, and the survivors who 75 years ago today were repairing the damage and preparing to fight; second, Elias Moreno and those like him, for finding a way to America and breeding patriots willing to dedicate their lives to its defense; and third, my friend and future Marine Obaid, for standing shoulder to shoulder in combat with us and for us, for bringing his bravery and dedication from Afghanistan to America, and for choosing to do it all again as a citizen with an American flag on his shoulder.
-Chris
---
[Read about Obaid right here and here on BreachBangClear]
Comms Plan
Primary: Subscribe to our newsletter here or get the RSS feed.
Alternate: Join us on Facebook here or check us out on Instagram here.
Contingency: Exercise your inner perv with us on Tumblr here, follow us on Twitter here or connect on Google + here.
Emergency: Activate firefly, deploy green (or brown) star cluster, get your wank sock out of your ruck and stand by 'til we come get you.
Chris Hernandez Mad Duo Chris, seen here on patrol in Afghanistan, may just be the crustiest member of the eeeee-LITE writin' team here at Breach-Bang-Clear. He is a veteran of both the Marine Corps and the Army National Guard who served in Iraq and Afghanistan. He is also a veteran police officer of two decades who spent a long (and eye-opening) deployment as part of a UN police mission in Kosovo. He is the author of White Flags & Dropped Rifles – the Real Truth About Working With the French Army and The Military Within the Military as well as the modern military fiction novels Line in the Valley, Proof of Our Resolve and Safe From the War. When he isn't groaning about a change in the weather and snacking on Osteo Bi-Flex he writes on his own blog. You can find his author page here on Tactical 16.