This is not your typical knife report – we're not looking to carve up someone engaged in violent criminal fuckery with this one…but we do like how it looks for some culinary activity. We first mentioned this thing back in May; now we have a field report on it. Mad Duo
Report: the TOPS FMS XL
Craig Metzger
Lets assume we're all into knives. We have our "EDC" pocket pokers, our bushcraft widdlers and our "oh-fuck-I-just-got-into-some-real-shit" sneaky slicers, but one type of knife we need to talk about is the kitchen knife.
I did an internship in college with the NYC Sheriff's department, and besides putting stamps on envelopes and answering phones I got to go to the car auctions. The Sheriffs would let me search the cars for weapons, and the most popular weapon I found (besides cut-down bats) was the kitchen knife. So in honor of my getting-coffee/licking-stamps experience with the Sheriffs, we are going to look at no-ordinary-kitchen-knife but instead the TOPS Frog Market Special, also known as the FMS XL.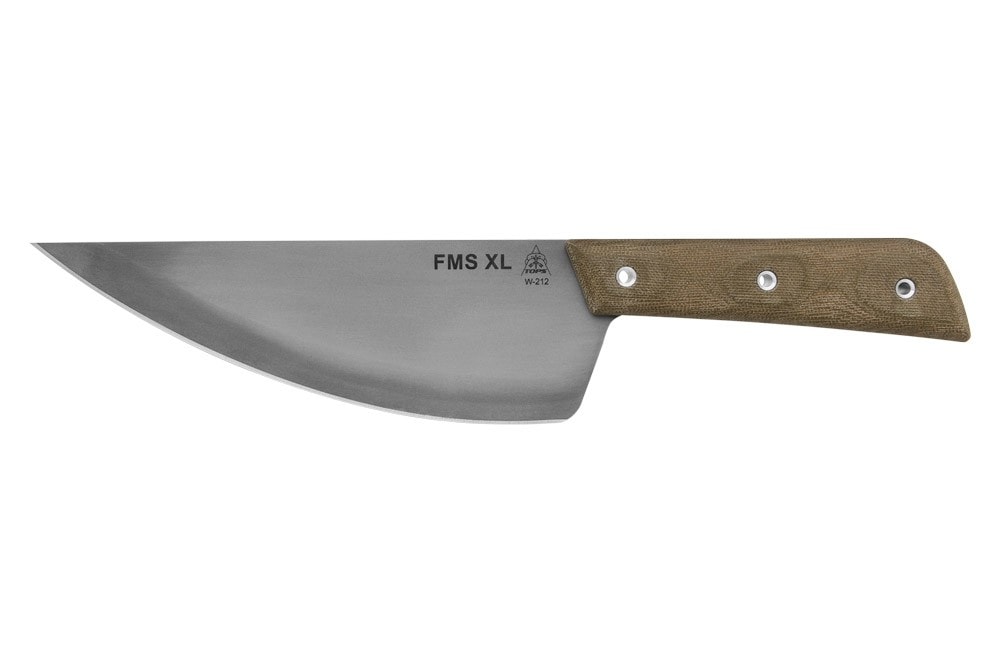 The FMS was designed by Steven Dick, who on a recent trip to Vietnam was inspired by a style of blade used by butchers and fish mongers in the local markets. The FMS comes in two sizes but we had the pleasure of slicing and dicing with the XL version.
The XL version is a large knife. The overall length is 12.75″ but it looks bigger in person. The actual blade is 7.50 inches with a cutting surface of the same length. Thickness is about 3/32 and the steel is 1095. The blade has the TOPS Black River Wash which gives it a unique look. The handles are green canvas Micarta. I should also note the knife comes with a kydex sheath for storage or carrying during an end-of-days type event.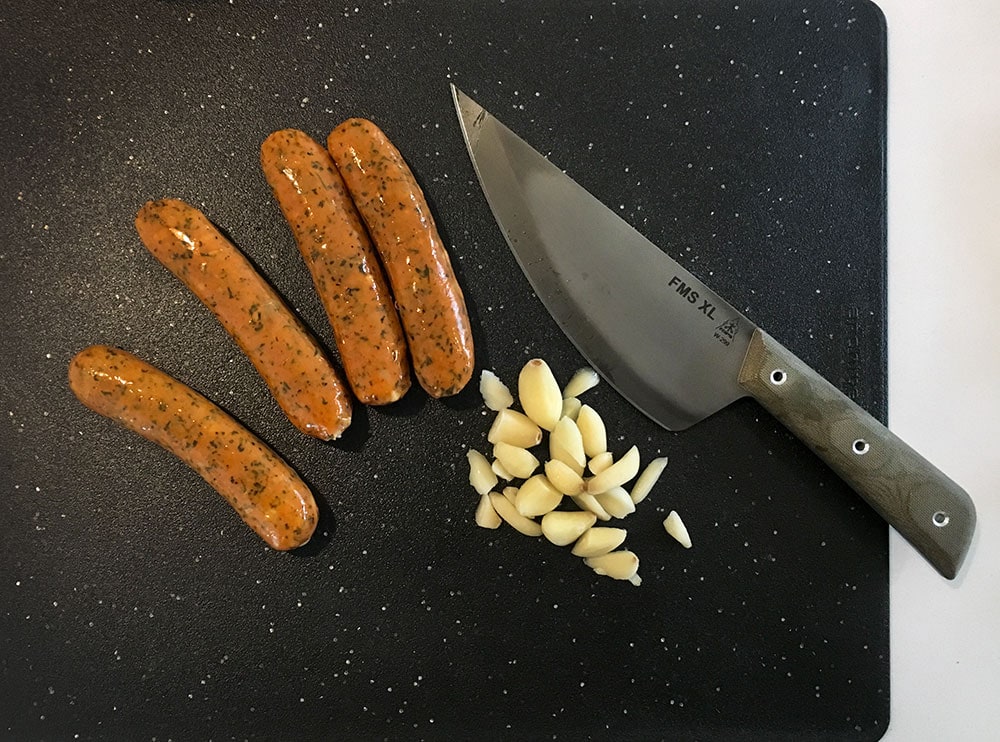 The knife I received would be relegated to home kitchen duties. In person, the knife is impressive looking and the finishing is top quality. The weight felt balanced and according to TOPS it's about 9.4oz. The FMS XL saw a variety of kitchen chopping duties from ribs, whole chickens, tuna steaks, tofu (yeah I said tofu) and veggies. It's first day was spent cutting pizzas for the kids. When ever we had guests at the house I would showcase the knife and the initial response from the guests was that this was some sort of "tactical trinket" I just bought, but after they spent any time cutting with it, they were impressed and asked questions about it. They weren't just impressed by its cutting prowess but even how detailed you could get with the scalpel-like tip.
When laid down beside my normal kitchen knifes you realize how the FMS is a stand out. Sure, it's not a normal-looking kitchen knife but its ability to slice and dice with minimal effort has won a special place in my heart. Before I continue to ramble I thought I'd give you a quick guide to my experience.
Postive
Shape of blade and ergonomics make it a real joy cutting any thing
Even with its large size the sharp tip allows for some surgical-like cuts
The Micarta handle is comfortable and stable when wet
The finishing qualities is top notch and precise
I would describe it as a nimble cleaver
Negative
You must wash and thoroughly dry the knife or rusting will appear on the cutting edge. It happened once but after some better care it's been a non-issue.
Overall
The FMS XL is an excellent addition to your kitchen. My wife even says it's become her favorite knife. There are two sizes to fit your needs but I found the XL to be a perfect size for most home kitchen/BBQ cutting duties. It cuts extremely well and feels really comfortable. You can learn more about the TOPS FMS XL here.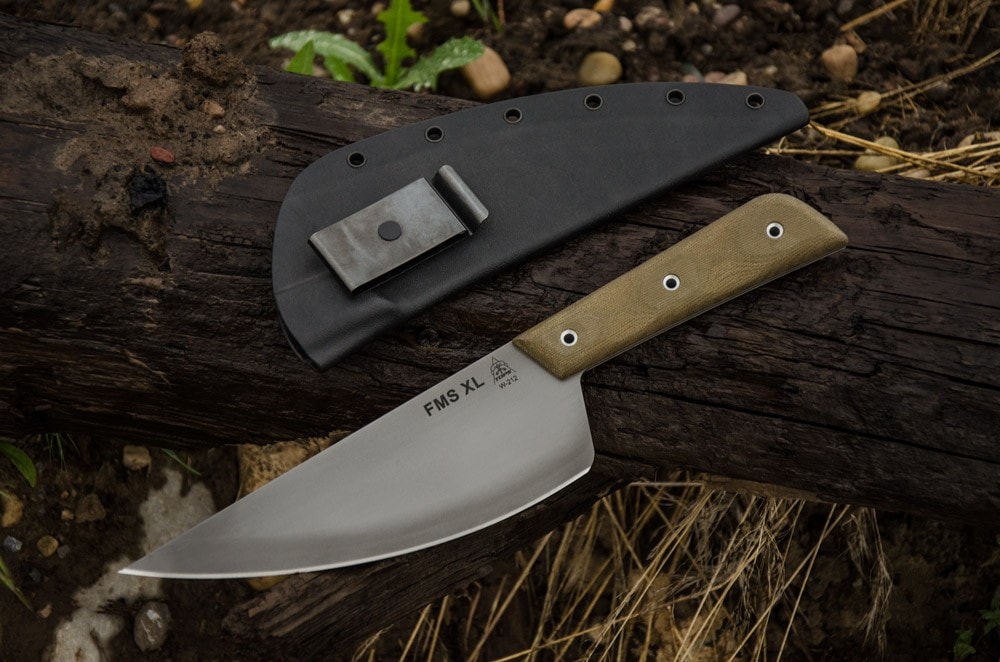 This article was made in part by Leupold (@leupoldoptics), a member of JTF Awesome.

---
---
If you wish to share or repost, please so kind as to follow our terms and conditions.
Mad Duo, Breach-Bang& CLEAR!
Comms Plan
Primary: Subscribe to the Breach-Bang-Clear newsletter here; you can also support us on Patreon and find us on Pinterest.
Alternate: Join us on Facebook here or check us out on Instagram here.
Contingency: Exercise your inner perv with us on Tumblr here, follow us on Twitter here or connect on Google + here.
Emergency: Activate firefly, deploy green (or brown) star cluster, get your wank sock out of your ruck and stand by 'til we come get you.
T&C: All original material published by Breach-Bang-Clear is the copywritten property of Breach-Bang-Clear, Inc. If you wish to repost, republish, or otherwise share our content, feel free to reproduce an extract of up to 225 words and one complete, unaltered image, preceded by attribution crediting the source and author's name, to include a link to the Breach-Bang-Clear home page, with a link back to the full article on our website, BreachBangClear.com. You do not require our permission to do this. Please do not reproduce our content in its entirety without contacting us first. We do allow full syndication on a case by case basis (credited, and posted with a canonical link, as is common practice and in good form) but only when mutually agreed upon beforehand. If you wish to reproduce a complete article, please contact us for permission to publish first.
About the Author: Craig Metzger is some sort of evil creative genius who enjoys everything from Billabong to Zev Tech. He's one of those dudes who mountain bikes, hikes and snowboards with the same enthusiasm he has for spending time on the range, offroading in Moab and attending Renaissance Fairs. He's definitely our first minion so far to have a subscription to Thrasher magazine. Kyle Lamb (the Viking Tactics Kyle Lamb) really does call him the Tactical Hippie, that's a true story. Although we cannot confirm rumors that he played the role of Everett in Delta Farce, we can advise you to check out his work on his website or on his blog.