MNKF: SOG Trident Elite Tanto
Monday Night Knife Fights: SOG Trident Elite Tanto
Craig Metzger
SOG has somewhat of a cult following. When I mentioned I had a SOG Trident for review, a few folks piped up and claimed how much they like SOG's stabby devices. I was surprised because SOG is a huge player in the game and typically this type of fanfare is reserved for smaller or obscure knife makers. Tonight, we'll look at the SOG Trident Elite Tanto. Sit back, put on your leather gauntlets, get that hair into a proper pony tail, and let's go.
3-in-1
The Trident Tanto Elite seeks to solve the problem of carrying multiple tools. The knife has three main functions. The first and most obvious is the Tanto blade. If you get caught in the knife point debate some will wave the Tanto flag for its increased strength towards the tip, while others will say the Tanto has no real advantages and is a pain in the ass to sharpen. There's no denying, however, that it looks cool as fuck and will get the cutting job done.
The second function is a small-glass breaker tip found toward the front. Normally a glass breaker is on the rear of the knife. It's fairly small but gets the job done (unless you have Mad Duo Merrill around, 'cause he'll just throw his elbow through the car window. True story.). The last feature is an integrated slot cutter/seat belt cutter that actually uses the knife blade instead of a dedicated blade. SOG doesn't call it a seatbelt cutter and maybe that's not it's intention, but we see it as a seatbelt cutter. When you sum up all these functions, the Trident Elite has the makings of being a great emergency folder for a vehicle go-bag.
That said, I set out to use the knife as part of a vehicle kit for my truck. The knife saw various action including breaking down cardboard, trimming twine and rope for various chores, and varied routine cutting duties. The one or two things it didn't do was cut through my seat belts or smash my truck window, but I set out to try out these functions too. We'll get to that later.
The Handle
I'm a simple man, and I like my knife handles simple. The Trident, though, has a very elaborate handle. The handle is made of nylon, then for extra grip SOG uses a TPR (Thermoplastic Rubber) in a few panels. Then to add more strength there are two stainless steel clips. The handle is very sturdy, with little to no signs of flex. The downside is that the TPR panels made it hard to draw from my pants pocket. The handle would stick and require a bit of coaching to remove. This problem was only noticeable when wearing jeans. With cotton pants the problem wasn't pronounced, but was still present.
Now lets talk about the locking mechanisms. The blade has a lock switch right on the handle, plus a piston lock that helps keep the blade in place once it's deployed. The blade has an assisted opening function which is quite robust. If you aren't familiar with assisted opening blades, they work similar to a switchblade but instead of pressing a button you use your thumb to start the blade movement before the spring mechanism flips the knife completely open. This function is great for one-handed operations and cool party tricks.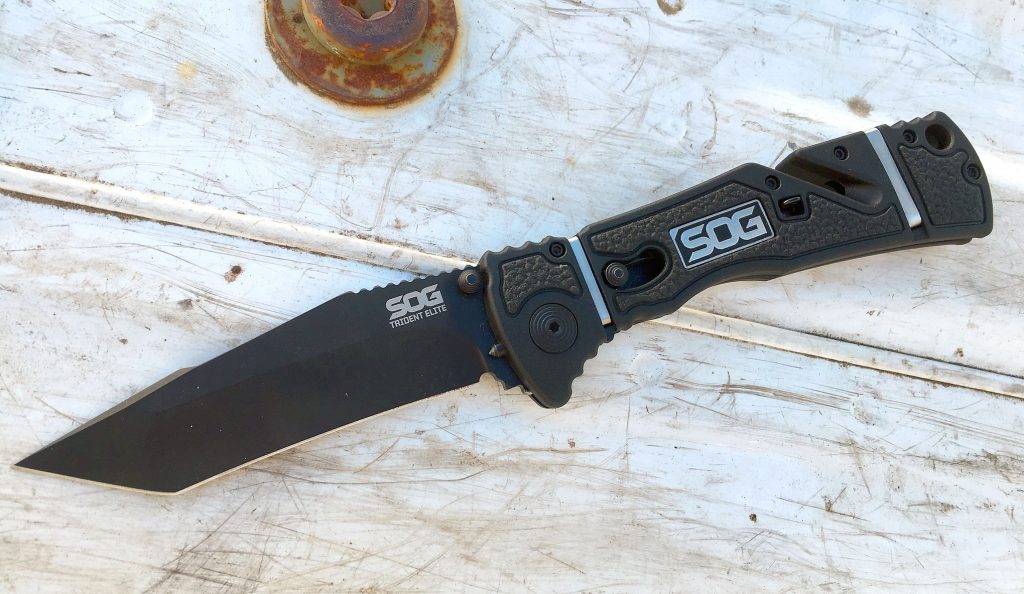 The knife blade
The steel is AUS-8 with a hardness of RC. 56-58, plus the blade is TIN coated black for enhanced durability. Overall, that's decent blade material for the buck; it'll hold an edge and is easy to sharpen, partly because the blade edge is flat ground to keep sharpening simple.
Seatbelt/slot cutter
As mentioned earlier, the handle has a cutout which is similar to a seatbelt cutter. SOG doesn't call it a seatbelt cutter because typically a seatbelt cutter is a dedicated blade with a larger opening. Seatbelt cutters protect the person trapped under the seatbelt from the actual blade. The SOG Trident slot cutter isn't designed for seat belts but I wanted to try it. The slot cutter didn't cut through a seat belt with ease and the small opening was only good for cutting paracord sized cordage. I used the deployed blade for cutting duties, which seemed to work better than the slot cutter.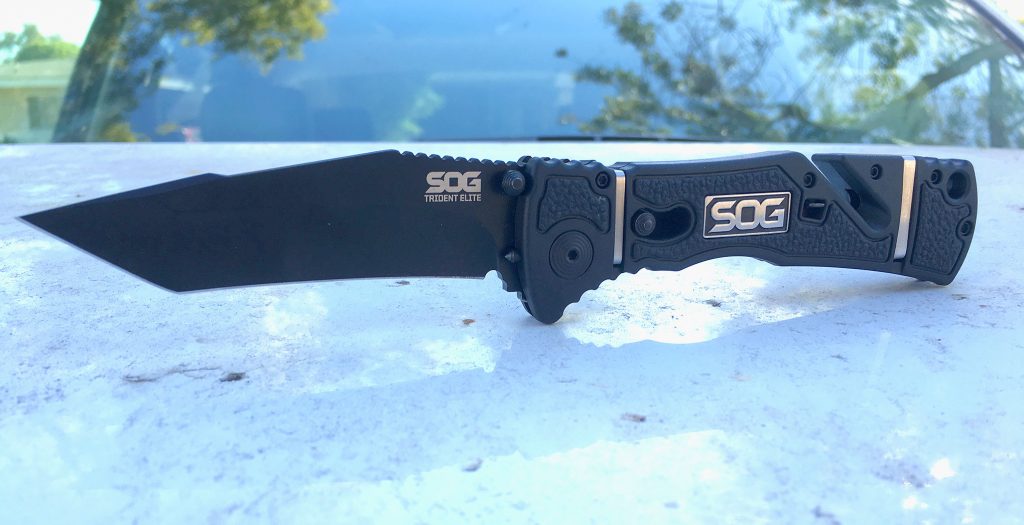 Bust that glass
Also mentioned earlier, on the front of the knife where the blade comes out is a tiny glass breaker. Don't let the size fool you though, it gets the job done. One quick strike and tempered glass explodes into a spiderweb of cracks. Great for having inside a car if shit goes south and your only exit is through the window.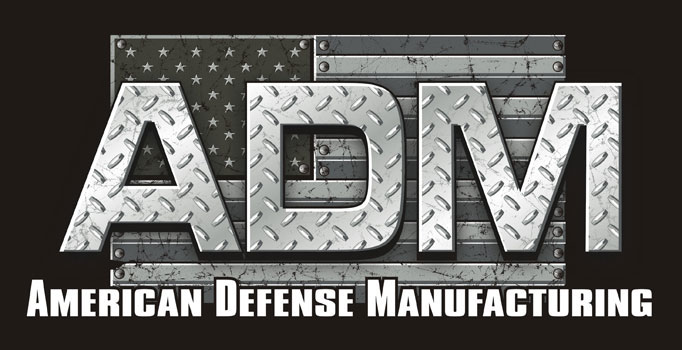 Studies and Observation Group
SOG has a large selection of knives and multitools (which I've been thrashing about for an upcoming review). They just released some new products for 2016 and its worth checking out. For more info and specs on the SOG Trident Elite Tanto visit them here.
-Craig
---
---
[Check out the 2016 line of SOG products here]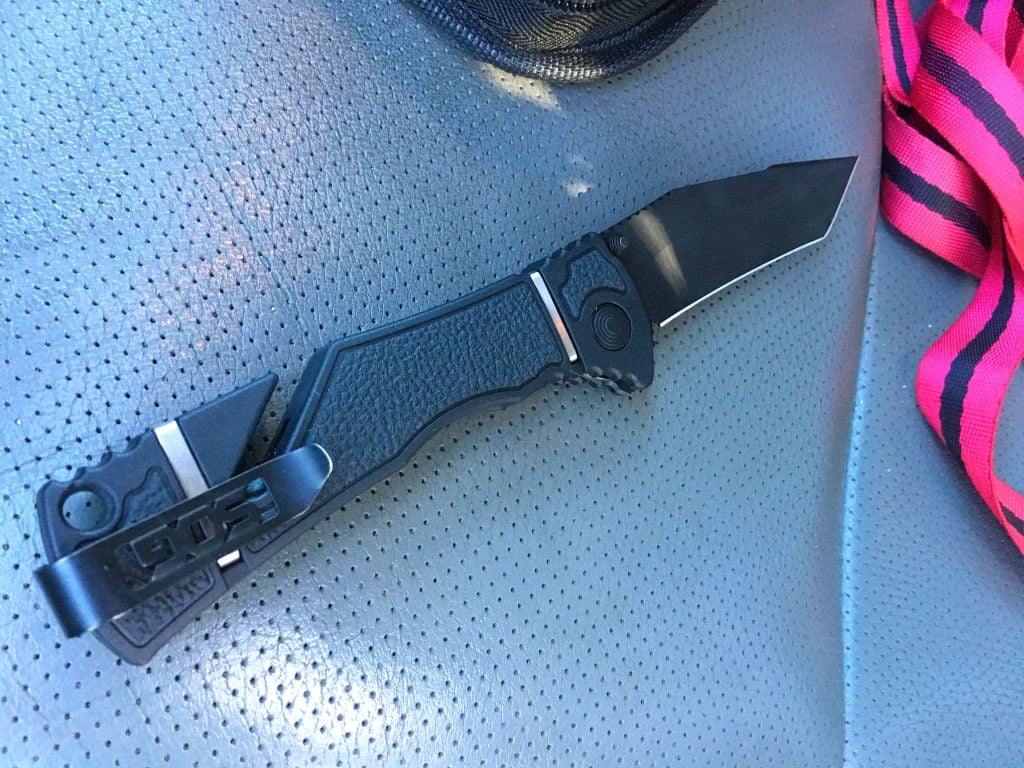 About the Author: 
Craig Metzger is some sort of
evil
creative genius who enjoys everything from Billabong to Zev Tech. He's one of those dudes who mountain bikes, hikes and snowboards with the same enthusiasm he has for spending time on the range, offroading in Moab and attending Renaissance Fairs. He's definitely our first minion so far to have a subscription to Thrasher magazine. Kyle Lamb (the Viking Tactics Kyle Lamb) really does call him the Tactical Hippie, that's a true story. Although we cannot confirm rumors that he played the role of Everett in 
Delta Farce
, we can advise you to check out his work 
on his website
 or 
on his blog
.