M.U.D.D. stands for "Multi Utility Dirt Defiant", not "Mothers Up there Dancing Dirty." It's the latest offering from inventor-artisan Gavin Hawk of Hawk Knives/Hawk Knife Designs. You may remember him and his dad from, oh, all kinds of cool shit. The M.U.D.D. folder features a sealed locking mechanism to keep out dirt and debris and an XHP blade with bead blasted, tumbled titanium frames, carbon fiber overlays, bead blasted clip and molded urethane seals. The locking slide you see on the side of the handle is used to close the knife, and there are tiny seals around the pivot that ride against the handle frame to keep detritus out. (See further specs below.)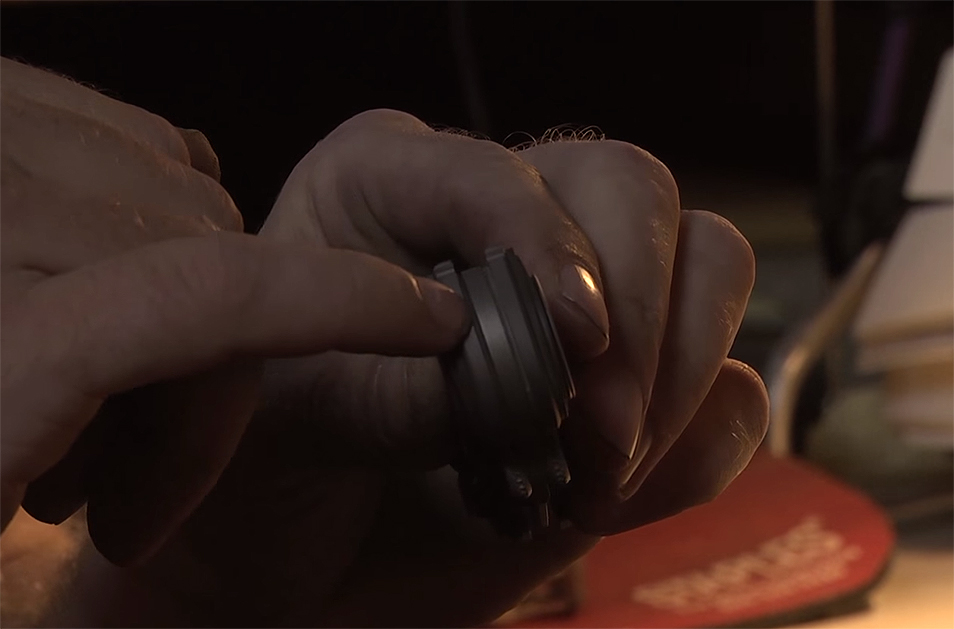 This folder was designed from the git-go to be sealed sufficiently that you could drop it into the sand or mud and not jam up the inner mechanisms, which is why the lock is hunkered down within a vulcanized rubber boot. As you can see the blade is engraved with its name, scrawled in such a way as to be reminiscent of how it would look if you drew the word in the sand with stick.
Hawk Knife Designs, if you're unfamiliar with 'em, is an Idaho based father-son team of knife makers known for (among other things) their excellent knife locks. Gavin is the younger half of that duo — and the more "civilized" of the two (there's a story behind that). The knife community is full of unique, frequently idiosyncratic characters, far more so than the firearms industry (though there are some interesting dudes there too). The two Hawks, who build their knives in an old barn, surely do qualify.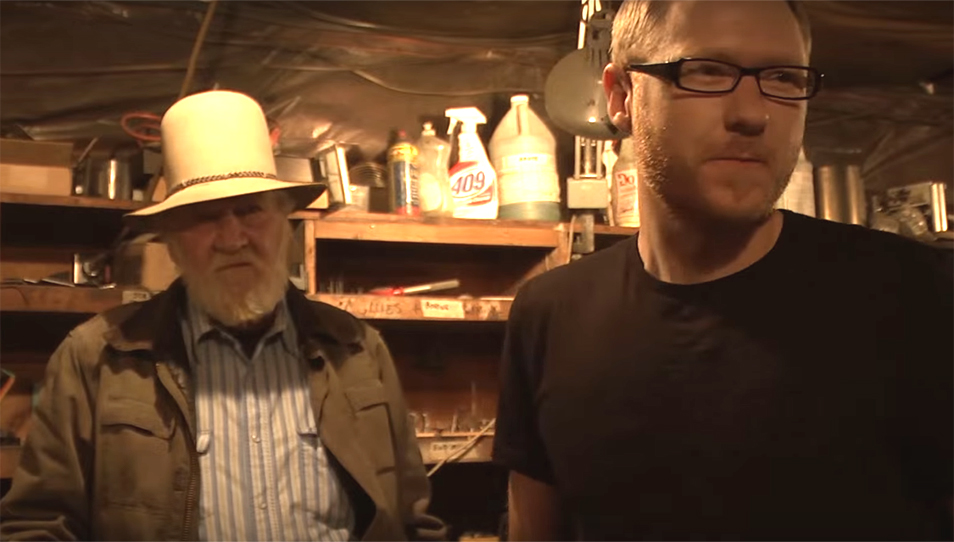 Grunts: idiosyncratic.
"I guess a game we like to play is what if? What if a knife did this or what if it did that? So once you can come up with a basic idea, then you can kind engineer a mechanism to solve that particular problem and make the knife do what you want it to do…For us it all starts with some type of objective, to make a knife cooler or stronger or different. We come up with that basic idea and then engineer that idea to work in a knife…" – Gavin Hawk
Here's a look at a MUDD with the designer's .357 Taurus revolver.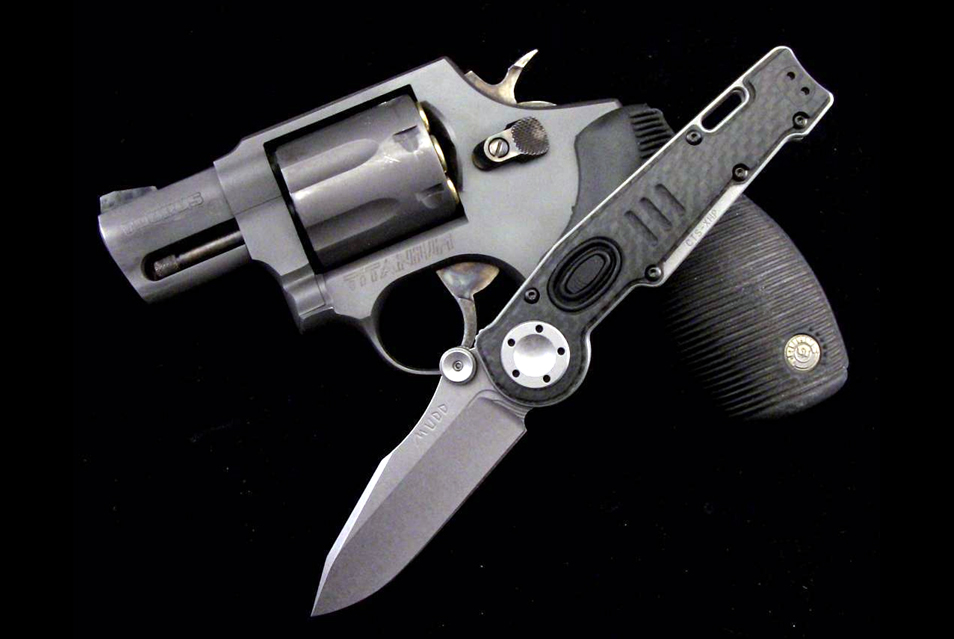 The designer's personal MUDD, along with a John Gray Knives beard comb and custom Keybar.
Gavin's girlfriend lightens the shop up a bit (and probably makes it smell better).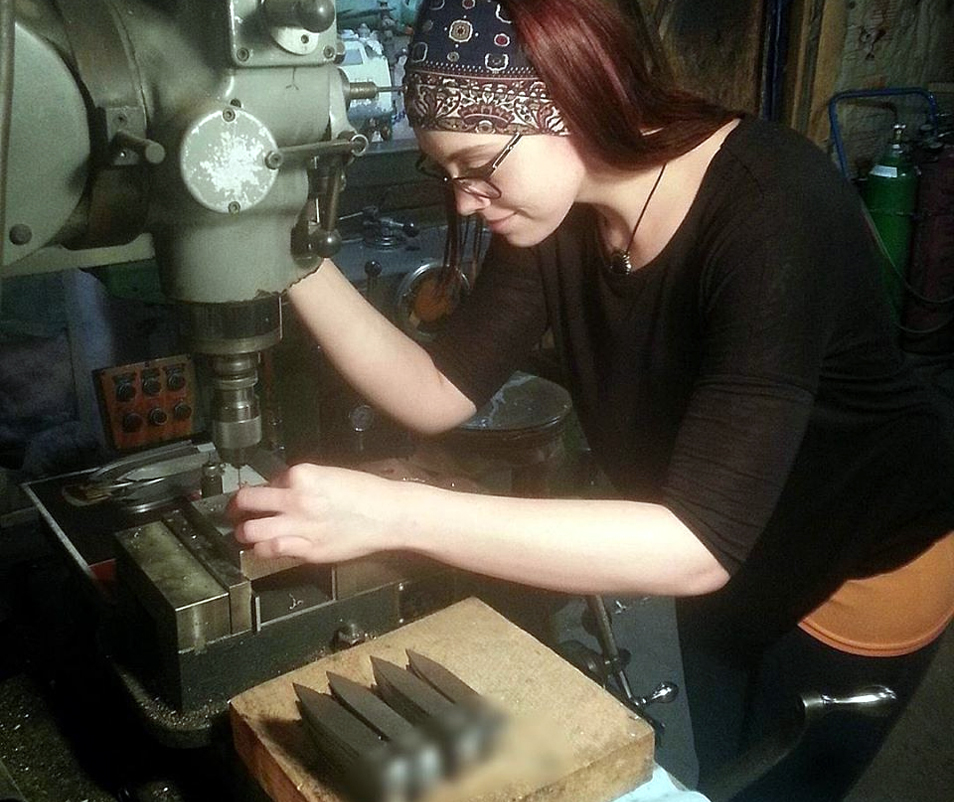 You can buy Hawk Knives (@hawkknives) online here: https://www.spreesy.com/hawkknives, and they also have a website.
If you have a few minutes, watch this. Listening to the senior Hawk is, in a word, fascinating. He seems more like a Louis L'Amour character than a "modern" knife designer, and Gavin — who built his knife at 12 years old — is damn sure a master of his craft. Enjoy.
As we understand it, these are the basic specs. Individual knives may vary.
SPECIFICATIONS
Overall Length: 7.75″
Blade Length: 3.25″
Blade Thickness: 0.125″
Blade Material: CTS-XHP
Blade Style: Clip Point
Blade Grind: Hollow
Finish: Stonewash
Edge Type: Plain
Handle Length: 4.50″
Handle Thickness: 0.69″
Handle Material: Carbon Fiber
Frame/Liner: Titanium
Weight: 4.88 oz.
User: Ambi
Pocket Clip: Tip-Up
Comms Plan
Primary: Subscribe to our newsletter here, get the RSS feed and support us on Patreon right here.
Alternate: Join us on Facebook here or check us out on Instagram here.
Contingency: Exercise your inner perv with us on Tumblr here, follow us on Twitter here or connect on Google + here.
Emergency: Activate firefly, deploy green (or brown) star cluster, get your wank sock out of your ruck and stand by 'til we come get you.