SureFire Stiletto – USB-fueled and Scorpion Sized
SureFire recently released a new handheld – the SureFire Stiletto EDC light. It has different ergonomics than we're used to seeing from SureFire, and we kinda like it. Check it out.

SureFire Stiletto – 650 Lumens in a 3 Oz. Package
It's officially called the Stiletto Multi-Output Rechargeable Pocket LED Flashlight, or SMORPLF if you prefer acronyms that sound like old D&D monsters.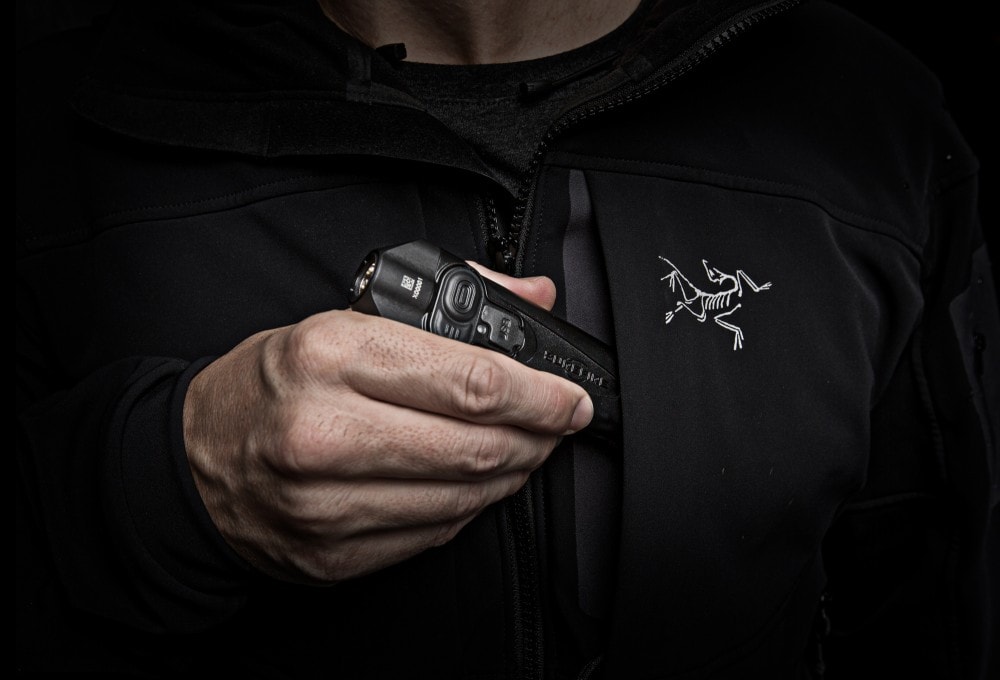 Here's what they tell us.
"The Stiletto's slim design allows it to be drawn and activated from a pocket as fast as a knife. It is a rechargeable, high-output handheld flashlight – ideal for anyone's everyday carry kit. The primary switch on the body activates a wide 650-lumen, medium 250-lumen or dialed-down 5-lumen beam for tasks using a MaxVision Beam reflector. The tactical switch activates high output only and has an optional high-frequency strobe. Simply recharge the lithium polymer battery with any ubiquitous MICRO-USB cable charger (included). The heavy duty pocket clip will always keep the Stiletto quickly accessible and secured. The Stiletto gives you the edge when the threat of darkness looms upon you."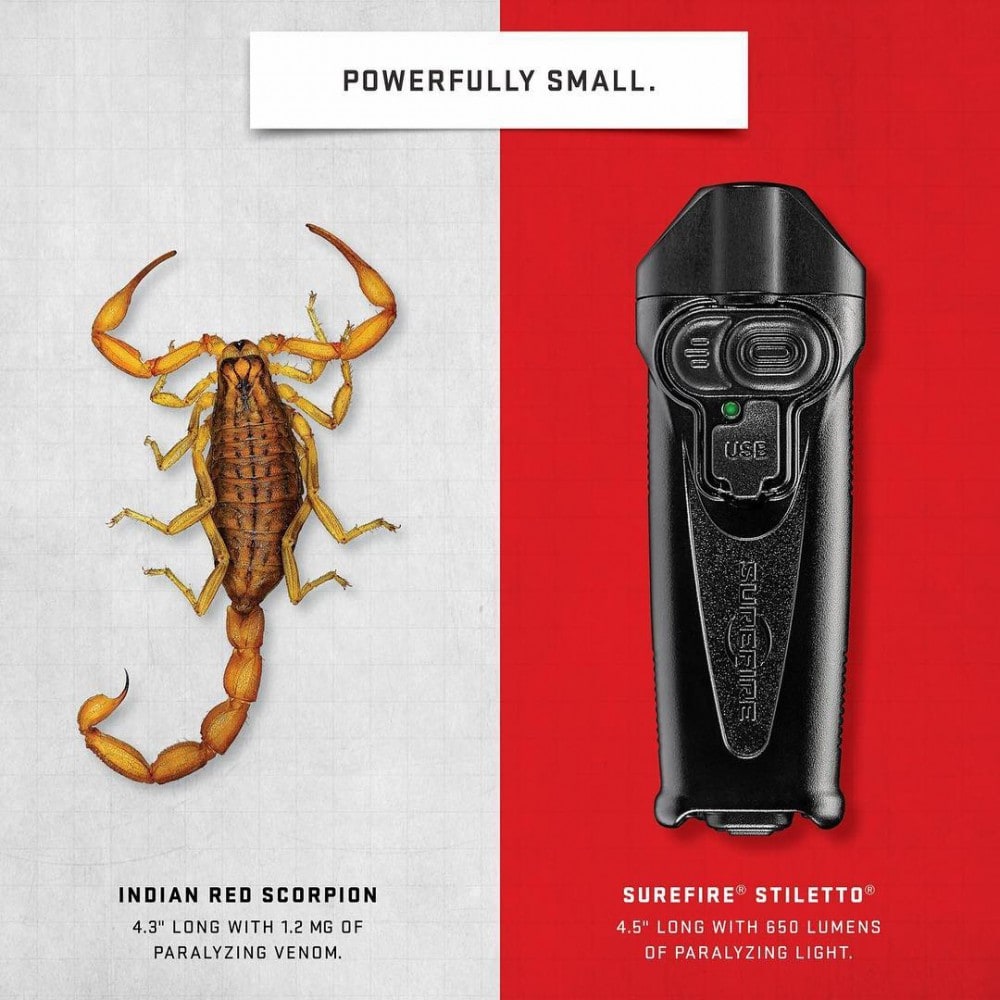 Some of us remember the days when having 90 lumens in your pocket was the epitome of brilliance (which we think is very important). Thus things like the SMORPLF* make us very happy indeed.
Simple tasks performed with a cheap task light, but you're not going to defeat a photonic barrier with some weak-ass kiddie stuff…

Here are the specs:
High-performance LED and MaxVision Beam reflector projects a wide flood beam ideal for situational awareness
Primary switch activates high, medium and low light output for a wide variety of tasks
Tactical switch activates high output and an optional tactical strobe when white light is used as a fighting tool
Programming switch unlocks activation sequences to choose between tactical and/or task illumination preferences
Integrated MICRO-USB rechargeable lithium polymer battery is environmentally friendly and reduces the cost of operation
LED Fuel Gauge for tracking battery charge/discharge status
Mil-Spec hard anodized aluminum head assembly is corrosion resistant and durable
Melonite coated, spring steel pocket clip for bezel up, everyday carry quick access
Compact, lightweight polymer body passes IPX7 water testing to one meter for 30 minutes
Learn more on the SureFire website or pick one up on Amazon, Optics Planet, Brownells, or your preferred retailer (note that it might not be in stock everywhere yet).
*That's not really what they call it. It's just that for reasons we can't possibly explain we have Xvarts and Githyanki in our heads. Which is pretty fucking weird even by our standards.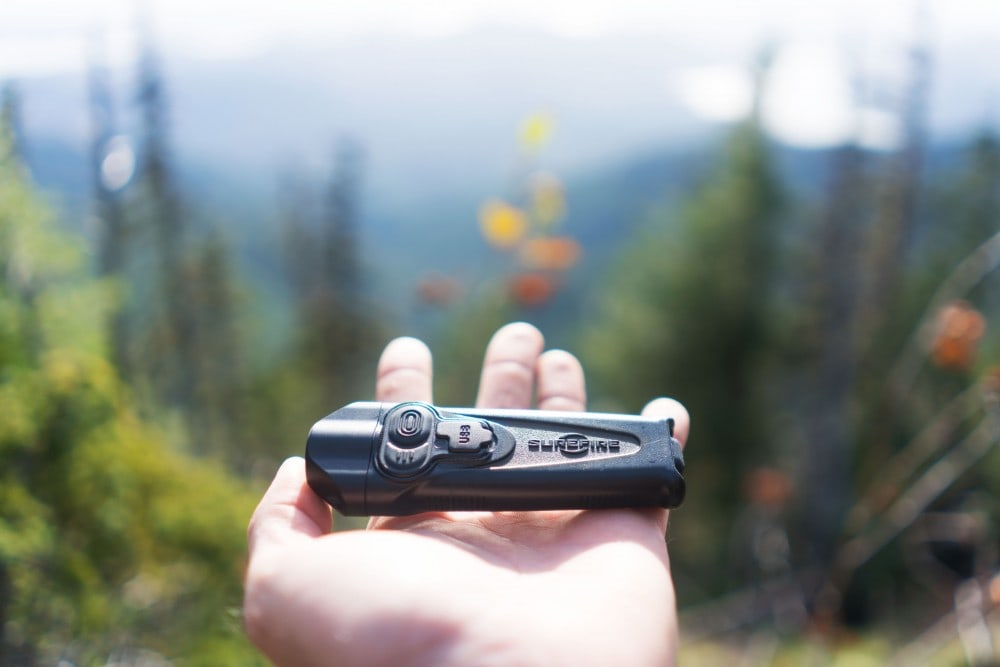 Enjoy Breach-Bang-Clear? How about doing us a solid. Back us by joining Great House Morningwood – you'll get stupid awesome rewards for it.