Off body concealed carry revisited. [this originally first ran several years ago; we thought it worth revisiting].
We know there's always a hue and and a cry when someone says they prefer off body carry, and it's not our first choice either (for that matter our second). Still, properly carried, a gun in the purse is better than no gun at all.  Mad Duo
Off Body Carry: One Woman's Take on Carrying Concealed
Recently I have had a steady stream of new woman gun owners ask me about carrying concealed in a purse.   I am still gaining my proficiency with this system, but I felt that I should write something to offer insight into why it works for me. I'm not former military, LEO or anything special at all. I'm simply a woman that carries a loaded handgun for personal protection.
Why do I purse carry? I have never lost a purse or had one stolen. Whenever I leave my house my purse becomes an extension of me, an extension that is never left behind (or unattended). It's been like that since I was 16, when I was probably in my prime for irresponsibility.
When I first began carrying a concealed weapon I allowed the naysayers to cloud my judgment and affect my judgement. I read article after article preaching how and why you should always carry on your person. So I tried that.
As much as I like to wear impractical shoes, I like wearing dresses and skinny jeans more. Women's body shape and choice of fashion is generally not readily compatible with concealed carry.
For the sake of fashion, I often left my handgun at home.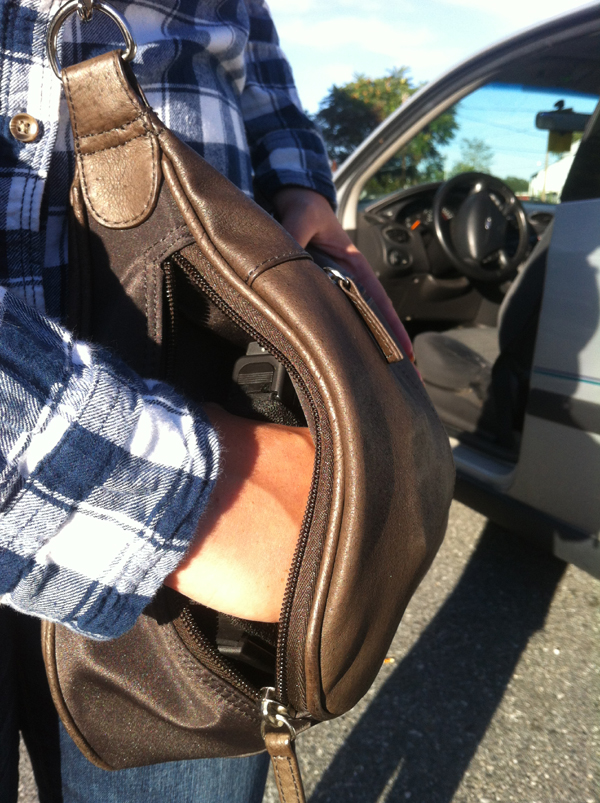 It took my watching of a horrific newscast, where a local college aged girl was viciously attacked, to make me realize I had to find a solution. I would rather have my handgun in my purse than not with me at all. The more comfortable I became with carrying concealed and the more I considered purse carrying, the more I knew it was for me. Without this mode of carry, I would require a smaller gun, which in turn frequently means a less effective gun. Not a compromise that I would make.
A Glock 23 is my daily carry. Of all the weapons  I have tried, it is the weapon I am most comfortable and effective with. Unfortunately, it prints too much on my clothing, and would require the need to change between a belly band, IWB, thigh, and ankle holster to accommodate my wardrobe. This many different carry methods would be complicated and less efficient.  I could instead have my gun in my purse every time, creating a system for me that does not fluctuate according to what I am wearing. Day in and day out, regardless if I'm at the mall or at the movies with my friends, it's exactly in the same place.
Early in our relationship, my boyfriend would only walk down city streets allowing me to hold his left hand. It confused me, but now I know that it was so I could never impede his right hand draw. For this same reason, I always carry my purse on the left shoulder. If I feel threatened, I can slip my little sandwich maker onto the grip and have the gun ready to draw. If necessary, I can even fire from inside the purse. The purse also has the added benefit of enabling me to carry at least one extra magazine as well as a spare mag for my boyfriend if (when) he starts feeling lazy.
If I feel threatened, I can slip my little sandwich maker onto the grip and have the gun ready to draw. If necessary, I can even fire from inside the purse.
Finding an appropriate purse was a lot more difficult than I expected it to be. I started with a somewhat stiff, leather purse in which I designated a specific compartment to house my Glock. I was still terrified that a random tampon or tube of lipstick would make its way to find the trigger and was thrilled when Raven Concealment Systems launched their Vanguard.
This did more than eliminate my fear of something working its way into the trigger, it also allowed me the freedom and capability of carry safely in any of my purses. We stitched a loop of 550-cord into the bottom corner of each bag and attached a small carabiner to it.  This created a place to hook the Vanguard onto, so I could quickly draw my weapon. Tethered inside the special "gun only" pocket, the pistol cannot rotate or shift out of position.
After I bought what was marketed as a "concealed carry purse", we crafted a Velcro attachment for the Vanguard into that so I could continue using it instead of the crappy holster actually that came with it. Another great feature of the Vanguard is the belt loop. If I am ever in a house with small children or just want to adjust my way of carrying, the belt loop enables me to freely switch back and forth without needing to carry around another holster. Small and simple, it allows the options of IWB on my hip or appendix carry.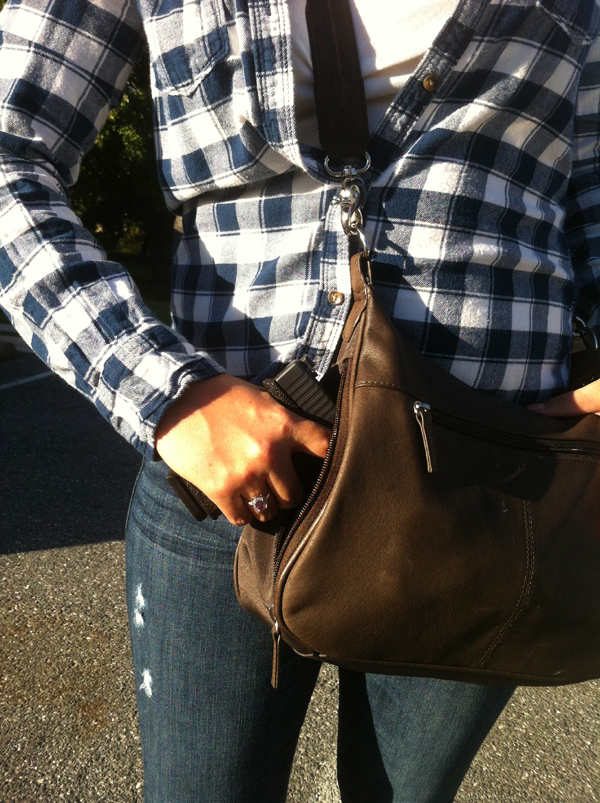 If you are thinking of purse carry I suggest you check out a Vanguard or a highly reviewed holster purse. At the very least, find a purse that has a compartment that you can keep your gun in by itself.
Here are three things I suggest you consider:
Your purse should not be the black hole your pistol disappears into, never to see the light of day again.
You should practice dry firing your weapon by pulling it from your bag as often as possible. This will allow you to gain confidence and speed. The muscle memory of that action will be vital should you ever need to draw from your purse in a high stress situation.
After becoming familiar with this thru dry fire, you MUST practice your system at the range. If you haven't done so already, seek formal training from a reputable instructor (or instructors).
Many women don't know where to turn to if their family or significant other are not from a gun culture background.
This is not an excuse.
Just because my dad never taught me how to change a tire on a car doesn't mean that I didn't learn how to.
I realized and accepted it was an important life skill. Then I made the effort to learn it on my own from the first qualified and reputable person that would teach me. Shooting, especially carrying a firearm every day, is no different.  There are no excuses. Learn how to shoot. Find a system that works for you, and carry it religiously.
As the phrase goes, "When seconds count, cops are only minutes away."
No one is coming to save you.
I hope my observations have been helpful to some of the ladies out there on the fence about CCW.  Take care and stay safe.
AF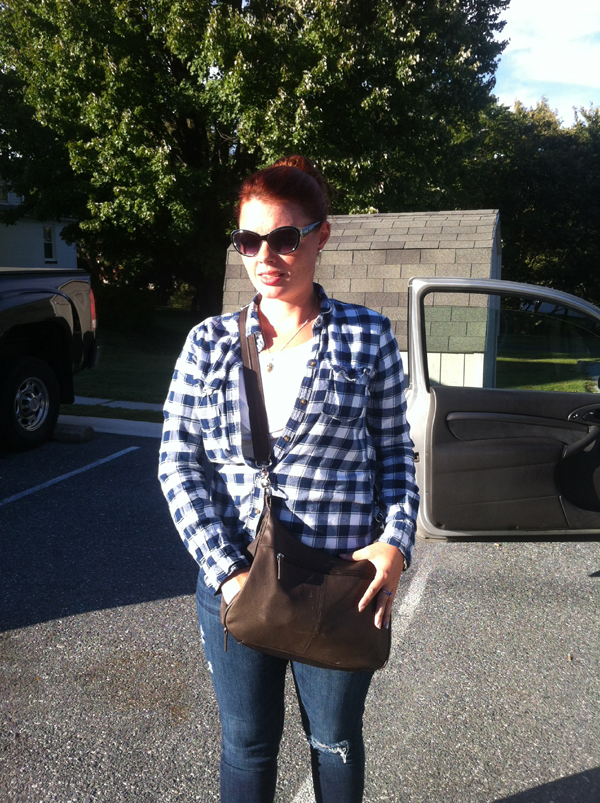 This article was written by Ashley Flanary; it was originally published in 2013. 
Brought to you today in part by US Elite Gear, a member of JTF Awesome.
---
---
If you wish to share or repost, please so kind as to follow our terms and conditions.
Mad Duo, Breach-Bang& CLEAR!
Comms Plan
Primary: Subscribe to the Breach-Bang-Clear newsletter here; you can also support us on Patreon and find us on Pinterest.
Alternate: Join us on Facebook here or check us out on Instagram here.
Contingency: Exercise your inner perv with us on Tumblr here, follow us on Twitter here or connect on Google + here.
Emergency: Activate firefly, deploy green (or brown) star cluster, get your wank sock out of your ruck and stand by 'til we come get you.
T&C: All original material published by Breach-Bang-Clear is the copywritten property of Breach-Bang-Clear, Inc. If you wish to repost, republish, or otherwise share our content, feel free to reproduce an extract of up to 225 words and one complete, unaltered image, preceded by attribution crediting the source and author's name, to include a link to the Breach-Bang-Clear home page, with a link back to the full article on our website, BreachBangClear.com. You do not require our permission to do this. Please do not reproduce our content in its entirety without contacting us first. We do allow full syndication on a case by case basis (credited, and posted with a canonical link, as is common practice and in good form) but only when mutually agreed upon beforehand. If you wish to reproduce a complete article, please contact us for permission to publish first.
About the Editors: The Mad Duo are the most renowned, scholarly, door-kickingest action figures since…well, ever. They, their wretched minions and other abject flunkies are an improbable (and awesome) tale unto themselves. Read more about them all here on the RUMINT page.