Missing the Mark: AK-15 Amalgam
Every year SHOT Show brings forth a ton of new products. Many new, some fun, a few practical, and occasionally a WTF or twelve. We leave it up to you to choose what this one falls in. What if we told you that someone combined the mythical reliability of the AK-47 and the ergonomics of the AR-15, all while keeping it perfectly balanced, slim, not the slightest bit ungainly, and still kept it aesthetically pleasing?
Brace yourself–we aren't saying that at all. Some of our minions have unnatural and sometimes erotic feelings towards the Soviet Saturday Night Special, but thankfully they remain predominantly pragmatic about them. They are far from purists, usually favoring efficient and effective upgrades such as red dot sights and weapon lights (and maybe an AR stock or two, which is great if you ever wear a plate carrier or allow whatever princess you happen to be pestling to shoot it). There is a thin line someplace that shouldn't be crossed, and invariably it lies somewhere within the dark pages of the Tapco catalog. We're not luddites nor do we seek to stifle innovation, but we will call a spade a spade when warranted.
(Grunts: Pestling)
No doubt what you are about to see is the greatest thing since airborne syphilis.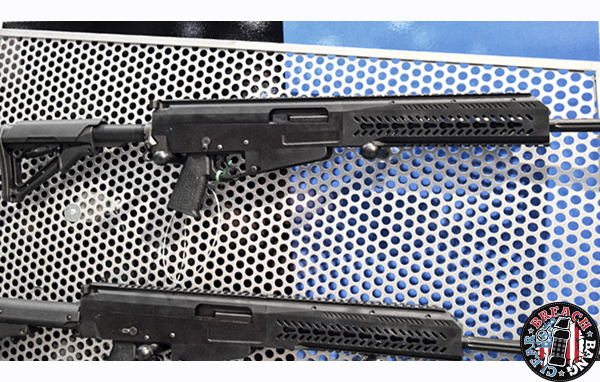 Dropping by the [name removed to protect the guilty] booth we came across this beauty.  It really really doesn't look like a metal chassis thrown onto an AK, right? Of course it isn't–that could be easily retrofitted. One of the advantages of the AK is its relatively short height over bore. Well, slash that one off the list. Maybe someone will develop AK irons that fit on picatinny rails in order to maintain that legendary AK accuracy.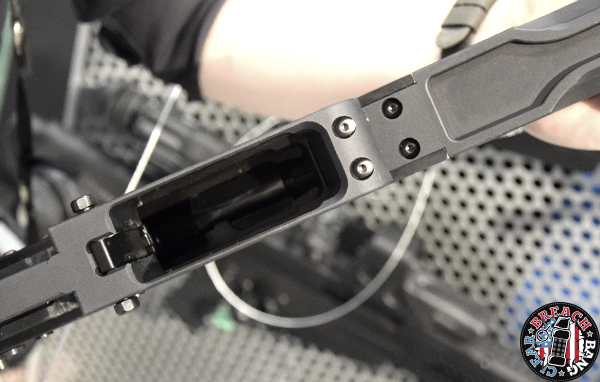 You can see that the traditional right-side charging handle has been removed. Perhaps there is a more ergonomic option left and forward, as virtually all other purported über rifles have? No, clearly that would make too much sense. Instead, let's use the feature that almost every rifle developed after the AR has dismissed: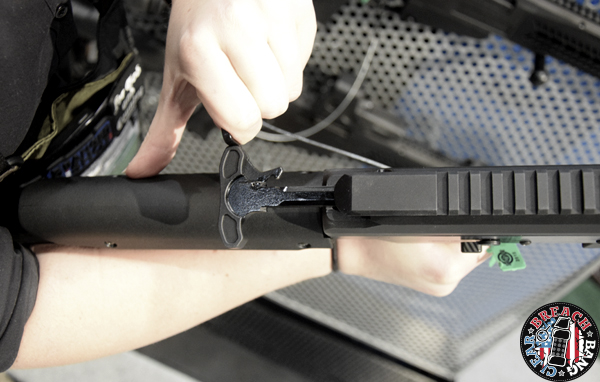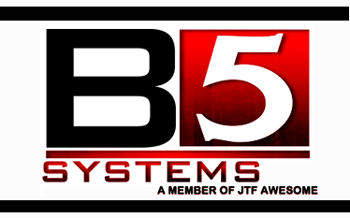 On the sides of the incredibly tall forend (it has to be tall in order to encapsulate the entire original AK gas tube) there is a single row of KeyMod; this can be a positive or negative, depending on what side of the West Bank Barrier you're on. We don't know exactly what the listed weight is but naked it feels more front heavy than a standard AK. We're told that it's multi-caliber and will be available in 5.56, .300blk, 6.8SPC, and 6.5 Grendel with perhaps 5.45. We recommend throwing 6 PPC in there for good measure.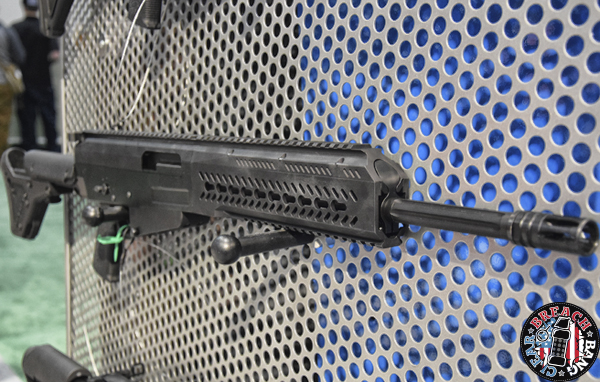 It's not all bad though. There are ambidextrous selector levers (apparently from Battle Arms Development), which is assuredly an improvement. Oh yeah, we're told MSRP is over $2,700.
Is this another example of crayon-eating? We're inclined to think so, BUT…as we've said so many times before, the market will decide. Long live capitalism!

Read more of our AK related articles in Vodka Blasters.

 Some hyperlinks in this article may contain affiliate links. If you use them to make a purchase, we will receive a small commission at no additional cost to you. It's just one way to Back the Bang. #backthebang