Hardcore Hardware ASOT-01: Open Throats, not MREs
When we first saw the Hardcore Hardware ASOT-01, we immediately thought that it looked a hell of a lot like the Benchmade SOCP knife so many dudes wear on their body armor. It does indeed have many similarities, but on closer inspection you will see some distinct differences too. The Aussie company has a good reputation for building some really tough knives, so we figured we would see what the ASOT-01 was all about.
The primary purpose of this knife isn't opening MREs or that stack of unopened mail on your desk. It's built from the ground up to be quickly deployed for close-in self defense, like if some asshole jumps you while you're clearing a structure or fucktarded thugs in berets mob you at a Beyoncé concert you shouldn't have gone to in the first place. The knife is topped with a very interestingly-shaped ring, which differs from similar knives. The beveled ring looks a little bit like a crude heart, and is cut generously large enough to get any thumb or trigger finger into. It also adds to the speed which you can draw the knife from its sheath, even when not looking directly at it.The concave thumb recess at the top the knife supports a positive grip and the application of downward force when held reversed. It also keeps your hand from sliding down onto the blade, which is a legit concern with muddy, sweaty or bloody hands.
Should your firearm go down, you can draw the knife with your support hand, use it as necessary, and retain the blade on your hand as your fix your firearm's issue. This is especially true when paired with a handgun, as its possible to retain the knife by flipping it outboard on your hand, to facilitate racking the slide or changing a magazine. This aside, the ASOT-01 is pretty much intended to be a "worst case scenario" type knife, and not one intended for task work. The spear style blade is partially serrated on one side, and the opposite has a narrow false edge which begs to be sharpened. As double edged blades are not legal everywhere, or preferred by everyone, the false edge is left dull and safe.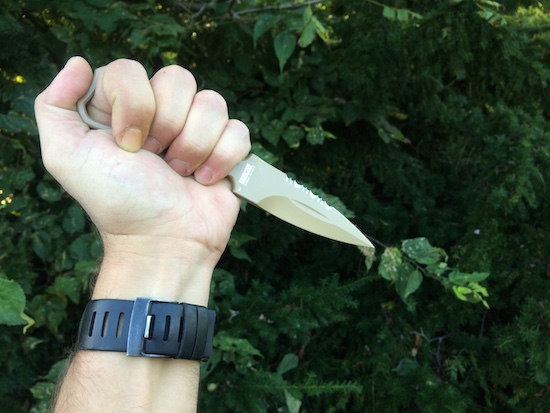 Mounting the Kydex sheath is easy, and the company sends two options to choose from; a belt mounted TeK-LOK and Molle-Lok for your chest rig or vest. A lot of guys got into the routine of carrying a smaller, easier accessed combat knife in recent years, particularly in the US Marines and Army. Generally mounted centerline on their plate carrier or armor rig, the user can quickly access the knife with either hand. It's one of those "economy of motion" type deals, as it's easier to get to a small knife from your chest than a big knife off your belt. We have personally seen dudes wear both at the same time, though as time goes by we see fewer and fewer Rambo-knife wielding blade-master FOBbits.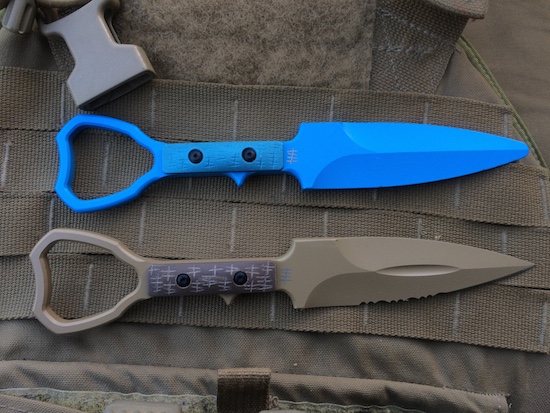 The ASOT-01 has another distinct feature: a "Live" edge identifier nub at the three quarter length of the handle. This nub enables the user to quickly identify the position of the single-sided cutting edge by feel or by sight. For those who don't like this idea or its location, we suppose it would be fairly easy to take it off the knife. The blade has two small, rounded and textured G10 scales on either side of the grip, which enhance the feel when grasping. The G10 fills the hand a little better than if it was without scales, and the traction provides another traction point as well. 
The Kydex sheath has a series of eyelet holes along each side, and allows for nearly unlimited mounting options for your preferred mode of carry. It has good retention when the knife is sheathed, and can be covered in hook adhesive Velcro for tucking inside your plate carrier's kangaroo pouch. Other options include using the grommets to mount the knife with cable ties or parachute cord. The ASOT-01 is small and narrow enough to be rigged for inside the waistband concealed carry, and can be comfortably be carried in this manner. You can order the "combo" kit, which comes with both knife and blue steel trainer. The trainer can be purchased seperately, but you are going to want to get one sooner or later anyway. The trainer is completely dull for force on force training, although with enough pressure the rounded tip could still break skin. Both are made from 6mm (0.236″) thick D2 tool steel stock, which will hold a good edge and handle some serious abuse. Now for the gripes…

The kit isn't cheap, but then again quality custom knives rarely are. The knife is exceptionally well made, and to be honest it's laid out a little better than some American knives we have used (not the Benchmade — more than one of our minions will testify to the quality of that brand). We do wish the shaft of the ASOT-01 handle was slightly wider and just a little longer, as we think that its current size might be too short for those of you with monster hands. It would also be nice to add some texturing. While the G10 scales have Hardcore Hardware's distinct "hashmarks" carved into them, they are not deep enough to provide much real traction. We will likely solve this problem ourselves with a flat blade jewelers file, and carve more aggressive slots into it.
Other than that, it's a damn fine knife and could certainly merit a place as an EDC blade (if your Everyday is the kind of Everyday where you'd need one). Hardcore Hardware Australia makes some rugged combat knifes, and this one checks out good to go. Check out their website for more info and products, and use your google-fu to find yourself a stateside dealer. 
Hardcore Hardware ASOT-01 Specs
Code: ASOT-01

Type: Knife (Fixed Blade)

Point: Spear Point

Steel: D2 (BOHLER K110/AISI)

HRC: 58-60

Finish: Teflon

Blade L: 100 mm (3.93″)

OAL: 198 mm (7.79″)

Blade W: 27 mm (1.06″)

OAW: 40 mm (1.57″)

Depth: 6 mm (0.236″)

Handle: G10

Weight: 120 g (0.26 lb)

SHEATH SPEC

Material: Kydex®

Attach: Tek-Lok™ and Molle-Lok™

Retention: Friction Lock

OAL: 205 mm (8.07″)

OAW: 60 mm (2.36″)

Weight: 160 g (0.35 lb)
Mad Duo, Breach-Bang& CLEAR!
Comms Plan
Primary: Subscribe to our newsletter here, get the RSS feed and support us on Patreon right here.
Alternate: Join us on Facebook here or check us out on Instagram here.
Contingency: Exercise your inner perv with us on Tumblr here, follow us on Twitter here or connect on Google + here.
Emergency: Activate firefly, deploy green (or brown) star cluster, get your wank sock out of your ruck and stand by 'til we come get you.