Good Gear Matters: Hard As Hell 2-Gun Follow-Up
Brought to you today in its entirety by Quantico Tactical. Skip the local dancing moms (this time), visit these guys instead.
Hard As Hell 2-Gun Follow-Up 
Russell Phagan
People tend to ask a lot of gear-related questions on my YouTube channel, so today I'll preemptively discuss each element of the equipment I used at the Hard as Hell 2-Gun Competition.
For a chronological play-by-play of the stages I shot, check out the video playlist below. If you're interested in attending one of these matches in the future, I'd encourage you to watch all the videos. They'll help you wrap your head around what you're in for, and glean a better understanding of which skills you should practice in preparation for these events.
Full disclosure: my full-time job is sales and marketing director at KE Arms. I use events like Hard as Hell to test equipment and demonstrate that it works under challenging and unique conditions. I trained with this equipment in the months leading up to the match by fielding it at every local match, the Tactical Performance Center Multigun Mastery Class (article forthcoming), and in the classes I taught.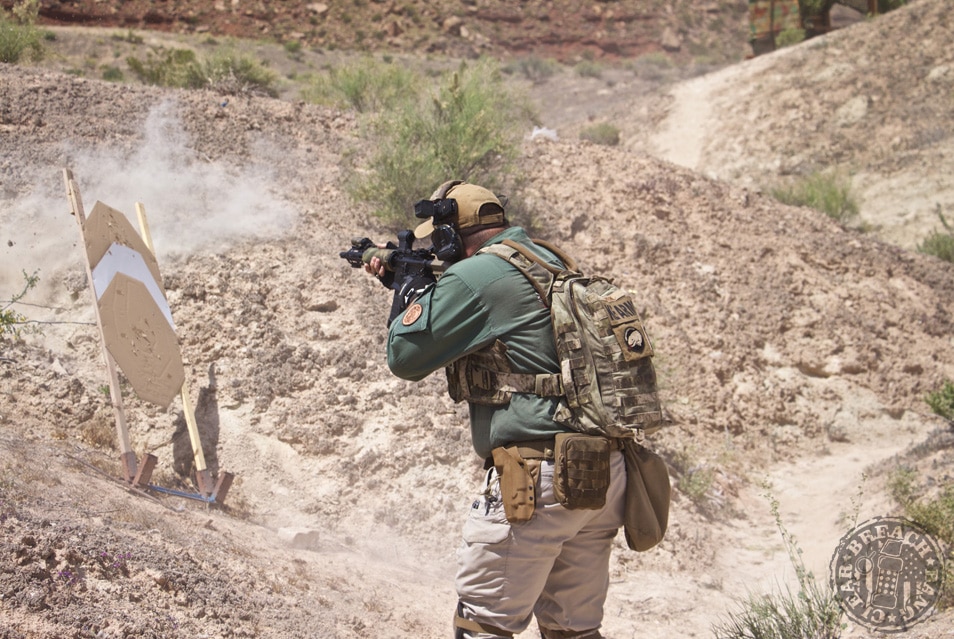 The whole is greater than the sum of the parts, and as I've written before, gear must work together as a complete system. Training with it holistically goes a long way toward improving match performance. Acclimating to wearing it all, and building the strength to perform at your best while wearing it, are critical.
There were several shooters who didn't practice sufficiently with their gear before this event — their match performance reflected this fact.
Trooper Division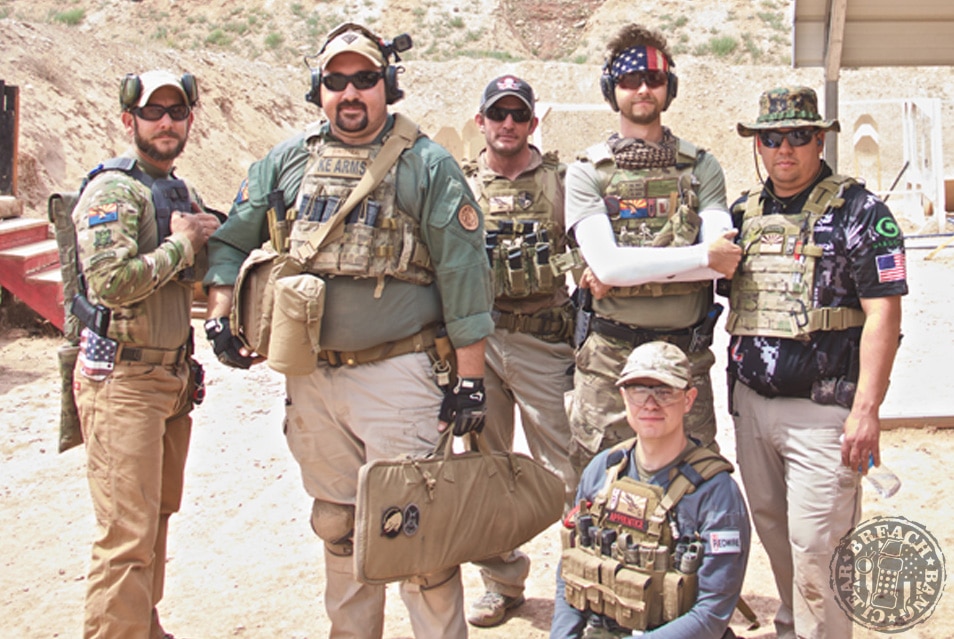 Trooper division shooters must be self-sufficient. If you didn't hike it into the range from the Trooper checkpoint, you can't use it. For the Hard as Hell 2-Gun Match we changed Trooper division rules — rather than grounding everything not needed for a stage when you arrived, you had to carry any relevant shooting-related gear throughout each stage. This means ammo, mags, spare parts, and cleaning equipment. Non-shooting supplies could still be grounded.
Armored was an additional category shooters could choose in any division if they decided to wear rifle-rated front and rear plates.
GEAR
Plate Carrier: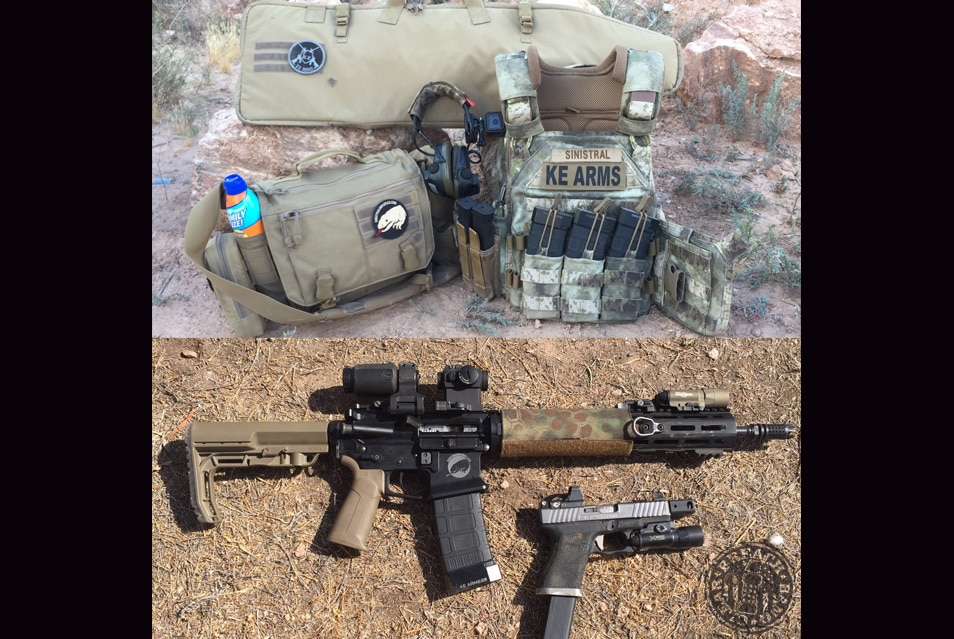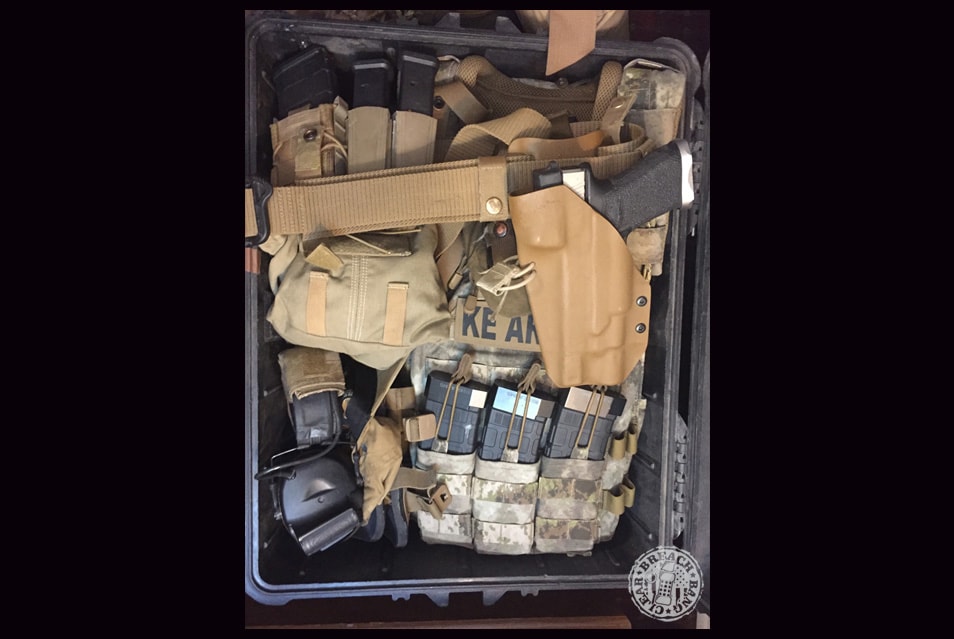 My PC was a US Palm Agile Combat System with United Armory Steel Plates. I prefer steel plates for matches with armored divisions or categories so I don't unnecessarily put wear and tear on ceramics. I used the US PALM ACS because of its integrated pack. This space served to carry my extra ammo, mags, bipod, and cleaning kit throughout all the stages (as required by Trooper division rules).
With the minimum round count at roughly 300 pistol and 300 rifle, I started each day with 300 of each on my person. I generally double the minimum round count to allow for misses, reshoots, and flexibility in stage planning. On the front of the vest, I carried three 35-round 5.56mm mags and two Glock 32-round magazines.
The vest was comfortable and rode well on my body, even when loaded down with 45 pounds of ammo and mags, and its internal air mesh allowed the rig to breathe easily. The integrated pack worked well, though I did wish I could adjust it to ride a bit higher and distribute more of the weight across my shoulders.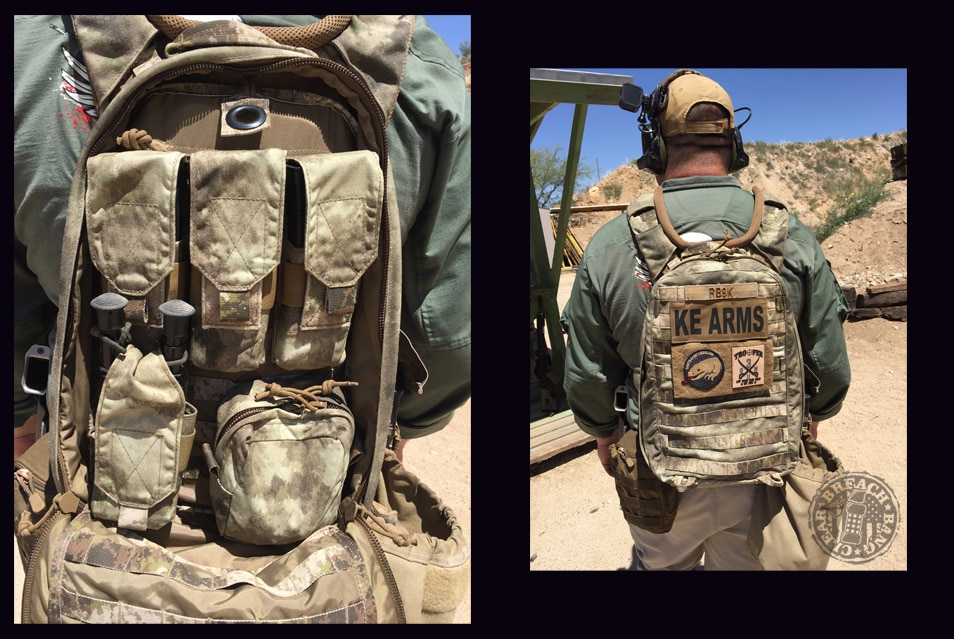 Pistol belt:
I used a Spec-Ops Brand Gunfighter belt with We Plead the 2nd Chuckwalla 2.0 holster. WPT2 designed this holster with my input to protect optic-equipped pistols during action matches like this one. I carried two 21-round PMAGS in Safariland injection-molded pouches, and a 30-round PMAG in an HSGI TACO. On the back of the belt is a Maxpedition Rolly Polly that I use as a catch-all for random things I may need.
GUNS
Rifle: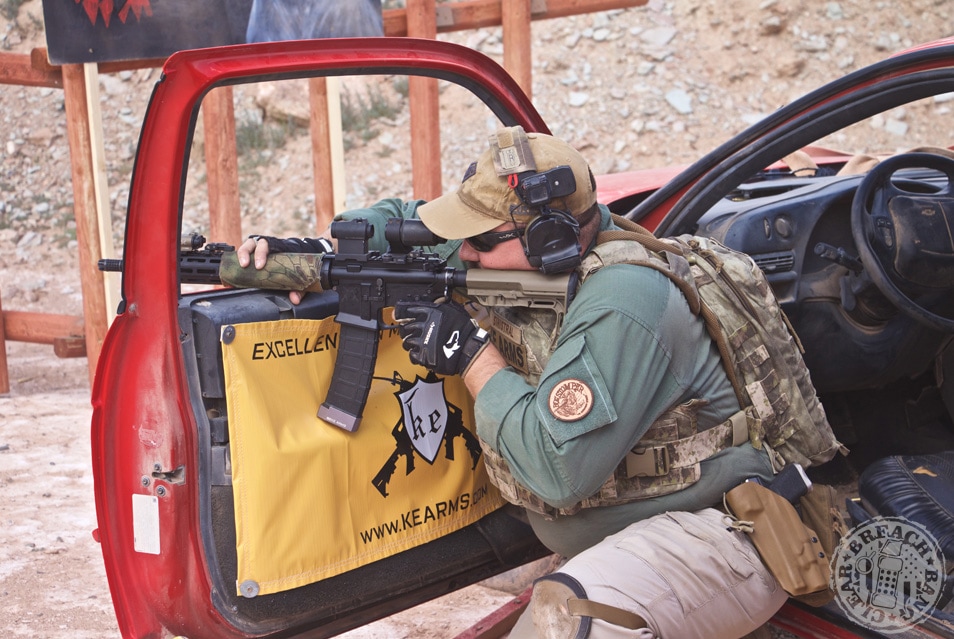 At this event, I ran a KE-15 Scout Carbine. This carbine features the KE-15 billet competition flared-magwell lower with SLT-1 Sear Link Technology Trigger, and 45-degree ambidextrous selector. The upper is forged by KE Arms, with KE Seven Side 12.5" MLOK handguard. The barrel is a 14.5" Ballistic Advantage Hanson with a permanently-attached Griffin Armament Flash Comp. My optics are an Aimpoint T-2 Micro and C2 Magnifier in LaRrue Mounts, with Griffin sights for backup. My sling is by Red Wire Gear with HK hook MLOK attachment in the front.
As you might expect, I have a number of AR configurations. I chose this particular one for this event based on experience attending previous Hard as Hell 3-Gun events. I wanted something shorter, less obtrusive when slung, and more maneuverable in close quarters. Given these criteria, I believe I made the right call.
I generally prefer running red dots while wearing armor for unlimited eye relief, though there were more mid-range targets at this match than I expected. In retrospect, it was at the edge of where I might prefer a 1-6x variable optic.
Pistol: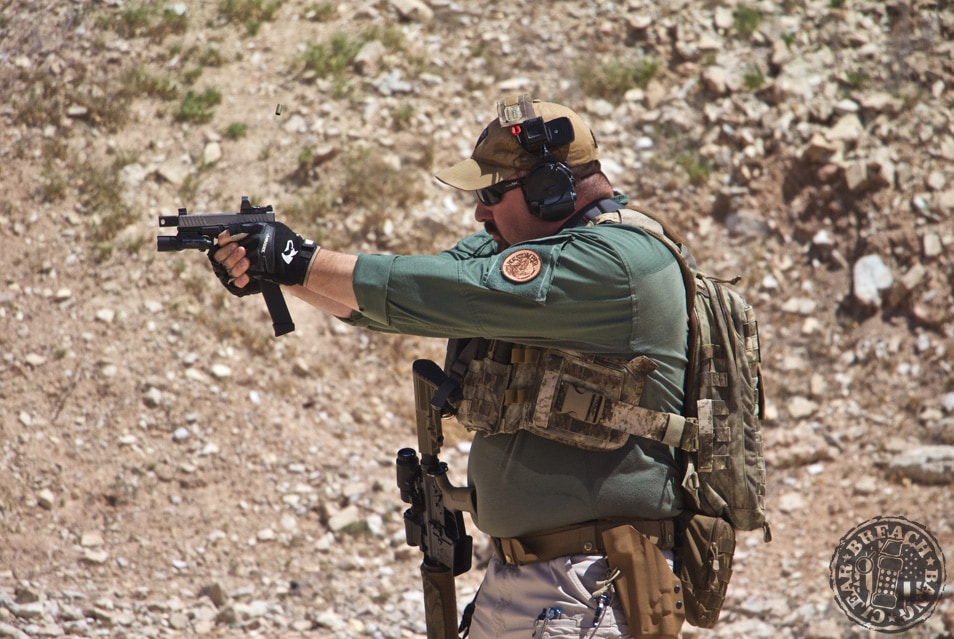 My pistol was a KE-19 Charlie "Stealth Special." I put this pistol together to make the most out of SMM3G's Stealth Division Rules, which allow anything that fits inside particular box dimensions. I didn't know what a "Roland Special" was until someone pointed it out to me on Instagram. By that time, I had already completed the build. I just wanted as much of an advantage as I could achieve within the rule set. [We actually have an article about different people drawing the same conclusions for different reasons coming soon. Mad Duo]
Despite its name, this "Stealth Special" (and Reeder's insisting it should be called the "Gila Special"), this handgun setup has become my go-to pistol for action matches of all kinds in Open, Trooper, Armored, or Stealth divisions.
The Glock 19 frame is pretty much the only factory Glock part left on it. The gun has been thoroughly worked-over by We Plead the 2nd to remove finger grooves, undercut the trigger guard, and texture the grip. The frame features the KE Carry Magwell and Carry Trigger. The slide is a KE-19 Charlie machined for the Leupold Deltapoint Pro (I use the 2.5 MOA dot), with KKM barrel and compensator.
As evidenced by the videos, I believe the "Stealth Special" helped me achieve a definitive advantage over other competitors in my division and made solving the marksmanship challenges much easier. I simply cannot perform this well with iron sights; at best I'm 10% slower, sometimes 20% slower. The red dot makes long range targets, small targets, and moving targets easy pickings.
Results: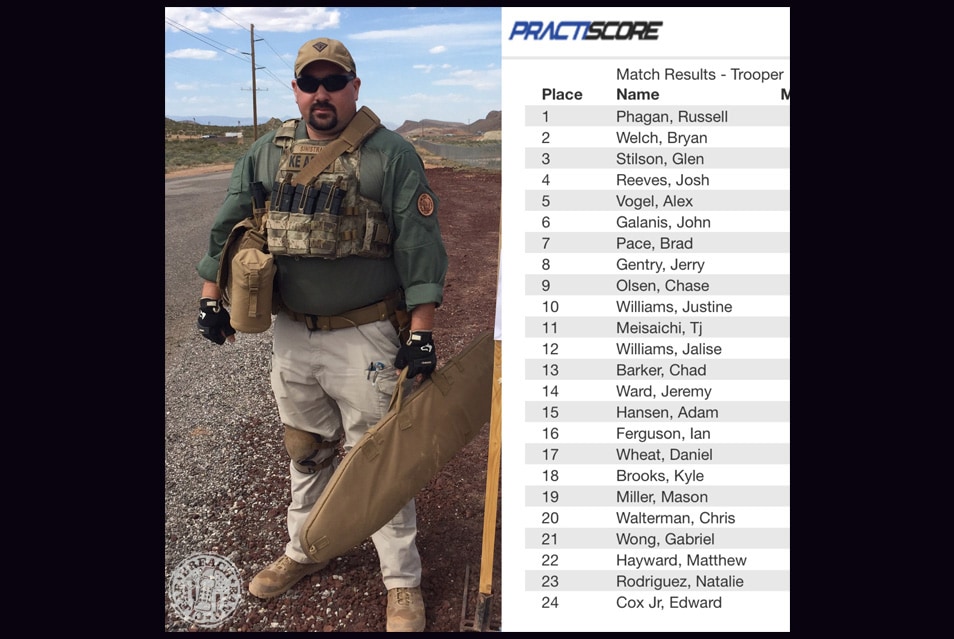 My training, practice, gear, guns, and skill all came together to allow me to place first in Trooper-Armored among 24 competitors, and 5th among 82 competitors overall. Bryan Welch of We Plead the 2nd took 2nd Place, and Glen Stilson of Independence Training took 3rd.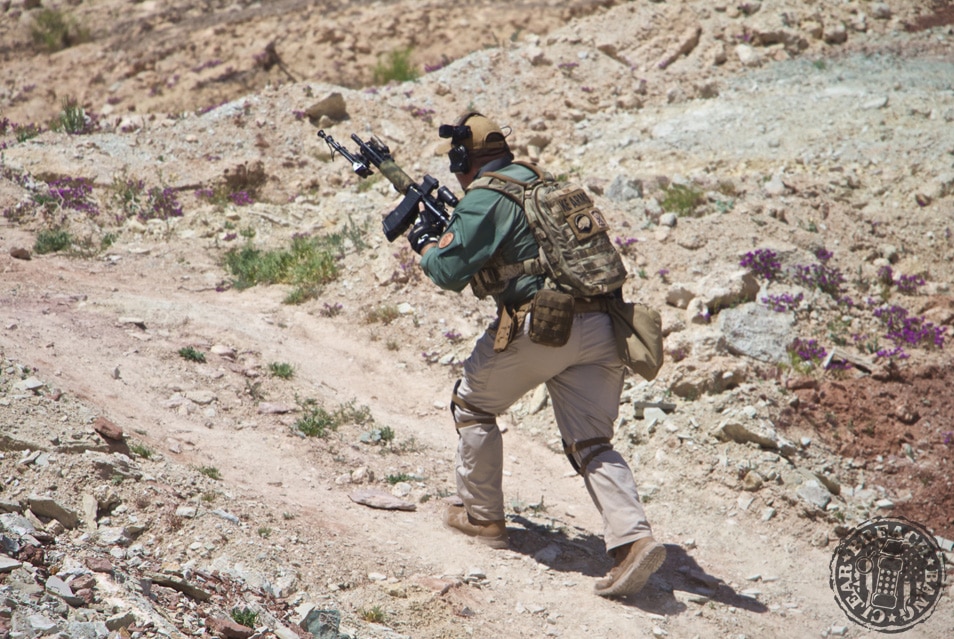 Major matches like this give me something to work toward and prepare for throughout the year. There are always skills to improve and new firearms technology to put through the wringer. I strongly encourage all gun owners to seek out some form of competition to better themselves; it'll make a tremendous difference in your skill at arms.
-Russell Phagan
This article was brought to you in its entirely by Quantico Tactical (@quanticotactical), a member of JTF Awesome – find 'em on the Facetergrambook at /QuanticoTactical/.

---
---
If you wish to share or repost, please so kind as to follow our terms and conditions.
Mad Duo, Breach-Bang& CLEAR!
Comms Plan
Primary: Subscribe to the Breach-Bang-Clear newsletter here; you can also support us on Patreon and find us on Pinterest.
Alternate: Join us on Facebook here or check us out on Instagram here.
Contingency: Exercise your inner perv with us on Tumblr here, follow us on Twitter here or connect on Google + here.
Emergency: Activate firefly, deploy green (or brown) star cluster, get your wank sock out of your ruck and stand by 'til we come get you.
T&C: All original material published by Breach-Bang-Clear is the copywritten property of Breach-Bang-Clear, Inc. If you wish to repost, republish, or otherwise share our content, feel free to reproduce an extract of up to 225 words and one complete, unaltered image, preceded by attribution crediting the source and author's name, to include a link to the Breach-Bang-Clear home page, with a link back to the full article on our website, BreachBangClear.com. You do not require our permission to do this. Please do not reproduce our content in its entirety without contacting us first. We do allow full syndication on a case by case basis (credited, and posted with a canonical link, as is common practice and in good form) but only when mutually agreed upon beforehand. If you wish to reproduce a complete article, please contact us for permission to publish first. 
About the Author:  Russell Phagan has been working in the firearms industry since 2001 when he was introduced to action shooting sports in general and  3 Gun in particular. He views competition shooting as a valuable activity not only for personal development and gaining professional knowledge but also how to improve firearms products and make them more user-friendly and effective. Combining the practical use of firearms with testing out new product ideas and technology is one of the things he enjoys most about 3 Gun. Phagan also believes anyone can become reasonably good at it if they devote the time and resources to do so.
"Winning, while nice, need not be your goal; bettering yourself through the pursuit of excellence is something we all can achieve" Russell Phagan
Though is his demeanor usually ranges somewhere between taciturn and staid, Phagan is nonetheless a good man to know and listen to. Sometimes he even smiles, or so we hear. Find the Sinistral Rifleman online here or follow him on the Instergramz (@sinistralrifleman). He's on the Book of Face at /SinistralRifleman/.