Griffin Armament: Fail Safe Sights – Part 1
Today we look not just at one manufacturer's sights, but why you should have this sort of sight on your weapon  in the first place. Read on, we'll learn you. MD
Griffin Armament's "Fail Safe Sights" – Part the First! 
Griffin Armament is probably best known for their manufacture of sound suppressors, AKA 'silencers'. However they have been working diligently to plus-up their product line, hoping to fill noticeable and unfortunate voids in the firearms market. One such accessory was shown to us at SHOT SHOW 2014, in the form of back up iron sights (BUIS).
First, let's understand the problem and options that are open to us.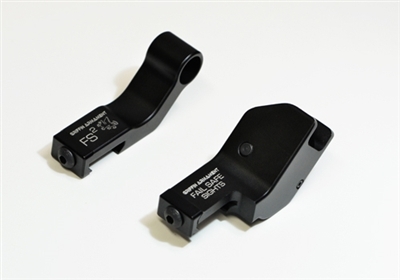 There are plenty of companies making back up irons, in countless configurations. For some, BUIS are just there for peace of mind should their primary optic fail. For others they are not used exclusively for "emergency" use but also as a secondary means of aiming their long gun. One such use might be for those that use a magnified optic as their primary. On a 3×9 or 2.5×10 variable power scope, (or even a fixed 4x ACOG) engaging near-range targets can be hindered by the magnification. What helps you at distance hurts you close in. Instead of trying to adjust the scope down to a lower magnification setting (which costs time you might not have)  you can simply cant the long gun on its side and use a secondary means of aiming. This has been used for years in the shooting sports arena, and is even occasionally seen in the military. It's a good system, one that I use personally for various guns.  Here is how Griffin Armament describes it.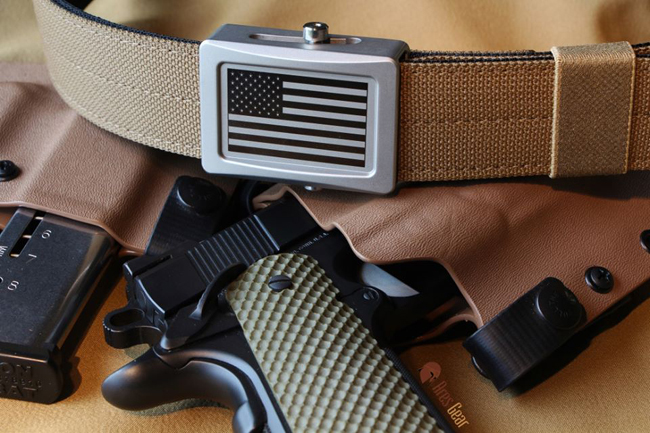 "Angle sights are meant as a secondary option to optical sights in the top rail sight plane. By adding a sighting system to an alternate plane you have additional insurance that your sights will be there when something is going wrong with your primary, be it loss of power, occlusion from fog, mud, dirt, snow, or even damage. An additional sight plane is like having an alternate route on a mission plan. Armed professionals don't start a mission without alternate routes and they shouldn't run their guns without back up sights. "
That's a pretty solid explanation, one driven by reason and logic. However  a personal pet peeve of mine is seeing a dude with  unrealistic /impractical amount of sighting systems on their carbine. Here is a generalized list of options:
1)    Primary, quality optic of choice.
2)    Fold down or fixed  BUIS sights mounted in line with primary optic.
3)    Fold down or fixed BUIS sights mounted offset from the weapon (2 O'clock or 10 O'clock position).
4)    Piggy-backed red-dot optic on top of primary optic (most usually Elcans, ACOGS and magnified optics.
5)    Offset red-dot sight  (2 O'clock or 10 O'clock position.
6)    Various crazy-ass configurations beyond description or even explanation.
7)     Combinations of the above, and occasionally ALL of the above.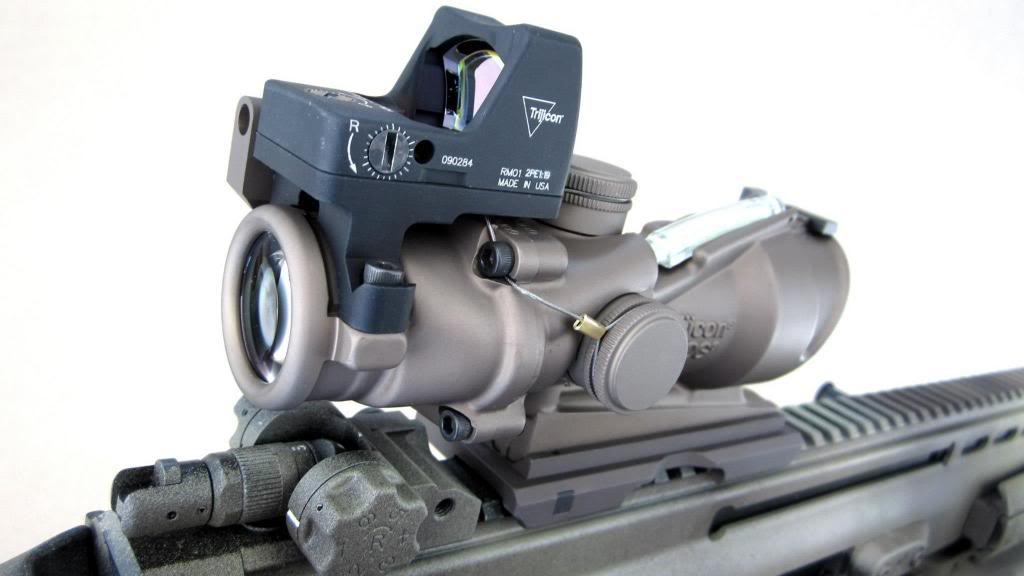 So what do you really need? It's always a good idea to have BUIS, but only if you actually can use them. In the military, you will frequently see Soldiers, Marines, Airmen, etc. compromise proper eye relief of their primary magnified optic to mount a flip rear BUIS.
Soooooo…… you are compromising how you aim your weapon 100% of the time, just in case you find yourself in the unlikely place of having your military grade optic fail?
This is a legitimate concern, and it's always a good idea to plan for failure. However, if you require a special tool like a screw driver, wrench or Allen to REMOVE your primary sight, to gain ACCESS to your BUIS, that's probably not going to work out so well for you. The exception to this is of course a quick detach mounts being installed on your primary optic.
"Oh, I took a round through my XYZ magnified optic!" – throw some levers and switch to your irons. In the case of battery powered red-dots, you would ensure there is proper clearance to deploy your folding BUIS (as in when setting the system up initially) so that you can flip them up should your battery die, etc. In the case of fixed BUIS, you have nothing more to do then visually ID that there is no longer a red glowing reticle and shift focus to the irons. This is, by far, the fastest transition of all. Unfortunately, having cowitnessed BUIS only works with optics that lack magnification.
Next we look at the "piggy back" irons and red-dots mounted at the 12 O'clock of your magnified optic. This looks cool, but is noticeably slow to acquire, since you have to lift your face off the stock while breaking proper cheek weld. Going from "cheek weld" to "chin weld", you will find it difficult to do this in a repeatable, consistent manner. Often you will have to search for the reticule of the piggy back optic, or slide your chin back and forth trying to align the short sight radius of the piggy back irons. If you master this, and can do it 100% flawlessly under stress, I owe you a beer.
Lastly we look at the offset sight set ups made popular by various shooting sports. With a magnified optic, you place BUIS or a mini red-dot at the 2 O'clock for right handed shooters, or 10 O'clock for lefties.  There are two times that you will roll the rifle to the side to utilize this secondary means of aiming.
1)    Your optic has too much magnification to quickly engage a near range target, where taking the time to adjust will slow you down/ get you killed.
2)    Your primary magnified optic has experienced a failure and there are still targets that need shot.
That's the long and short of it. There might be more reasons but I have yet to identify them.  The offset sights, regardless if they are an optic or irons, are significantly faster to transition to over "piggy back" setups.  This is because you simply roll the firearm over a few degrees, without truly breaking proper cheek weld. Your face still maintains a point of reference, and proper eye relief from the rear sight/ red-dot.   Since we have already discussed the problem of having standard flip up BUIS trapped under a magnified optic, what makes us think this will work any better for certain styles of offset BUIS? Depending on the design, your rear sight might still be trapped. Even if it isn't, you still have to take the time to flip them up. Time you just might not have.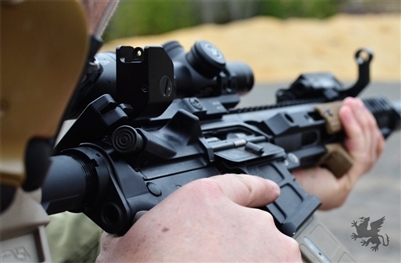 So how about fixed offset sights?  Here again we reference the Griffin's Fail Safe product description.
"Fixed sights are always there. You don't have to worry about them being inadvertently folded down or forgetting to deploy them. Many veteran soldiers are obsessive pertaining to pre combat checks and inspections. Even missing a spare battery from their kit load out would require correction. This measure of attention to detail is a reality when your life is on the line every day. Fixed sights negate the need to have anxiety over whether you have deployed your sights and if they will be there when you need them."
So there it is. Check back with us shortly, as we head to the range and give you a view of how the sights perform in part 2 of this article: https://www.breachbangclear.com/griffin-armament-fail-safe-sights-part-2-range-time/
Mad Duo Nate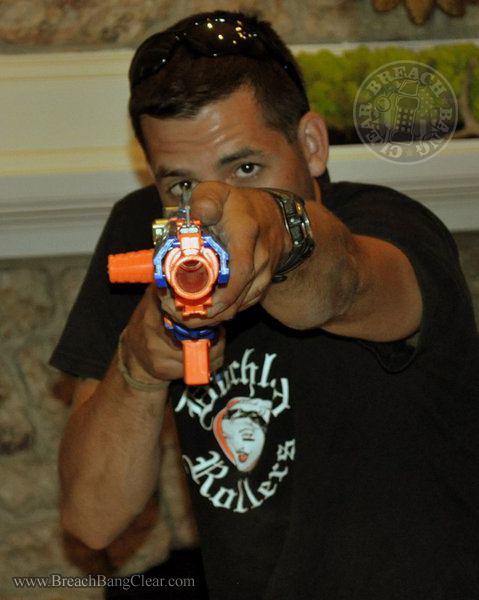 About the Author: Nathan "Mad Duo Nate" is a former USMC Sergeant who recently transitioned to being a nasty civilian. He lives largely on nicotine, whiskey and hate and can be frequently found orating Kipling poems to frightened hipsters. A graduate of the Camp Lejeune School for Wayward Boys, he was a Marine NCO, Infantry Platoon Sergeant and Scout Sniper team leader. He is a fully qualified American Jedi, handsome badass and world-renowned field barista. He has numerous deployments to the Middle East and Africa and is something of an idiot savant when it comes finger-fucking stuff to make it work better than its original designers could. Nate drinks every day and only chain smokes when he's drinking. We reckon he is probably best described as a sociopathic philosopher with vestigial cutthroat (though poetic) tendencies. Thus far Murr's writing has appeared in such places as here on Breach-Bang-Clear, on Military.com, in field shitters and portajohns on at least 3 continents, in RECOIL Magazine and of course Penthouse letters.
(Grunts: vestigial)