Griffin Armament: Fail Safe Sights part 2: Range Time
Griffin Armament's "Fail Safe Sights" Part the Second: Range Time
Continued from Part One: understand the problem and your options.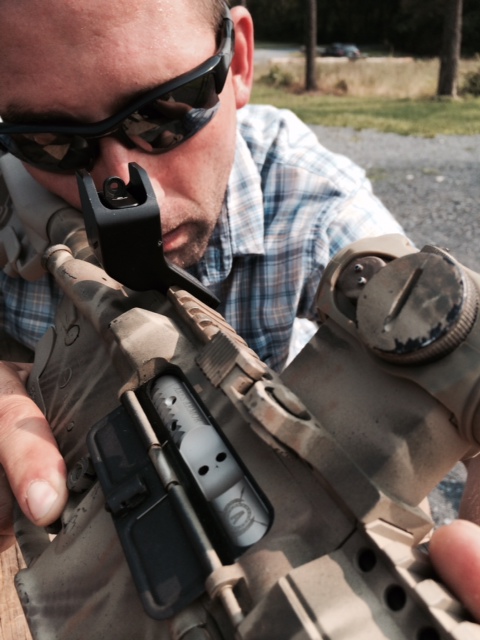 In the first installment of this article, we talked about all the different sight configurations on can utilize on their carbine. We discussed the merits of different systems, and the draw backs of others. We also proceeded to view the advantages of using off-set back up iron sights (BUIS), particularly in place of traditional 12 o'clock mounted BUIS. Having looked at these options and how they pertain to the Griffin Armament Fail Safe sights, it was time to head to the range.

Mounting the Fail Safe Sights to my favorite lightweight AR-15, I noticed how well they are made. The type 3 hard coat mil-spec anodized finish is a deep, rich black covering the billet aluminum body. Ascetics aside, the lines are clean and well rounded, removing the likelihood that you'll to cut yourself on and parts when using the firearm hard and fast. The front sight is as solid as they come, perhaps even over-built in terms of size and strength. This is a Good Thing, since the sight is always extended from the rail, and will certainly take some abuse in form of knocks and bumps.
The thick, black stainless steel screw and clamp tightened down on the forearm easily with a simple Allen wrench. Inside the protective hood of the front sight, you can see the front sight blade precision machined into the unit. For some, this might be a turn off since you cannot replace the blade for a tritium or fiber optic style AR15 front. Personally, I found it reassuring since the blade is so deeply nested inside the HK style hood that it appears to be virtually unbreakable.  The blade is machined out of the sights body, and is perfectly centered in the hood. The post is substantially beefier than a standard AR-15 style front, and appears to be slightly wider than an AR style as well. This was noticed later on while zeroing.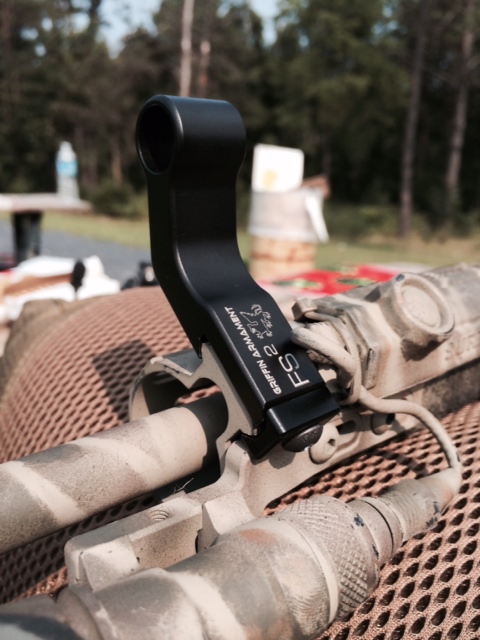 The Fail Safe Sights are partially unique in the sense that all adjustments are performed from the rear. The rear sight housing attaches to the receiver via the same heavy bolt and clamp as the front sight. The rear peep style aperture is set into a solid billet aluminum block, and is adjusted for elevation by simply turning left or right. This can be accomplished with your fingers, a bullet tip through the hole, or a handy multitool. For my purpose, I found using a Mulitasker AR-15 tool to help speed things up.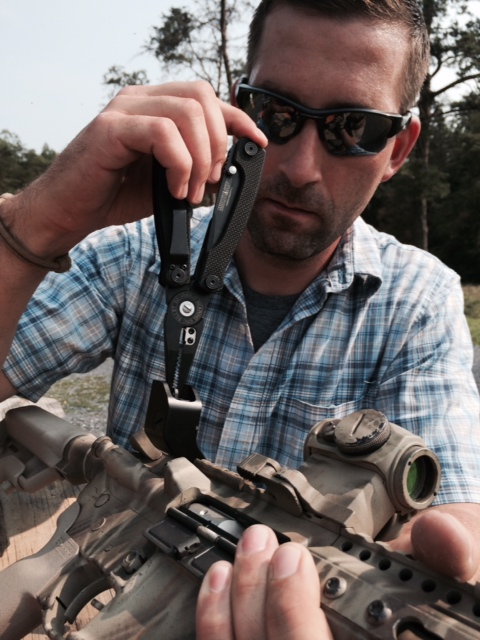 There is a distinct "click" to each half rotation, and I didn't experience any elevation drift while firing. The rear sight assembly is adjustable for windage via slotted screw on the side of the housing, which can be thoughtfully adjusted with a casing rim, flat tip or coin. Again, the adjustments are distinct and reassuring when being made.
Initially, I was surprised that Griffin Armament only makes a "Right hand" version of these sights. That is until I realized that although they are primarily set up for easy use by righties, they work equally well installed on the left hand side of the weapon. With everything set up and torque down, I proceeded to zero the Fail Safe setup.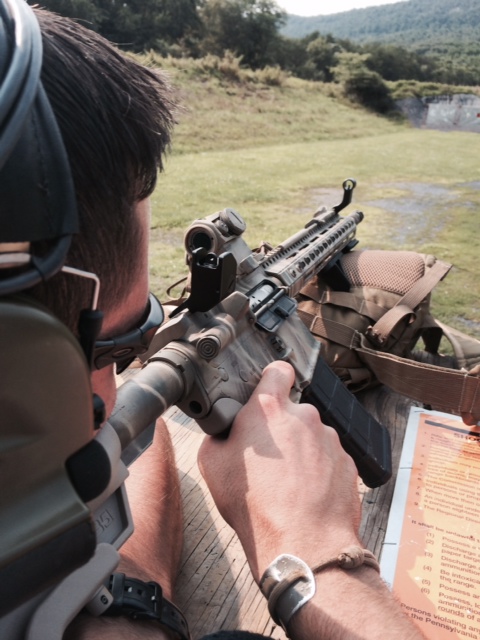 Unfortunately I could only zero at fifty yards, per the range I was using. Ideally I would have zeroed at 25 yds, and then fine tuned at 50yds if that was the zero I wanted to run. On a personal note, I tend to put a 50yd zero on red dot sights and weapons only set up with Irons, but use a 25yd zero on BUIS.  At 50yds, shooting Federal XM193 55 grain ball, I achieved a decent zero but one not quite to my own satisfaction.  U
ltimately I fired 10 rounds into a group that could be covered by my fist, but generally I can get a tighter shot group out of a 16" barreled AR. I think that this is partially because of the size of the front blade.  The 2"x2" black target I was aiming for was a third of the size of my front sight blade at 50yds. The thick front sight blade is quick and easy to acquire, but a little harder to focus on for precision. I cannot fault this as a design flaw, it's actually a plus for the Fail Safe's intended use; hard use, combat style shooting. Shooting for speed on larger targets at 50 and 100yds proved this to be true, as sight acquisition was easier then when preformed with a standard AR-15 sized blade.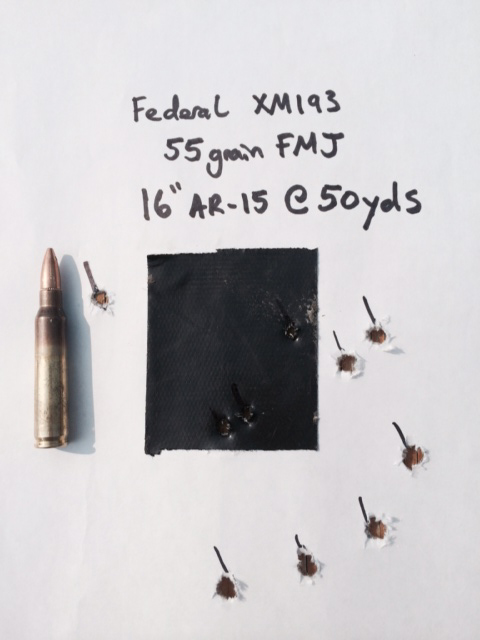 Overall, the Griffin Armament Fail Safe sights are rugged, well made and easy to use. They are definitely a solid option for those looking for offset sights for duty use, and would certainly be at home on a 3-gun carbine.  You can check them out here, and if you have any personal experience with them we would love to hear your feedback in the comment section.
Mad Duo Nate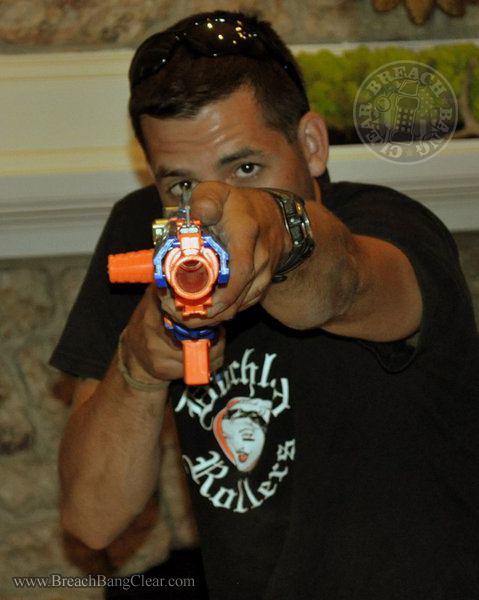 About the Author: Nathan "Mad Duo Nate" is a former USMC Sergeant who recently transitioned to being a nasty civilian. He lives largely on nicotine, whiskey and hate and can be frequently found orating Kipling poems to frightened hipsters. A graduate of the Camp Lejeune School for Wayward Boys, he was a Marine NCO, Infantry Platoon Sergeant and Scout Sniper team leader. He is a fully qualified American Jedi, handsome badass and world-renowned field barista. He has numerous deployments to the Middle East and Africa and is something of an idiot savant when it comes finger-fucking stuff to make it work better than its original designers could. Nate drinks every day and only chain smokes when he's drinking. We reckon he is probably best described as a sociopathic philosopher with vestigial cutthroat (though poetic) tendencies. Thus far Murr's writing has appeared in such places as here on Breach-Bang-Clear, on Military.com, in field shitters and portajohns on at least 3 continents, in RECOIL Magazine and of course Penthouse letters.
(Grunts: vestigial)