Black Collar Arms has advised they're bringing out a series of forged carbon fiber components. Beginning with scope rings in 30mm and 34mm diameter, the new components will be manufactured with the same material originally developed by Lamborghini and Calloway. It's reportedly stronger than titanium with just one third the weight.  The new weapon accouterments (displayed below on a Pork Sword Chassis bolt action pistol) will be built in partnership with Oklahoma-based McVick Manufacturing and will no doubt be of great interest to precision rifle shooters.
Black Collar Arms says the new scope mounts have many physical advantages over aluminum mounts. They reportedly weigh in at a "…scant 5.2 ounces, these forged carbon fiber scope mounts are as stiff and rigid as if they were machined from steel…with just 1/6th the thermal expansion of aluminum."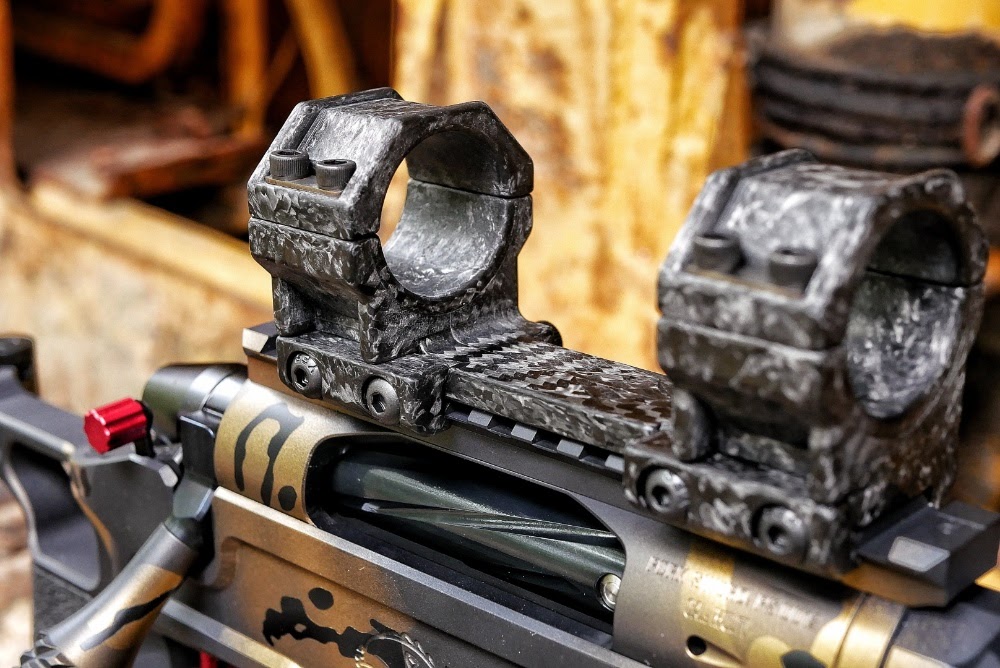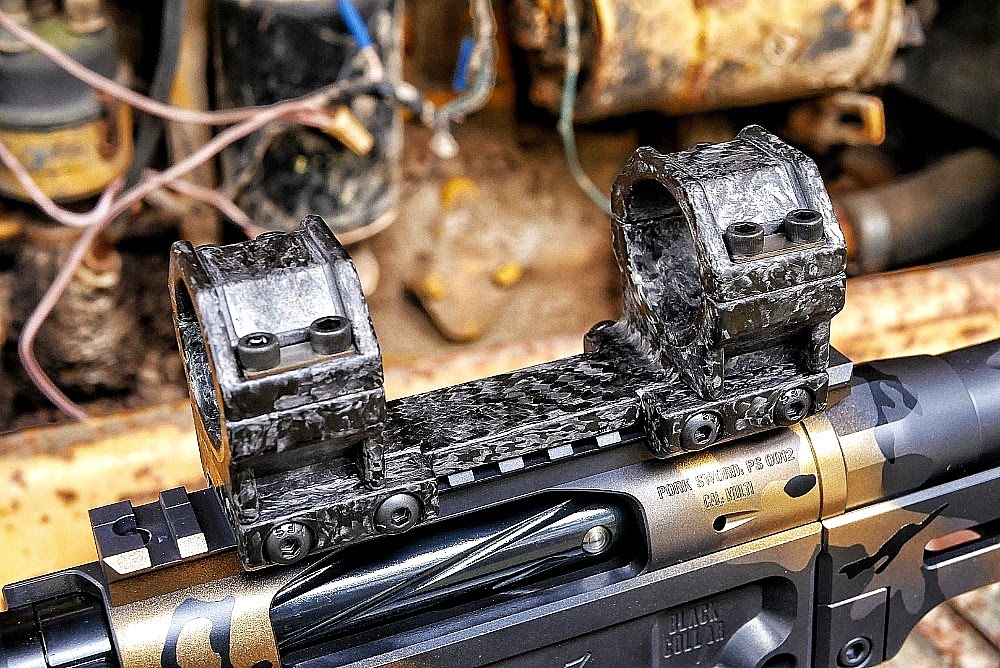 They further advise that the new rings present a 30mm distance from the top of a Picatinny rail to the centerline of an optic. According to their release, this is tall enough to just clear most 50mm objective lens scopes on a full-length rail (their emphasis).
Forged Carbon Fiber
Black Collar Arms describe these as forged carbon fiber scope rings as "…stiff as steel, light as highly compressed feathers, [and] aesthetic AF"
This would seem to make sense, given what other places say about forged carbon fiber.
Car and Driver, using the 2021 Corvette ZR1 and other examples for comparison, says,
What is commonly called carbon fiber is actually carbon-fiber-reinforced plastic, a weave of thin fibers held together by a resin. It's light—the body panels of a Corvette ZR1 are roughly one-fifth the weight of equivalent steel panels—and incredibly strong, at least in the direction it's designed to take a load. Like a diamond, traditional woven carbon fiber is amazingly resilient on some load paths, correspondingly brittle on others; check out any modern Formula 1 car crash for an example of when this material goes wrong. Carbon fiber is also expensive, time-consuming, and labor-intensive to manufacture in large volume. Forged Composite promises to solve many of these problems.
How? Two words: discontinuous fibers. Forged Composite forgoes the weave and instead uses a random arrangement of loose fibers mixed with resin and forms them in a heated press at high pressure. The resulting composite is strong in all directions without the additional cost and complexity of adding multiple layers of material, as must be done with woven carbon fiber. If an indiscriminate arrangement of fibers has you worried about reliability, relax. Much of the work in developing Forged Composite was spent making sure the final product would be statistically consistent. An added aesthetic bonus of the random fibers is that each final product is as unique as a snowflake.
Lamborghini (as in motorsports Lamborghini) says, "With Forged Composites, Lamborghini takes the lead in technological innovation in the automotive world. Technical properties unthinkable up to now and a completely new molding process are the elements that make Forged Composites the cutting edge of composite materials." They then explain the actual properties via their forged composites technical data sheet (q.v.).
The upcoming one-piece scope mounts will not only be the first of a line of forged carbon fiber optic mounting solutions but in a series of AR15 parts and other weapon components and accessories.
As for availability, Black Collar Arms explains,
"Quality is extremely high, but current production capacity is low. Mount availability will be rather limited with small batches arriving at Black Collar weekly while we gradually invest in increasing capacity."
Pork Sword Chassis
The weapon seen in most of the photos featuring the new scope rings is a Black Collar Arms Pork Sword. Here's a little more about it.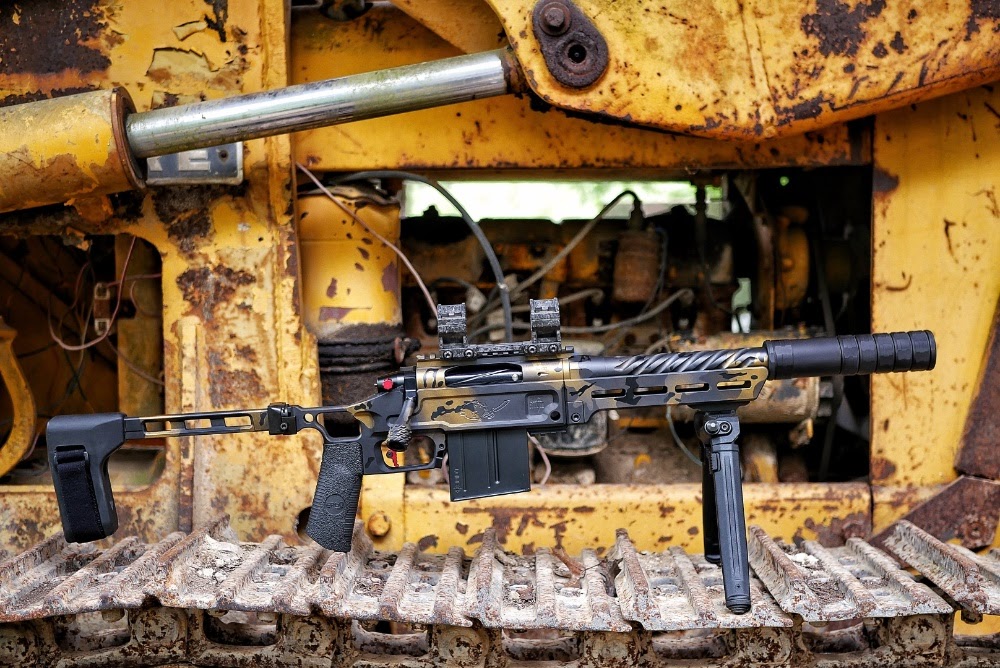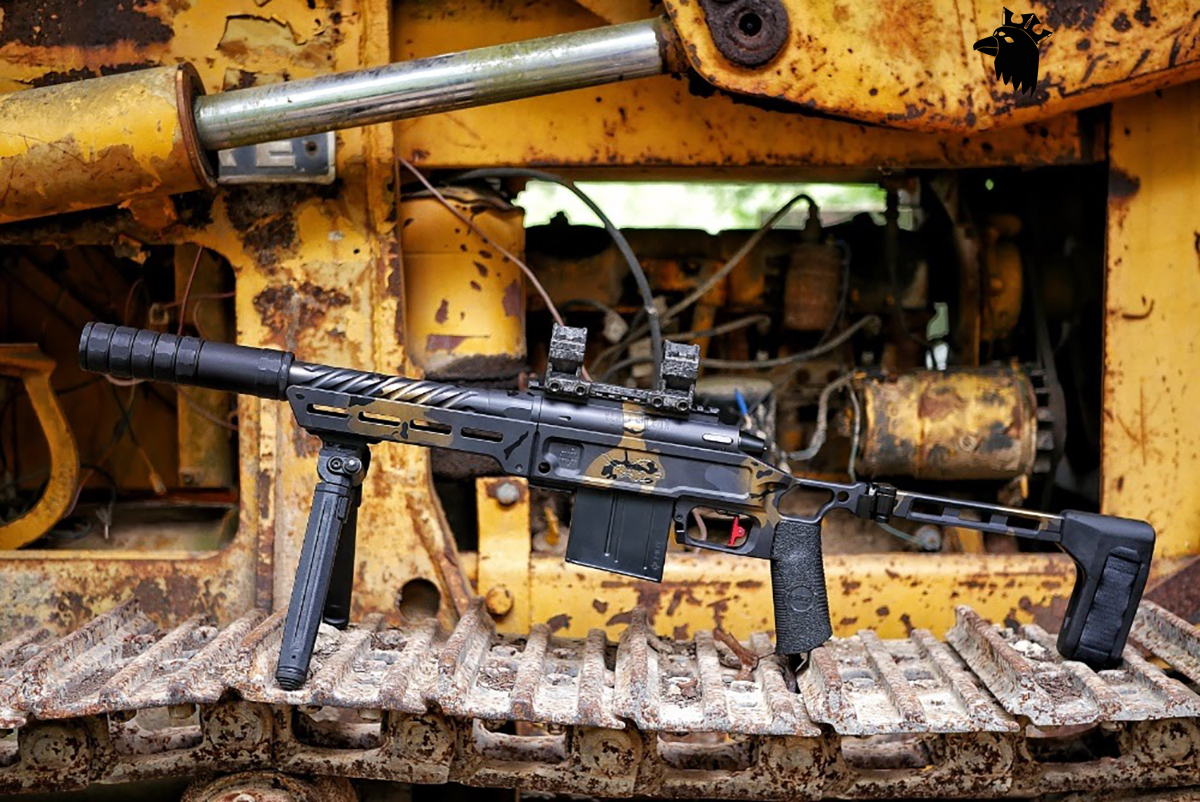 Bolt Action Pistol
Like that bolt action pistol? Us tool
Black Collar Arms describes it thusly:
Ideal for hog hunting, general truck gun use, or just finding some fun on the shooting range, a Pork Sword Pistol suppresses wonderfully and puts rifle accuracy and capability in an extremely compact package.
Whether it's the handy size, the additional handgun hunting seasons in some states, the ability to keep it loaded in a vehicle (hunting-related restrictions on loaded rifles don't apply), the simplified ownership in some states as compared to a semi-auto pistol or rifle, how great of a suppressor host it is, or simply the cool and fun factor, a bolt-action pistol makes all sorts of sense.
Here are a few close-ups of it. You can also read more about it over on American Handgunner.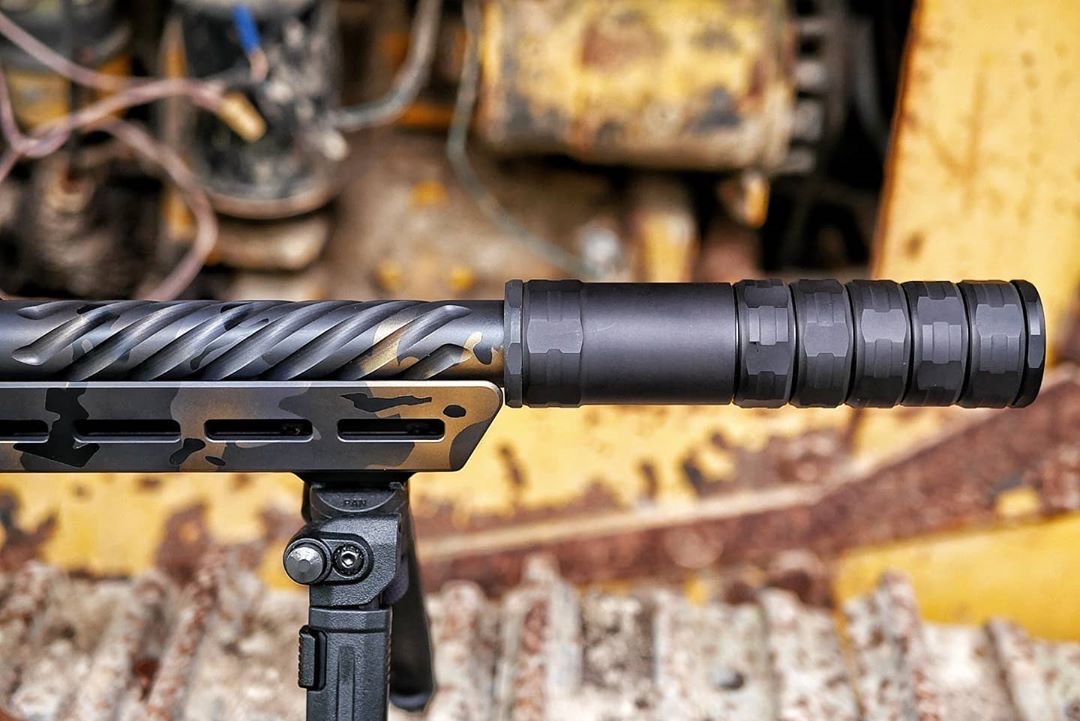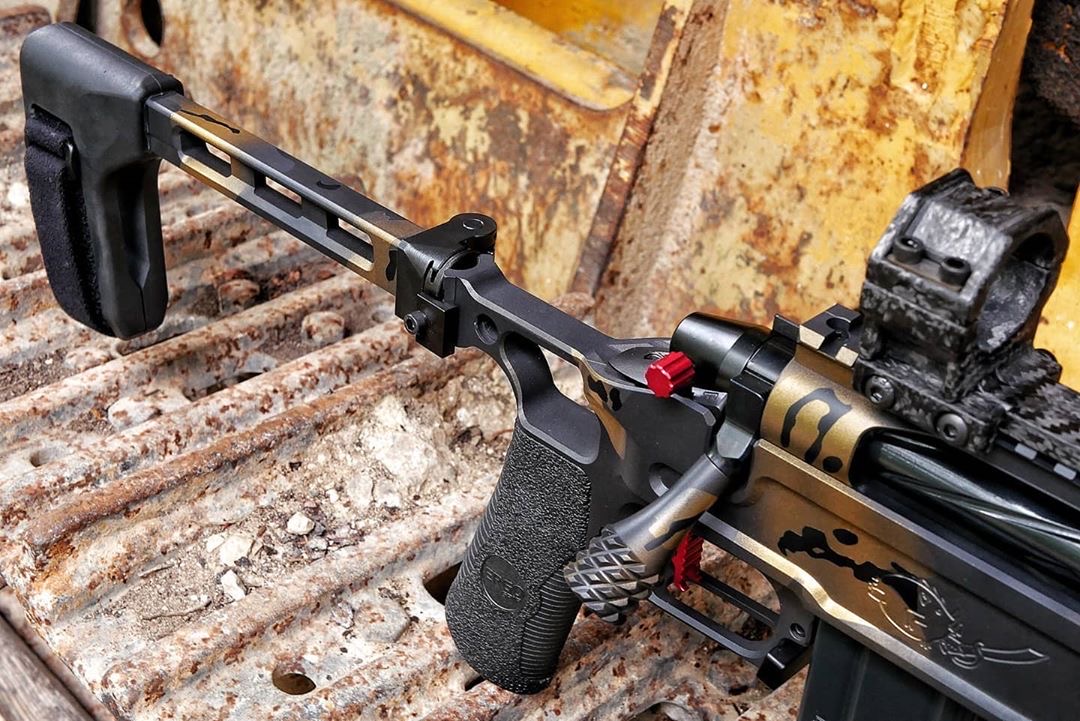 Black Collar Arms
What does "black collar" mean?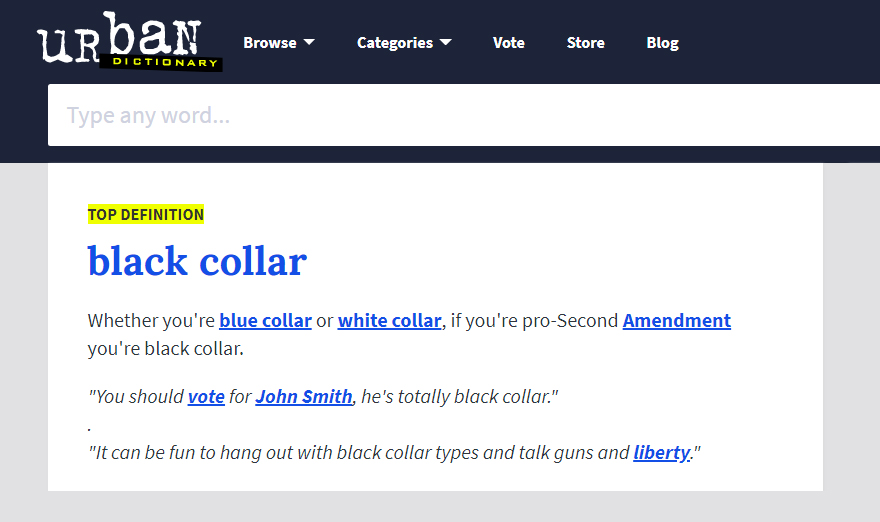 Learn more about the Texas-based manufacturer on the Black Collar Arms website (@blackcollararms) and/or at McVick's site (@m.cvick). You can read Nick Chen's review of it on The Firearm Blog for further insight. Delta Engraving is online at deltaengraving.com.
**BTW!** This Big Daddy Unlimited thing is the real deal. Maybe not the tacticoolest name, but they have over 120,000 products available at dealer pricing if you know the secret handshake. Check 'em out, no shit. 
⇓⇓⇓