Do the right thing. Show respect, set an example.
Our friend posted this just a little while ago on his personal Facebook page. We figured this is significant enough to interrupt our publishing schedule and make it public. We're not going to publicize his name; it's not about credit, it's about the message.
Don't be an asshole. Show some respect for a work ethic and for other people. When you see someone wrong someone else, do what you can do to fix it. That may be sticking up for someone physically. It might be acknowledging someone publicly. Maybe it just requires a moment of quiet, personal acknowledgement that helps someone regain their morale, their dignity or their composure.
Do the right thing. Set an example.
The original message:
"Watched the despair on this dude's face as 2 guys belittled him and were rude to him as he was trying to recruit customers. Bowed his head and returned to his chair. I walked by and simply sat down and asked if he could bring these old ropers back to a respectable condition.

I bet he worked on them for 15 minutes…

Immigrant from Ethiopia, WORKING to get his citizen ship and paying his dues.

9 bucks for a shine, I dropped a 20, shook his hand, praised his work (he did a knockout job) and told him to literally keep his chin up, those dudes didn't rate to have well polished boots.

Give back when you can, respect is a two way relationship…if you have nothing nice to say, don't say anything at all."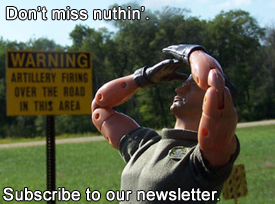 Fuckin' A. Now, for you guys reading this – don't just click like, or share or make noises of approval. Act on it.
Do the right thing. Set an example.
Comms Plan
Primary: Subscribe to our newsletter here or get the RSS feed.
Alternate: Join us on Facebook here or check us out on Instagram here.
Contingency: Exercise your inner perv with us on Tumblr here, follow us on Twitter here or connect on Google + here.
Emergency: Activate firefly, deploy green (or brown) star cluster, get your wank sock out of your ruck and stand by 'til we come get you.