BLADE Show 2014: 1911 Combat Survivor Knife
Burning down the aisles at BLADE Show 2014 here in Atlanta, we were in a rush to visit several of our custom knife making friends. Even though June's BLADE is a smaller industry show than SHOT, SOFIC, AUSA and the AVN Awards, it's still hard to see everyone and everything. A sea of tables covered in razor sharp glistening steel, it's easy to miss some very cool products being brought to market. One such knife caught our eye despite the fast base and cluttered tables: a big fixed blade fighter style Bowie that had an unusual connection to the classic .45acp 1911 pistol.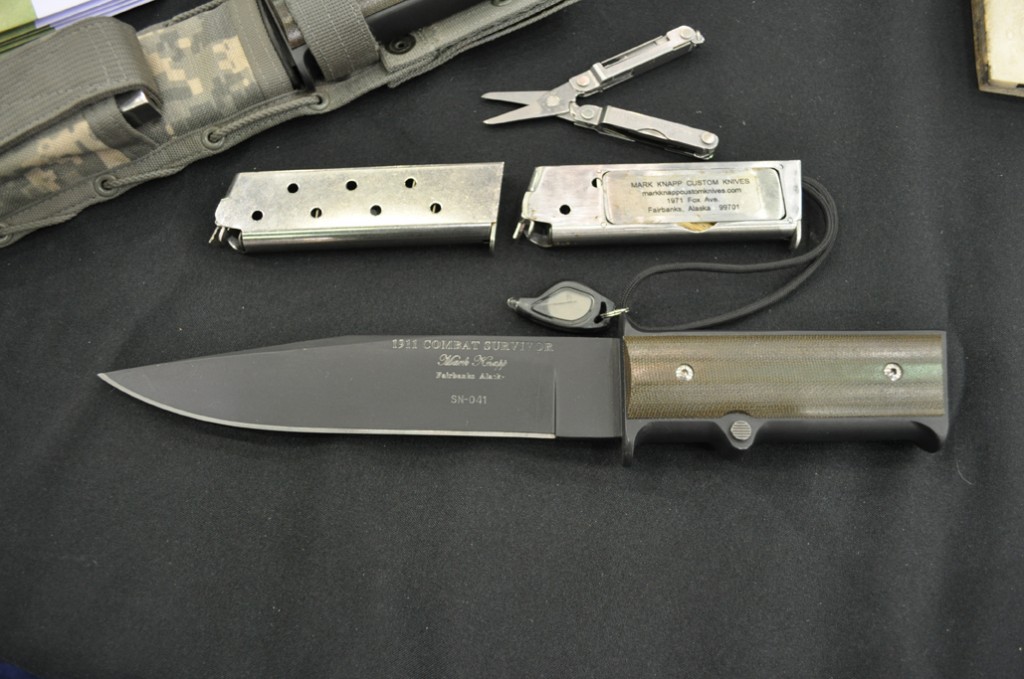 The knife is built by a custom knife maker named Mark Knapp. Mark is based out of Fairbanks Alaska. Called the "1911 Combat Survivor Commemorative Bowie" this knife has had a pretty interesting journey, and we don't mean just getting brought to Atlanta. Mark Knapp has been making custom knifes for just about twenty years now, and originally set out to build a "commemorative" fixed blade to celebrate the famous 1911 pistol's 100th birthday in 2011.
"Old Slabsides" has served our country for the better part of the 20th century, and is still immensity popular in the USMC, Army SF, law enforcement and civilian shooting communities. One of the reasons is the pistol's universally pleasant feel and balance in the hand, as well as its thinner grip (thinner when compared to many other modern double stack autoloaders). The 1911's single stack magazine helps to keep the size manageable for most shooters hands. Mark Knapp cast the knife's grip off a real 1911 frame, and went from there. The unique thing about this knife, is its ability to store a real 1911 magazine in its grip, or optionally, a small survival kit built into what was a 1911 magazine.
Not that we expect too many users to keep a loaded mag in their knife – that's  better suited for a real magazine pouch, but the option is there. If you choose to keep a live mag in the knife it can easily be popped in and out via the magazine release. This release is exactly like the one found on America's favorite sidearm, and is located in the same place on the knife's grip.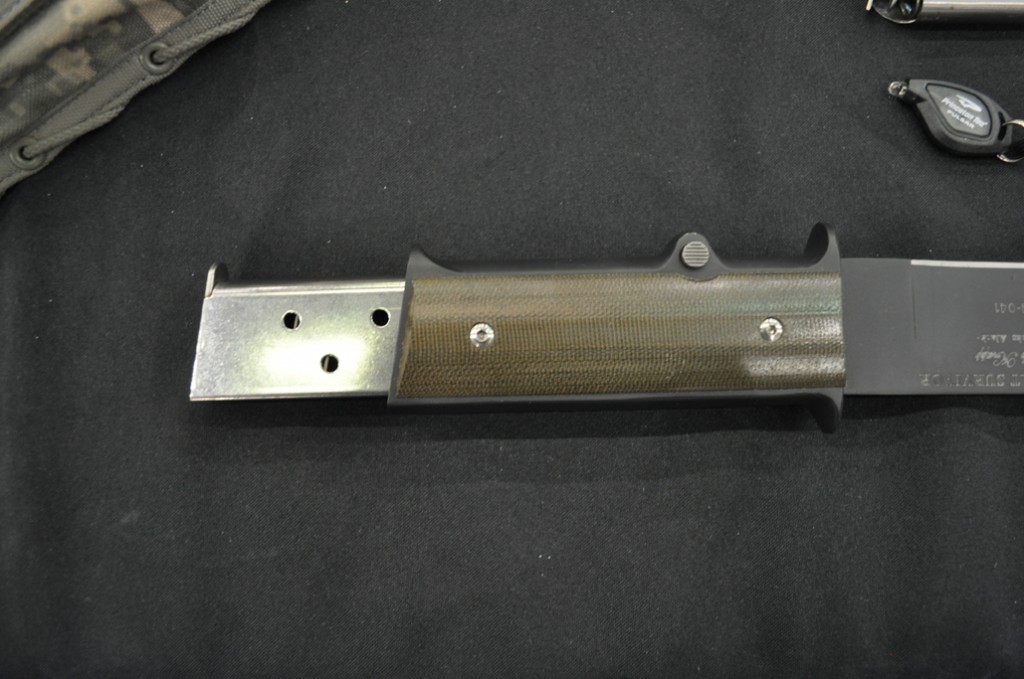 Originally intended to be out for sale in 2011, this stout blade is now finally available. The patent process is a slow one and Knapp wanted to protect his invention. The knife is now fully protected and Mark's order book is filling quickly. The blade measures in at 8″ and is made from 154 CM steel. The entire knife weighs 21.5 oz, so it's no lightweight, but that's not the point of the design. In a survival situation in the wilderness of Alaska, it's safe to say in most cases you would want a larger, beefier knife for over all use. The blade is thick and has a menacing appearance, which definitely has a "fighter" look to it. In fact, we find it to be someone reminiscent of another American classic, the Ka-bar Bowie.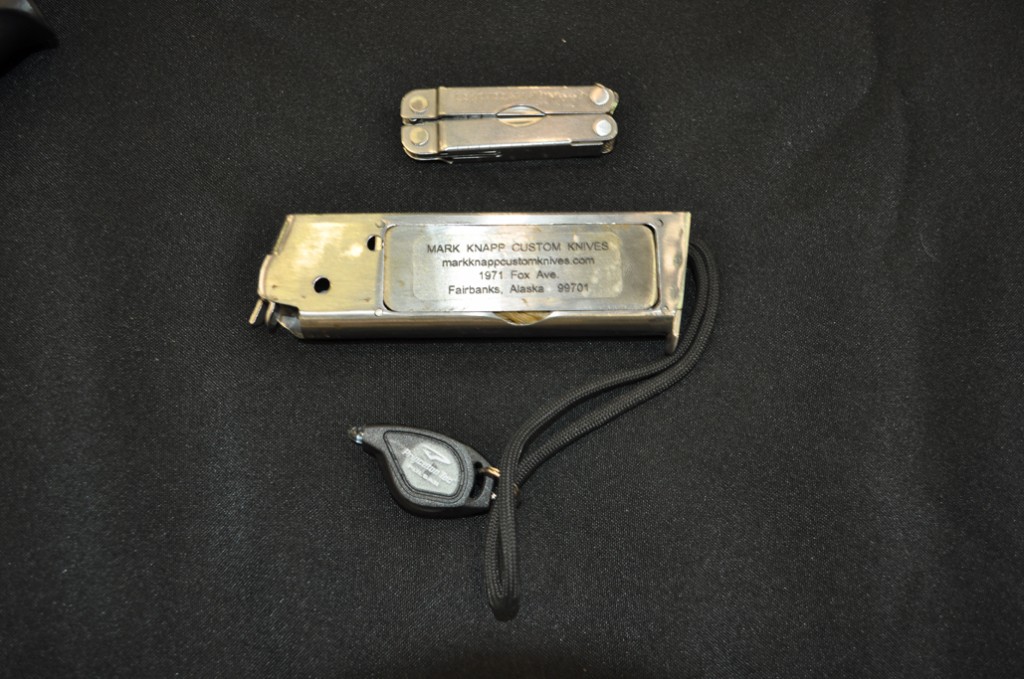 As alluded to earlier, one of the coolest things about the 1911 Combat Survivor is the included survival kit stored in a hollowed out magazine. The survival kit is build out of a real stainless steel pistol mag and is dubbed the "Survival Clip" since technically its not a magazine anymore. Mark mills out a window in the side of the magazine and then installs to strong magnets to securely hold the removable The cover is slick on one side and holds a thin diamond sharpening stone on the opposite side. Simply pry it out with a finger nail and flip it over to have a handy means of keeping your blades razor sharp.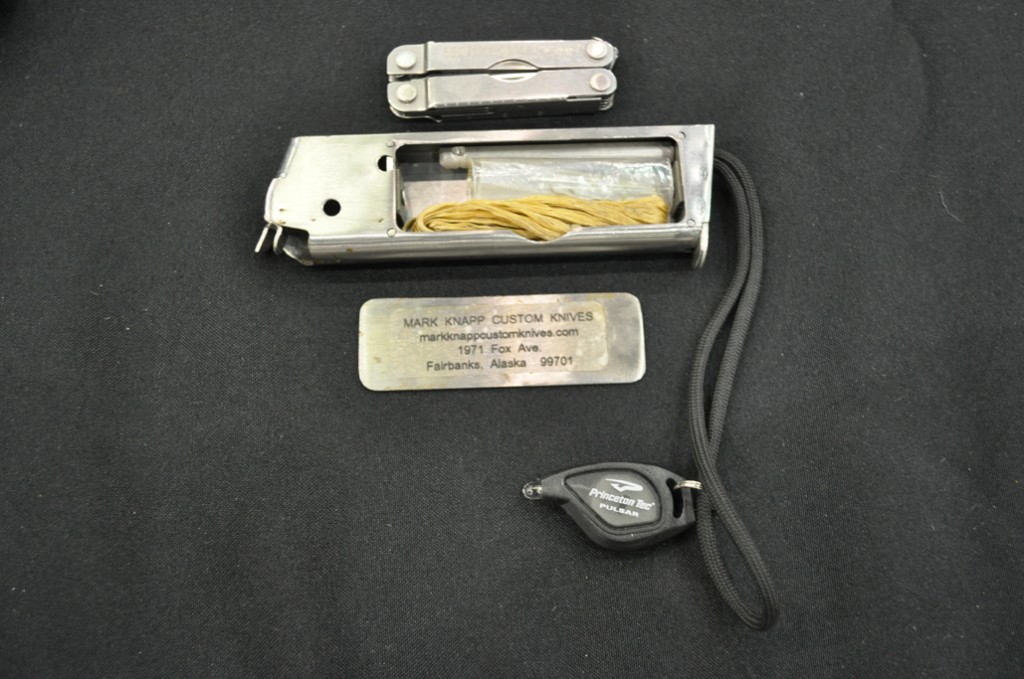 The kit also includes a small Leatherman Micro multitool and some other small common survival items: a magnesium/flint fire starting rod, needles and fishing hooks and a length of synthetic sinew round out the kit. All this fits securely inside with enough room to store a single round of .45 ACP hardball or a shotshell.  On the floor plate Mark Knapp has added a parachute cord lanyard with a small but bright key chain style flashlight. It's a simple, basic kit that is always handy as long as you wear the knife.
The 1911 Combat Survivor Knifeis  a pretty clever custom setup, and would give great peace of mind for the owner, if carried deployed on the battlefield or on a deep woods hunt. It's a cool but expensive custom fixed blade, so may not be the best blade for a desultory survivalist or "dilettante outdoorsman". Retailing at $750.00, the 1911 Combat Survivor is however ideally suited for the diehard 1911 pistol fan who requires a rugged fixed blade and some survival essentials. Check it out here, and read this interesting article from Mark Knapp's hometown paper.
http://www.newsminer.com/news/local_news/article_5e581710-8a22-11e2-907d-001a4bcf6878.html