Back for the First Time – Grip Stop Done Right
Look at the big brain on B5 Systems – they picked up a good piece of gear for their lineup. Since we heart B5 Systems and the Grip Stop with great heartness, we reckon that's good news. Mad Duo
Back for the First Time – Grip Stop Done Right
Back in 2013, we reported on a new product called the Grip Stop. You may've heard of it….it's kind of a big deal. Well, since then it's really gained a lot of traction in the firearms industry. It's been touted by many industry professionals and we personally swear by it. Now another well-known company with innate amounts of integrity are re-releasing the Grip Stop back into the public. This go around the Grip Stop is getting the royal treatment. Roll out the red carpet, boys.
B5 Systems, maker of fine firearm furniture and USSOCOM SOPMOD contract owner, has partnered with Grip Stop creator and renowned American Jedi Nathan Murr. They have begun the newest stage of Grip Stop manufacturing. With feedback taken from the SOF community, firearms professionals and Grip Stop customers, B5 Systems and Murr got to work and made some subtle changes in architecture and design. They smoothed some edges here, trimmed some fat there and now it's nicer than a dancing mom's new boobs. What they came up with is the newest generation of the Grip Stop and will remain the benchmark to its legacy.

B5 Systems will also be releasing the newest addition to the Grip Stop family, the Grip Stop-K. The "K" is derived from the German word "Kurz", meaning short. It is 1/2″ shorter than the original Grip Stop. This gives the K a lower profile and provides a secondary option to shooters who prefer a smaller platform. The angled corners were also radiused to eliminate hard edges. This aids in comfort when shooting, prevents snagging and assists with general aesthetics.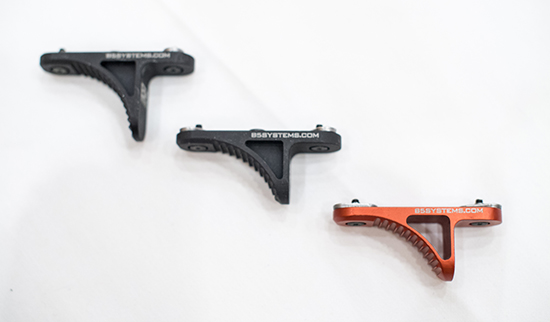 The new B5 Systems Grip Stop will also ship as a "one size fits all" package. I'll explain: B5 Systems' R&D staff wanted to make the Grip Stop easier for the customer to purchase what they needed and have their product fit a multitude of rail systems. Before there were generally two different versions of the Grip Stop – the MOD1, a direct attach, screw-in configuration with a center lug for KeyMod rails, and the MOD2 for the picatinny rail. This time around, the Grip Stop will arrive to customers as a more universal platform. Now customers will be able to use the interchangeable hardware (provided with the kit) to change their Grip Stop configuration to accommodate just about any rail system out there sans picatinny (the actual picatinny version will follow shortly). B5 Systems and Murr feel that this solves a serious dilemma customers faced with the original Grip Stop.

The new B5 Systems Grip Stop and Grip Stop-K in the universal and picatinny configurations will be available by the end of February, and prices will be comparable to the old Grip Stop.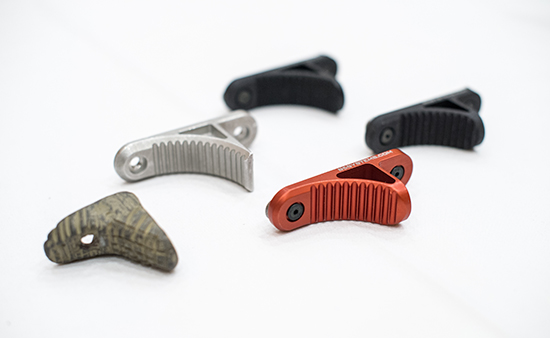 For more details and updates, follow B5 Systems and Grip Stop on Facebook and Instagram or at www.b5systems.com.
_________________________________________________________________________________
See these previous articles on foregrips and handstops more edifying education:
Merrill on the Vertical Foregrip and what it's really for: https://www.breachbangclear.com/the-real-uses-of-a-vfg/
Mad Duo on M-LOK, Keymod, Pic Rails and…well, shit, there's a lot of it. https://www.breachbangclear.com/m-lok-and-keymod-and-pic-rail-oh-my/
LAV on the BCM KeyMod VFG: https://www.breachbangclear.com/lav-on-bcms-keymod-vfg/
COWAN! on the RailScales S3 Handstop: https://www.breachbangclear.com/review-the-rail-scales-s3-handstop/
_________________________________________________________________________________
Comms Plan
Primary: Subscribe to our newsletter here or get the RSS feed.
Alternate: Join us on Facebook here or check us out on Instagram here.
Contingency: Exercise your inner perv with us on Tumblr here, follow us on Twitter here or connect on Google + here.
Emergency: Activate firefly, deploy green (or brown) star cluster, get your wank sock out of your ruck and stand by 'til we come get you.
Mad Duo, Breach-Bang & CLEAR!