Today we're going to talk a little bit about flashlights – not fleshlights mind you, flashlights. Guest writer John Marrs – who is not Special Agent Mike Franks from NCIS, no matter what you might think – is going to talk about his Inforce Lights. Kindly give him your attention. Mad Duo
A Look at InForce Lights
John Marrs
With all the choices of lights on the market today it can be hard to choose the right one. What do you look for when choosing a light? It should be dependable, durable, light weight, easy to use, have sufficient out-put, and hopefully not be too hard on your wallet.
I think the line of handheld and weapon lights available from InForce could fill the bill. Made by Emissive Energy Corp. based in Rhode Island, InForce produces high-quality and moderately priced flashlights. After having seen them at SHOT Show and reading about them, I finally got my hands on some for testing. When developing their weapon mounted lights, InForce staff worked with select units in the SOCOM community who were in need of lights with low lumens, high runtimes, were lightweight and ran off a single battery. This close coordination with such assets resulted in the birth of their WML line. Each light has a synthetic casing for light weight and an ultra hard Sapphire lens for durability.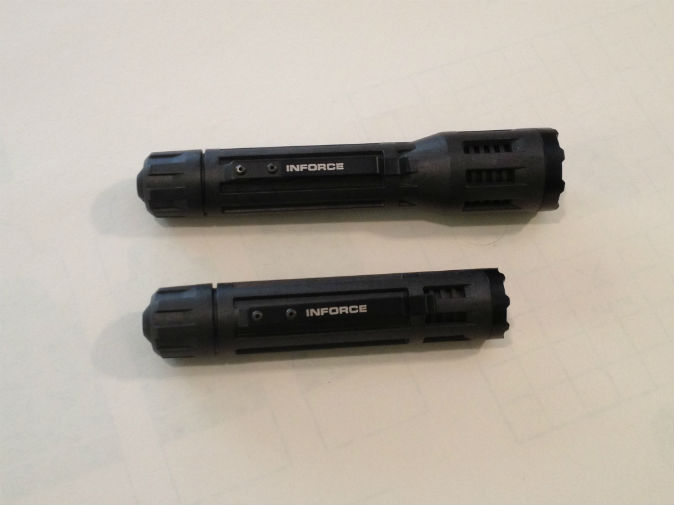 PISTOL LIGHTS
The APL Auto Pistol Light weighs just 2.83 ounces and has an output of 200 lumens. It has a tight beam focus so there was no "hole" in the middle of the bean and had sufficient spray to light up a fairly large area. Using a single 123 Lithium battery, it has a run time of 1.5 hours. When mounted on a full size handgun, the bezel sits to the rear of the muzzle which reduced fouling caused by firing and helped keep the light from dimming due to a dirty lens.
The light comes with two rail bars. One sized at .180 inches for weaver rails and one a bit wider at .206 inches to fit the more poular Mil-Spec STD-1913 (Picatinny) rail. Also included are screws and an allen wrench for changing out the rail bars.
Mounting the light to a handgun is done using an easy to operate side lever. Flip the lever up, place in desired spot on rail and flip lever down to secure. No tools are required and the light can be mounted and removed very quickly using one hand, even in the dark. When closed, the lever lies flush with the lights housing to avoid the possibility of accidently disengaging it.
Turning the light on and off is accomplished by pressing the bilateral paddle switch mounted at the rear of the housing. There is a switch on each side so it can be operated by both left and right handed shooters. The light has either momentary on-off or full time on-off settings. Push and hold the button and it is in the momentary on position. Releasing the button causes the light to go off. Press and release the button quickly and it is in the full time on mode. To turn it off, simply press and release the button again.
Unlike most handgun lights, it is not a toggle and does not have to be pressed in different directions for different functions. The switch is also large, cover the entire rear portion of the housing. The size of the switch makes it easy to find under stress, even when wearing gloves.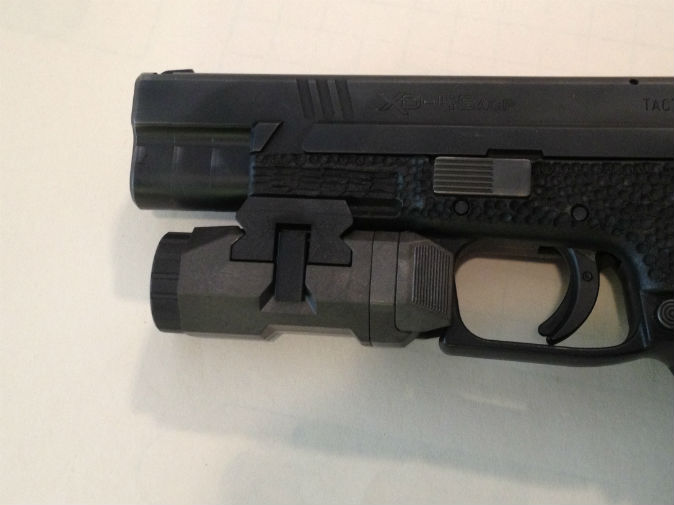 LONG GUN LIGHTS
Just as they redesigned handgun mounted lights, so too have they done with their line of lights for long guns. Keeping the lights small, lightweight and durable and designing activation switches with much better ergonomics than other weapon lights set a new standard by which other weapon lights will be judged. Along with improved ergonomics, each light has an integrated rail built in that is Mil STD 1913 (Picatinny) rail compatible. Not to stop there, they have responded to the needs of various users by offering several different models, each having specific features based on end-user requests. In all, there are three versions of lights designed for long guns. Each one is available in either black or tan.
All three models look almost identical in size and run off a single 123A lithium battery. The body is made of polymer, as is the locking device that secures the light to the firearm. Measuring 4.1 inches long x 1 inch wide and weighing only 3 ounces, they do not add any significant weight or size to your long gun. The activation switch is a sloped, rubber coated pressure button that is 1 inch long x ½ inch wide. The shape and size of the button make it very easy to use even while wearing gloves.
Each light also has a safety lever that prevents accidental discharge of the light. The lever is located at the rear of the light and consists of a bar that you flip up with your thumb to block the pressure button. It is easily flipped down with your thumb when you want to activate the light. The specifics of the three models available are highlighted below.
WML White / Momentary
This light offers momentary on off only. When you press the button the light comes on and when released, the light goes off. This light is currently the preferred model used by Haley Strategic Partners. It puts out 200 lumens and has a run time of 2 hours. (available only in black)
WML White
With this model you get both momentary on-off and full time on settings. In addition, you have a strobe setting and can vary the light output from high to low. All of this is controlled by a single switch. The operator can set the light to go from low to high or high to low output, based on their personal preference/mission needs. You can also disable the strobe feature if desired. It puts out 200 lumens on high and 30 lumens on low with a run time of 90 minutes and 10 hours respectively.
WML White / Infrared
If you have the need and capabilities to use infrared devices, this light allows you to change from white light to infrared at the flip of lever. In addition to that, it has all of the same features of the WML White light described previously, except it produces 175 lumens for 90 minutes on high. Add to that an IR output on high of 75 mW and on low 25 mW with run times of 3.5 hours or 17 hours. Switching from LED to IR is done by flipping a lever located on left side the light. When the lever is forward and the white dot is showing it is in white light mode. When the lever is flipped rearward, it is in IR mode.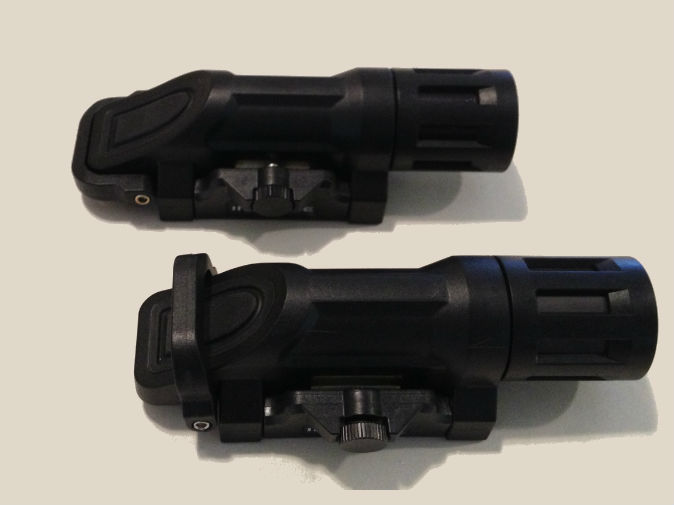 HANDHELD LIGHTS
InForce currently offers two models of handheld lights. Both lights are compact, durable and lightweight due to their fiber composite construction. Both models also feature a belt/pocket clip made of spring steel that features a hole for attaching a 550 cord lanyard, serrated bezel and are available in either black or tan. Both also offer high and low settings, momentary on off option, and a strobe.
Model 9vx
The larger of the two lights, the 9vx is 6.15 inches long with a bezel width of 1.25 inches. It weighs 4.75 ounces and runs on three 123A lithium batteries. It puts out 300 Lumens in either strobe or high setting and 60 Lumens on low setting. Run time is 3 hours on high or 15 hours on low.
Model 6vx
Under 5 inches long, 1 inch wide and weighing only 3.3 ounces, this little light is perfect for carry in your pocket or bail out bag. It has all the same features as its big brother with slightly less output. It runs on two 123A Lithium batteries. It has an output of 200 Lumens on high or strobe and 40 Lumens on low. Run time is 2 hours to 10 hours, respectively.
I have been testing these lights for several weeks. Following the testing, I have replaced my weapon lights on both handgun and rifle with InForce lights, as well as carry one on my duty belt. The combination of light weight, high output and durability has sold me on these innovative designs. If you're in the market for a light, regardless of purpose, check out the line offered by InForce before settling on something else. You'll be glad you did.
Learn more about InForce online here: http://www.inforce-mil.com/ Read Mad Duo Nate's review of the IR InForce light here: https://www.breachbangclear.com/?p=8240
About the Author: John Marrs is a Sergeant with the San Luis Obispo County Sheriff's Office (CA) with over 25 years of service. He has served on the departments SWAT team on both Entry and Sniper teams and served as the Sniper Team Leader. Marrs is a co-founder of his agencies Patrol Rifle training program and is a firearms instructor for his department, the basic police academy and the International Association of Law Enforcement Firearms Instructors (IALEFI). He is also the owner of Spartan Training Resources in Atascadero, CA (also on Facebook here). In addition to his LEO service, Marrss spent 6 years in the U.S.Army and 15 years in the Army National Guard as an Infantryman. He worked his way to Staff Sergeant, then went to the Dark Side and completed Officer Candidate School, retiring as a Captain. He freely admits, "Yes, I went to OCS because I realized Officers carry less, walk less, dig fewer fighting positions and generally do less than a grunt." Sounds legit – at least he's honest.