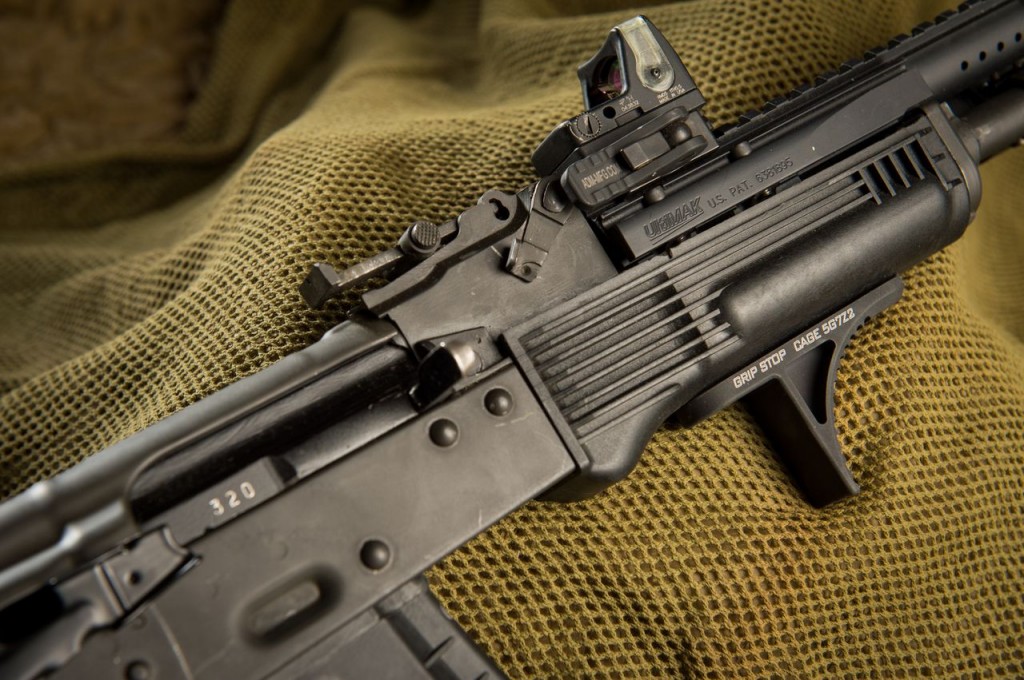 Photo by Natalie Cake Photography
We love the AK-47 family of weapons. They are robust, reliable, and only require a 3rd grade education to operate (at best). We have witnessed the impressive durability and longevity of these weapons all over the world and have always appreciated Kalashnikov's design. Let's talk about effective range though. Most NATO manuals and traditional western guidance states that the max effective range of the weapon on a point target is around 300 meters. That's about 3 football fields. That's nothing. Considering a .22LR projectile can be lethal at a full mile, why is the AK limited to only 300m?
The fact is, it has nothing to do with the projectile design or the powder charge. It has everything to do with the shitty sights.
Keep in mind that the AK-47 was a Soviet design that came out at the end of WW2. If you look at all other Soviet designs of that time, you will see similar, equally unsatisfactory sights. Then take a look at contemporary wwestern designs like the American service rifles of the day;  you will see mostly peep style sights. Why does this matter? It's simple. Peep sights are better. Don't let anyone tell you different. With a longer sight radius and the ease of placing the front sight blade in the center of a circle, American riflemen have had the advantage over those using notch sights since the early 20th century.
If you look at the AK-47, you will note that the rear sight is about 18" from the butt pad of the stock, depending on the setup.  If a 5'10 man fully extends a pistol to shoot, it's around 20" from his eye to the rear sight.  That means you basically have the same eye relief on a rifle as you would have shooting your Glock. Glock? Wait a minute there…
The team at LAW Tactical observed this similarity as well. Fans of the AK platform themselves, they realized that the weakest link in the system is the rear sight.  Windage on the AK is adjusted at the pressed in front sight. This requires a special tool or a BFH (big fuckin' hammer). In short, it's a pain in the dick to adjust and not very precise.  The rear sight has a tiny aiming slot to align with the front sight, and most models only allow elevation adjustment for different ranges after properly zeroing.  What LAW Tactical did, after careful study and consideration was create the most straight forward, easy and versatile solution to this 67 year old problem.
The AKuracy rear sight.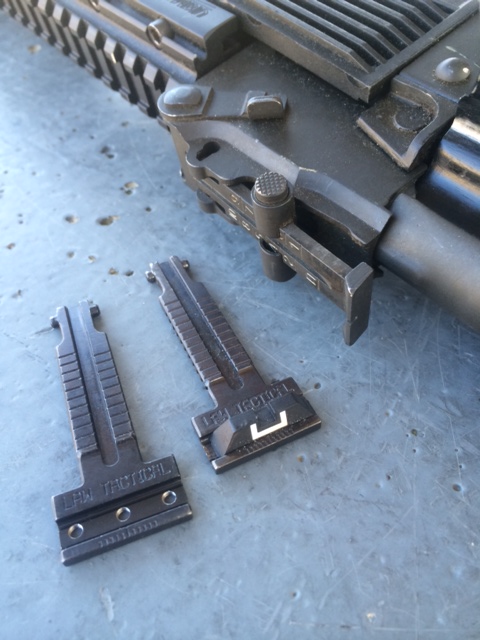 The Law Tactical AKuracy rear sight is a one for one replacement of your existing AK rear sight.  It has a dove tail slot machined into it, allowing the user to replace the standard, small-slit rear sight with a more common 9mm Glock rear sight. This allows for easy windage adjustment, accomplished by drifting the Glock blade to the left or right, using the small adjustment lines on the unit to keep track of how far you have gone. After you have a good zero, the unit has three small set crews which are used to tighten down down and lock the sight into place. This allows for further zero retention and is simple to do.  If you like use the Soviet range adjustment slide bar for different ranges, this feature is retained from the original sight.
With damn near unlimited options of 9mm Glock rear sight, you can pick your favorite configuration and apply it to your rifle. We used a basic Glock factory plastic  rear sights  for our testing. We installed one on Slim's modded out AK-74,  and another on a stock  AK-47 we stole…err…"borrowed" from the Iranian embassy a few years ago.  The whole process took about 5 minutes, only required a flat tip screw driver, and then we were on to zeroing.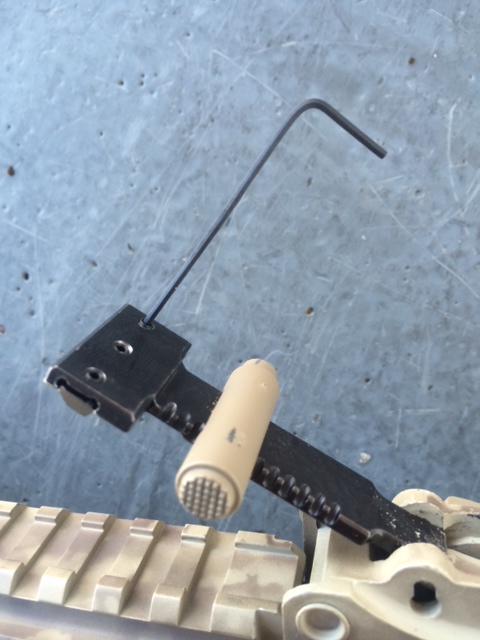 As soon as the sight is installed, you will immediately notice how quickly you can acquire your sight picture. The larger notch of the Glock sight makes it easy to find your front sight, and instead of losing accuracy, we were surprised to find that we started to shoot tighter shot groups. So… MORE speed and MORE accuracy? What's not to like? The CNC machined steel sight is simple and rugged,  easy to use and a snap to adjust. Using a fiber optic tipped front sight blade on the 74, we were getting 1 MOA groups with military 5.45 ammo at 100 yds!  The 47 shot slightly worse, but still better than before with the factory notch. Our groups ranged around 2-4" at 100 yds using steel case 7.62×39 Wolf civvie ammo.  A lot of AKs will shoot better with the old Yugo ammo, or the American brass case current production, so we weren't too worried about it. Shooting out to 500yds onto steel, we were able to maintain a high ratio of hits that previously was only possible with an optic.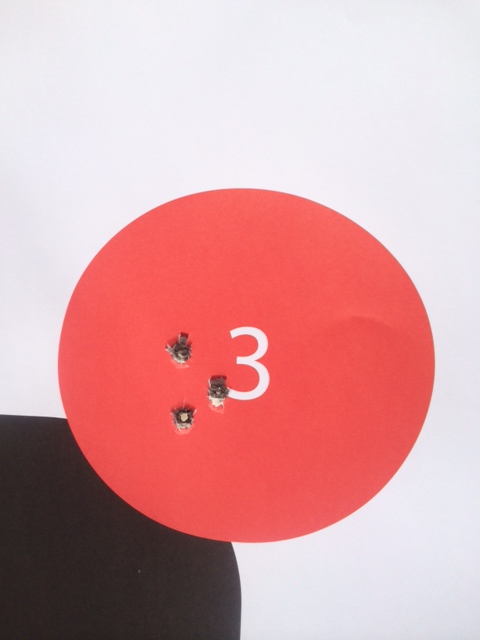 This unit is well build, easy to use and overall just a solid design. The sight can be had here, and found from other stocking LAW Tactical dealers.  If you have an AK, and wan to get the most out of it, pick one of these babies up. Pick out a good rear sight, and let us know your results!
Read more of our AK related articles in Vodka Blasters.