JTT: A Treatise on AK-74 Mods
Some vodka blasters are more fun than others and some perform better than others. Regardless, it's always fun to play rifle dress-up. Mad Duo

JTT: A Treatise on AK-74 Mods
Tom Marshall
The life cycle of the AK-74 in American gun culture might be called a comedy of errors. It has never shared the widespread commercial success of its older brother, despite some very legitimate advantages in its caliber. The 5.45x39mm cartridge, vice its 7.62mm sibling, is lighter recoiling and flatter shooting with arguably better performance in soft tissue, depending on what literature you read.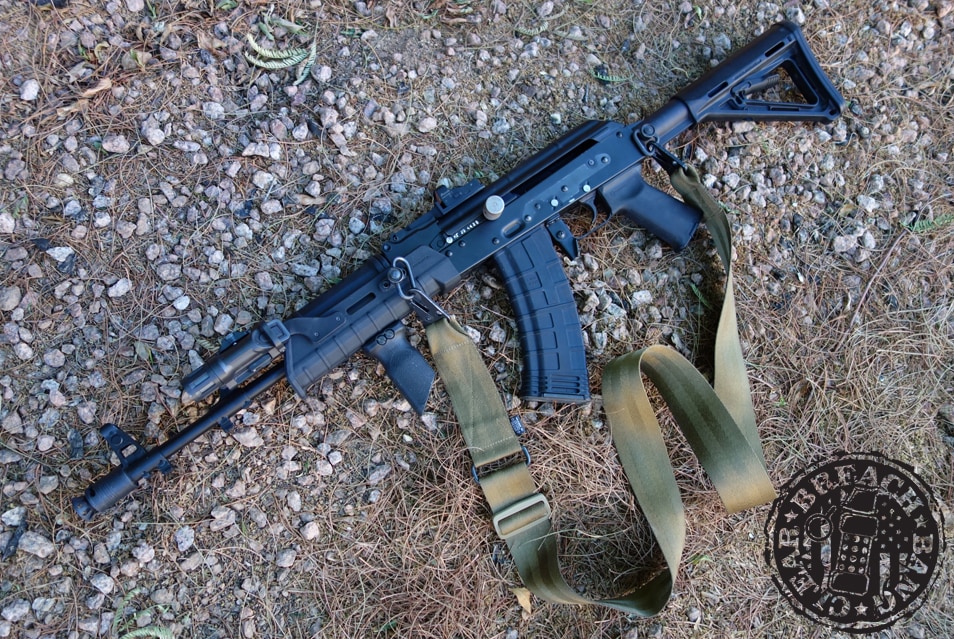 Also, up until a few years ago you could buy a thousand rounds for less money than a showgirl can fit in her G-string (but she's saving that money to get through med school, we're sure of it). Despite the coffin lid that got nailed over top of the 5.45mm ammo market, which is a song for another time, said bullets are still available and still competitive with 5.56 or 7.62×39. But for those of us who have '74s or those of you considering one, the aftermarket is decidedly thin. So we're going to talk a bit about what's available and how it can help your underdog AK be all that it can be.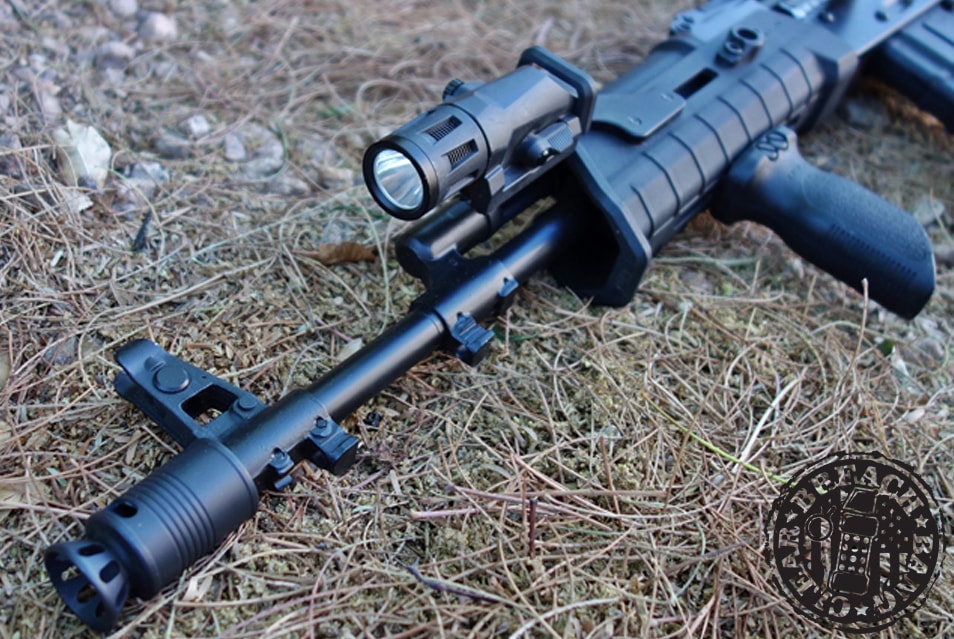 If you have a poster on the ceiling over your bed that says "Nyet! Rifle is fine!", go take a blood pressure pill and a few deep breaths before you go any further. For everyone else, there are handful of really good companies out there making AK-74 upgrades. The build you'll see here is one way to go. There are other options and you may like those better, we just wanted to give you an idea of what's available.
Our base gun was built by Petronov Armament in Phoenix, AZ. You may not know their name, but they do OEM builds for a number of AK distributors and their craftsmanship is top notch. From the day we picked it up, this gun never had any of the clunk or rattle commonly accepted in these guns. If you're in the market for an AK of any caliber, give Petronov a call and tell them the Mad Duo sent you.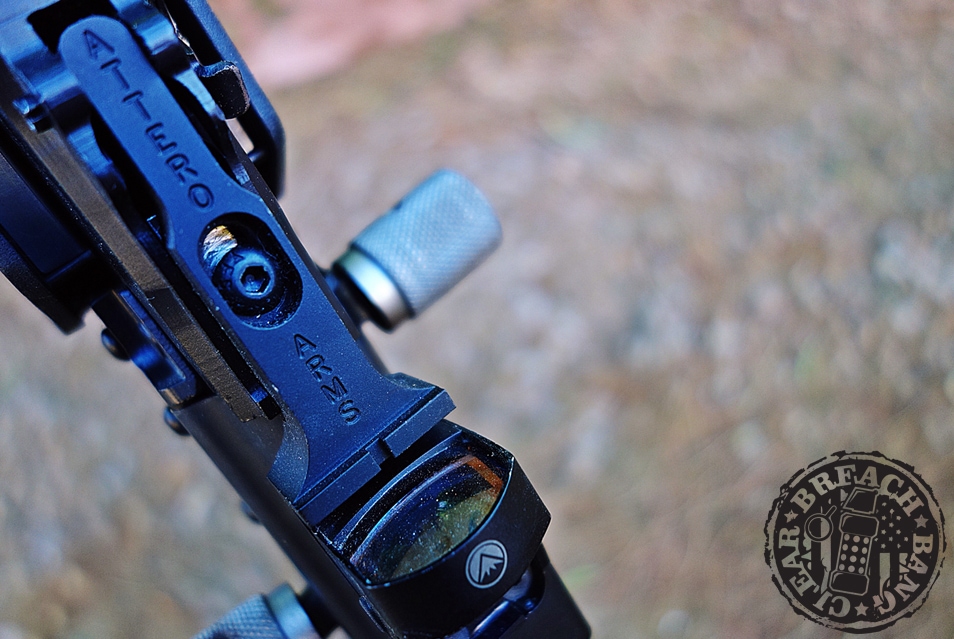 We started with Magpul's MOE AK grips and handguards. This furniture offers modularity without weight, and surprisingly effective heat shielding. We did hang some things on the forearm, but not without good reason. The light mount from Echo93 was originally intended for the vented handguard of an AMD-65 but works equally well in an MLOK slot. It biases the optic forward, which helps minimize shadowing from the gas tube or barrel. The brains behind Echo93 have been working in Afghanistan for years and are well versed in the nuances of the AK. They also performed the slant-cut to that Magpul RVG, giving the magazine a little more clearance when rocking it out.
Finally we added a left-side QD socket just forward of the receiver. This keeps the sling from messing with out light or support hand grip. While we're still talking about the business end of the rifle, the muzzle brake is a Definitive Arms Fighter Brake. It's shorter and lighter than an actual AK-74 brake while still being almost as effective at keeping the muzzle down.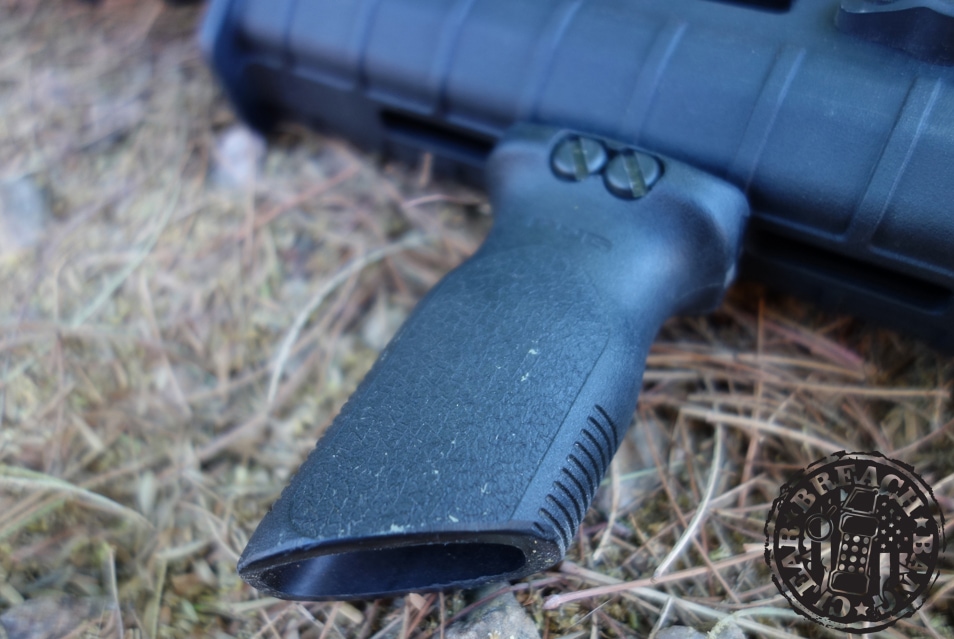 Putting optics on an AK has always been a pain in the ass; there's not really a nicer way to say it. Side-rail mounts are really hit and miss. Even the good ones add inevitable bulk. So we removed the side rail and talked to Attero Arms. They make what might be the lightest and lowest-profile AK optics mount we've seen to date. It replaces the rear sight leaf with a simple mounting plate. We're running a Burris FastFire on ours but they make models for most popular micro optics. We haven't had any interference removing/replacing the top cover or bolt carrier for maintenance.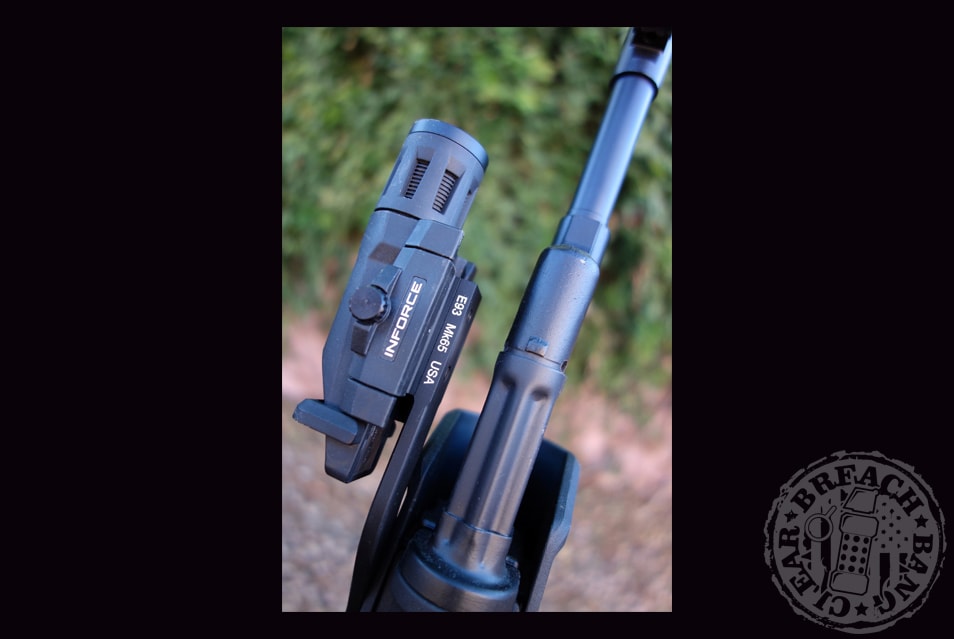 Speaking of the bolt carrier, the one here is another particularly interesting product. The AK Lightning Bolt, or AKLB, is produced by Colorado Shooting Sports. They make either a left-side-only or an ambidextrous version and, if you already have an AK, you can just send them your bolt carrier and top cover for modification. Unlike the SCAR, these handles post no threat to your thumbs while in motion. Now we can charge our AK with either hand from any shooting position without breaking master grip.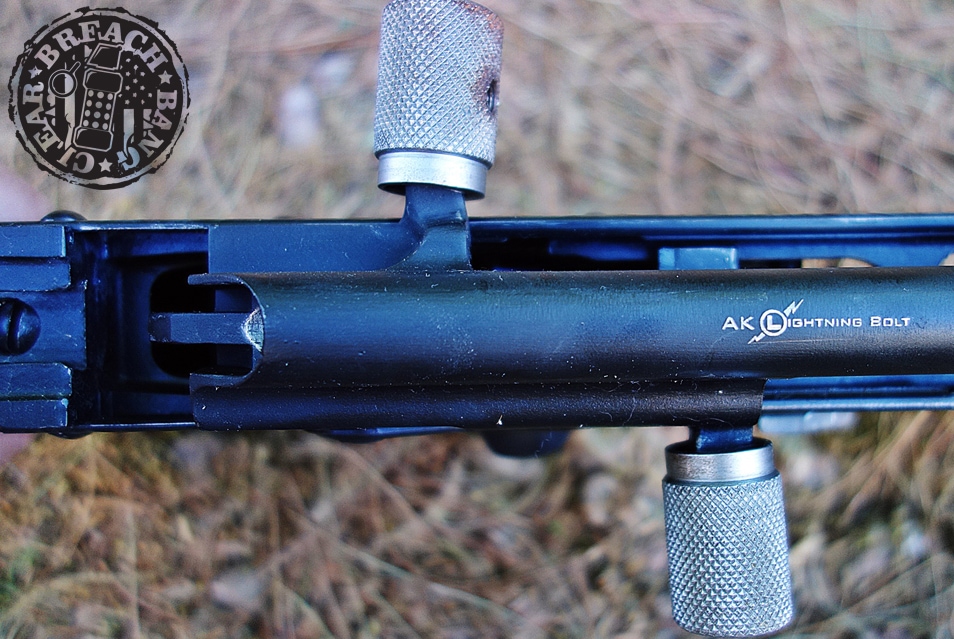 Likewise with the Krebs safety lever. Krebs is a staple name in the custom AK world and his safety lever has been a staple upgrade for years. It offers both an oversized tab which can be swept on/off with the trigger finger (again, without breaking grip) as well as a bolt-hold-open notch for, well, whyever you might need it. Running with the theme of over-sized controls, the mag release tab from RAM tactical is about the size of our entire thumb pad, making activation a cinch. They also make a version where the release lever runs along the trigger guard, not unlike a SureFire DG switch. This one can be hit with your trigger finger, but we're suckers for the thumb paddle.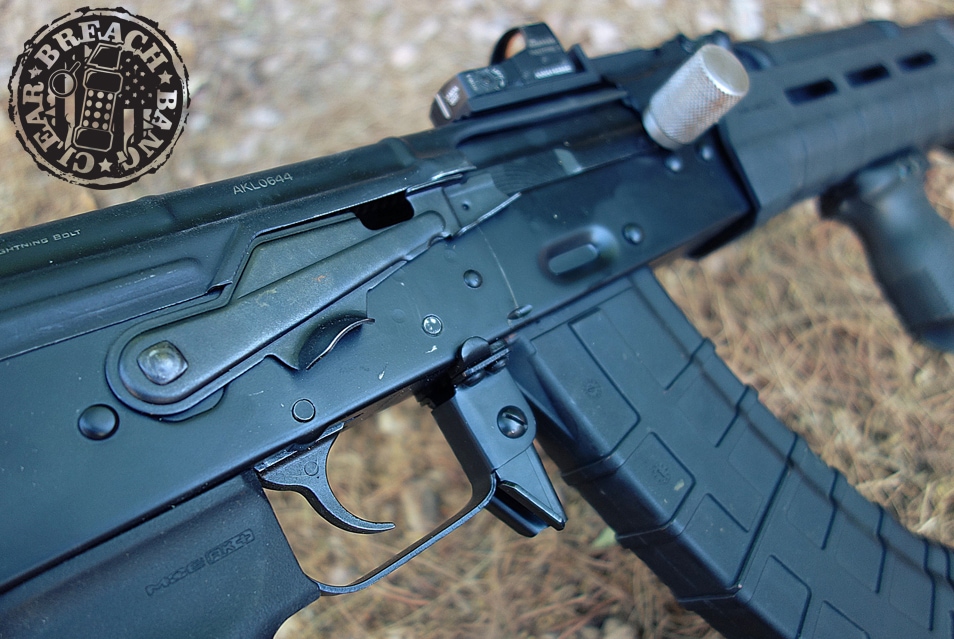 The trigger itself is a Tapco G2 that was hand-stoned at the Petronov shop. You may be tempted to turn your nose up at anything Tapco – especially in light of newer options from Geissele and CMC, among others. But this particular trigger rolls over like a well-trained dog at just over 3lbs with a short, crisp reset. We are perfectly content with Petronov's fine-tuning and don't expect to swap it out anytime soon.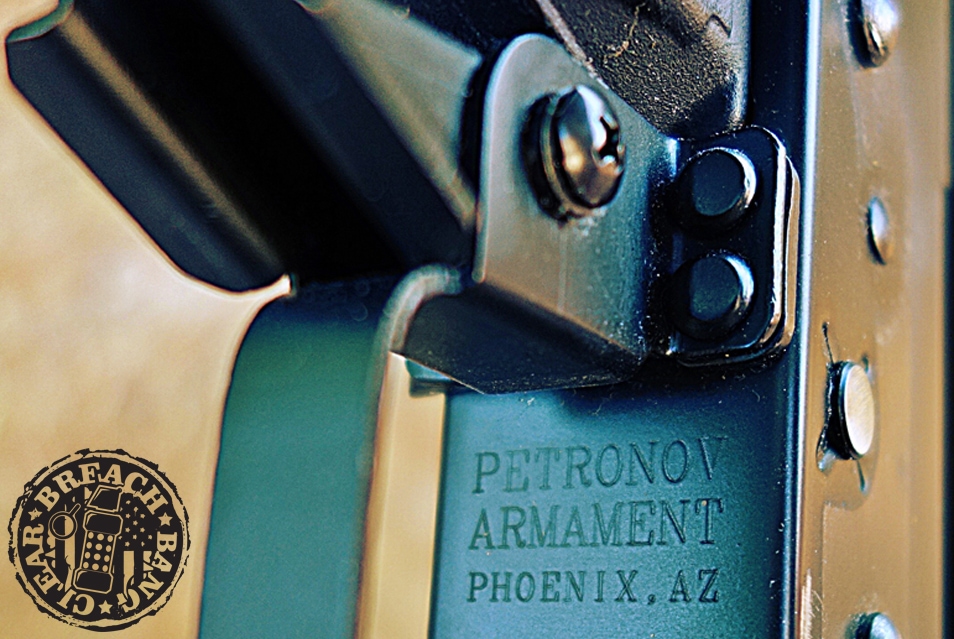 Just aft of the MOE+ pistol grip is a VLTOR stock adapter. This part has been around for awhile but the included packet of kydex shims gives you the ability to fit this tube to most AK receivers, despite the wide array of tech specs being used by AK manufacturers. It also has QD sockets built into both sides. The VLTOR tube will accept just about mil-spec AR stock. We used a Gen 1 MOE butt stock because we hate mismatched furniture.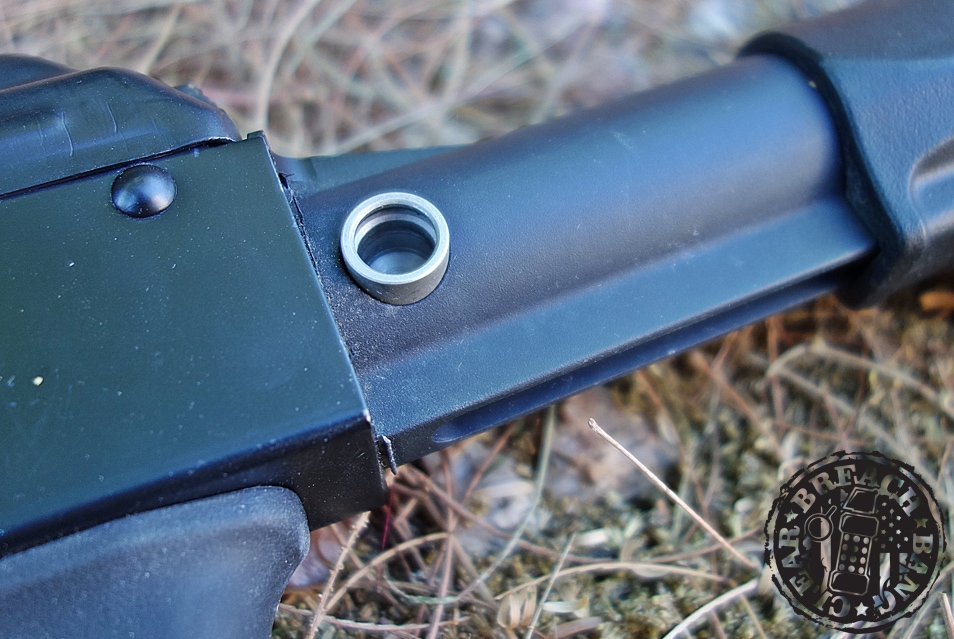 Last but certainly not least is the Inforce WML and Echo93 seat belt sling. As the name implies, the sling is made from seatbelt strap. Its extra-wide footprint makes it super comfortable and, at less than $50, it's priced to meet just about any budget. The WML blasts 400 lumens in a package weighed in ounces and a single CR123.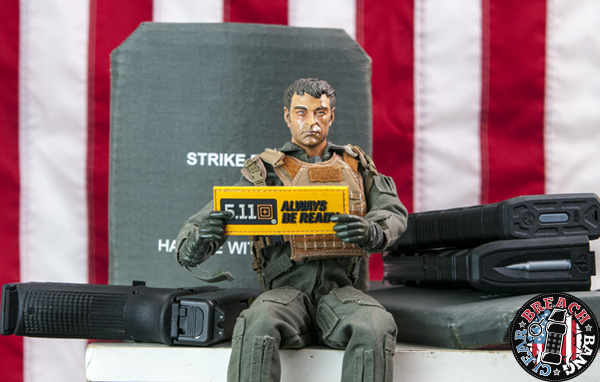 So there you have it. All these products not only fit our Petronov AK-74, but are all available for '47s as well if you happen to have one of those. After going through a number of AK accessories that just didn't do it for us, we think this build walks the fine line of being highly functional without wandering into mall ninja territory. You are, of course, free to outfit your rifle in any way you choose. These are a handful of options at your disposal, and any of them would be fine additions to your beloved 5.45mm vodka blaster.
-Tom Marshall
---
---
Mad Duo, Breach-Bang& CLEAR!
Comms Plan
Primary: Subscribe to the Breach-Bang-Clear newsletter here; you can also support us on Patreon and find us on Pinterest.
Alternate: Join us on Facebook here or check us out on Instagram here.
Contingency: Exercise your inner perv with us on Tumblr here, follow us on Twitter here or connect on Google + here.
Emergency: Activate firefly, deploy green (or brown) star cluster, get your wank sock out of your ruck and stand by 'til we come get you.
About the Author: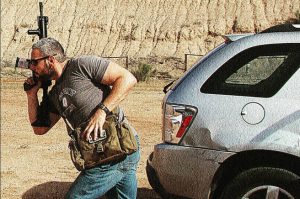 About the Author: Tom Marshall is an interesting miscegenation of background experiences. He's a former active duty US Army officer, but before that was a graduate of the US Merchant Marine Academy at Kings Point, NY. Before accepting his commission as a 2LT, Midshipman Marshall spent a year travelling the world on a variety of merchant shipping vessels, including several months attached to Military Sealift Command. After returning from sea, he spent a summer working at the HQ training facility for Blackwater USA.
Tom spent four years in the Cavalry with a Stryker Brigade, including a one-year tour to Iraq with 4th BCT, 2nd Infantry ("Raiders"). Among other assignments he worked S-3 before taking over a Recce Platoon. He earned the rank of Captain and spent his final year in a HQ Company XO billet. After departing the military he spent about a year and a half working security at a federally-contracted Corrections facility before going back overseas in a PMC job working security and force protection for government personnel working in high threat environments around the world. Tom has written for Guns & Ammo, World of Firepower, SWAT Magazine, Black Sheep Warrior, RECOIL Magazine, and Emerge Social, a PR firm specializing in digital brand management for firearms-industry clients. Despite being an officer we actually trust him (mostly) with a compass. Tom Marshall may or may not have been the inspiration for the best selling issue of Urecco. You can follow him on Facebook at /TMAuthor/ or on Instagram, @tom.marshall.author.
Grunts: miscegenation.