WTW: Smith & Wesson's Perfected Revolver
[This post is made possible by JTF Awesome Team Member Raven Concealment]
Weapon Trivia Wednesday: Smith & Wesson's Perfected Revolver
Many shooters look at 19th century top break revolvers as junkers or novelties from a bygone era. Maybe not so much with the large Smith & Wesson Model 3 or Schofield revolvers famously used by the likes of Jesse James and Pancho Villa, but small-pocket sized .32s and .38s seemed to vanish after the introduction of more powerful rounds such as the .38 Special. But little do they know that these so called junkers were very popular for metropolitan police use as late as the 1930s.
The Smith & Wesson New Departure or Safety Hammerless aka Lemon Squeezer was a popular hideout gun.
Top break revolvers manufactured by Smith & Wesson, Iver Johnson and Hopkins & Allen are often found today with markings from police departments such as Baltimore, Detroit, New York and Boston. These were not exactly peaceable "Mayberry" type towns in the past either.
One such revolver may have been designed as a response to an alleged early 20th century gun grab. The story goes that a police officer was making an arrest in an east coast city and was holding the suspect at bay with a Smith & Wesson Model 2 Double Action revolver. Not wanting to spend the night in the hoosegow, the ballsy perp reached for the copper's Roscoe and grabbed the top latch, opening the action, ejecting his 5 shots of 38 S&W and fled while the flatfoot was left stupefied at what just happened.
In today's culture the manufacturer and the officer in question would be lambasted and lampooned mercilessly. One might make the argument that the manufacturer would issue a recall over a single incident. However, 1909 was a different time. The legend goes that the president of Smith & Wesson tasked his engineers with designing a safer revolver to prevent this from happening. The result was the Smith & Wesson Perfected, the strongest top-break pocket model ever made.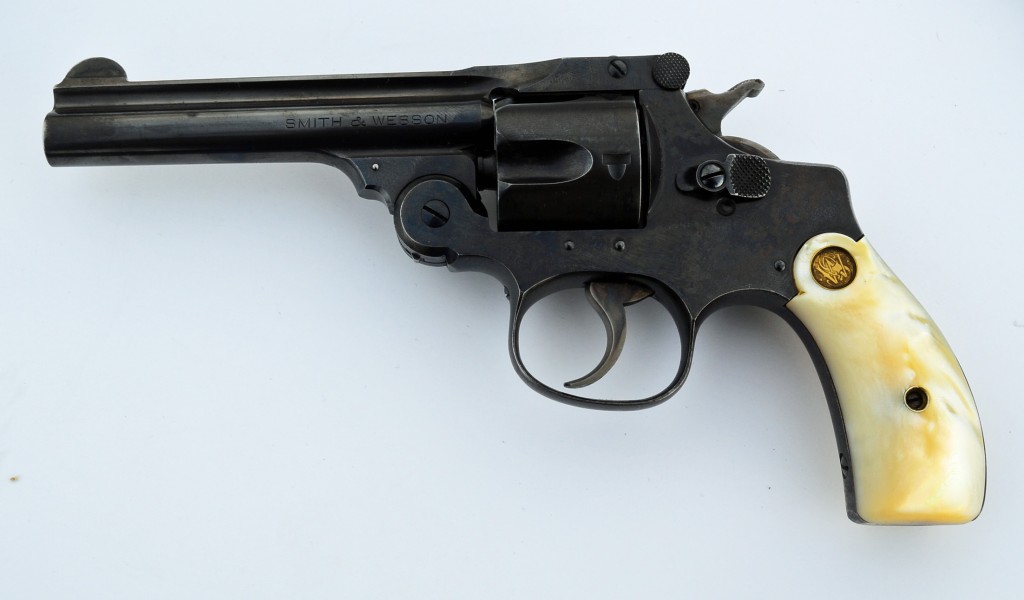 The engineers incorporated a side plate latch that had to be pushed forward along with the top latch in order to open the action. In retrospect many collectors refer this revolver to the category of folks who wear belts with suspenders. Yet it was a direct solution to a problem and designed in the interest of saving lives. Not bad for the folks that gave us the dreaded "Hillary Hole" in the 90s!
Perhaps the marketing types were hoping for a retrofit project to install this feature on the hundreds of thousands of top breaks made in the previous 75 years, particularly for departments that did not want to buy new revolvers. After all, $12 was $12!
In reality, this short-lived model (49000 made between 1909 and 1920) was eclipsed by the actual feature it implemented, the side plate latch.
This was being used on swing-out revolvers that used a solid frame, which meant that stronger rounds could be used over the .32 S&W and .38 S&W black powder-era loads. It ushered in the .38 Special as a potent police round and blazed the trail for the larger Magnum rounds of later years.
The Perfected model incorporated the trigger guard as part of the frame, used a forged front sight blade and could be had in barrel lengths from 3.25″ to 5″. Access to the lock work is achieved through the right-hand side plate as opposed to the left as found on every other Smith & Wesson revolver.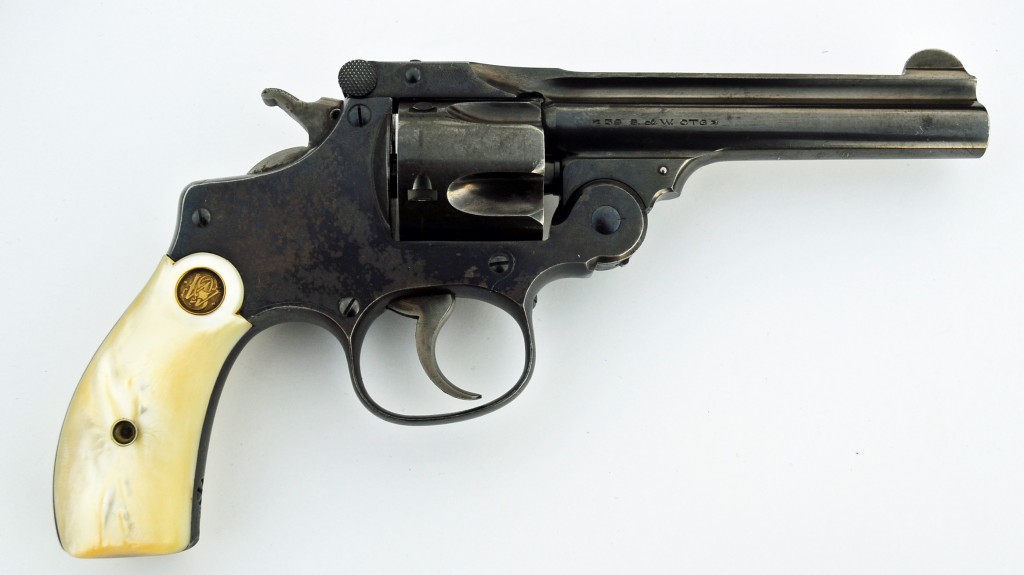 No one knows how many lives were saved (if any) by this invention, but many modern collectors falsely believe that it was a transition piece between top break and swing out revolvers or marvel at the seeming absurdity of the redundant locking system.
It certainly beats the snot out of the "Hillary Hole".
---
Mad Duo, Breach-Bang& CLEAR!
Comms Plan
Primary: Subscribe to our newsletter here, get the RSS feed and support us on Patreon right here.
Alternate: Join us on Facebook here or check us out on Instagram here.
Contingency: Exercise your inner perv with us on Tumblr here, follow us on Twitter here or connect on Google + here.
Emergency: Activate firefly, deploy green (or brown) star cluster, get your wank sock out of your ruck and stand by 'til we come get you.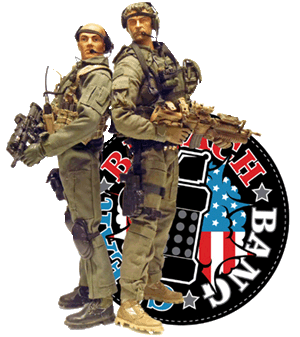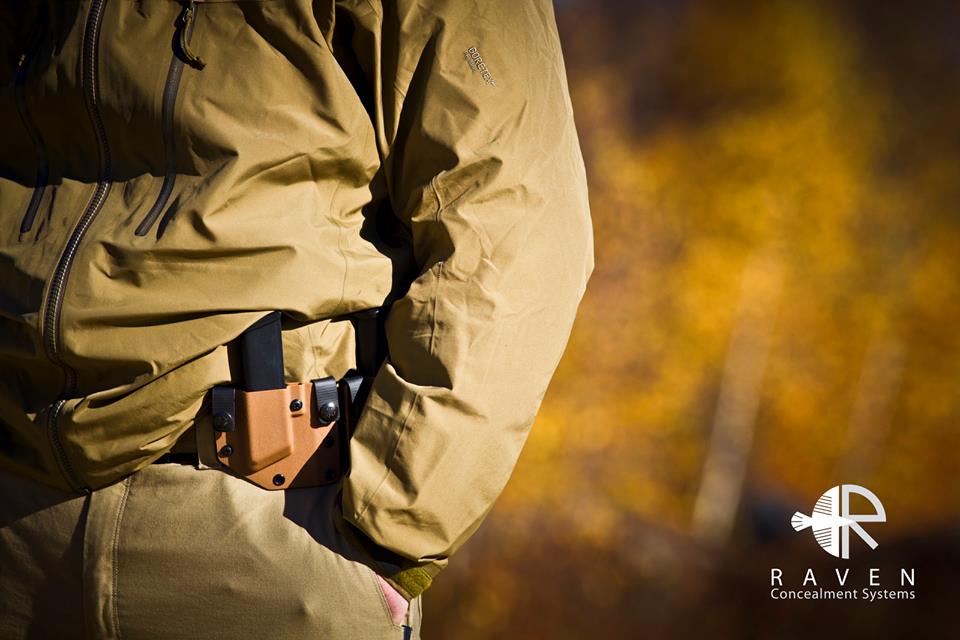 More About Raven Concealment
Many of you are familiar with RCS and their outstanding quality and craftsmanship; for those of you late to the game, we'll break it down Barney style so you can get up to speed: Out of the nearly 20 wretched, execrable minions we have slaving ceaseslessly writing for us, over 2/3 of them utilize RCS gear every day.  Frequently duplicated, often imitated, their modular holsters allow a whole series of different modes of carry. With practical inventions like the Vanguard, they even have helped popularize efficient means of appendix carry. For those that attend professional firearms training, its more common than not to see many of the best instructors running RCS rigs. In fact, many of their products are used throughout America's elite SOF community, federal, state and small town law enforcement, competition shooters and plenty of regular Joe Sixpacks.
Read about our adventures with them at SHOT Show, and be sure to check them out online at RCSgear.com