We lost a great man over the weekend. That man was a tremendous influence on one of our writers. Here is his homage to Staff Sergeant William Guarnere. MD
This article was originally published on March 10, 2014.
RIP "Wild Bill" Guarnere: a Great American Hero
Staff Sergeant William "Wild Bill" Guarnere passed away on Saturday, March 8th, 2014. Wild Bill was one of the original members of Easy Company, 2nd Battalion, 506th Parachute Infantry Regiment (506 PIR) of the 101st Airborne Division. He fought from the invasion of Normandy to the battle of the Bulge during the Second World War. His service was so noted (and incredible) that it was heavily referenced in Stephen Ambrose's book Band of Brothers and later became almost universally known by the HBO miniseries of the same name.
Born in South Philadelphia on April 28th, 1923, Bill grew up during the great depression and built tanks at the start of WW2. This critical job protected him from the draft, but he left to join the US Army in August of 1942. Bill Guarnere was often jokingly referred to as "Gonorrhea" by his platoon buddies but later became more commonly known as "Wild Bill". This nickname appeared because of the ferocious intensity with which he fought during D-Day. Having learned of his older brother Henry's death in the Italian campaign, he despised the Germans and sought to kill as many as possible in vengeance.
Known to have a short temper and reckless attitude, he funneled this hatred into the assault and the ambush, risking death without hesitation and providing undeniable results in the process. He continued to demonstrate this unwavering, aggressive personality for the rest of the war, some would say for the rest of his life. Shot through the leg during Operation Market Garden, he was sent back to England to heal but was caught trying to escape the hospital in an attempt to rejoin Easy company on the front.
Making it perfectly clear he intended to escape again; the doctors kept him for another week before sending him back to the Netherlands and his beloved 506th. The 101st received orders to counter the last massive German offensive of the war, the Battle of the Bulge. This all-or-nothing attack, launched in December of 1944, left his unit surrounded and cut off while one of the worst winters in years settled in. Constantly under artillery and mortar attack, Staff Sergeant Guarnere lost the same leg that had previously been shot while trying to save his wounded friend Joe Toye. This massive trauma almost killed him, but he survived and was removed from the remainder of the war.
I grew up in Central Pennsylvania. I was lucky to have had the honor of meeting Bill Guarnere twice, as well as his former commander Dick Winters. Author Stephen Ambrose wrote the incredible account of Easy Company, "Band of Brothers," in 1992. Having bought the book as a teenager preparing to join the pre-9/11 military, this book was extremely important to me. It was and still is one of the best accounts of war I have ever read.
Stephen Ambrose described a tough, loudmouthed spitfire of a south Philadelphian, which Mr. Guarnere most certainly was. That old vet, missing a leg and sporting what can best be described as a mix of smile and grimace- stands forever in my mind as one of the toughest, meanest, and most respected warriors I have ever met.
Bill Guarnere told us that if we intended to serve our country, we needed to know the bloody truth of fighting. That we needed to prepare ourselves for the reality of loss and killing, that reality isn't what is we see in the movies.
While still a kid, only 16 or 17 years old, I had the opportunity to sit with him (along with my best friend, who'd made me buy the book and had talked me into joining the Marines with him). We had a long conversation about his service. For over two hours, he held nothing back while telling us his personal account. With graphic words of violence, horror and profanity, he recalled his amazing story. I was taken aback; never before had I heard a man so freely and vividly speak of killing, of loss, and of doing whatever it takes to keep your buddies and self alive. I was amused by how much he used curse words, trumping even my own WW2 grandfather in their use.
I will never forget that day.
There was mention of Steven Spielberg working on a TV show based on the book, which he seemed to have mixed emotions about. (Years later, after the HBO miniseries came out, I found the actor Frank John Hughes' portrayal of Bill pretty damn close.)
Bill Guarnere told us that if we intended to serve our country, we needed to know the bloody truth of fighting. That we needed to prepare ourselves for the reality of loss and killing. That reality isn't what is we see in the movies.
At that time, he was the only other person to describe this to me aside from my own grandfather. It hit home, and I often thought about that conversation years later while deployed to Iraq. I saw Bill one time after that while home on leave. I attended a reunion of World War 2 vets from my area, and he remembered me. I was still an extremely green Jarhead and old bastard gave me hell about joining the Marines and not the Army. He also reminded me not to forget what he had told me. I assured him I had not. He smiled, shook my hand and said, "Good. Don't you ever forget it kid."
The previous meeting was one of the single best and most influential conversations of my entire life. The second, brief and final meeting with Bill only solidified that message. Bill Guarnere was a larger-than-life man and one hell of a soldier. His service to his country, loyalty to his unit and men and unrelenting hard-as-nails personality have left an impact on so many people. He actively supported various veterans groups, even in his later years. He even penned a great book, "Brothers in Battle, Best of Friends" with Edward "Babe" Heffron, who we lost last year. He was an amazing man, and America is less of a place for having lost this old warrior.
Bill, I want to thank you for the honor of meeting you, spending a few precious hours of your time with me, and helping me in ways I cannot even put into words. You will be missed by your friends and family, and by all those you have helped so selflessly throughout your life.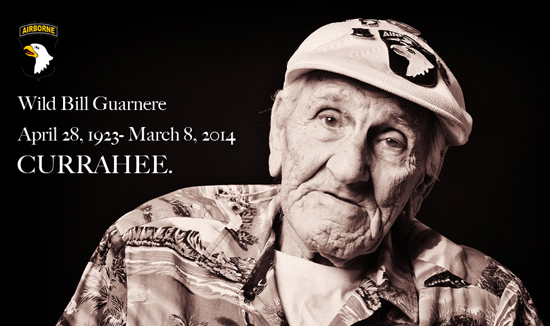 Rest easy, Sir, you have earned it.
I was still an extremely green Jarhead and the old bastard gave me hell about joining the Marines and not the Army. He also reminded me not to forget what he had told me. I assured him I had not. He smiled, shook my hand and said, "Good. Don't you ever forget it kid."
Nathan Murr
Further reading: