Review – Wild Things Lightweight Soft Shell SO1.0
We are now 2 years into wearing this lightweight softshell from Wild Things Tactical and despite abuse it still looks damn near new.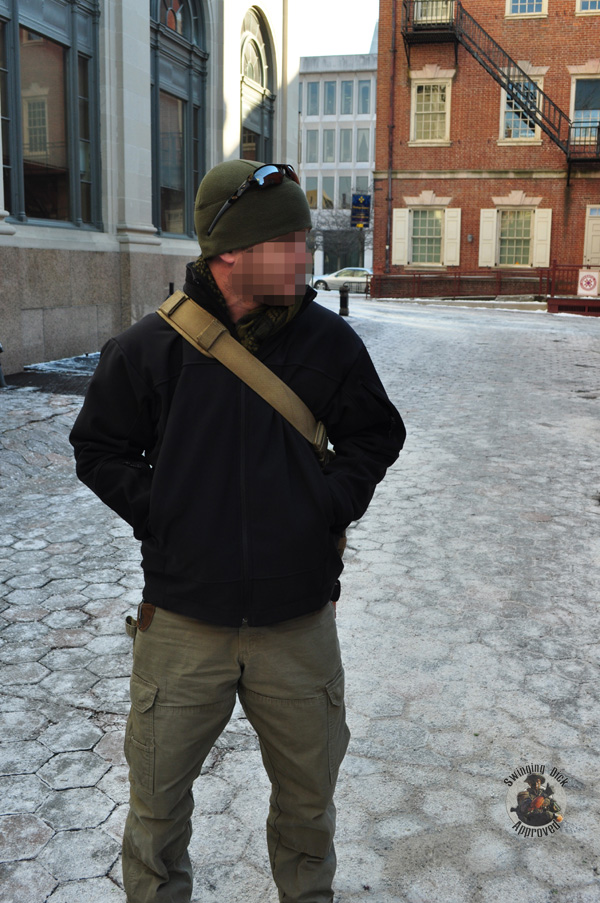 Wild Things Tactical makes good gear – any Jarhead lucky enough to get issued a "Happy Suit" (that's different from a "happy ending") can tell you that, as can Airmen or Soldiers who wore WTT built ECWCS. However, there's a difference between being issued something high end, technical and expensive and buying something high end, technical and expensive, especially if you've yet to start earning the massive paychecks Uncle Sam delivers to junior NCOs (or if you're a college student on your GI Bill). WTT's hi loft jackets, pants and booties* are a warm and welcome addition to military issue snivel kit; many are "combat lost" (or is that combat lossed?) and never make it back to supply. So while we knew ahead of time WTT makes top notch gear with modern materials and innovative designs, we wanted to put one of their jackets through its paces from a non-military perspective (like for those of us nasties who've left the service for the warm embrace of a public that mostly doesn't know we're at war).
*Oh – point of order. The only time in a grown man's life it is acceptable to wear "booties" is if people are trying to kill you on some shithole FOB or COP in Derkastan.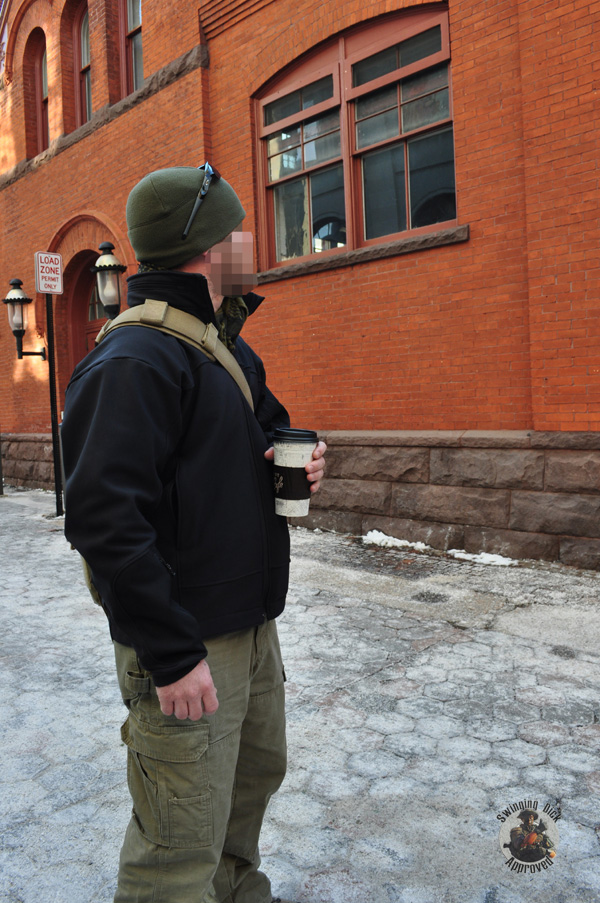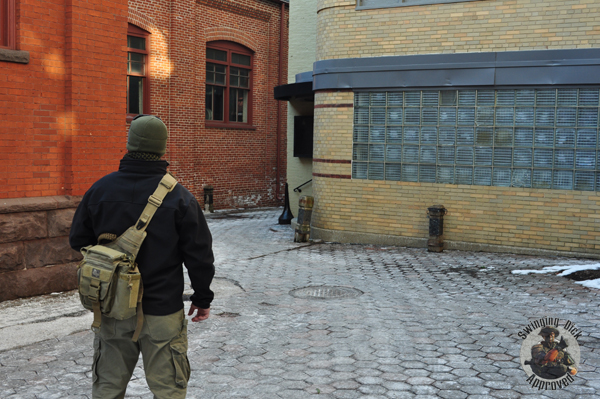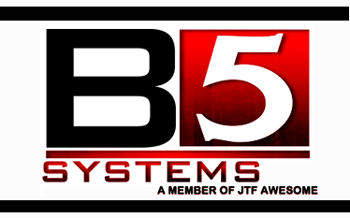 We received a WTT lightweight soft shell jacket (it's their Lightweight SO 1.0, style number 50005/60005) in the Fall of 2012 and we've been wearing it extensively at every opportunity. It's extremely lightweight (you can roll it and pack it tight) and ours arrived in basic black. That's basic black, aka standard black, not to be confused with midnight black or ninja black – we're not sure if these are still available without special order, as they only have Coyote and MultiCam on the website now. The first thing we noticed was the 'stretch' the fabric allows. That and the cut of the jacket (it's cut a little more generously than a 'technical' jacket would be, which we're guessing isn't an accident) allow it to move and flex with natural body movement. A couple of our guys wore it to different shooting classes, including a Victory First 'Fundamentals of EDC' class and it proved to be a great cover garment. At first we were afraid that stretchy, thin material would print worse than other fabrics or styles, but were able to carry 2 different large frame semi-autos underneath without it being obvious, even with the jacket zipped up.
Note – one of those was hip-carried OWB, the other was hip-carried IWB, however it's important to note that we were evaluating a jacket in size Large. Because our team members assigned to this one vary between a Medium and Large depending on cut, they usually try to try jackets on before spending the money. In this case while we would probably best fit in a Medium we chose a Large to allow for additional layering and to allow for a concealed handgun and spare magazines. As you can see from the pictures it doesn't look like it's swallowing our reviewer up, but that's something you should keep in mind.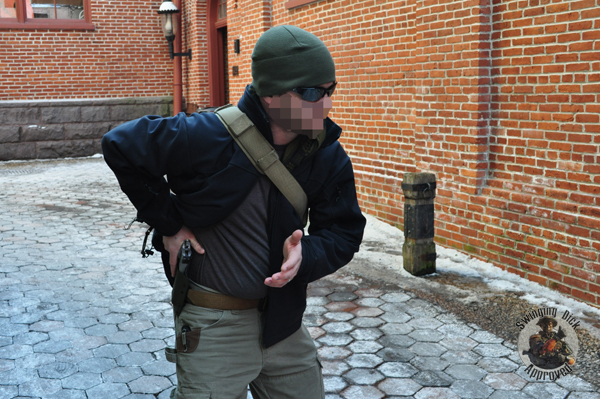 Zippers are YKK throughout. They've proven smooth and durable throughout our review period (even holding up to a couple 'rip open' moves to get to a gun, though we wouldn't make a habit of subjecting it to that). Few things pisses us off more than when a damn pull tab tears off or a zipper gets so hard stuck you have to take a multitool to it. The lightweight softshell sports a rollout hood that's so light you won't even know it's stored inside the high collar (it also adds to insulation on your neck, where you lose a lot of heat). The hood is thin enough that you can wear it under a helmet or a hat if you're so inclined. We were initially skeptical about the hood regarding water repellent capability, in fact we were dubious about the jacket overall. Apparently we're crayon-eaters – this thing withstands water beautifully. One of our guys wore it during the worst downpours of Hurricane Sandy (true story) and many range days in unrelenting rain and his torso remained bone dry (not so his lower body, but that's another story). A few months later another one of our guys wore during the storms accompanying some really bad tornadoes that hit Cleveland and Garvin Counties in Oklahoma. He reported the same performance.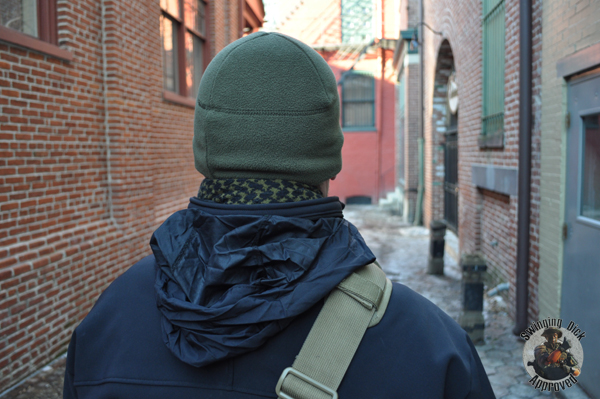 Despite the lack of pit-zips the garment is very breathable. It works well with several warming layers and even while moving with a sense of purpose all day we weren't drenched in sweat – that leads us to a very key point. This is a LIGHTWEIGHT jacket. If you buy one, throw it on over a t-shirt in the middle of winter and go stomping around at night your dumb ass is going to freeze. It's great as is for general purposes in spring and summer or an outer layer in fall and winter but a parka it is not. Our minions like to layer for warmth. It's the most effective and versatile way of staying warm without overheating and then freezing later – dress accordingly.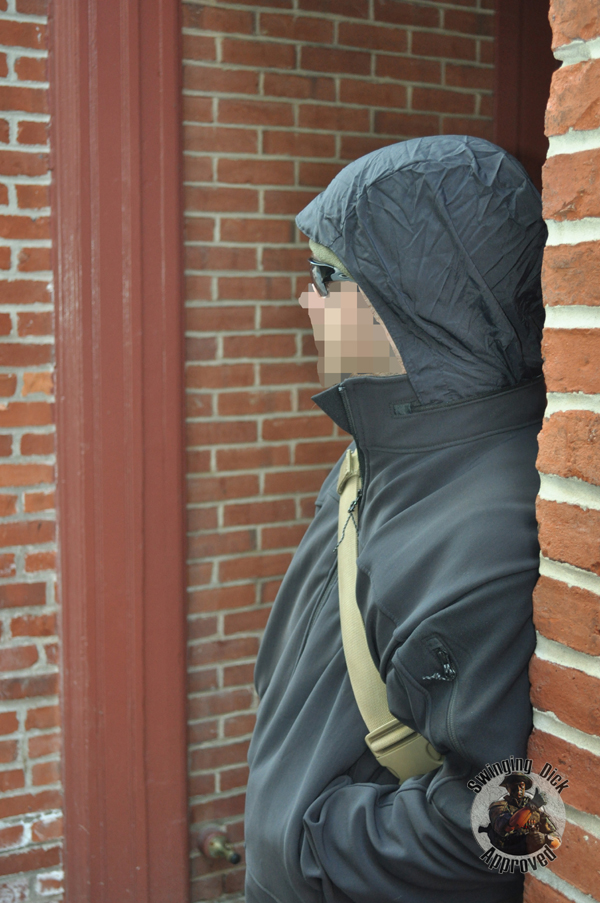 Now to the pockets, which we all know are designed to carry stuff and /or hide your dick-skinners. The slash pockets in this jacket give access to lightweight but durable mesh lining. At first we didn't care for the feel of the mesh but soon came round to it. Silly as it may seem, we like the ability to look in and find items visually when the jacket is zipped open. Of course, there are arm and bicep pockets What tactical jacket would be complete without those? We're not gonna lie, we love 'em. The bicep pocket on the left arm is large enough to comfortably carry a smart phone and the lower arm pocket on the right sleeve is plenty spacious for a can of Skoal or a dozen magnum condoms (whichever one you might need more).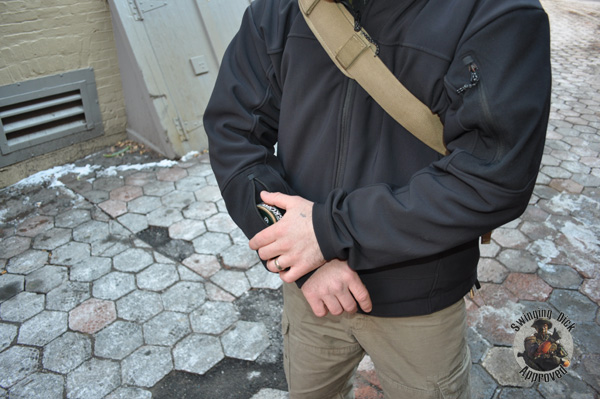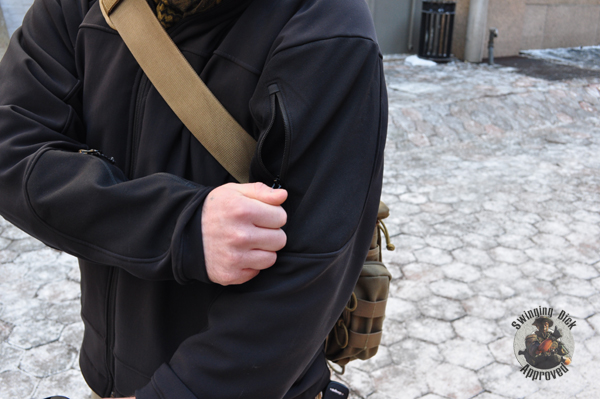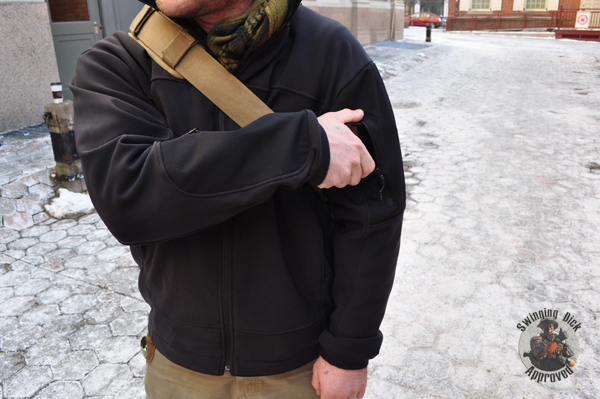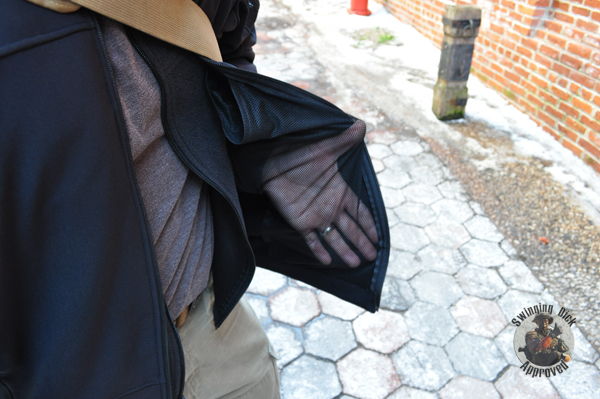 One last minor feature we appreciate is the blank name space on the interior – it's not something someone can tear out or easily cut away, so it will be harder for some shady fucker to take off with your snivel kit and claim it's been his all along.
Final tally – the WTT Lightweight Soft Shell Jacket is a very versatile, low-profile garment that will give any hard working Pew Professional or American Jedi years of use, keep you dry in the worst of weather and not break the bank – the Coyote Brown version on their site is listed at $219.00; the MultiCam is substantially more expensive at $309.00. Presumably that's because MC fabric requires additional fees to build (that same price difference can be seen to varying degrees on many pieces of gear when standard colors are compared to MC). This doesn't bother us because we wouldn't wear MC around everyday anyway. You'll have to decide if the cost is worth it if you require a cammie outer garment, but we can reassure you regarding cost:value. If this jacket said PATAGONIA, ARCTERYX, MARMOT or something similar on the outside, it would probably be substantially more expensive. Our opinion is that with WTT you're getting designer brand quality for a more reasonable price. This isn't to say those others don't make an outstanding product, but they're certainly not intended for everyone's wallet. It's a tight weave and takes a beating. For the price it's hard to beat if you need it. Remember to shop around – they're somewhat less expensive on LA Police Gear and we've seen them pop up on eBay as well.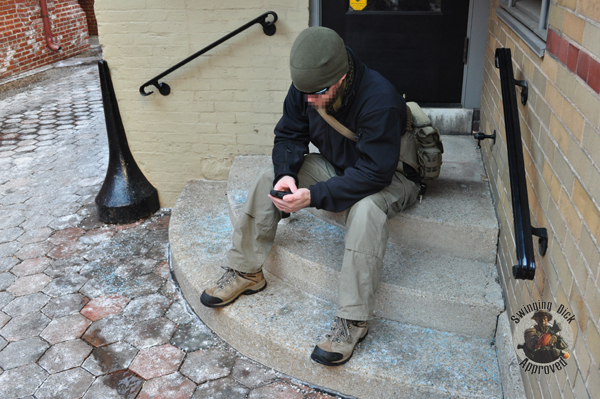 Wild Things Tactical is on Instagram (#wildvibes), on Facebook, Pinterest (don't take our man card, we're just relaying information here), Tumblr and Twitter.
Mad Duo, Breach Bang & CLEAR!