WCW | The Return of Deadwood and the 1875 Remington
The IMFDB (Internet Movie Firearms Data Base) is saying Deadwood might be coming back.
Those of you who aren't hippies or dirty Commies will remember Deadwood as the immensely popular (and incredibly profane) Western that aired for a few seasons on HBO over a decade ago. That brings us to this installment of WTW: the 1875 Remington. Those of you who are sixgun aficionados may recall Sheriff Seth Bullock (played by Timothy Olyphant) carrying an 1875 Remington.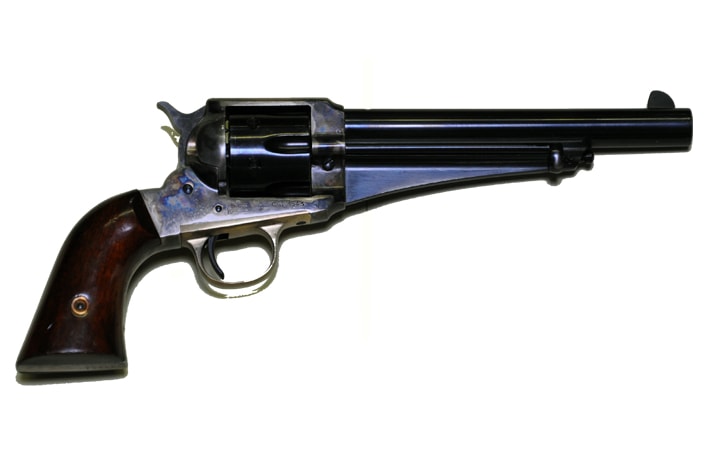 The 1875 Remington, built by E. Remington & Sons of Ilion, NY, has been described as the "handsome marriage" of the New Model Army and Navy cap-and-ball revolvers with the all-but-ubiquitous 1873 Colt Single Action Army. It was initially chambered in Remington's proprietary centerfire .44 cartridge. That cartridge used the outside-lubricated, heel-based manufacturing style you'll still see today in the .22LR round and was discontinued by the end of the 19th century. Later guns were produced in both .45 Colt and .44-40. Approximately 25,000 Remington 1875s were produced, nearly half of them purchased by Egypt (which had just invaded Ethiopia, and whose Pasha was excavating the Suez Canal at the time). The Republic of Mexico later ordered 1,000 of them, but demand for the weapon was comparatively low and it never really rivaled the Colt.
Here's what the NRA museum says about the so-called "Improved Army" or "Frontier Army" revolver.
"The U.S. government purchased fewer than 650 for use by Indian police, and another 1000 were sold to the Mexican government circa 1880. The Egyptian government contracted for delivery of 10,000, but few were produced and delivered due to significant unpaid debts owed by the Egyptians for Rolling Block rifles.

Between 25,000 and 30,000 were manufactured during the years 1875-1889 in three different chamberings: .44 Remington Centerfire; .44-40; and .45 caliber. These were not optional; rather, the caliber of production models was determined by their date of manufacture. .45 caliber cylinders were slightly longer to prevent accidental insertion into a .44 frame. Standard features included a fluted cylinder, walnut grip panels, blued or nickel-plated finish with case-hardened hammer and loading gate, and a lanyard ring. Standard barrel length was 7-1/2 inches, although a very few revolvers were produced with 5-3/4 inch barrels."
If someone was looking for a modern version of Bullock's sixgun, Uberti makes a remarkably accurate reproduction of the weapon in the 1875 Army Outlaw and 1875 Frontier (both chambered in .45 Colt).
[embedyt] https://www.youtube.com/watch?v=O4pOoSe5Bio[/embedyt]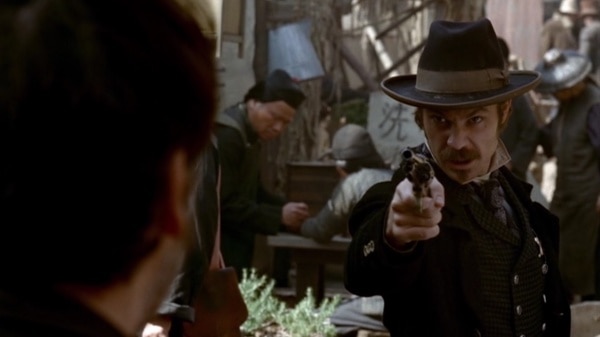 Here's what IMFDB has to say about Deadwood:
"Based loosely on historical characters and events, the show's script was penned by David Milch of Hill Street Blues and NYPD Blue fame. The only blue that Milch brought to the table on Deadwood was the raw language.

The real language in the script was actually Shakespearean to our ears, with the cuss words thrown in for the right seasoning.
As a show it seemed to have a huge following but HBO, in their wisdom, decided to cancel it to make room for shows like John from Cincinnati and Curb Your Enthusiasm, which no one seems to watch anyway.

It left fans of Deadwood hanging with an abruptly ended third season that never wrapped up the series.

The story was an evolution told through the town. It starts as a lawless mining camp outside the official boundaries of the United States, but shows that in spite of this free spirit, people must be governed and will eventually make their own laws and codes for living.

Rumors of a wrap-up project have circulated for years. We heard everything from a theatrical two-part movie to 2 more seasons and everything in between.

Speculation on our part if wanting to do Deadwood justice as well as following the timeline would include the Deadwood Fire of 1879. With the town having a theater and opera house and looking more civilized than the first season's plywood shack and tent city; destruction would follow with the subsequent rebuilding.

We have no idea what the project will entail, but from what we have seen on social media from the stars of the show it looks like it will be a winner.

Let's just hope HBO picks it up."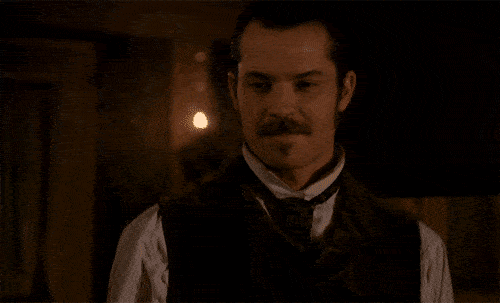 ---