Strike Industries Releases LINK Tripod Adapter
"It's dangerous to go alone! Take this!" If you name something LINK and it involves guns you have to expect me to make jokes about our favorite sexually ambiguous Nintendo hero. Nonetheless, the new tripod adapter from Stike Industries has nothing to do with standard firearm tripods — or even swords.
This particular tripod adapter is a big deal because it attaches to your gun and then attaches to a camera tripod. Thus, it's a link. It will allow you to use any tripod with a 1/4″ – 20 threaded screw. So basically all of them this side of the hemisphere.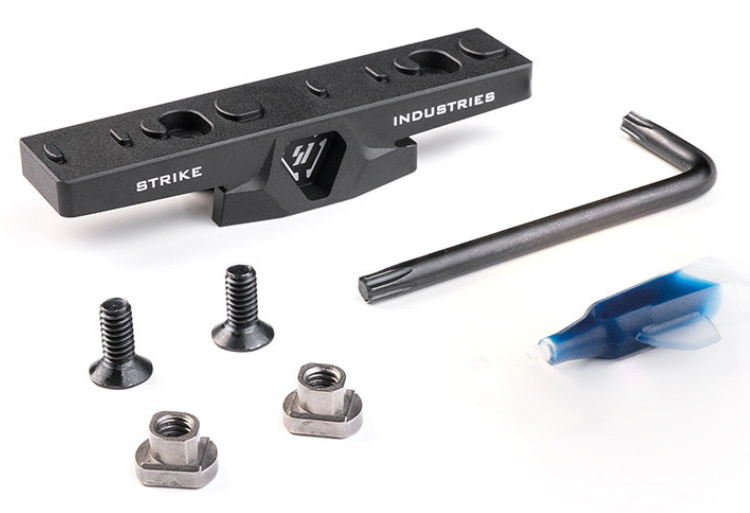 The Link Tripod Adapter
The Link Tripod Adapter attaches to your rifle's handguard and will work with both M-LOK or Keymod. This Link system makes it universal for modular handguards and quite handy if you swap it between rifles. The Link Tripod adapter is also very small and lightweight. It's a low profile design that blends into your rifle when unattached to your tripod. It weighs an ounce and while ounces equal pounds, and pounds equal pain, I'm gonna ask you to stop being a bitch about an ounce.
The Strike Industries Link Tripod adapter is made from 6061 aluminum and hard anodized finish. It's tough, light, and gives you an adaptable solution to mounting your gun high and keeping it stable. Camera tripods come in all sizes and shapes and every price point. Hell, attach a selfie stick to your gun and get your Instagram girl on. Make sure you finish a squat challenge before you do. The Link Tripod Adapter is available now and you can find it at Strike Industries.
Product Features:
-Patented LINK mounting system (M-LOK and KeyMod compatible)
-Enables easy mounting on tripod plate w/ standard 1/4″-20 thread
-Low-profile and lightweight
-Cost-effective tripod mounting solution
-6061-T6 aluminum
-Bead blasted hard anodized
Like what you read here? Consider backing us on Patreon.
You'll be automatically enrolled into the Tactical Buyers Club, thus getting dozens of discount codes to high-end companies in the tactical/firearm/outdoor arena, and you'll earn the right to wear the House Morningwood sigil.
⚠️ Some hyperlinks in this article may contain affiliate links. If you use them to make a purchase, we will receive a small commission at no additional cost to you. It's just one way to Back the Bang. #backthebang