They specifically told you Tijuana is off limits. They were very clear about staying out of the brothels, which are thick with the herp and controlled by the cartels. They were very exacti with their words when they explained you must always let someone know where you are going, when you will be back and to always have a buddy with you.  You didn't listen though. You issued no GOTWA before rolling out and now you are tied up and captive in a dirt floor basement.
The smell of dead hooker and musky urine soaked desert sand fills your nostrils. Your mind races as you try to figure a way out of this mess. This time, the cavalry isn't on its way. This time, you are on your own. The sound of knives being drawn across whetstones and drunk, malicious laughter seeps in from the adjacent room.  You strain against the course hemp rope binding your hands and feet. It feels rough and abrasive, yet still somehow sticky from someone else's blood. Maybe several people's blood? As you lay there wriggling in the dirt, acknowledging just how fucked you are, and how little time you have left-you remember something – a small, simple, silly gift from a old dominatrix girlfriend. Your Titanium Escape Ring!
You slide the dull, tarnished silver ring off your finger and catch a fingernail on the coiled tool concealed inside. "Yes! It's still there!" you whisper silently to yourself
Your nail pries out the miniature escape tool covertly tucked inside the barstock titanium ring. It pops out and you immediately start to use miniature saw teeth of the 2" long tool to cut the rope. Shuffled footsteps and more laughter from outside the door. You saw faster! Your freaky Ex told you it would cut through rope, duct tape and zip ties, and she was right. In less than a minute your hands are free, and you start to untie your legs when you notice the laughter has stopped, along with the sound of sharpening knives. Now you only hear the dragging of heels and clanging of steel getting closer. They aren't bringing one rusty knife, they are bringing a bunch. You finally free your legs as the door knob slowly turns, two voices snickering and calling out inaudible taunts from the other side.  Your head lightly brushes the single light bulb hanging bare from the basement's ceiling, and it slowly swings back and forth. You don't have time to notice the pendulum of light shifting across the room, as you make it to the knob side of the now opening door.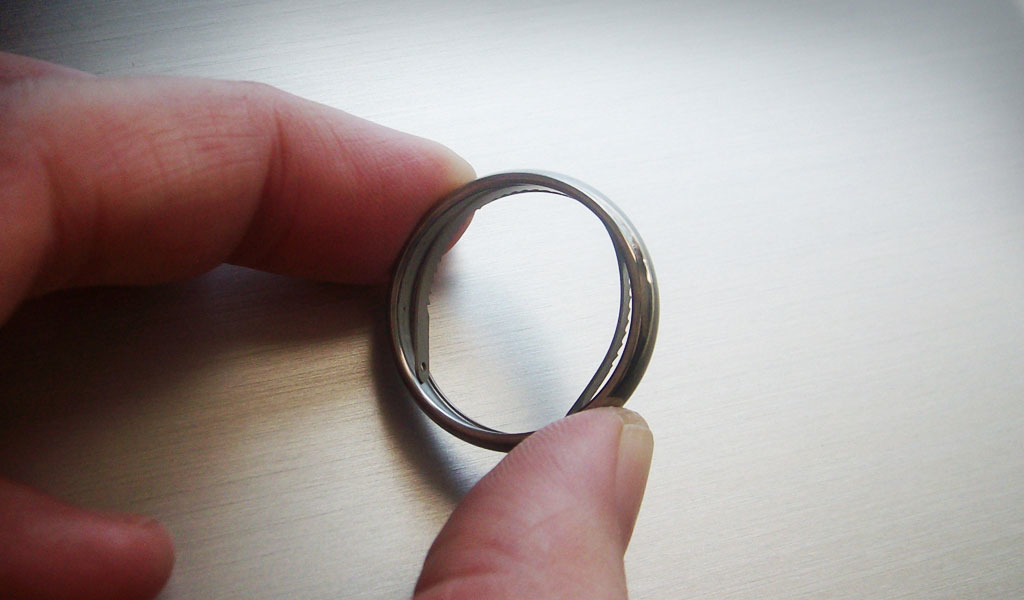 But your captors do, as the old creaky pinewood swings open on rusty hinges.  Their moment of befuddled confusion is your only opportunity to get yourself out. Both of your chafed and raw hands grab the first bastard's right, the one his holding the knife with. You spring upward, with compressed energy and his hand trapped in your own. You drive the blade deep into his throat, and then free it diagonally out and away. Before the body has hit the floor, you swing wide and step into your next strike, closing the distance and slashing another throat.  You collect your wallet, keys and phone from a dirty table in the next room.  You notice a under folding AK-47 hanging from a nail on the concrete wall. You check the mag and chamber, it's topped off. As you debate taking it along on your escape, you hear the stairwell door open above, and more footsteps coming your way.
"My escape ring got me this far," you think to yourself, "it's up to me from here on out." You make a silent promise to yourself, that if you make it out alive that you will go thank your ex-girlfriend for the American-made Titanium Escape Ring. The footsteps are growing closer, and you push the AK's safety to full auto.
Read the specs, and order one here.
Maybe if you're lucky you'll even be able to use it as a garrote.