The Sharps Bros Overthrow | TRIGGRcon Boss Build
TRIGGRcon 2018 is now behind us. It's time to start running down the "TRIGGRcon BOSS Build." This is gonna be an AR15 pistol, built on a Sharps Bros. (@sharpsbros) Overthrow lower. I chose the Overthrow for a number of reasons, not least the symmetry. The Overthrow was first revealed last year at the first TRIGGRcon proper, (TRIGGRcon 2017) so it seemed apropos.
Here's a look at it. Some of these photos are from Sharps Bros. Others were posted by various Cerakote artists on social media. The latter are labeled as best I could.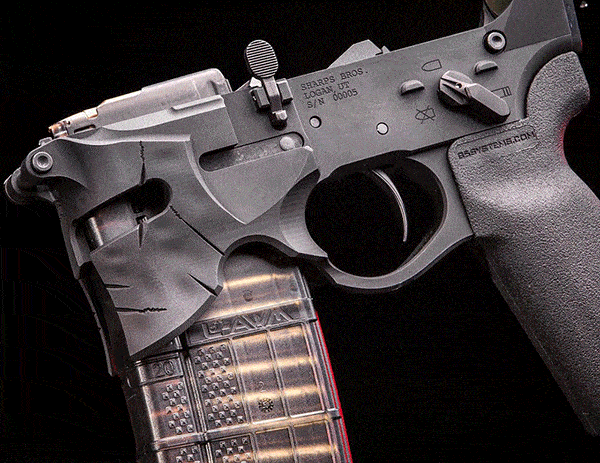 Design for the Overthrow began back in 2016, but it wasn't until July 2017 that it was publicly revealed. As Mr. Sharps explains it, it usually takes nine months to a year to go from a napkin drawing to a finished design. The more complicated, obviously, the longer it takes to complete, and the more iterations of works-in-progress along the way. There are many steps to completing a design like the Overthrow and its predecessors The Jack, Hellbreaker, and Warthog. 3D versions are printed, additional CAD drawings done — for The Jack they even took dental models to get the teeth right. The Overthrow is extremely detailed, with dents, cracks, sword cuts and other "battle damage" carefully machined in, though it's not too overdone. There's a fine line between looks like shit and amazing; thankfully, they didn't cross it.
So, why the Overthrow? The Sharps Bros naming convention is an interesting one.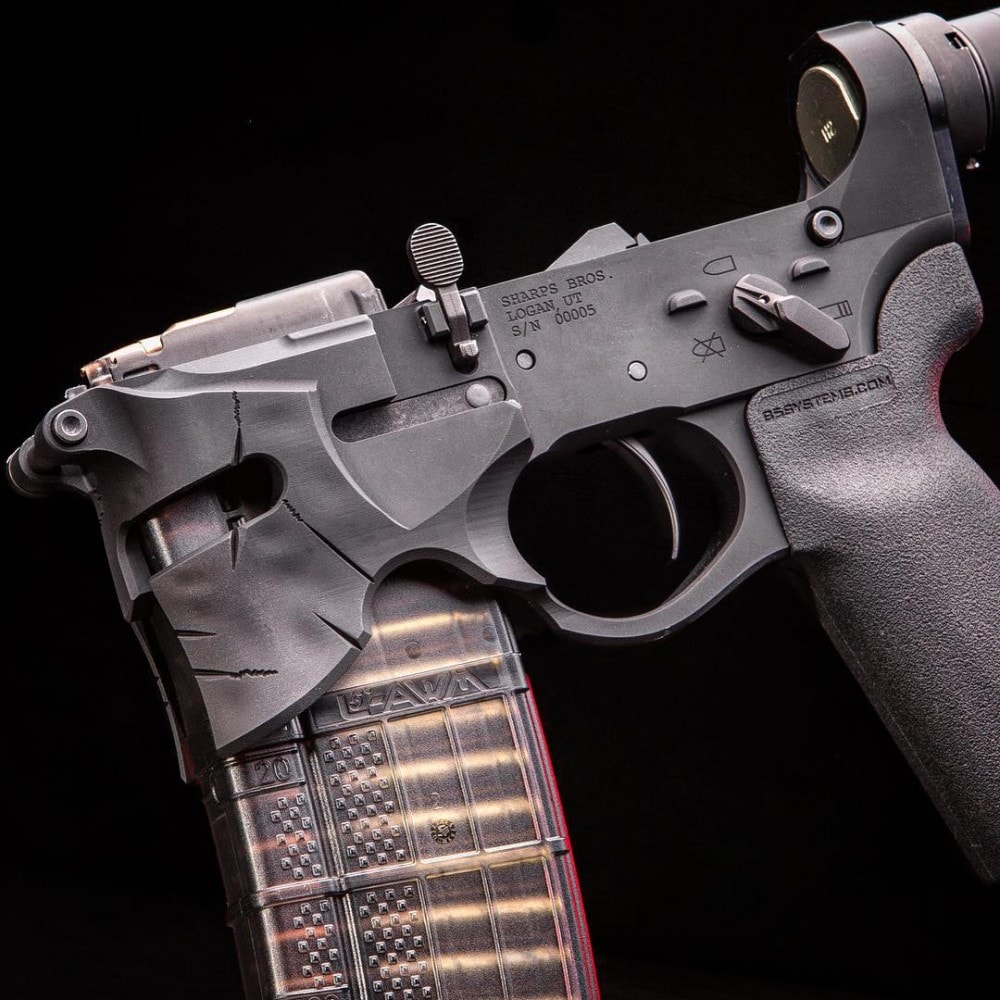 "I want each name to sound like something that could be an AC/DC record," Mr. Sharps says, which seems reasonable. I could see Chris Slade hammering out some tunes at an Overthrow – Live at Donington show while Brian Johnson rasps out some awesome.
Anyway, Overthrow is a better name than Corinthian Helmet, which is historically correct but doesn't exactly roll off the tongue. Nor is it as tired as the increasingly banal (and contradictory) This is Sparta! schtick.
I know. Semantics. It's my article though, so I can be pedantic if I want.
It's not surprising that so many Cerakote artists choose to work with the Overthrow. It makes for a pretty badass blank canvas. One has but to see the posts from different artists to see the truth of that. The first image that caught my eye was posted by @blowndeadline, but many others have produced gorgeous work. Among them: @johnsoncustomsllc, @wepleadthe2nd,  @averagedadarmory, @edubcustoms, @cerakote_hawaii, @hilandarms, @advanced_shooting_solutions, @rogue_gunn_works, @candbqualitycoatings, @cj_custom_firearms, and others I've no doubt missed.
---
Now, a commercial break…

---
I know there will be some who bemoan this as impractical, unnecessary, or silly, or what have you. That's all beside the point — I have practical guns. I don't need another one. I want to build something that both looks different from the blasters around it and suits my not so latent inner history nerd. Granted, it looks more appropriate to social work in Xanthia than Zangaro, but let's be honest. The impractical/unnecessary label is at best arguable. Take a look at some of the reviews that are out there.  They're hardly scathing. Would I take an Overthrow-built rifle on duty in a patrol car, or off to war in some faraway land? Prob'ly not. That's hardly the only measure of a good firearm, though. So, let the haters hate, I'm going to enjoy building and shooting this. And honesly, I'll probably wind up giving it as a gift to one of my child army.

You can learn more about it here on the Sharps Bros. Overthrow page, or  (should you care to) go directly to their distributor, Rainier Arms, and buy yourself one.
You can read up on Sharps Bros. in Fred Mastison's article …Changing the Face of the Gun Industry on the Ballistic Magazine site, or David Kenik's …a League of Their Own on Tactical Life.
Now take a minute to watch this.
"This country, with its institutions, belongs to the people who inhabit it. Whenever they shall grow weary of the existing Government, they can exercise their constitutional right of amending it or their revolutionary right to dismember or overthrow it." – Abraham Lincoln