We're halfway through the calendar year but they keep on coming! About time we updated this!
…the new guns of 2019.
This article will be updated regularly, with the most recent weapon we've added appearing up top. They will not be appearing in any particular order.
We gorked this post up and lost most of it during a botched editing attempt done with more nicotine and whiskey than good sense. So, we're gonna leave what we recovered and just update from there.
And let that be a lesson for you – no bourbon, not even Buckshee, will suddenly make you a Word Press guru. No matter what that damn Canadian says.
We'll count from bottom to top.
---
8. MasterPiece Arms Introduces the MPA BA Precision Match Rifle/Competition Rifle

Clearly, we're going to Shot Show this year, so you know we're stoked to see the new MPA BA Precision Match Rifle, which is where they'll be making their debut.
This bad boy is a competition rifle built with the production class requirements of the Precision Rifle Series, meaning it's been approved to be used within the division.
And even with all of its fancy competition features, they still managed to keep it under the $2,000 limit.
With an MSRP of $1,999.99, you can get it in either a black or Tungsten Cerakote® finish. But, we know it's not the finish that makes the gun. It's the Ultra Lite Chassis, the v-bedding system—which will provide additional clearance for glass bedding action—and straight section of the barrel.
And if that doesn't make you tingle a bit, the chassis also includes a built-in inclinometer, a thumb notch, lower mounted Picatinny Rail, 20 MOA Scope Rail, an A2 Style Pistol Grip, and it's R.A.T. System compatible.
And we can't forget to mention that the buttstock comes with an adjustable cheek riser.
What else might this competition rifle have, well an X-Caliber hand lapped 416R Stainless Premium Barrel Blank with a polished barrel finish, of course. Also, they tell us the chamber is indicated within 0.0001" or less to the bore of the rifle.
Specs
Caliber:

6mm Creedmoor, 6.5 Creedmoor, 308

Action:

MPA/Curtis Short Action

Bolt:

60 Degree Bolt Throw

Chassis:

MPA BA Hybrid Chassis

Chassis Weight:

3.5 lbs.

Rifle Weight:

11.5 lbs.

Barrel:

X-Caliber Hand Lapped 416R Stainless Premium Barrel Blank

Barrel Twist:

Caliber specific

Barrel Length:

26"

Barrel Muzzle Thread:

5/8-24 TPI

Barrel Profile:

#7 Contour

Coating:

Cerakote Chassis, Polished Barrel

Length of Pull:

13.75 – 15"

Trigger:

Trigger Tech Special

Trigger Pull:

1 – 3 lbs. (Customer Choice)

Magazine:

AICS Type (10 Round Magpul/AICS Type Magazine Included)

MSRP:

$1,999.99
If you're interested in purchasing this precision instrument, visit their website here.
7. Christensen Arms Traverse Precision Hunting Rifle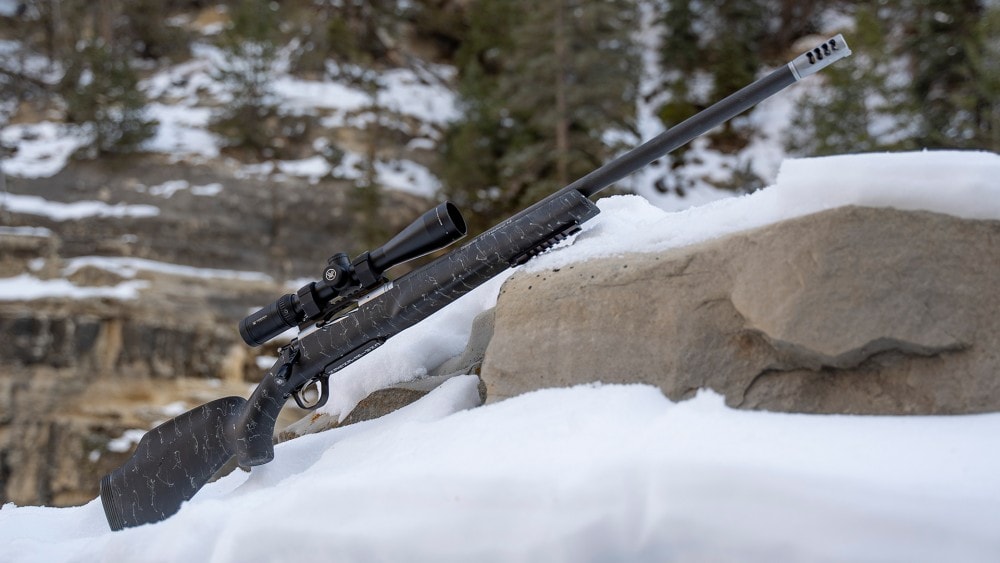 We're told the Traverse was designed with the wimpiest in mind, okay we're kidding, but no really, this rifle starts out at only 7.3 lbs. for the short action, and 7.7 lbs. for a long action rifle. They say it was designed to be lightweight inside and out by using the best materials and carbon fiber.
The Traverse also comes in a crap-load of chambering options, because how much fun can you really have when variety doesn't exist?
22-250 Remington

243 Winchester

26 Nosler

6.5 Creedmoor

6.5 – 284 Norma

6.5 PRC

7MM-08 Remington

7MM Remington Magnum

28 Nosler

280 Ackley

270 WSM

270 Winchester

308 Winchester

30-06 Springfield

300 WSM

300 Winchester Magnum

300 PRC

30 Nosler

300 RUM
Each comes with pretty standard features. These features include stainless steel action—of course— a side-baffle muzzle brake and an optic rail with an included 0-MOA.
Again back to that carbon fiber thing, you guessed it, that's what the barrel is made of.  If that's not enough, the match-grade trigger is adjustable and they went ahead and included an oversized bolt knob—in case there's any chance you might lose it.
Overall, Christensen Arms is pretty proud of this one, with its carbon fiber composite Monte Carlo stock you get a raised comb and a modified Beavertail forearm. It also includes a 4" bottom Picatinny rail, so you have a place to put your bipod.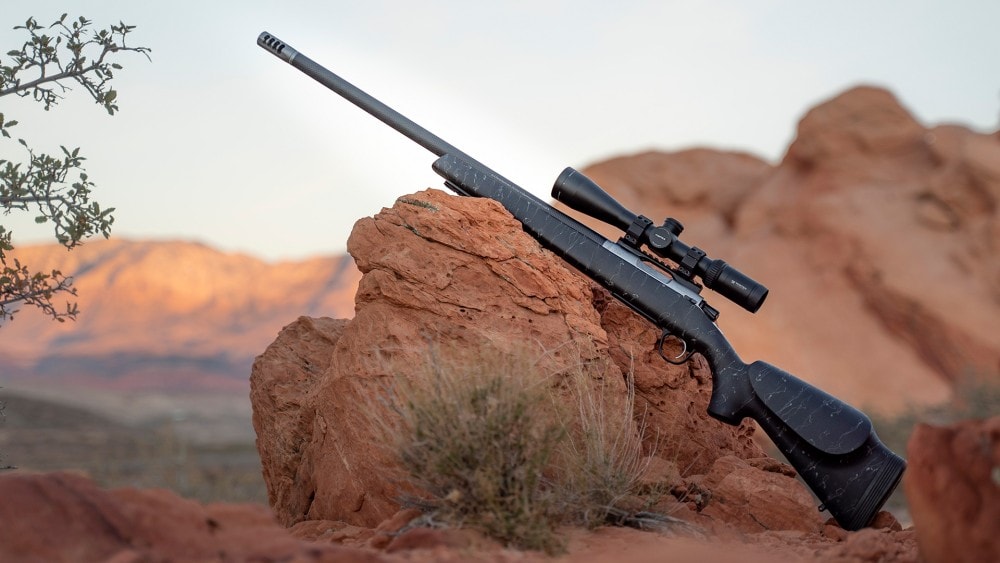 And how much might this beauty cost you, well the retail price runs at $2,395.

6. Magnum Research.500 Linebaugh BFR
They say it stands for "Biggest Finest Revolver", but we're really hoping that middle word in some way revolves around Fuck. The .500 Linebaugh round was created in 1986 by John Linebaugh. Magnum Research says, "While a few companies offer the .500 Linebaugh as a full custom piece, Magnum Research is the only one to offer this caliber in a production revolver. The .500 Linebaugh has a bullet diameter of .510″ as compared to only .500 in. for other .50 caliber rounds, excluding the .50 BMG."
We're told the he .500 Linebaugh BFR is available in four configurations. The standard model with a 7.5 inch barrel (BFR500LB7) or 5.5 inch barrel (BFR500LB5) has an MSRP of $1399, and the standard model featuring Bisley grips with a 7.5 inch barrel (BFR500LB7B) or a 5.5 inch barrel (BFR500LB5B) has an MSRP of $1482. Find Magnum Research online, www.magnumresearch.com.
It's even got its own Instagram account, @biggestfinestrevolver.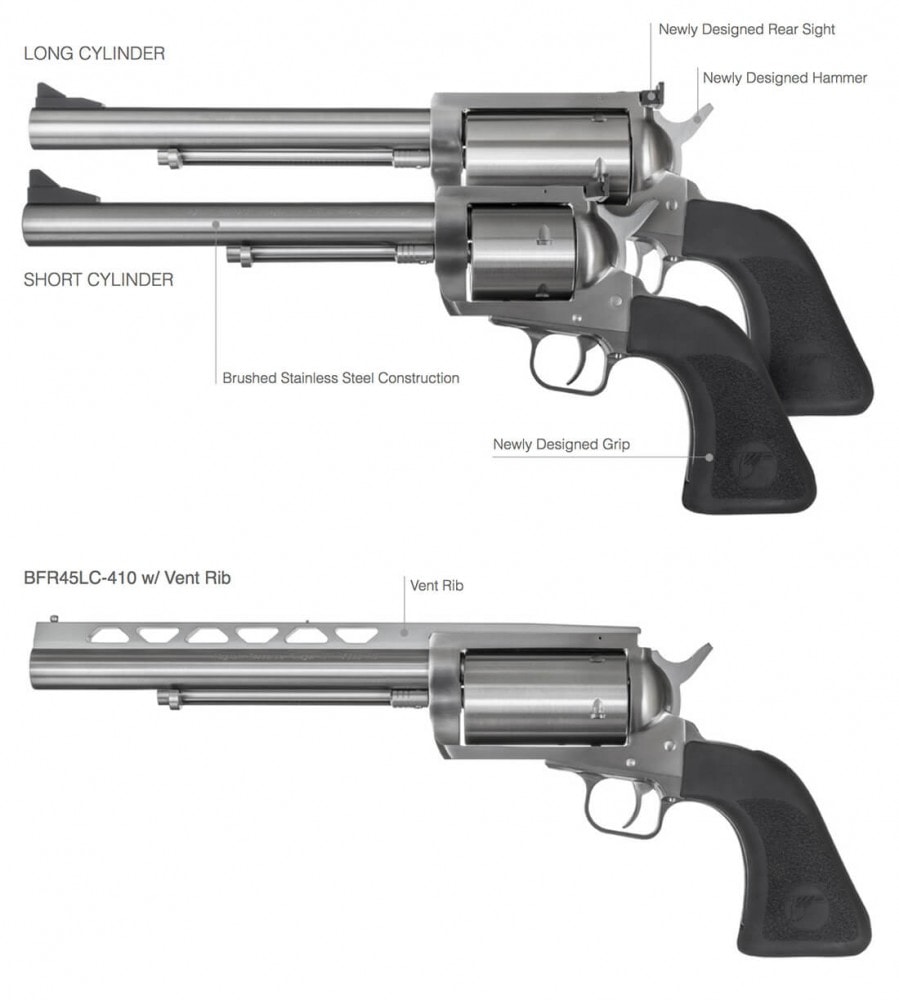 5. Trailblazer Firearms LifeCard .22WMR

Trailblazer Firearms recently launched the LifeCard .22 WMR, described as something that will "…provide customers with the advantage of a more powerful cartridge without compromising the tiny overall size and shape."
The WMR LifeCard's predecessor was chambered in .22LR, intended to be something that bridged the gap between EDC gun and tool to eliminate vermin. It's small enough to fit in that little 5th pocket of a pair of Levis.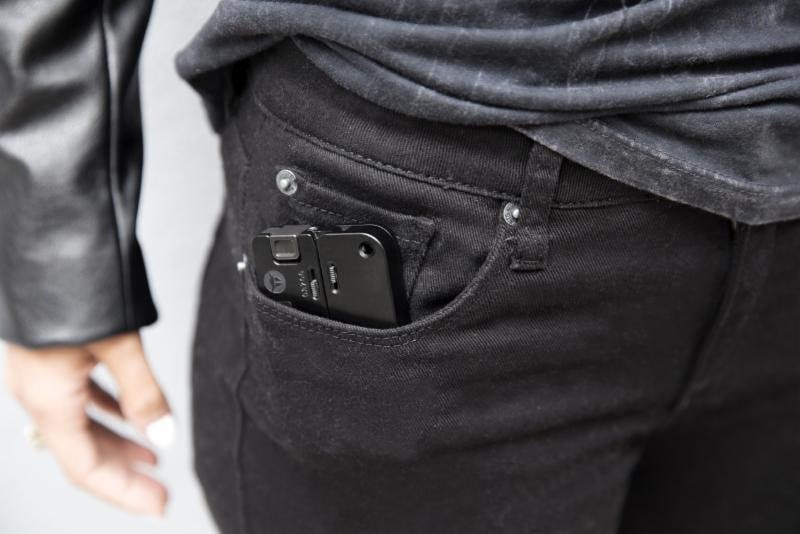 Trailblazer Firearms LifeCard .22 WMR Specifications:
Caliber:  .22 WMR
Action: Single-Action, Single-Shot
Length: 3.375 inches
Height: 2.125 inches
Width: 0.5 inches
Weight: under 7 oz.
Barrel: Steel, Tilt-Up
Frame: Aluminum (includes folding handle)
Features: Ambidextrous, built-in safety features, ammo storage in handle for 3 rounds
MSRP: $399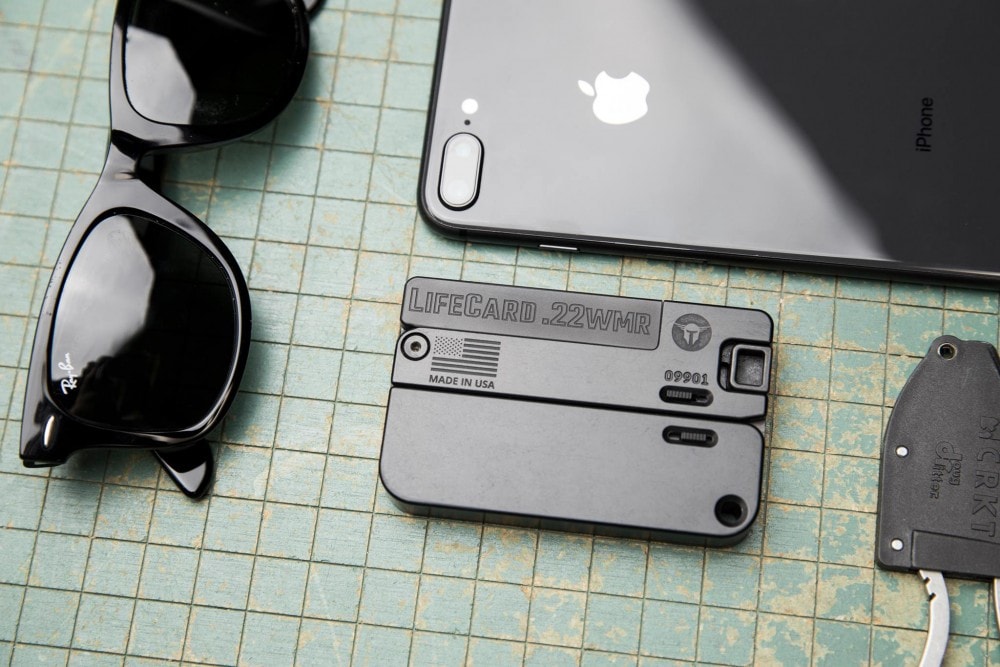 4. Noveske Rifleworks Gen4
The Noveske Gen4 is available in 300BLK or 5.56mm, in an SBR, PDW, or rifle option. There are configurations in both MLOK and Keymod, and in a couple different colors.
Noveske says, "With the addition of ambidextrous controls, additional rail mounting locations, cable management, and improved magazine well dimensions, this rifle meets and exceeds the needs of our modern warfighter, law enforcement, and civilian users." Read the full article here; video below.

3. Henry USA Long Ranger 6.5 Creedmoor Lever Action Rifle
This Long Ranger lever gun is new from Henry Repeating Arms (@henry_rifles), and we're happy to hear about it because…reasons. We like lever guns, and we're big fans of Henry, which is enough for us. The new weapon is chambered in 6.5 Creedmoor, with a 22 in., free-floated blued steel barrel in an American walnut stock. The Long Ranger is now available in .223 Rem., .243 Win., .308 Win, and of course 6.5CM.
According to Henry's release,
"The Long Ranger utilizes a geared action that drives a chromed steel bolt with a 6-lug rotary head into a rear extension of the barrel for a strong and consistent lock-up, similar to that of a bolt action rifle. A 4-round capacity box magazine can be removed and reloaded with a push of the flush-mounted blackened steel magazine release button. There are no external safety features on the Long Ranger, so an in-hammer sliding transfer bar safety guarantees the rifle will not fire unless the hammer is cocked and the trigger is pulled. The manufacturer's suggested retail price for Henry Long Ranger in 6.5 Creedmoor (Model H014-65) is $1,066." More here.

2. Nighthawk 1911 VIP Black
We've talked about the new entry in Nighthawk Custom's VIP (Very Impressive Pistol) series, but mention it again here for continuity. If you'd like to know more about this gorgeous $8,000 pistol and the work done on it by a master engraver, check out the original article.
1. Walther Q5 Match Steel Frame
Walther Firearms has released a pistol for the competition market: the Walther Q5 Match SF (for Steel Frame). Based on the PPQ design, it features a 5 in. barrel in a ported slide, competition sights (red fiber optic front, adjustable target rear) and mounting plates for the RMR, DPP, and Doctor Optics.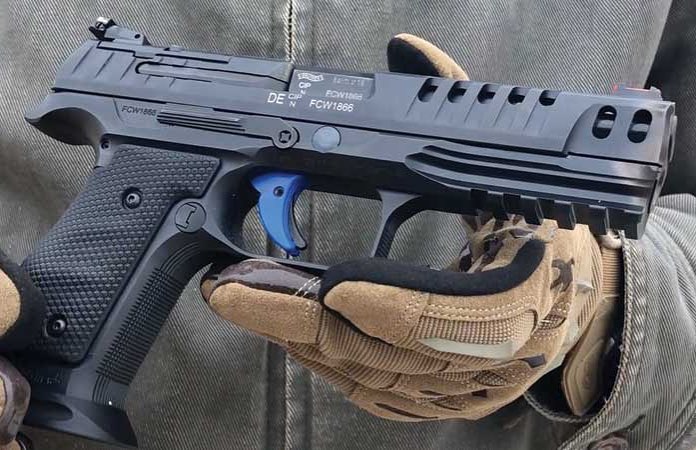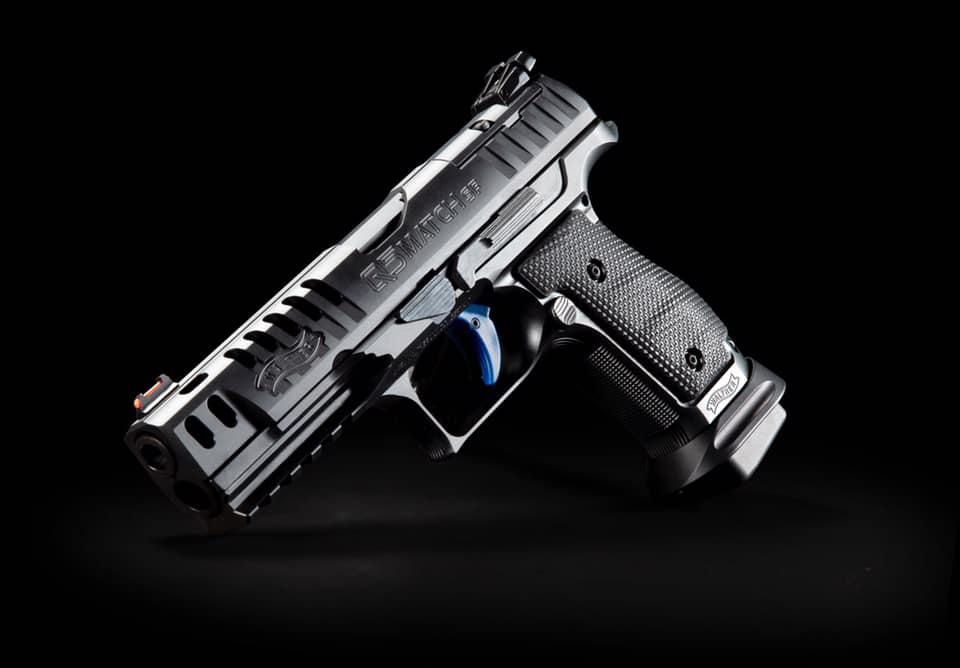 Walther says,
Additionally, the Q5 SF features include:
Ambi slidestop
Reversible button-style magazine release
Stainless steel guide rod
Extended frame rails
15 and 17-round magazines
Blue 'Quick Defense Trigger' with:
– 5.6 lb. trigger pull
– .4″ travel
– .1″ reset
More here.