The Convertible "221 Vickers Combat Applications Sling"
I've been using the two point Vickers sling from Blue Force Gear pretty much since it came out.  Having deployed several times with it on my blaster, I've had to depend on it downrange  I am a huge fan of the design. For years, the services issued a terrible black nylon 3 point sling and guys were forced to modify it to make it actually work (somewhat) well. Personally I taped the straps and made an awkward, non adjustable, not QD  two point sling out of the monstrosity. Other guys in my unit simply rigged WW2 era "parade" slings with parachute cord, salvaged Fastex buckles off gear to make one point "wolf hooks" or just made simple loops of 550 cord to clip onto a carabineer. Everyone had their own system, and none of them were good.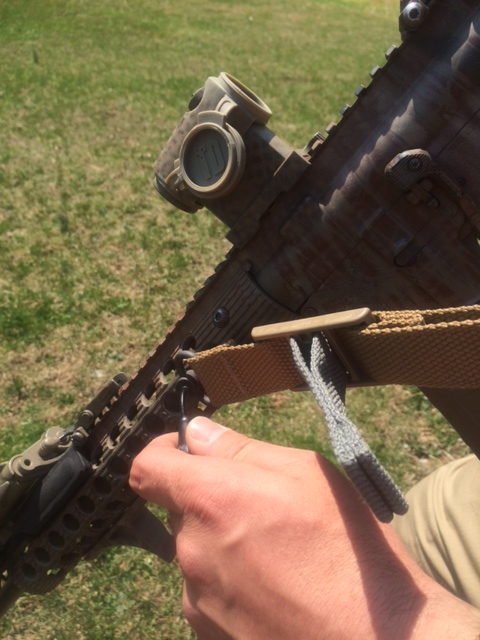 Between deployments, I had the chance to see my friends at Raven Concealment Systems, who have always been big supporters of Blue Force Gear. They sold me one of the early 2 point Vickers slings, and I've bought 5 more over the years for other weapons.  The simplicity and quality of the sling was obvious the second I held it. It's not very surprising to me that after all these years and tons of abuse in the elements, that first sling is still going strong.
The Vickers Combat Applications Sling™ was originally developed with industry firearms expert, and former "top tier" US Army Soldier and Legitimate Badass Larry Vickers. The Vickers Combat Applications Sling™ incorporates features from Larry's military experience that makes the sling effective and durable. According to BFG, the Vickers 2 point sling has been their most popular product. It's now in service in every one of our branches of service as well as those of several foreign militaries. Most recently, it's been adopted by the USMC as an issue sling (unusually good call Big Green).  The main thing that sets this sling apart from other two point designs is the ability to quickly transition from carrying a slung rifle comfortably to combat ready.  The Quick Adjust slider has bridged the gap between the two primary uses of weapon slings – from transporting to fighting.   This is accomplished by having the weapon slung "alert to the dirt", i.e. cross body muzzle down, with the buttstock resting already in the shoulder pocket. Carrying the weapon for hours on end while on patrol, this design distributes the weight across the shoulders and not on your arms. Should a threat present itself, simply lift the weapon and fire.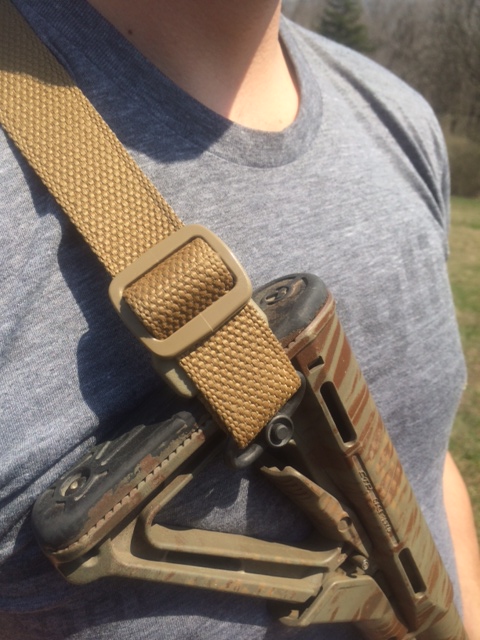 The sliding adjuster can be pulled back, giving more slack so you can transition to support side shooting, or slid back and forth to achieve a desired amount of tension. The cool thing about this design, is it works extremely well even when muddy or dirty, and has no mechanical parts to fail.
Now on to the new 2 point to 1 point convertible 221 Vickers Combat Applications Sling.
Taking the initial design to the next level, Blue Force Gear recently released a variant to this proven design.  They have taken their patented quick detach RED swivel (learn more about it here) and added it to the front of the sling, while adding a QD Burnsed socket to the rear of the sling. (That's this gizmo.) So what you end up with is a classic Vickers 2 point can be quickly convertible from 2 point to 1 point. You simply yank the toggle of the RED swivel, breaking the sling away from the forearm (this is also a great feature if you find yourself drowning, or in need to ditch the gun quickly from your body). Next plug the QD RED swivel into the socket at the rear, and if you desire, shift the rear QD swivel from the stock to a QD socket endplate at the back of the AR-15/ M4 receiver. It's quick, simple and easy to do.
Having used the new sling for the last month on several different ranges and classes, I think I've found the right replacement for my "old reliable". With minimal training, you will find the ability to easily change configurations and adjust on the fly. These features have been available for some time,as accessories which could be added to existing slings, but now you can purchase the whole setup as a whole package, in either padded or non-padded and in the color of your choice. Personally I like to convert from two points to one point when I'm sitting in a vehicle or helicopter for extended periods, or constantly going from strong side to support side shooting. For patrolling, climbing, roping, or just walking around, 2 point is king. It's also a good system to use if you instruct, because you have the ability to convert and show your students the aspects of both systems.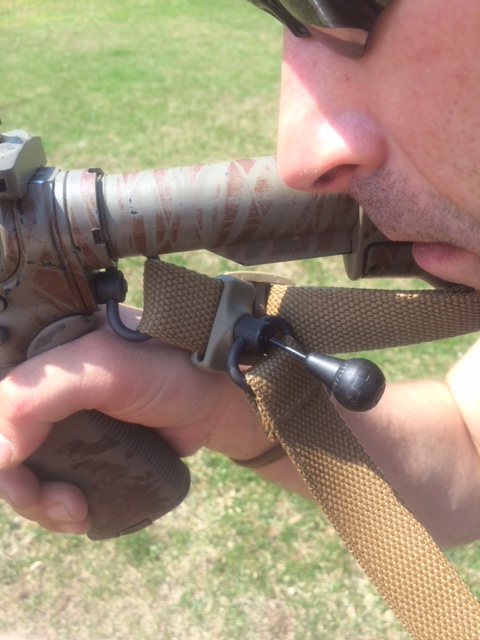 Blue Force Gear is American made, and constructed of the best materials available. Why anyone would want to hang a $1/2/3/4 thousand dollar life-saving weapon off a $20 dollar Chinese sling is beyond me. At an MRSP of $80.00, these slings are (in my not so humble opinion, cuz I'm right) worth every penny, and will allow you better use as well as retention of your primary blaster. I honestly cannot recommend them highly enoug.  Your sling is as much a part of the system as your optic, mags and ammo. Either it's a benefit, or a hindrance depending on your choice. Check out the new Vickers 221 sling here, and scope out some of the other high quality products available from Blue Force Gear. You'll be glad that you did.
http://www.blueforcegear.com/index.php?route=information/categories
FYI if you're interested, the Vickers 221 is now available in Kryptek Typhon and Highlander. This is good news for guys that need those camos for real as well as the steely-eyed metrotactical types who need to look good on the range – not that there's anything wrong with that!
Mad Duo Nate
About the author: Nathan "Mad Duo Nate" Murr is a former USMC Sergeant who recently transition to being a nasty civilian. He
lives largely on nicotine, whiskey and hate and can be frequently found orating Kipling poems to frightened hipsters who have no idea WTAF he's talking about. A graduate of the Camp Lejeune School for Wayward Boys, he was a Marine NCO, Infantry Platoon Sergeant and Scout Sniper team leader. He has many years of experience as a Lead Farmer spiral tube tech, is a fully qualified American Jedi and handsome badass. He has numerous deployments to the Middle East and Africa, is something of an idiot savant when it comes finger-fucking stuff to make it work better than its original designers could and is probably best described as a sociopathic philosopher with vestigial cutthroat (though poetic) tendencies. Thus far Murr's writing career has included such publications as Breach-Bang-Clear, Military.com, RECOIL Magazine and Penthouse letters.
(grunts: vestigial)